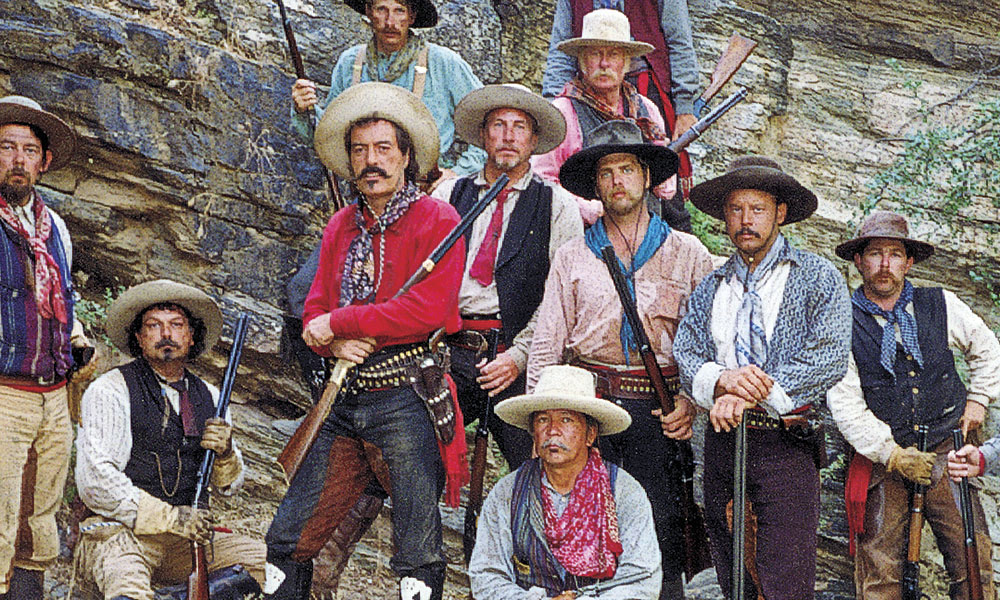 On May 14, 2017, actor Powers Boothe died just short of his 69th birthday. A magnetic and commanding presence, he enjoyed simultaneous stardom as villains and heroes in films noir, action-adventures, thrillers and comedies. But he will be best remembered for two characterizations in two classic Westerns: "Curly Bill" Brocius in 1993's Tombstone and Cy Tolliver in the HBO series Deadwood.
Born in 1948 in Snyder, Texas, Boothe chopped cotton on his father's ranch, played football and acted in high school plays. The first in his family to attend college, he earned his drama bachelor degree at Southwest Texas State and his doctorate at Southern Methodist. While in college, he met and married Pamela Cole; they would be together for the rest of his life. He joined the Oregon Shakespeare Festival, which led in 1974 to Boothe's New York debut in Lincoln Center's production of Richard III. His Broadway debut was in James McClure's Lone Star.
In 1980, he soared to sinister stardom on television, portraying the cult leader in Guyana Tragedy: The Story of Jim Jones. "I approached him like I was playing King Lear," he told interviewer Matt Patches. "I made no judgments on him— I don't make judgments on any character I play."
Members of the TV academy did make a judgment, voting Boothe a Best Actor Emmy. Incredibly, on awards night, Boothe's two unions, S.A.G. and A.F.T.R.A., were on strike. He was the only actor to cross the picket lines and claim his award, noting in his acceptance speech, "This is either the most courageous moment of my career or the stupidest…I came here because this is America and one must do what one believes. I believe in the Academy. I also believe in my fellow actors in their stand."
Whether by chance or by blacklisting, the normally busy Boothe made only one film in the next three years. But soon after, he was starring in big films for top directors: 1984's Red Dawn for John Milius, 1985's The Emerald Forest for John Boorman and two for Walter Hill, who would dub Boothe, the "Hamlet of the prairies," 1981's Southern Comfort and 1987's Extreme Prejudice.
Then in 1993 came the movie that would turn Boothe from an actor into an icon, Tombstone. A classic today, Tombstone was originally a $9 million "quickie," which Disney rushed into production to cash in on the hoopla around Kevin Costner's $63 million Wyatt Earp. Word got around town about Tombstone's screenplay. "Kevin Jarre wrote a brilliant script," Michael Biehn, who played Johnny Ringo, told True West, "And everyone flocked to it—you can tell by the cast.
"I immediately was interested in who they were going to cast as Curly Bill because we'd be working together. I knew Powers from his Jim Jones performance, which was incredible. Powers was always a real presence on film. There are certain people—like Lee Marvin—who just have character in their face, in them. You just know that they've lived a life and it's been an interesting one.
"Before we went to Tucson, [Boothe and I] went out to dinner. I said, 'I'm going to take my car out there. It's only going to be a seven- or eight-hour drive. Why don't you come along with me?' So, we drove to Tucson together."
Boothe once said, "'Curly Bill' was a guy who…everybody liked. He had a lot of dash about him, a lot of panache…a tremendous sense of humor. He really lusts for life—he just eats it up. He's certainly got his mean streak and his killer streak, but there was a sympathetic quality to him as well."
Peter Sherayko, who played "Texas Jack" Vermillion, also assembled the riders for both the cow-boys and the Earp posse. He tells True West, "Powers really got into his Curly Bill character. He was in control of the cow-boys."
The sharp division between the Earps and the cow-boys remained even after the day's work. "Every night, we'd come back from the set, and when you walked in the bar, there were always two or three tables with the cow-boys—Powers, Michael Biehn, Thomas Haden Church, all those guys were sitting there. And way at the other end of the room it was Bill Paxton, Sam Elliott, myself, Buck [Taylor]."
"Peter's right," Biehn says. "I'd done a couple of pictures with Bill Paxton, was a great friend of Bill's, but we did not spend time together on that set."
While Jarre was a fine screenwriter, he was a first-time director, and with shooting far behind schedule after four weeks, he was fired. "[Producer] Jim Jacks and Kurt Russell saved the movie, held it together," Biehn believes, "because I think Disney was just going to flush it at that point."
George Cosmatos was hired to direct, with John Fasano trimming the script.
Originally, the story was almost evenly divided between the Earps, who weren't all good, and the cow-boys, who weren't all bad. But the cuts shifted the focus to the Earps.
"A lot of actors lost scenes—the cow-boys especially got nailed," Biehn says. "Johnny Ringo [historically] never shot a priest—that's completely a setup that he's a really bad guy from the beginning. After the rewrite came out, Powers and I both knew that the dynamic had changed; some of his best scenes were gone."
The changes also shifted the balance between Curly Bill and Ringo. "Powers could have said, 'I'm the antagonist in the movie. I'm not going to support Michael Biehn—he was signed to support me!' But he was very, very gracious," Biehn says. "Powers's [reactions] made Johnny Ringo—he had a comedic way of complementing my character as being someone he really enjoyed, that impressed him. If everybody around you is walking on eggshells, you don't have to do very much."
But even with his reduced role, whether shrugging off Wyatt Earp's dramatic, "I want you to know that this is over," with an indifferent "Well…'bye," or joyously taking potshots at the moon while his character was high on opium, Boothe gave a performance that is unforgettable.
"There were a lot of great characters in that movie, but Powers—his screen presence just dominates," Biehn says.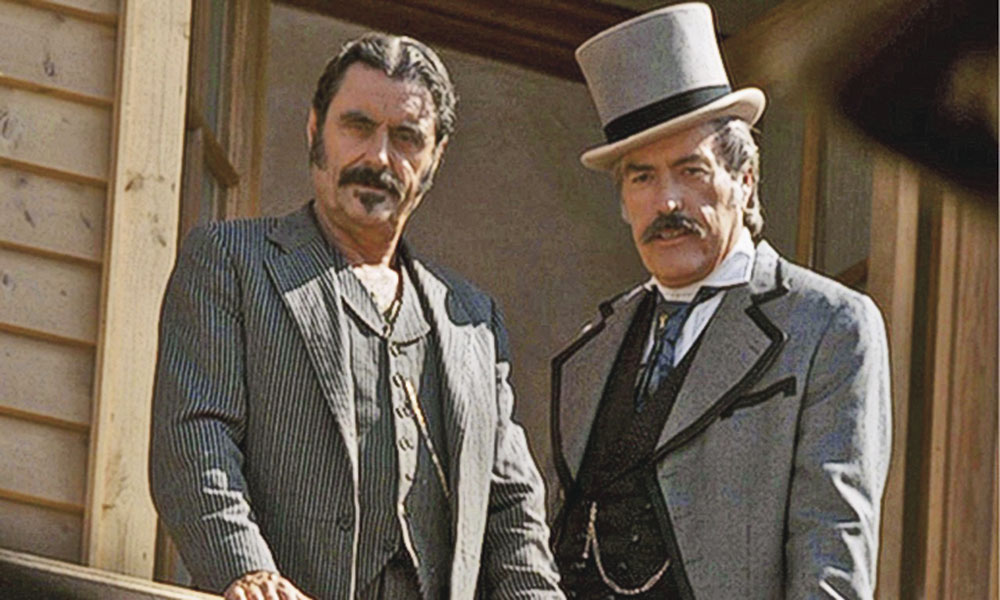 Boothe wouldn't return to the Western for a decade, until David Milch offered him the role of Cy Tolliver in HBO's foul-mouthed Western drama Deadwood. As the proprietor of the saloon and brothel, the Bella Union, Tolliver was a worthy adversary to Ian McShane's Al Swearengen, proprietor of the Gem Theatre and, like Tolliver, homicidally ambitious.
Boothe told TV Guide, "For me, it was almost like doing Shakespeare…in that if you had one word out of place, the dialogue just flat didn't work…. David explained [the character] to me like this: [Cy] was raised in a whorehouse. So you can imagine watching your mother turn tricks and what it does to your thoughts on women."
"I loved being around Powers—he made you laugh all the time," says Leon Rippy, who played Tom Nuttall, manager of the No. 10 Saloon. "And what a gentle soul in comparison to some of the roles he played. He was a man of principle and character. And a lot of that has to do with how you were raised and what your parents instilled in you. I'll miss him; he was a great talent."
Sherayko, who worked with Boothe in Tombstone, was in charge of background casting for Deadwood. "I used a lot of riders that had been the cow-boys from Tombstone," Sherayko says, "and Powers remembered all these guys, remembered the names, even though it was 10 years later. He was a consummate actor, fun to work with, and I'm glad I got to work with him twice."
Tanner Beard, also born in Snyder, says that Boothe "was definitely the hometown hero." Beard has directed two Westerns, 2011's The Legend of Hell's Gate and 2014's Six Bullets to Hell, but he was still in his teens when Boothe hugely influenced his career.
Beard met him when Boothe's daughter, Parisse, answered Beard's casting notice for a stunt-show spoof of Tombstone. "We got to do rehearsals at Powers's house! He was everything you hoped he'd be; his voice just rattles your soul.
"The stunt show led to me writing a short film called The Mouth of Caddo, which Parisse helped me produce. Powers read the script, talked about the character breakdowns, told us that we needed to focus on a single lead rather than having three. It was amazing guidance coming from someone I already admired so heavily. He even did the narration for us. It starts off, you hear that voice. I think that was a big reason we were able to expand it to a feature, The Legend of Hell's Gate."
Boothe would have acted in The Legend of Hell's Gate, but he had to go back to do the third season of Deadwood.
Unexpectedly, that was the final season. "I, like everyone, was stunned," Boothe told TV Guide, "because when we left the third season, it wasn't a matter of, 'Are we going to do a fourth?' They were negotiating a fifth. And then I got the call from [Milch] that it was all over."
Boothe's final Westerns performance was as the not entirely impartial Judge Valentine Hatfield in 2012's Hatfields & McCoys miniseries on the History Channel, costarring with Wyatt Earp star Kevin Costner and Tombstone's Morgan Earp, Bill Paxton.
For a man who acted in a few Westerns, Boothe left a legacy in the genre that is remarkable. This April, Milch delivered HBO his script for a two-hour movie continuing the story of Deadwood. We wish we could have seen Boothe pull on his Tolliver boots once more.
Henry C. Parke is a screenwriter based in Los Angeles, California, who blogs about Western movies, TV, radio and print news: HenrysWesternRoundup.Blogspot.com.