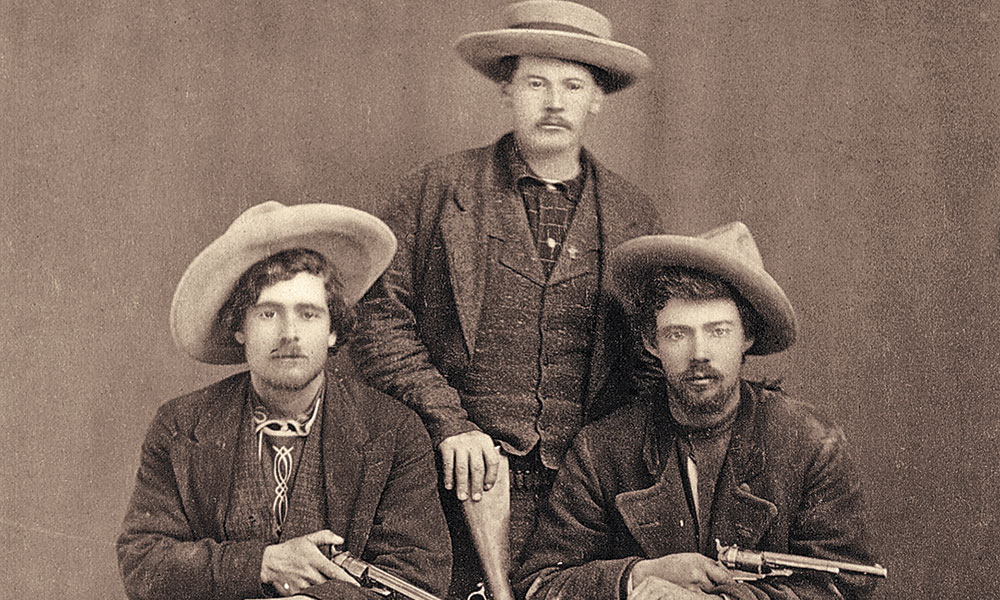 The cowboys' genesis lay in the savvy and the six-shooters of John Kinney, one of the most notorious outlaws of the Southwest.
Kinney was a New Englander who came to New Mexico Territory about 1870 as a member of the 3rd U.S. Cavalry. On his discharge in 1873, he established a cattle ranch on the Rio Grande, three miles north of Mesilla. Two years later, he took to the saddle with some bad company: Jesse Evans, a 22-year-old Texas cowboy, destined to become one of the Southwest's most infamous desperados; Jim McDaniels, once a foreman for cattle king John Chisum; and Charles Ray, better known as "Pony" Diehl. Kinney's bunch, with Jesse Evans as lieutenant, numbered 20 to 30 and formed the basis of the gang that would become the famed cow-boys in Arizona Territory.
In 1876, Kinney played a leading role in organizing what was called the "chain gang," a loose-knit association of horse and cattle thieves who operated between the Texas Panhandle and southern Arizona Territory. Texas rustlers brought stolen animals west into New Mexico Territory to sell or trade. In a frontier version of money laundering, the thieves altered cattle brands and sold cattle to crooked butchers or ranchers who asked no questions. One of the main Arizona Territory links in the chain was Newman H. "Old Man" Clanton's ranch, situated near Camp Thomas on the Gila River, 60 miles from the New Mexico Territory line. The major link in New Mexico Territory was John Kinney's ranch near Mesilla.
Two ruffians associated with Kinney were Robert Martin and "Curly Bill" Brocius. Where they came from and even their true identities remain a mystery, for their names were probably aliases. Kinney and his men played important roles as hired gunfighters in two of the Southwest's most significant civil disturbances: the El Paso Salt War of 1877-78 and the Lincoln County War of 1878. When those battles were over, the gang sought greener pastures.
Martin had been a stage robber in New Mexico Territory, and in 1878, he and Curly Bill brazenly tried to rob a U.S. Army conveyance near El Paso, Texas, and wounded two soldiers. Lawmen captured the robbers, but they broke jail and escaped to Mexico.
When Martin returned to the U.S., he became the leader of a loosely organized gang of horse and cattle thieves with headquarters in the San Simon Valley of Arizona Territory. The discovery of silver in Tombstone created a population boom in southern Arizona Territory and thus a ready market for stolen livestock.
Desperadoes from New Mexico Territory rushed to join Martin and Curly Bill in Arizona Territory, among them lights such as Diehl, Charley Snow, Dick Lloyd, Johnny Oliver, Jim Wallace, Jerry Barton, Billy Leonard and Jim "Six-Shooter" Smith. Dozens of Texans also drifted in, including John Ringo, Joe Hill, Tom Harper and Pete Spence.
These badmen raided, fought, drank, gambled and raised general hell on both sides of the U.S.-Mexico border. Mexicans called them los Tejanos, but to Americans, they were the cow-boys. Newspaper editors insisted the cow-boys were a worse menace than the Apaches. Their numbers gradually increased until the governor of Arizona Territory declared that the cow-boys were 300 strong. Their actual size was probably half that.
Law enforcement in southern Arizona Territory was extraordinarily weak, and authorities did little to stop the cow-boys until the 1879 arrival of Wyatt Earp and his brothers in Tombstone.  Though Virgil Earp was a man of substance, Wyatt and Morgan had checkered careers. Nonetheless, they were no desperadoes, and the Earps became highly capable lawmen in Cochise County. Their collision with the cow-boys—from the Gunfight Behind the O.K. Corral in 1881 to the assassination of Morgan Earp in 1882 and the Vengeance Ride that year that left Curly Bill and other cow-boys dead—is the stuff of legend.
Although more cow-boys killed each other in quarrels—Martin himself died at the hands of fellow rustlers—Wyatt Earp and his brothers broke the back of organized outlawry on Arizona's border with Mexico.
John Boessenecker is working on a book about Arizona Territory's cow-boys, to be published by HarperCollins. His research includes notes by Paul Cool (1950-2016), who wrote Salt Warriors.