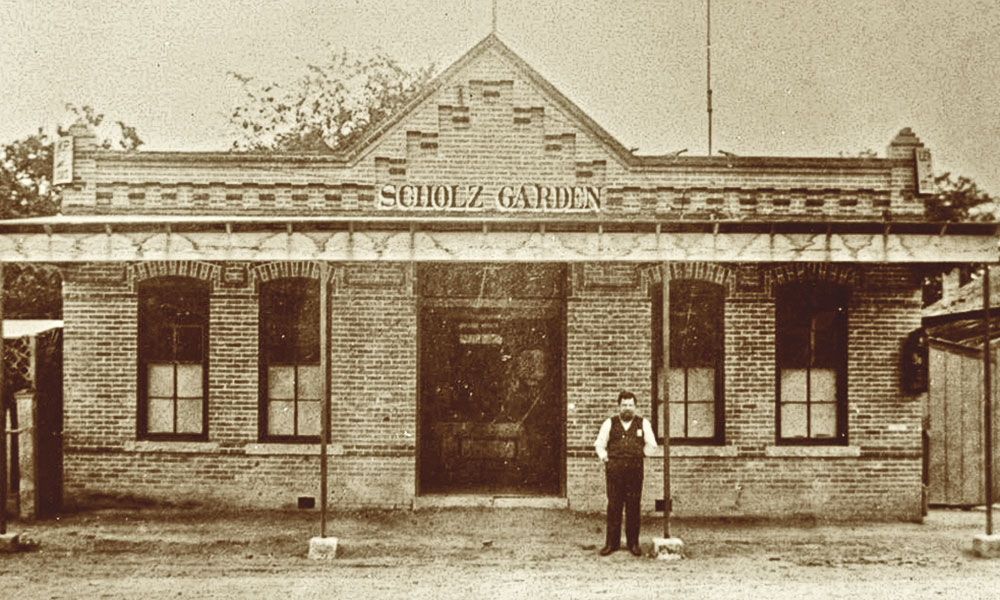 Texas's oldest continuously operating tavern can be found in Austin. August Scholz opened his establishment after the Civil War, in 1866, and it remains a popular gathering spot to this day.
Scholz found even more patrons to sip on his suds once the Houston and Texas Central Railway reached the settlement, on December 25, 1871, which turned Austin into a popular trading center.
By 1876, the town reported among its businesses 145 retail merchants, two breweries, six bakeries, six restaurants, 23 butcher shops, 11 boarding houses, five hotels, two ice factories, 26 bar rooms and seven beer saloons, including Scholz's, which opened 10 years earlier.
"This [official] record is evidently imperfect," Austin's Weekly Democratic Statesman joked, "for to our certain knowledge there are at least eleven hundred boarding houses and one hundred saloons."
Fish and seafood were popular fare in this railroad town about 200 miles from the Gulf of Mexico. In 1879, I.S. Simon advertised he had the choicest of oysters, fish and game that were in season. Clay Jones competed with Simon for Austin patrons by advertising fresh shrimp, crab, fish and Matagorda Bay oysters daily.
While oysters continued to be a popular 19th-century food, trends evolved. In 1882, cooks devised recipes to see how many fish could be served at one dinner. The Sheepshead, pompano, sea bass, red snapper and salmon were becoming the popular fishes Americans ate. They prepared their palates with a soup order, either crawfish bisque or a puree of crab.
One of the grandest hotels and dining rooms in Austin opened four years later. Tennessee native Jesse Driskill had it built, although he was so busy with his cattle ranch, he didn't run the hotel, but leased it to S.E. McIlhenny, for $20,000 per year (equivalent to more than half a million dollars today).
The Romanesque-style hotel was, and still is, four stories tall and made of pressed brick with cut-stone adornments. Equipped with an elevator and a grand staircase, the pioneer hotel housed a billiard room, barbershop, bathroom, reading room, gentlemen's toilets and five stores. The second floor housed a bridal suite, ladies and gentlemen's parlors, and an elaborate dining room that featured stained glass windows and ceiling.
The restaurants in Austin were as varied as the people who called the town home. One place, the Mexican Restaurant owned by Evaristo Liceaga & Co., served an interesting combination of oysters and chocolate. By 1889, Austin's locals could find fare at 24 restaurants and lunch stands, and at eateries in 20 hotels.
Special occasions called for a special menu, as was the case in 1893, when the owner of the New Orleans bakery, Charles Lundberg, and his wife celebrated their 25th anniversary at the Hotel Salge. After the couple renewed their vows at 7 p.m., they and 50 of their closest friends enjoyed an extensive three-hour banquet.
Guests dined on oysters, consommé royal, trout with tartar sauce, potato soufflé, chicken croquettes with French peas, boned turkey, buffalo tongue, shrimp with lettuce and lobster and chicken salads. For dessert, they could choose macaroon pyramids, angel food, coconut cake, meringues, cheese and crackers, fruit and coffee noir.
While the Lundbergs chose lobster over crab for their party menu, Deviled Crab was enjoyed by many in Austin—try the Texas pioneer recipe today!
Deviled Crab
1 ½ cups cooked crab meat
4 tbsp. butter, melted
1 tbsp. olive oil
1 tbsp. parsley, chopped
Salt and pepper to taste
Cream for moistening
3 eggs, beaten
2 tbsp. breadcrumbs
Combine crab meat, butter, oil, parsley and salt and pepper. If mixture seems dry, add cream to moisten. Stuff the mixture into ramekins, and brush with the beaten eggs. Sprinkle with breadcrumbs. Bake at 400°F. for 15 to 20 minutes or until thoroughly heated.
Adapted from The Dallas Morning News, May 13, 1897.
Sherry Monahan has penned The Cowboy's Cookbook, Mrs. Earp: Wives & Lovers of the Earp Brothers; California Vines, Wines & Pioneers; Taste of Tombstone and The Wicked West. She has appeared on Fox News, History Channel and AHC.