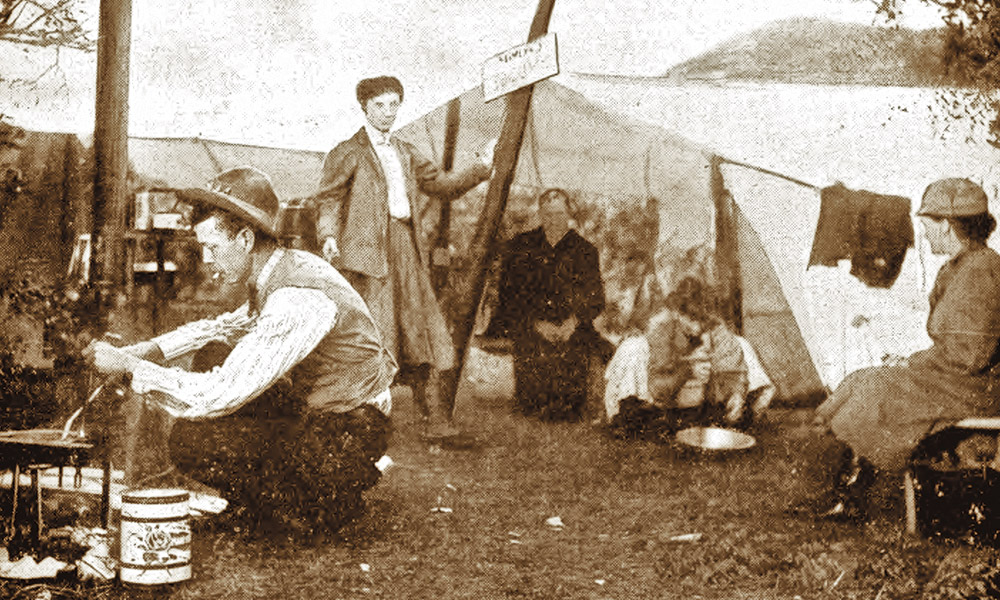 William F. Cody invested some profits from his Buffalo Bill's Wild West show in the Sheridan Inn in Sheridan, Wyoming. When the traditional English inn opened in 1893, a newspaper ad boasted of the inn's 67 guest rooms and "most elegant dining room West of the Missouri River."
The billiard room and saloon were the first to greet guests, in mid-May, offering patrons drinks and an elegant free lunch. The hotel opened in grand style at the end of the month, revealing a dining hall and modern kitchen that The Sheridan Post reported was "equipped as that of any city west of the Missouri river…."
The dining hall contained octagon tables that comfortably sat eight and held 150 hungry patrons. With railroad service between Sheridan and Edgemont, South Dakota, beginning that May, passengers found the perfect place to "enjoy dinner at the best hotel in the west…," reported The Enterprise on March 18.
The inn's fish courses included local Mackinaw trout, oysters and salmon. Local meats on the menu covered boiled capon, turkey, venison, goose, duck, opossum with Southern-style sweet potatoes, elk with orange marmalade, mountain sheep cutlets, wild dove, broiled quail, grey squirrel patties, antelope, blue grouse, rabbit and pheasant. Diners could also be more exotic and try the Peking duck and shrimp. Sides included mashed and boiled potatoes, asparagus, French peas and parsnips.
To satisfy their sweet tooth, diners chose from mince, apple and lemon meringue pies, French kisses, Angel food and fruit cakes, and lady fingers. To round out the meal, they dined on oranges, Malaga grapes, bananas, apples, dates, cream candies, raisins, figs, mixed nuts and Swiss, American and cream cheeses, served with coffee, tea or milk.
The Sheridan, Wyoming, area was known for its excellent fishing, with anglers seeking trout and landlocked Kokanee salmon, also called silver trout. Local restaurants and bakeries advertised they would make lunches for fishing parties.
Some things remain timeless for Sheridan residents, like telling "fish tales."
In August 1893, The Sheridan Post reported that a 6½-pound trout was caught nearby. Making light of the catch, the reporter wrote, "The begrimed passenger who alights from the Burlington train at Sheridan, Wyo., is pretty sure to collide with this pleasant little story before he has gone many yards, and this and the other yarns that will be poured into his ears at the Sheridan Inn during the evening will in all probability send him out the next morning, fishing rod in hand."
Another fish tale involved several men who went out fishing and caught some 50 trout, but, of course, the "large ones got away."
Enjoy this silver trout recipe and tell some of your own fish tales!
Salmon a la Creole
2 lbs. salmon, cut into serving pieces
½ tsp. salt
¼ tsp. freshly ground pepper
4 tbsp. butter
1 tbsp. oil
2 slices bacon, chopped
2 cups or 3 large tomatoes, chopped
1 bell pepper, chopped
1 small onion, chopped
Directions:
Season the salmon with salt. Over high heat, melt butter and oil in an ovenproof skillet. When the butter bubbles, add the salmon and brown quickly on both sides. Place the skillet in a 450° oven and bake for five to eight minutes, depending on the thickness of the salmon. A fork should easily pierce the center of the salmon when done.
While the salmon bakes, cook the bacon in a frying pan for five minutes. Add tomatoes, peppers, onions, salt and pepper. Cook over medium heat for five minutes and then reduce the heat to simmer. Cover and cook until sauce-like, or about 20 minutes. Pour the sauce on the salmon and serve.
Recipe adapted from Daily Times-Enterprise of Jonesboro, Arkansas, September 15, 1904.
Sherry Monahan has penned The Cowboy's Cookbook, Mrs. Earp: Wives & Lovers of the Earp Brothers; California Vines, Wines & Pioneers; Taste of Tombstone and The Wicked West. She has appeared on Fox News, History Channel and AHC.