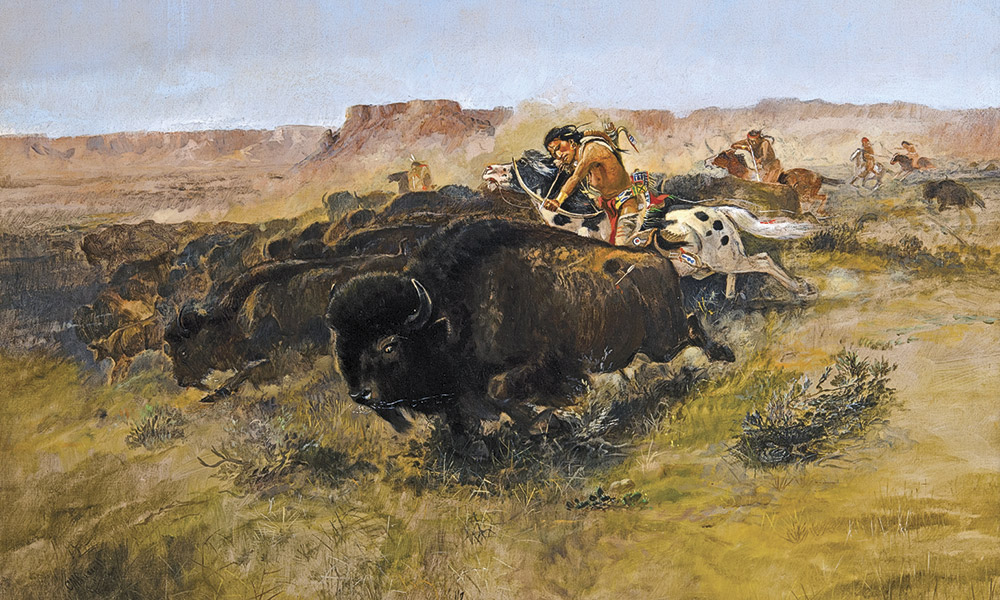 Nancy Cooper clearly fired up Charles M. Russell's imagination when they met in 1895 (a year later, 32-year-old Charlie would marry 18-year-old Nancy). While their romance was budding, Charlie improved on his earlier portrayals of buffalo with Buffalo Hunt No. 7, which hammered down as the top lot at the C.M. Russell Museum's "The Russell" benefit auction on March 17 for $1.25 million.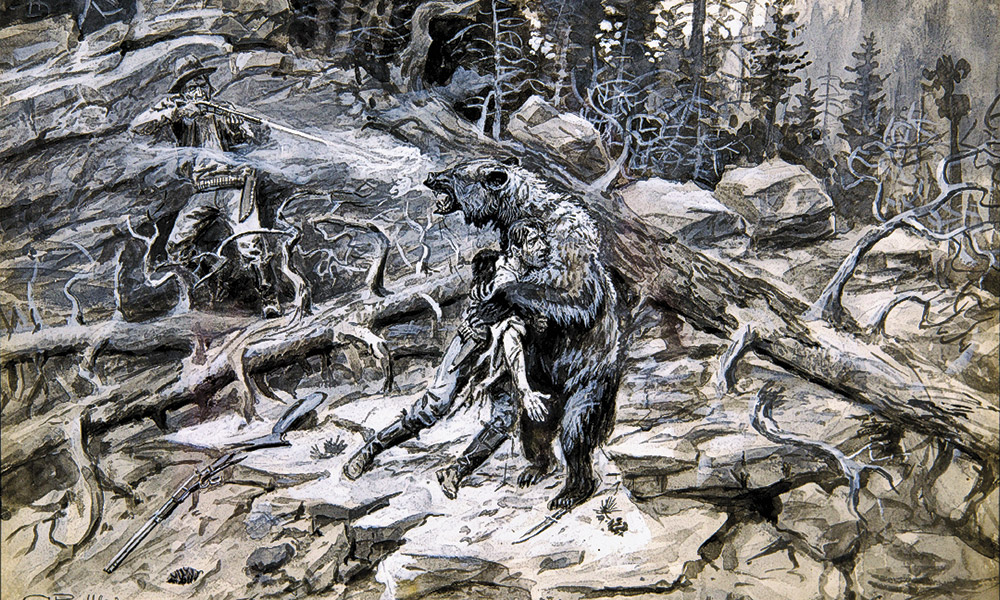 The oil features a strong portrayal of the American Indian hunter on his paint horse, drawing his decorated quiver onto the center of the action. The hunt looks to be taking place in the Arrow Creek area north of Stanford, Montana, where Charlie rode as a cowboy during his Judith Basin open range days.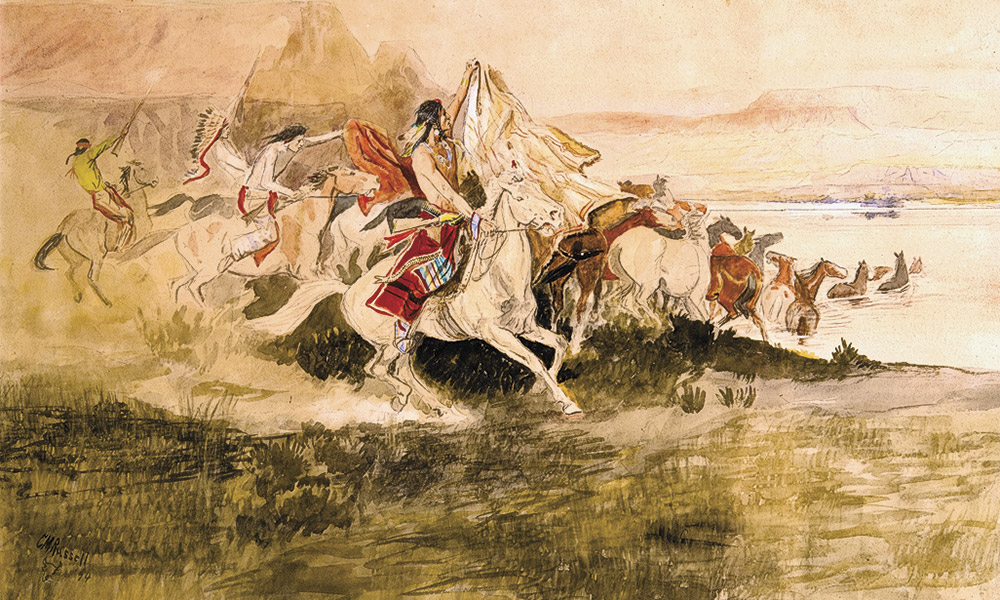 The painting is a fine example of Russell portraying Indians in a compassionate light, instead of as barbaric hostiles, and of a subject popular among his fans. Cowboy actor Will Rogers was among those who purchased his buffalo hunt artworks.
The 1895 oil differed from his earlier works because he was able to achieve a greater degree of depth by bringing less definition to the hunters in the background.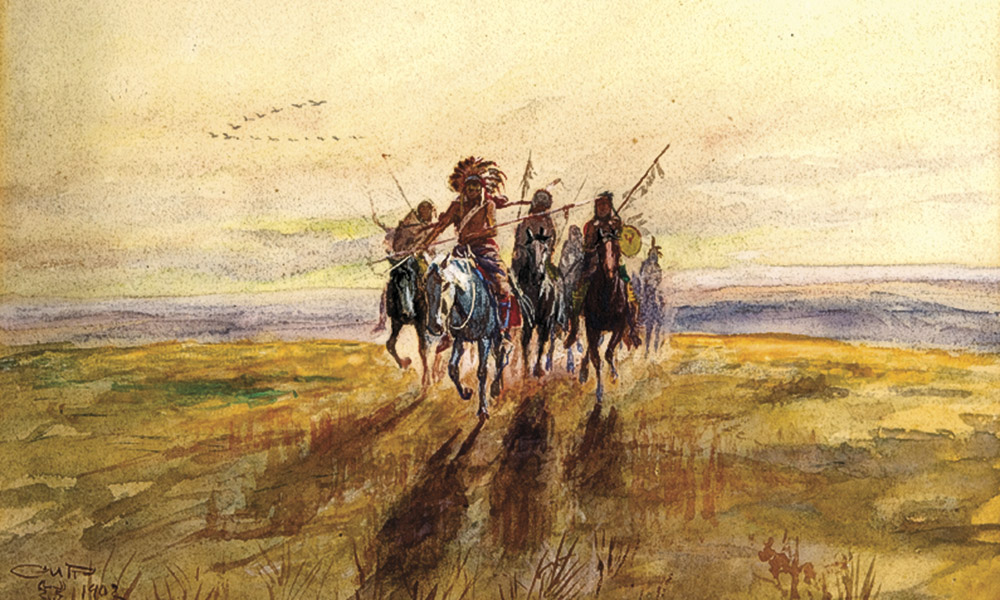 The artist also tested his viewer's observation skills by placing a coiled rattlesnake near uprooted sagebrush, to the right of and slightly below the buffalo. He employed this device in many of his finest works, such as Lewis and Clark Meeting Indians at Ross' Hole. 
Collectors earned more than $4.3 million on artworks sold at the benefit auction. The artists ranged from master artists such as Joseph Henry Sharp to contemporary artists such as Andy Thomas. Featured here are the top lots, all Russell artworks.
Upcoming Auctions
June 9, 2018
Glenwood J. Swanson's Custer and Indian Wars Collection
Heritage Auctions (Dallas, TX)
HA.com • 877-437-4824
June 9, 2018
Western Art
Prix de West (Oklahoma City, OK)
PDW.NationalCowboyMuseum.org • 405-478-2250
June 9, 2018
Navajo Rug Auction
Museum of Northern Arizona (Flagstaff, AZ)
MusNAZ.org • 928-774-5213
June 12-15, 2018
Firearms
Morphy Auctions (Denver, PA)
MorphyAuctions.com • 877-968-8880
June 21-24, 2018
Firearms
Rock Island Auction (Rock Island, IL)
RockIslandAuction.com • 800-238-8022
June 22, 2018
American History
Cowan's Auctions (Cincinnati, OH)
Cowans.com • 513-871-1670
June 23, 2018
Old West Memorabilia
Brian Lebel's Old West (Santa Fe, NM)
OldWestEvents.com • 480-779-9378