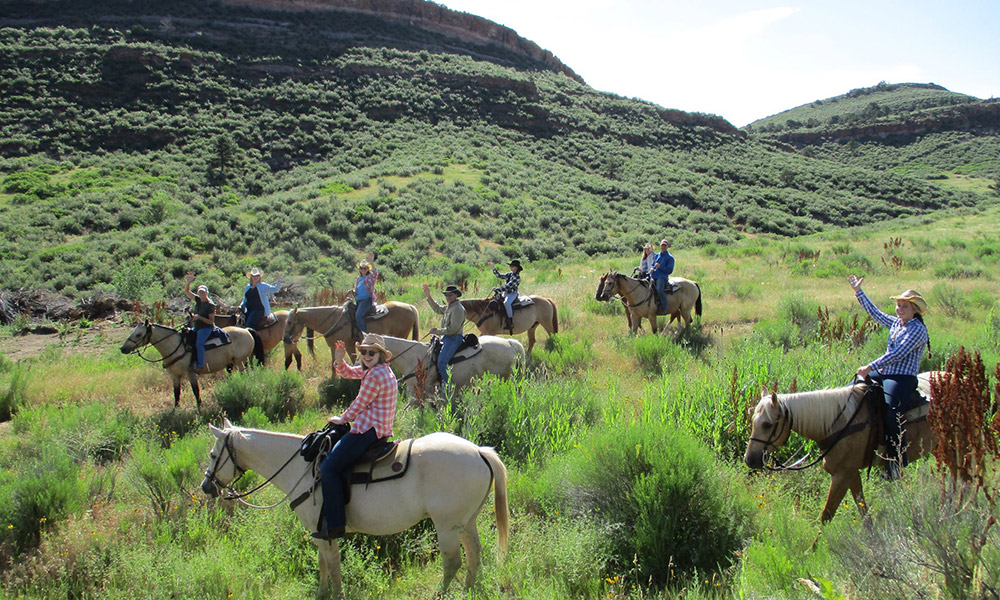 Western roundup of events where you can experience the Old West this June.
Adventure
Dude Season Kick Off
Loveland, CO, June 3-8, 17-22: Enjoy ranch-style meals, horseback riding, pack trips, trap shooting, rafting, fishing, and brewery tours.
970-667-3915 • SylvanDale.com
Art Show
American Plains Artists Special Show
San Angelo, TX: June 28-August 5: An 1867 fort along the Concho River showcases nearly 100 Western paintings and a dozen sculptures.
325-481-2646 • FortConcho.com
Auction
Brian Lebel's Old West Show & Auction
Santa Fe, NM, June 23-24: Gaze at Western Americana artifacts and bid on Western art, American Indian jewelry and cowboy gear.
480-779-9378 • OldWestEvents.com
Morphy Auction Firearms & Militaria
Denver, PA, June 25-28: Bid on collectible militaria and sporting firearms at one of the largest under-roof auction houses in the country.
877-968-8880 • MorphyAuctions.com
Frontier Fare
Brew Fest
The Dalles, OR, June 23: Choose from more than 50 beers from 25+ breweries from Oregon and beyond in a taproom experience.
541.296.2231 • BeerFestTheDalles.com
Heritage Festivals
California Trail Interpretive Center's Trail Days
Elko, NV, May 19-20: See pioneer and American Indian culture on the California Trail come to life through family-friendly history displays.
775-738-1849 • CaliforniaTrailCenter.org
Billy The Kid Festival
San Elizario, Texas, June 1-3: Outlaw Billy the Kid's rowdy 1876 visit to San Elizario to break a pal out of jail hits the stage in a live drama.
915-851-0093 • SanElizarioHistoricDistrict.org
American Indian Market & Powwow
Morrison, CO: Opens June 2-3: A gathering of American Indian artists, a Powwow dancing competition, and delicious cuisine.
303-839-1671 • TesoroCulturalCenter.org
Montana Renaissance Festival
Billings, MT, June 2-3: Step back in time with a medieval crafts market, a wide variety of performances and shows,  and authentic cusine.
406-652-8100 • MontanaRenfest.com
Historic Lecompton Territorial Days
Lecompton, KS, June 8-9: Kansas's former territorial capital celebrates with turtle races and pioneer woodcarving.
785-887-6285 • LecomptonTerritorialDays.com
Red Earth Festival
Oklahoma City, OK, June 8-10: Experience the traditions of American Indian arts and cultures through dance, an art market, and powwow.
405-427-5228 • RedEarth.org
Gold Rush Days
Sidney, NE, June 9-10: Experience the Black Hills gold rush of 1876 through skits, re-enactments and cowboy lore about the town's freighting days.
866-545-4030 • SidneyGoldRush.com
Nebraskaland Days
North Platte, NE, June 13-23: Nebraska pays tribute to Buffalo Bill Cody's 1882 "Old Glory Blowout" with a rodeo, parades and concerts.
308-532-7939 • NebraskalandDays.com
Stonewall Peach JAMboree and Rodeo
Stonewall, TX, June 15-16: Celebration of the annual peach crop including peach judging, crowning of The Peach Queen, and more.
830-644-2735 • StonewallTexas.com
Wild Bill Days
Deadwood, SD, June 15-17: Celebrate Deadwood's famous gunslinger with live concerts, gold panning and sluicing demos, and more!
800-999-1876 • Deadwood.com
The Eagle Spirit Dancers
Lander, WY, June 20-30: Experience American Indian culture through dance and drumming with nightly performances on the museum lawn.
307-332-3892 • MuseumoftheAmericanWest.com
Jim Bowie Days
Bowie, TX, June 24-30: Texas Revolution hero and frontiersman Jim Bowie is honored with a rodeo, parades and an art and Indian artifact show.
940-366-1887 • JimBowieDays.org
San Elizario Historic District Tours
San Elizario, TX, June 24: Travel back in time on the Mission Trail with free guided walking tours of this 300-year-old district.
915-851-0093 • SanElizarioHistoricDistrict.org
Alpine's Fourth of July Celebration
Alpine, TX, June 29-July 4: Celebrate Independence Day with outdoor theater, a parade, car show, live music, fireworks and more.
432-837-5539  • AlpineTexas.com
Tombstone Lions Club Freedom Days
Tombstone, AZ, June 29-July 1: Celebrate the 25th reunion of Tombstone; meet actors Michael Biehn, Peter Sherayko, and other actors.
520-678-1824 • TombstoneChamber.com
Music & Poetry
Lone Pine Film History Museum Concert in the Rocks
Lone Pine, CA, June 2: Head to a frequent Western movie site, Alabama Hills, for Rock 'n' Roll under the stars and a cowboy ranch dinner.
Outdoor Theatre 
Texas! Outdoor Musical Drama
Palo Duro Canyon, TX, June 1- August 18: This outdoor musical re-creates the stories of Texas Panhandle settlers.
806-655-2181 • Texas-Show.com
Rodeo & Horse
Sisters Rodeo
Sisters, OR, June 8-10: Rodeo stars head to Sisters to show off their goods in this self-proclaimed "Biggest Little Show in the World!"
800-827-7522 • SistersRodeo.com
Reno Rodeo
Reno, NV, June 14-23: This PRCA rodeo kicks off with a cattle drive, includes a parade, drill team competition, and classic rodeo disciplines. 
775-329-3877 • RenoRodeo.com
Greeley Stampede
Greeley, CO, June 22- July 1: Get bull riding and steer wrestling rodeo action, plus take in Western art and an Independence Day parade.
970-356-7787 • GreeleyStampede.org
West of the Pecos Rodeo
Pecos, TX: June 27-30: Gather in Pecos for this historic PRCA rodeo–it's a top 40 prize money rodeo and originated in 1883!
432-445-2406 • PecosRodeo.com
Crooked River Roundup
Prineville, OR, June 28-30: This PRCA rodeo includes steer wrestling, roping, bronc riding, barrel racing, bull riding, and more.
541-447-4479 • CrookedRiverRoundup.com
Prescott Frontier Days & World's Oldest Rodeo
Prescott, AZ, June 28 thru July 4: Held since 1888, this rodeo claims to be the "world's oldest" and delivers steer roping, bull riding and more.
928-445-3103 • WorldsOldestRodeo.com