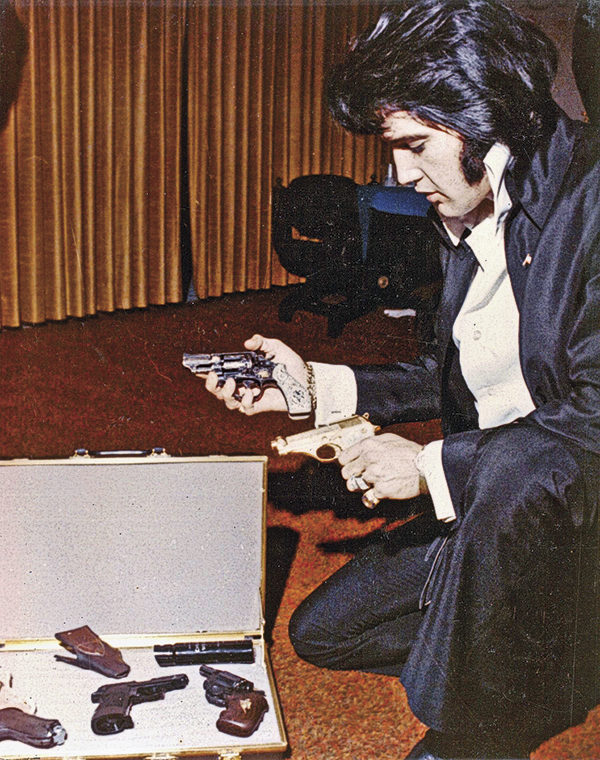 Two days before The Guardian published its exposé, "Can't Help Falling in Price," about how the deaths of Baby Boomers has sent Elvis Presley memorabilia values plummeting, Rock Island Auction dramatically changed the tune.
Our friends across the pond hadn't likely heard the news yet of the world record-setting firearms sale on May 5, 2017. "A King's Ransom for the King's Revolvers," the auction house announced. Elvis's  Smith and Wesson Model 19-2 hammered down for $170,000, and the Colt Python, for $150,000.
Forty years ago, on August 16, Elvis died of a heart attack at his Graceland home in Memphis, Tennessee, at the age of 42. On that same day, in 1960, he had begun acting in his second Western, Flaming Star. One of the film's Indian warriors, Rodd Redwing, taught Elvis a thing or two about handling his pistols. Redwing had also given lessons to Clint Eastwood for CBS's Rawhide.
The two budding actors became pals during the 1960s. "I was always wearing
a gun," Eastwood told USA Today in 2010. Elvis "loved to do fast draws and stuff, so we always did fast draws together."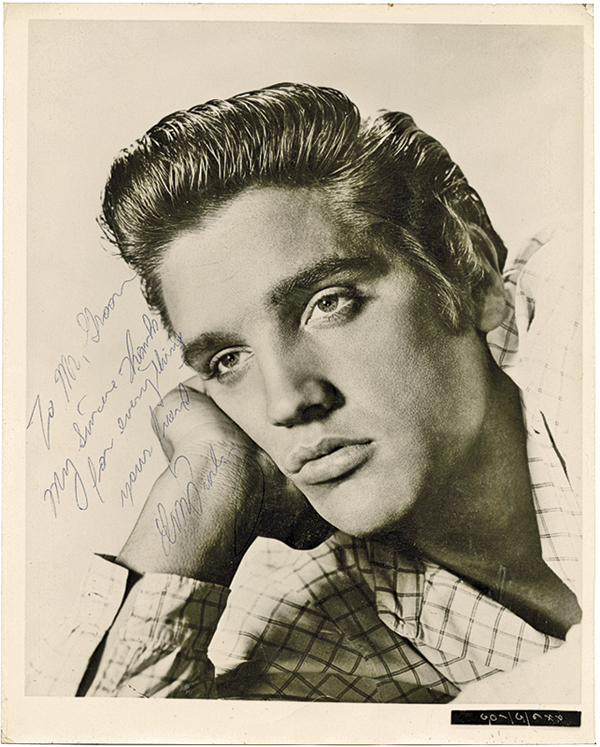 Elvis also drew one of the Beatles into the cowboy sport. "Elvis Presley sent me the gunbelt with my name," Ringo Starr told Life on October 23, 1964. "I practice fast draw all the time. I might make a Western some day."
The Beatles had made history that year—monopolizing the top five positions on the Billboard charts—but they wouldn't get the chance to meet Elvis during their U.S. tour. The following year, on  August 27, they met their idol. John Lennon revealed that he almost got kicked out of school for wearing sideburns, so he could look like Elvis.
Starr did make a Western, 1972's Blindman. Elvis had already starred in his final Western by then, 1969's Charro!, in his only role that did not feature him singing on screen.
But Elvis could have found himself singing a funeral dirge. While he was practicing his fast draw, he didn't realize his guns were loaded with blanks, and he fired the pistols into Charles Marquis Warren's face! The director walked away with cracked glasses and minor powder burns, and he joked around with Elvis about it afterward. Yet perhaps that near-death experience explains why Charro! was Warren's final film.
One song Elvis sang made a major impact on his screen debut. He began work on The Reno Brothers on August 22, 1956. Two days later, he recorded "Love Me Tender." When the single became the first to ever pass one million in advance sales, the movie's title changed, to Love Me Tender. 
Love Me Tender was the only time Elvis played a historical figure, even if the history is not all that accurate. His Clint Reno succeeded Denver Pyle's in 1955's Rage at Dawn. Clint's brothers gained notoriety in 1866 for stealing $15,000 (roughly equivalent to $200,000 today) in one of the first train stickups in U.S. history.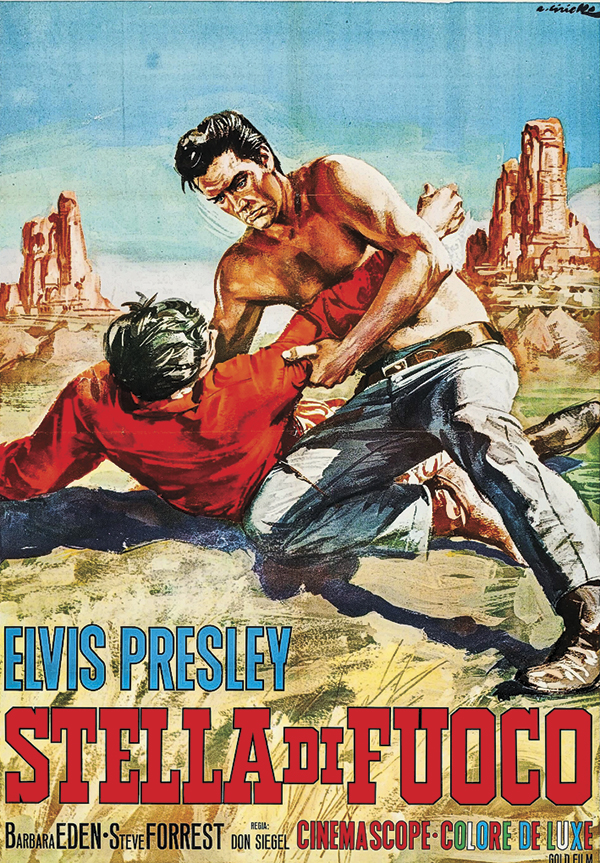 Elvis also made records of another kind—on the auction block. The publicity stills of Elvis in Flaming Star inspired Andy Warhol's silkscreens, with the highest paid at auction, his Triple Elvis, hammering down for nearly $73 million at Christie's New York in 2014. When his Eight Elvises sold for $100 million privately in 2008, Warhol became the fifth painter—behind Picasso, Klimt, Pollock and de Kooning—to hit the $100 million mark.
The first record Elvis ever made set a record as the most valuable album. On what would have been the singer's 80th birthday, January 8, 2015, musician Jack White successfully bid $240,000 at Graceland Auctions for the Sun Studio album—featuring "My Happiness" and "That's When Your Heartaches Begin"—that Elvis recorded in August 1953. His $4 investment paid off into a lucrative music career that would turn him into cowboy Elvis on the big screen.
The hunka hunka burnin' iron that caught fire at Rock Island reveals collectors, at least stateside, still can't help falling in love with the "King of Rock & Roll."