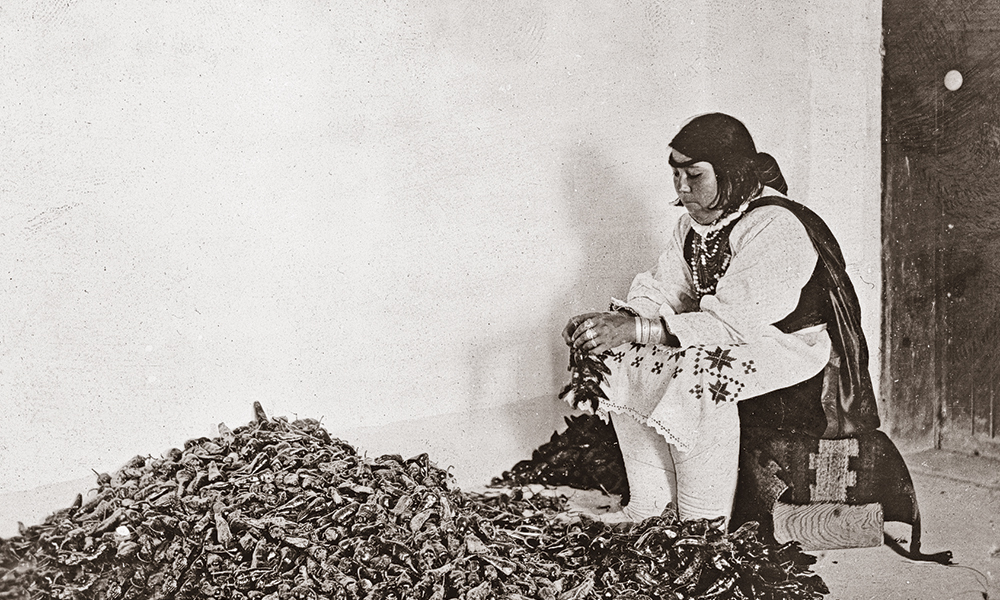 In 1879, when the Atchison, Topeka and Santa Fe chugged into Las Vegas, New Mexico Territory, the railroad brought in a wide variety of food that rivaled the delicacies found in the California streets of San Francisco.   
Playing off recipes developed by local Mexican natives, the Exchange hotel offered a regional dish of Chile Colorado in 1882, which The Las Vegas Gazette described as "…nothing more or less than stewed red peppers."
But the Exchange's chef, Paul Crawford, made his Chile Colorado more spicy than stew. Before the meal was over, he had to cool down his customers by bringing them "…an armful of fans and seventeen buckets of ice water. Oh! he made it red hot for the whole crowd."
Locals who wanted to make their own Chile Colorado could find chile peppers sold by Las Vegas merchants, or by Pueblo Indians at outdoor markets.
Or cooks could find the spice already prepared, at stores that included Weil and Graaf's, which advertised 5,000 pounds of ground chili for sale. Perhaps not so coincidentally, a milk ad appeared before that promotion!
Not everyone embraced the native foods. Some stuck to traditional 19th-century fare. One local restaurant, Molinelli's, served up a European menu in 1883 that included chicken soup, roast spring chicken, pork loin with apple sauce, lamb fricassee with French peas, New England baked beans, English plum pudding and vegetables from the garden. A local grocery store, Ben's, advertised its fresh figs, quinces, crab apples, pomegranates and a full line of confections, including marshmallow drops and caramels.
Sunday dinners were popular at local hotels, and the Plaza Hotel excelled at them. On June 30, 1885, its menu included: Chicken Royal Consommé soup, baked Gallinas trout, dressed lettuce with green onions, lobster salad, pork and "sour kraut," tongue with cream sauce, lamb, beef with gravy, suckling pig stuffed with oysters, chicken fricassee German style, veal Bordelaise breast with pineapple fritters and various potatoes, asparagus, peas, string beans and kraut.
Saving room for dessert was a must for this meal. Pioneers could choose green apple pie, California pear pie, Cabinet pudding with brandy sauce, angel food, coconut and jelly cakes, vanilla ice cream, fruits, nuts, raisins, cheese, French drip coffee, iced tea, ice milk and fresh buttermilk.
Twenty years after the train arrived, Fred Harvey entered the restaurant business in Las Vegas, with his celebrated Harvey House called Castañeda. It sat next to the train depot and was the site of Theodore Roosevelt's first Rough Riders reunion. Chef Dan Tachet became known for serving native dishes of albondigas soup, chicken enchiladas and fried chicken topped with tomato sauce, garnished with French peas.
Prepare the red-hot native Mexican dish of Chile Colorado for dinner; you might need to have some fans nearby!
Chile Colorado
Instructions:
1 whole chicken, cut up
1 teaspoon salt
Flour for coating
Water to cover
¼ cup parsley, freshly chopped
1 onion, diced
8 oz. dried red chiles
Boiling water to cover chiles
Season the chicken with salt, and then coat with flour. Sear on all sides until golden over medium-high heat in a large stew pot. Reduce the heat to simmer. Add the parsley, onion and enough water to cover chicken. Cook covered until the chicken is done—about 60 to 90 minutes.
While chicken is cooking, make the sauce: Cut the tops off the chiles, and dump out seeds. Cut into rough pieces, and place in a bowl. Add boiling water, just to cover; let stand for 30 minutes. Drain half the water, and blend the chiles and remaining water until smooth. Add to the chicken, and finish cooking.
Adapted from Los Angeles Times's 1905 cook book.
Sherry Monahan has penned The Cowboy's Cookbook, Mrs. Earp: Wives & Lovers of the Earp Brothers; California Vines, Wines & Pioneers; Taste of Tombstone and The Wicked West. She has appeared on Fox News, History Channel and AHC.