Our readers remind us of the variables and vagaries of historic truths, "well-established" facts, headlines and historical photographs.
At least two myths dispelled?

 
Before I begin, I'd like to thank Bob Boze Bell for taking my question at his talk at the 140th anniversary of the Tombstone street fight this past October. I'd also like to thank TW for having the raffle for that Buntline Special, seeing as I was the delighted winner and the revolver now makes its home with me here in West Virginia.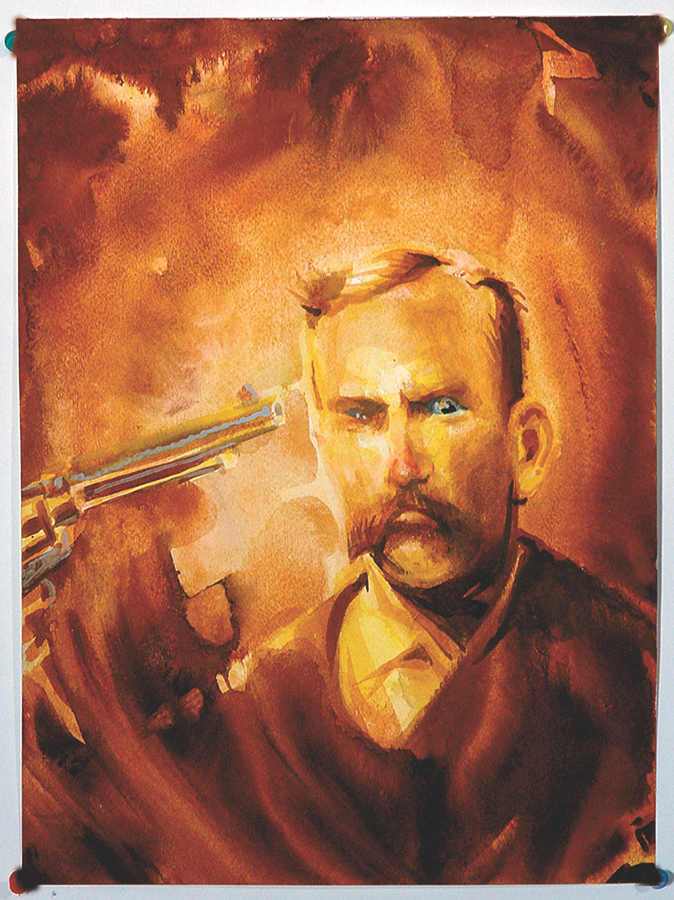 Now to it. In the Feb/Mar 2022 issue of True West Magazine, Bob Boze Bell wrote about Johnny Ringo "Did Doc Kill Ringo?," pages 24-25) and therein he discussed and dispelled a number of common myths and misunderstandings surrounding Ringo's demise. In the final section, The Ringo "Mysteries" Examined, he mentions two oft beaten dead horses: the lack of powder burns and the blackening skin noted on Ringo's body. The powder burns are frequently debated, while the skin blackening generally is not, as it is usually assumed to be accelerated decomposition in the high heat of that afternoon. Occasionally in past discussions elsewhere it has been pointed out by knowledgeable people that postmortem blackening generally doesn't occur in the first 24 hours, high heat or no. Where, then, did the black skin come from? The answer to that may lie with the explanation for why there were also no powder burns.
What those who have delved into the Ringo death scene have missed all of these years is the effect that temperatures have on firearm propellants. The volatile nature of explosive chemical propellants follows a scale of volatility tied to the thermometer. The colder the ambient temps, the firearm chamber and barrel and the powder itself, the lower the energy, degree of combustion and speed of combustion of the propellant powder; the higher the temps, the faster, more powerful and complete the reaction.
Witnesses to the aftermath of the discovery of Ringo's remains who were quoted or who wrote later of the events from personal experience noted the very high summer heat in Turkey Creek Canyon that day. Billy Breakenridge mentioned in Helldorado how Ringo shared a sip of whisky with him and the fluid was hot enough to burn his lips. A number of sources all agree it was blazing hot that day. Consequently, Ringo's revolver and the ammunition loaded in its chambers were almost certainly blazing hot as well.
When Ringo turned his gun on himself and committed suicide (I absolutely believe it was suicide) he fired his revolver under high heat conditions that today's knowledgeable authorities on the use of black powder caution shooters to be aware that firing under those conditions may be hazardous due to the powder burning very quickly and completely in the high temperature conditions, producing at best inconsistent bullet performance and at worst, hazardous pressure spikes that could compromise safety when used in older or worn firearms.
There is every reason to believe that the round Ringo fired into his head from close proximity was propelled by an overperforming black powder discharge. The byproducts of such a discharge likely include a total or near complete consumption of the black powder charge before the gas discharge left the barrel behind the bullet; black powder burns are caused by unburned or still burning grains of black powder striking a surface after firing. A complete combustion under high heat conditions would not leave unburned grains of powder, or at least not in any great quantity. (Coarse powder might be an exception, but that wasn't used in pistol cartridges in the 19th century.)  Another very likely consequence: The full, fast combustion would have deposited all or most of the remains of the completely burned powder onto Ringo's body, possibly in the form of a black, sooty coating that the coroner's jury and the others who viewed the body were not familiar with as they probably seldom fired a gun under such hot conditions in close proximity to a surface where such soot could coat it, and took it to be natural decomposition. A third possibility, more remote but plausible, is that the forehead and scalp trauma and missing hair that some thought to have been cut with a knife might have been the result of the aforementioned high temperature complete combustion reaction if it did indeed also result in a high pressure spike. The hair and skin may have been shot away by high pressure gases produced by the higher than normal performance of the black powder. In short, the postmortem viewers, unfamiliar with the higher heat combustion characteristics of black powder probably didn't know what they were looking at.
Here's where this gets good: Even though this event took place 139 years ago, we can test this today to see if the black coloring and lack of powder burns on Ringo's body were the result of a high heat black powder reaction. I'm certain Mr. Phil Spangenberger, whose work I have admired and respected for many years in TW and other publications, can not only create a test of this theory, he'd probably jump at the chance. If the above is put to the test and this turns out to be the case, at least two myths and points of contention between those who believe Ringo killed himself and those who think he was shot by someone else can be dispelled.
How about it—Johnny Ringo CSI anyone?
 —Wayne Sanderson, Berkeley Springs, West Virginia, Author, "Johnny Ringo's One Dollar Inheritance" WWHA Journal, September 2019
Western Book Bonanza
Local bookstore, you ask? Legends Bookstore in Cody, Wyoming, I reply. Mom and pop outfit, well at least mom, Teresa Muhic, proprietor. What is a small Western town without a good bookstore, you ask? Not much, I agree. The store is located in an old brick building, Western-looking storefront, aroma of fresh brewed coffee when you enter, community events posted on the walls. And they take orders. 
I have purchased nearly 200 titles from them, many purchased on the recommendation of TW, by the way, one of the strongest sections of your magazine. The reach of your recommendations go far. Take it from a black powder shooting, pack trips into Yellowstone taking Westerner…you are one my Western Americana lifelines.   
—Barry Reiswig Cody, Wyoming
 Thank you for sharing the good news about Legends Bookstore in Cody, Wyoming. We love learning about our readers' favorite local bookstores. And we promise to keep that Western Americana lifeline open and working!
Corrections
Misidentified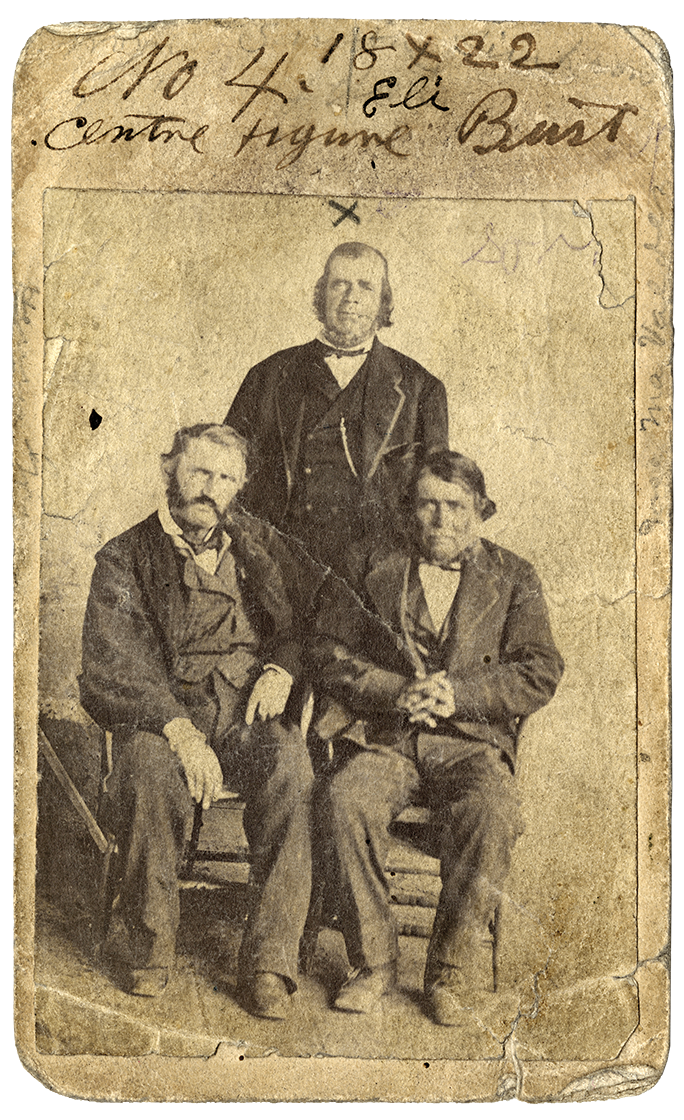 I was glad to read Melody Groves' article in the Feb/Mar 2022 issue of True West. More people need to know about Dick Wooten and his long and eventful life. I do have one correction to point out regarding the photo on page 42. The man standing in the middle is in fact, Ceran St. Vrain. The man seated to the left is Dick Wooton. Jose Maria Valdez is seated to the right. 
—Rex Rideout (Conifer, Colorado)
You are correct! Our source had the names mismatched to the photo. Thank you!
1883 Map 
In the April 2022 issue, the 1883 map (below) on pages 28-29 unfortunately transposed the numbered listings in the right column for #3 Dodge City, Kansas, and #4 Abilene, Kansas. And #6 South Pass, #7 Miles City and #8 Bozeman were incorrectly paired with the numbers on the map. The corrected map is below.