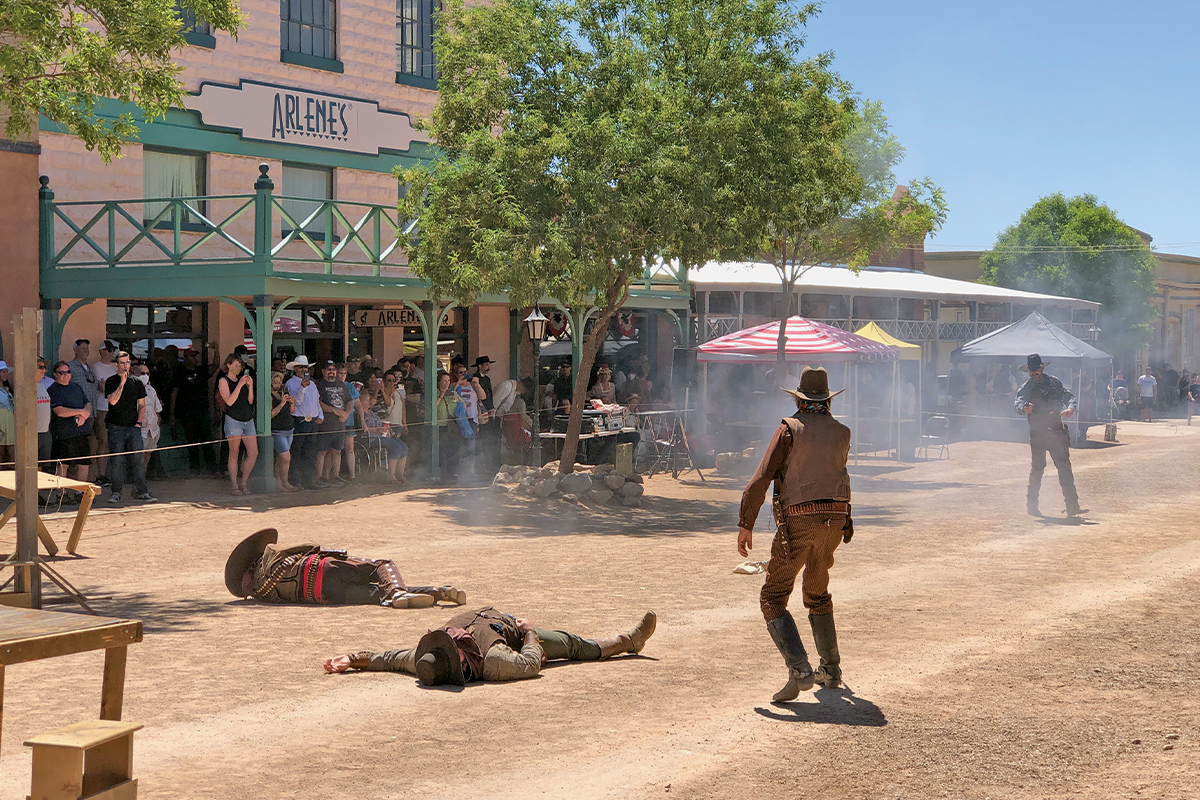 Wyatt Earp Days
(Pictured) Tombstone, AZ, May 27-28: In honor of famed Tombstone lawman Wyatt Earp, activities include gunfights, a chili cook-off and an 1880s fashion show.
520-457-3511 • DiscoverTombstone.com
ART SHOWS
Phippen Museum's Miniature Masterpiece Art Show & Sale
Prescott, AZ, May 1-31: This will be the 18th annual presentation of the museum's much-anticipated Miniature Masterpiece Art Show & Sale. Over 60 successful and established artists are invited to submit small-scale works of art to be sold at fixed prices to benefit the museum.
928-778-1385 • PhippenArtMuseum.org
HERITAGE FESTIVALS
Narrow Gauge Day
Durango, CO, May 6: Durango & Silverton Narrow Gauge Railroad celebrates continuous operation between Durango and Silverton since 1882.
888-872-4607 • DurangoTrain.com
22nd Annual Living History Days
Pinedale, WY, May 10-12: American Mountain Men show the day-to-day life of the Rendezvous-era trappers. Stations include demonstrations on black powder firearms, Native American sign language, beaver skinning, constructing tipis and shelters, trade goods and much more.
877-686-6266 • MuseumoftheMountainMan.com
West Texas Heritage Days 
Uvalde, TX, May 12-15: Fort McKavett State Historic Site will come to life, as historians from around the state gather to portray life as it would have been at the fort in the 1800s, including military drills, Native Indians, Buffalo Soldiers and chuck wagon demonstrations.
800-588-2533 • VisitUvalde.com
John Wayne Birthday Celebration
Winterset, IA, May 27-28: Commemorate the life of John Wayne at this year's birthday featuring Barry Corbin and Lesley-Anne Down joining to help celebrate the opening of the major museum expansion.
877-462-1044 • JohnWayneBirthplace.museum
Kerrville Folk Festival
Kerrville, TX, May 26-June 12: Singers and songwriters perform at one of the largest folk music festivals in North America.
830-257-3600 • Kerrville-Music.com
RODEOS
Bandera Pro Rodeo
Bandera, TX, May 28-29: This rodeo features PRCA-sanctioned bareback riding, steer wrestling, calf roping and bull riding.
830-522-0054 • BanderaProRodeo.org
GUN SHOWS
Colorado Gun Collectors Association Gun Show
Denver, CO, May 21-22: The show offers more than 1,500 tables of antique and modern firearms and cowboy artifacts.
720-482-0167 • CGCA.com