DOG RACE
International Pedigree Stage Stop Sled Dog Race
Lander, WY, February 3: Lander is one stop on this year's sled dog race that showcases the beautiful state of Wyoming.
307-734-1163 • WyomingStageStop.org
FAIR AND TRADE SHOW
Wyoming State Winter Fair & Trade Show
Lander, WY, February 1-2: Celebrating its 50th anniversary, the fair and trade show offer a grand selection of arts and crafts by regional artists.
307-332-4011 • WyomingStateWinterFair.org
HERITAGE FESTIVAL
73rd Gold Rush Days and Senior Pro Rodeo
Wickenburg AZ, February 12-14: This event celebrates Wickenburg's origins as a ranching and gold mining center. Founded 73 years ago, Gold Rush Days draws tens of thousands of visitors during the three days of activities.
800-942-5242 • WickenburgChamber.com
Buffalo Soldier Heritage Day
San Angelo, TX, February 28: Join the Fort Concho Buffalo Soldier Living History Unit as they honor the nation's black troops.
325-657-4440 • FortConcho.com
ICE FESTIVAL
Cripple Creek Ice Festival
Cripple Creek, CO, February 6-14: Watch sculptors carve ice into works of art, plus enjoy a liquor luge, ice snacks, an ice slide and ice maze.
877-858-4653 • VisitCrippleCreek.com
MUSIC
Jam Sessions at the Occidental Hotel
Buffalo, WY, Thursdays in February & March: Local musicians gather to perform the best bluegrass, Western and folk music in the land.
307-684-0451 • OccidentalWyoming.com
NATURE FESTIVAL
Crane Watch Festival
Kearney, NE, March 6-April 11: More than 500,000 Sandhill cranes migrate to the Platte River Valley during their northward migration.
800-652-9435 • VisitKearney.org
PARADES
Arizona Parada del Sol Historic Parade & Hashknife Pony Express 
Scottsdale, AZ, March 4-7: Don't miss the arrival of the Hashknife Pony Express re-enactors on Friday and the historic parade through the heart of Old Town Scottsdale on Saturday.
480-990-3179 • ParadaDelSol.us
RE-ENACTMENTS
Battle of the Alamo Commemoration
San Antonio, TX, February 23 through March 6: The Texas Army and the San Antonio Living History Association portray events leading to the Battle of the Alamo.
210-225-1391 • TexasArmy.org
Goliad Massacre Re-Enactment
Goliad, TX, March 27-28: The occupation of Fort Defiance and the 1836 Goliad Massacre are re-created with a memorial service on the last day.
361-635-3752 • PresidioLaBahia.org
RODEOS
Winnemucca Ranch Hand Rodeo 
Winnemucca, NV, March 3-7: Thirty teams compete for prizes in saddle bronc riding, steer stopping, wild mugging, trailer loading, team roping, ranch doctoring and team branding.
775-623-2220 • RanchRodeoNV.com
Cinch Timed Event Championship
Edmond, OK, March 13-15: The best all-around timed-event hands in professional rodeo compete in five rodeo timed events.
800-595-7433 • VisitEdmondOK.com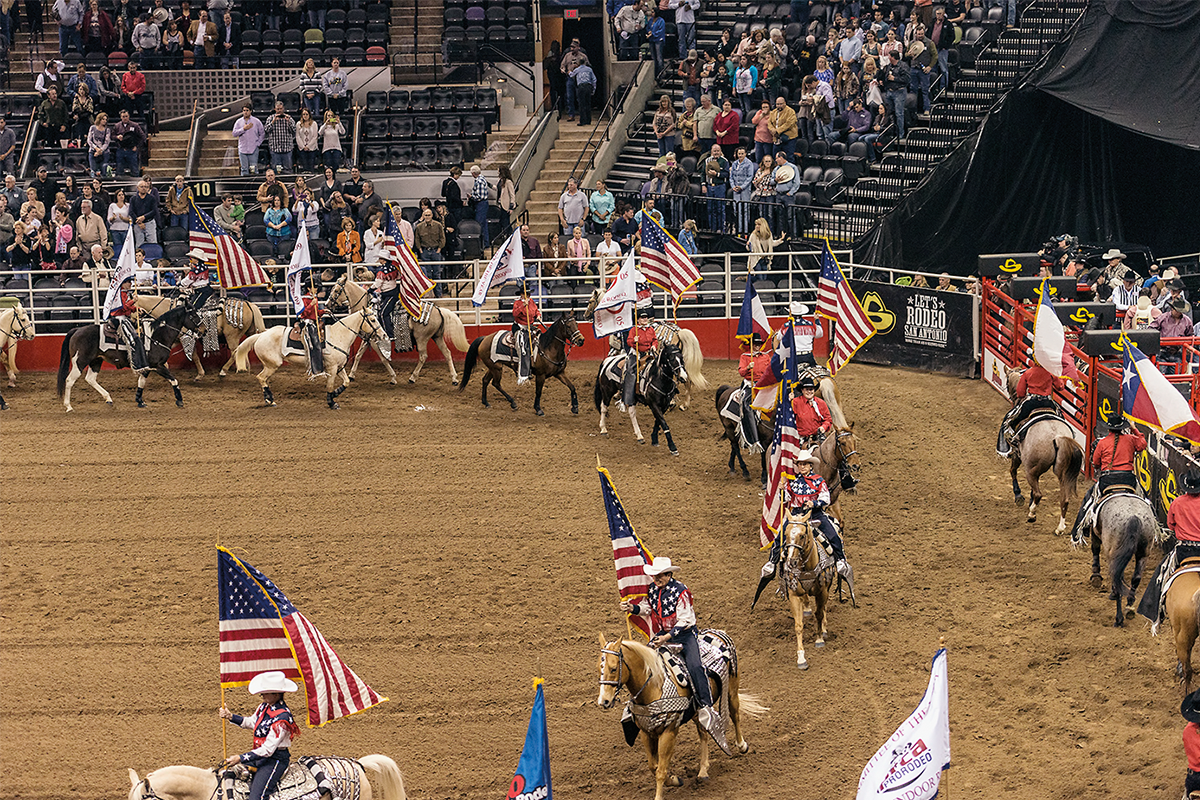 STOCK SHOWS & RODEOS
Oklahoma Horse Fair
Duncan, OK, February 7-8: Enjoy the Chisholm Trail Ranch Rodeo, the horse, mule and pony show, an equine trade show and working cow dog clinics.
405-226-0630 • OKHorseFair.com
Fort Worth Stock Show & Rodeo
Fort Worth, TX, Closes February 8: Several days of livestock and horse shows, rodeos, concerts and food are offered.
817-877-2420 • FWSSR.com
Scottsdale Arabian Horse Show
Scottsdale, AZ, February 11-21: Attendees will see some changes to this year's show to ensure everyone is safe. The public will not be allowed onto the competition grounds. (If that changes, it will be posted on the show website.) The Shopping Expo will run separately from the competition. The public and show participants will be allowed into the expo.
480-515-1500 • ScottsdaleShow.com
TRADE SHOWS
Vintage Tulsa Show
Tulsa, OK, February 19-21: Shop a wide selection of antiques from some of the region's most prominent and professional collectors.
918-619-2875 • HeritageEventCompany.com
WRITERS CONFERENCES
Tucson Festival of Books 
Tucson, AZ, March 6-7: For the first time ever, the Tucson Festival of Books presents a free and entirely online festival for 2021. This will be a full virtual festival with live author sessions from all genres, featuring favorite sponsor venues, all offered with the quality attendees have come to expect from the Tucson Festival of Books.
520-621-0302 • TucsonFestivalOfBooks.org
CANCELED EVENTS
Cowgirl Up! Exhibition & Sale
Opening Weekend—CANCELED
Wickenburg, AZ
928-684-2272 • WesternMuseum.org
FUTURE EVENTS
Buffalo Bill Birthday Bash
(Next event in 2022)
Golden, CO: Observe the Wild West showman's birthday with tours by costumed guides and birthday cake at the Buffalo Bill Museum & Grave exhibits.
303-526-0744 • BuffaloBill.org
Lone Star Cowboy Poetry Gathering
(Next Gathering Feb 18-19, 2022)
Alpine, TX: Mike Blakely, Dale Burson, Allan Chapman, Rodeo Kate and others celebrate the oral and musical traditions of the American West
432-216-2167 • LoneStarCowboyPoetry.com
TWMag.com:
View Western events on our website.