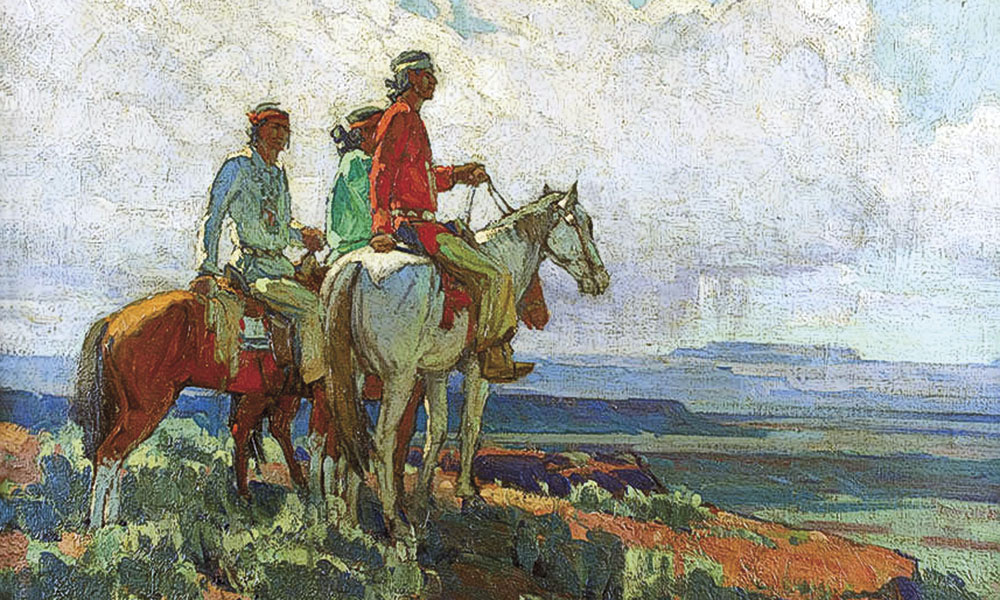 Edgar Alwin Payne's language of the Southwestern landscape mainly spoke of brilliant cliffs and skies towering over a small group of figures on horseback. So art collectors paid attention when an unusual scale for Edgar's figures appeared on the auction block at Wyoming's Jackson Hole Art Auction on September 16, bidding the highest for this oil, $260,000.
Navajo Scouting Party is a gift for collectors, as if Edgar were allowing viewers to zoom in with binoculars to better see the American Indians who so frequently meandered through his depictions of sky-high walls of red sandstone. They are no longer miniscule and unobtrusive, alone in a vast terrain, but rather take up the entire frame, as if to epitomize their importance in the history of the American West.
Called  "one of the most important Payne paintings I've seen come on the market in some time," by auction partner Roxanne Hofmann Mowery, Navajo Scouting Party is not the only close-up view Edgar painted of his Indian riders. Among these paintings that have made their way to auction houses is Navajos Waiting, which hammered down for $50,000 at Heritage Auctions in 2012.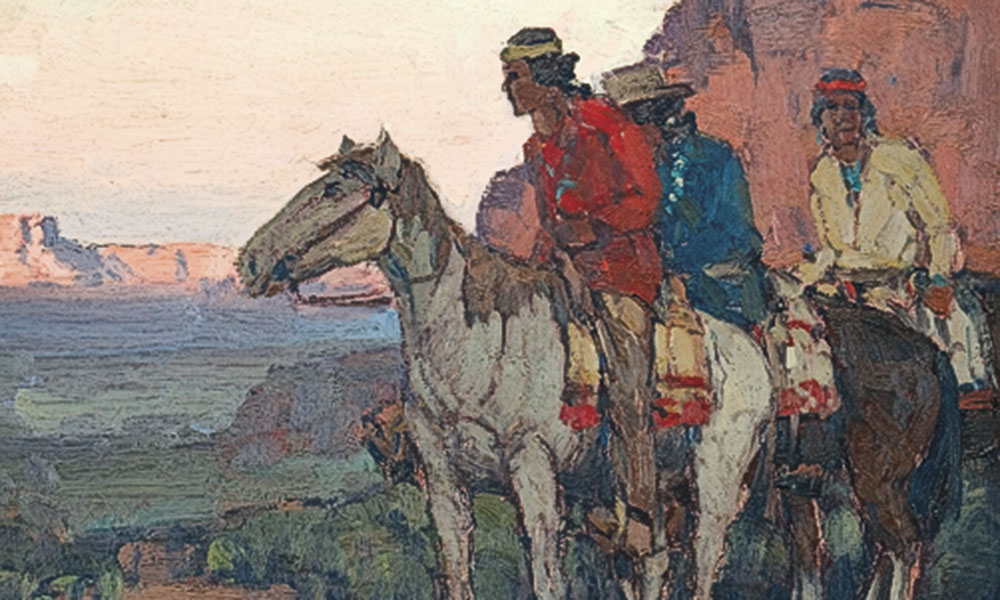 A blonde native of San Antonio, Texas, may have been the striking force who drew Edgar's eye to expanding his figural work. After Edgar met Elsie Palmer in 1909, marrying her in 1912, she assisted him in his murals by drawing the figures while he painted them.
A successful commercial artist, designing billboards for Kellogg's Corn Flakes and Pabst Beer, Elsie concentrated her powerful grasp of color by painting scenes of people she came across in her life.
One wonders how much influence Elsie had on her husband's art in those moments he decided to transplant his riders from the background into the foreground. His growth in this area is evident in a group of circa 1916 studies that sold at this year's Coeur d'Alene Art Auction. That year is when Edgar packed up his family and headed to Arizona and New Mexico, to paint at the Grand Canyon and on the Hopi and Navajo reservations.
Elsie was still close to Edgar, even after they separated in 1932. When he fell ill four years later, she took care of him, and when he was diagnosed with cancer in 1946, she moved in to nurse him until he died on April 8, 1947.
Although Edgar's dominance overshadowed her own work, Elsie championed his art, physically embodying her appreciation of him in a 1952 sculpture she made of Edgar, placed at Laguna Art Museum in Laguna Beach, California.
Collectors made nearly $4.2 million on Western and wildlife art at the Jackson Hole Art Auction.
Upcoming Auction
December 10, 2017
Civil War & Militaria Arms and Armor — Heritage Auctions (Dallas, TX)
HA.com • 877-437-4824