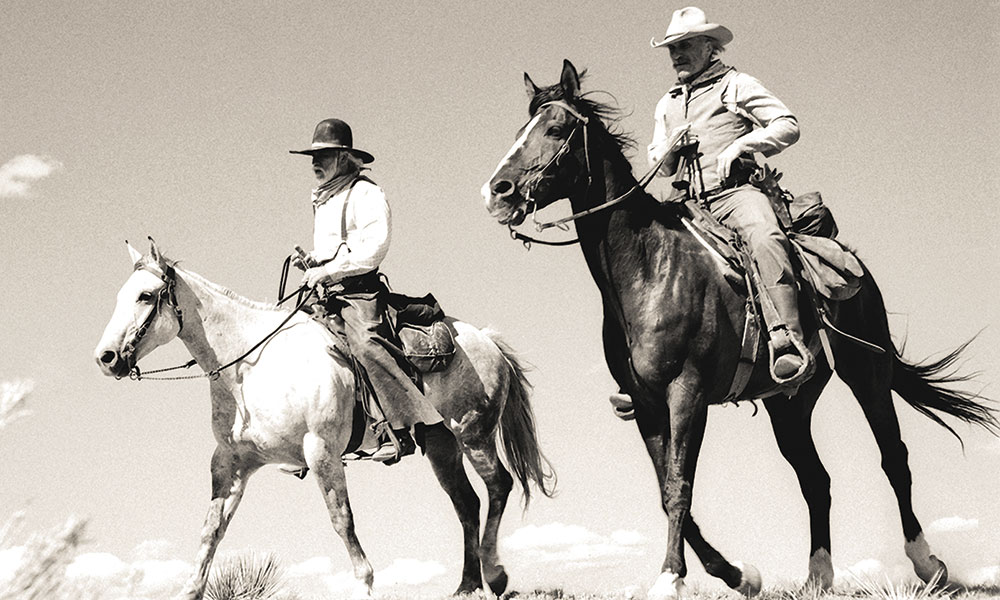 Western roundup of events where you can experience the Old West this December.
AUCTIONS
Rock Island Premiere Firearms Auction
Online, December 1-3: Collectible weapons are up for bid by the world's leading auction house for historical firearms and military artifacts.
800-238-8022 • RockIslandAuction.com
HOLIDAY FESTIVALS
Christmas in Old Dodge City
Dodge City, KS, December 1-25: This 1872 cowtown celebrates with a Christmas tree lighting ceremony, a chili cook-off, and light parade.
800-653-9378 • VisitDodgeCity.org
Bar D Wranglers Christmas Jubilee
Durango, CO, December 14: Country crooners perform their traditional Christmas show with Western music, poetry, and humor.
970-247-3500 • DurangoConcerts.com
Christmas Open House
Canyon, TX, December 1: History re-enactors open up Pioneer Town for an 1890s holiday celebration featuring live music and storytelling.
806-651-2244 • PanhandlePlains.org
Cowboy Capital Christmas
Bandera, TX, December 1-2: The self-proclaimed "Cowboy Capital of the World" celebrates with a parade, living nativity, and re-enactments.
800-364-3833 • BanderaCowboyCapital.com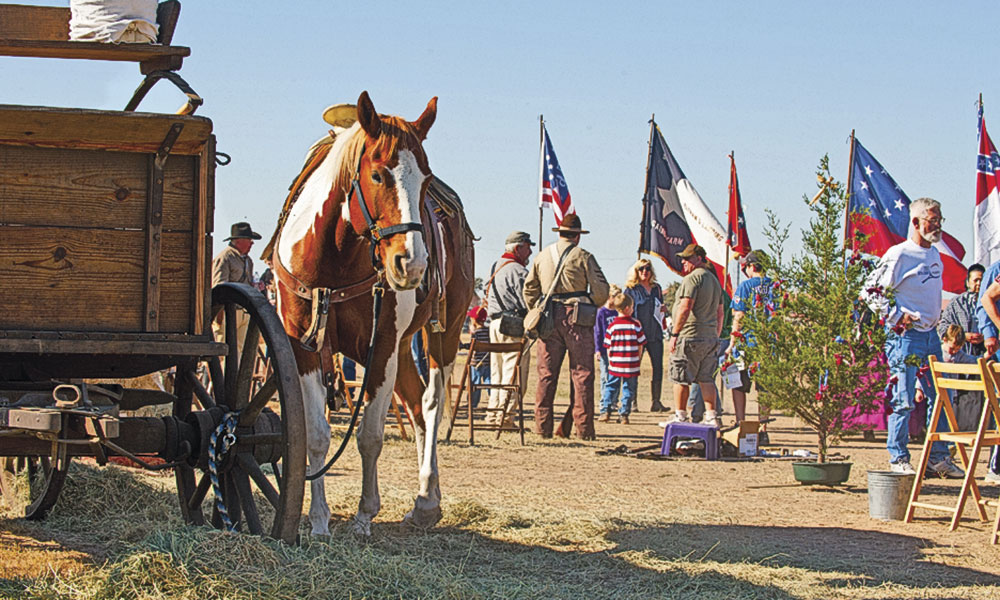 Christmas at Old Fort Concho
San Angelo, TX, December 1-3: This 1867 fort celebrates the different cultures of Texas with living history and 1800s holiday entertainment.
325-657-4441 • FortConcho.com
Holiday Trolley Tour of Lights at Lied Lodge
Nebraska City, NE, weekends December 1-31: Climb aboard the Arbor Day Farm trolley for a tour of Historic Nebraska City and a show of Christmas lights.
800-546-5433 • LiedLodge.org
Santa's North Pole Adventure
Georgetown, CO, December 1-31: Enjoy hot cocoa, cookies, and candy canes with Santa and his helpers aboard decorated train coaches.
888-456-6777 • GeorgetownLoopRR.com
Wickenburg Cowboy Christmas Poetry Gathering
Wickenburg, AZ, December 1-2: Visit the western town of Wickenburg for a festive holiday celebration of cowboy poetry and song.
928-684-5479 • WickenburgChamber.com
Christmas Past and Present
Grand Island, NE, December 2 & 9: This lamp-lit tour of Railroad Town offers live music in a festive celebration of the spirit of Christmas.
308-385-5316 • StuhrMuseum.org
Cowboys on Main
Bandera, TX, December 2-30: Strolling entertainers and history re-enactors bring frontier Christmas to life in front of the county courthouse.
830-796-4447 • BanderaCowboyCapital.com
Frontier Christmas at Sharlot Hall
Prescott, AZ, December 2: Living history actors recount what Christmas was like in the territorial past.
928-445-3122 • Sharlot.org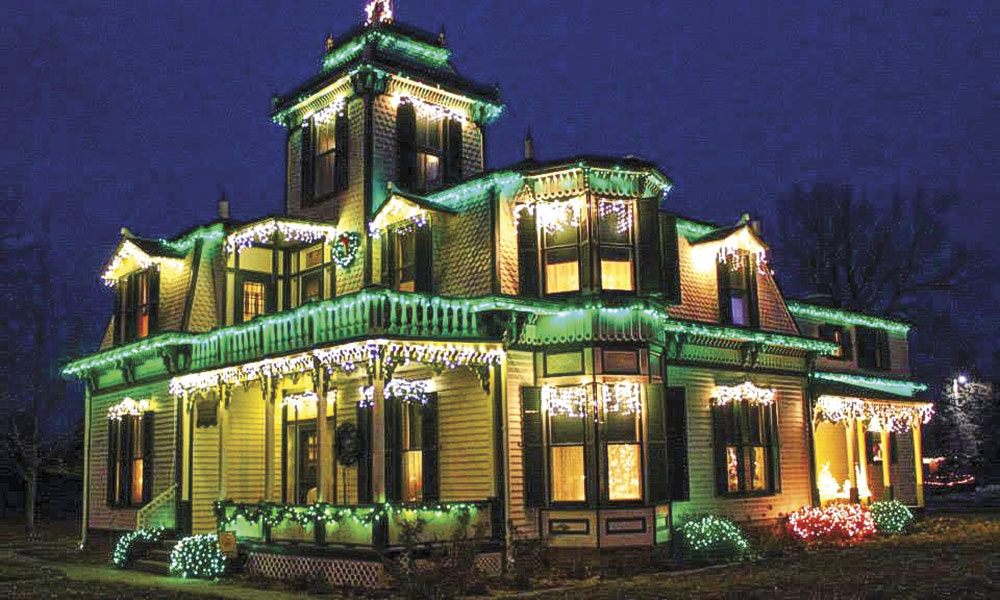 Christmas At The Cody's
North Platte, NE, December 8–23: Celebrate the holidays in Buffalo Bill Cody's 1886 mansion, featuring caroling and horse-drawn rides.
308-535-0835 • VisitNorthPlatte.com
High Plains Christmas
Gering, NE, December 2: This High Plains holiday gathering features hay rides, marsh-mallow roasts, and bonfire cowboy coffee.
308-436-1989 • LegacyOfThePlains.org
Prescott Courthouse Christmas Parade & Lighting
Prescott, AZ, December 2: "Arizona's Christmas City" kicks off the holidays with a Christmas tree lighting ceremony and a visit from Santa Claus.
928-777-1100 • Visit-Prescott.com
Community Christmas Parade
Pecos, TX, December 3: Watch a Christmas parade with brightly decorated floats and live music, in the town that boasts hosting the world's first rodeo in 1883.
432-445-2406 • VisitPecos.com
Light of the World Christmas Pageant
Minden, NE, December 3 & 10: Minden celebrates "102 Years of Lights" with 15,000 lights strung throughout downtown.
308-832-1811 • MindenNE.org
Country Christmas
Las Vegas, NV, December 7-17: More than 400 vendors, exhibitors and retailers have their finest Cowboy Christmas gifts on display.
817-599-7664 • CountryChristmas.com
Christmas Light Parade & Lighting of the Historic Courthouse Luminaries
Tombstone, AZ, December 9: Luminaries surrounding the courthouse are lit as the Christmas parade moves through the town and ends within sight of the historic building.
520-457-9317 • TombstoneChamber.com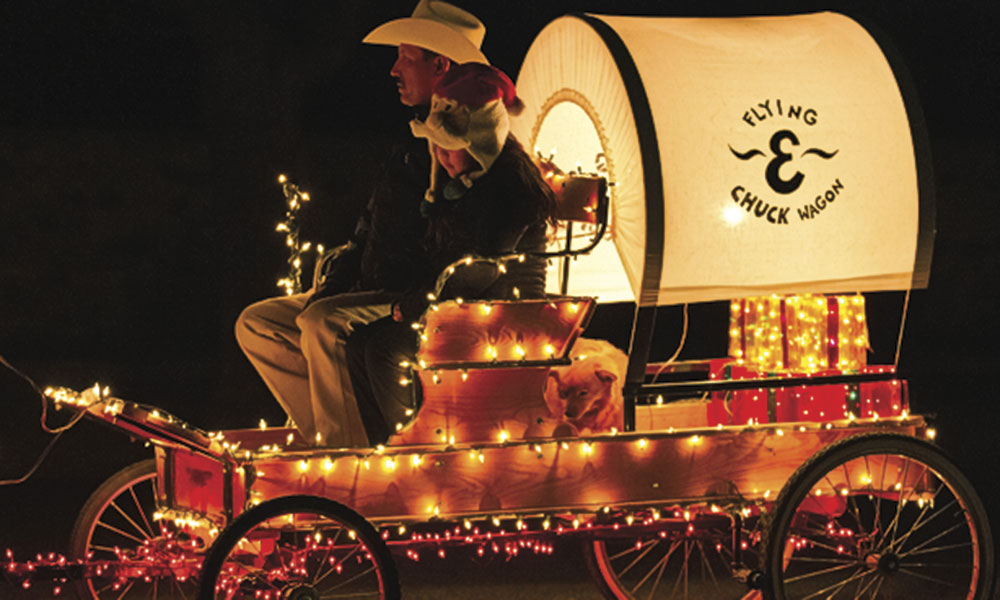 Wickenburg Christmas Parade of Lights
Wickenburg, AZ, December 8: Colorfully-lit floats parade through the streets while Santa and Mrs. Claus ride through historic downtown.
928-684-5479 • WickenburgChamber.com
Fort Larned Christmas Open House
Larned, KS, December 9: Travel back to Fort Larned in 1859 for an old-fashioned
Yuletide celebration with Christmas carols and hot cider.
620-285-6911 • NPS.gov
RODEOS
Wrangler National Finals Rodeo
Las Vegas, NV, December 7-16:  Fifteen contestants compete for titles in bareback riding, steer wrestling, team roping and more.
702-260-8605 • NFRExperience.com
WESTERN FILM EXHIBITIONS
Lonesome Dove Exhibition
Canyon, TX, closes December 3: Experience the essence of the beloved four-part drama Lonesome Dove through photos from the filming of the beloved western.
806-651-2242 • PanhandlePlains.org
TWMag.com: View Western events on our website.