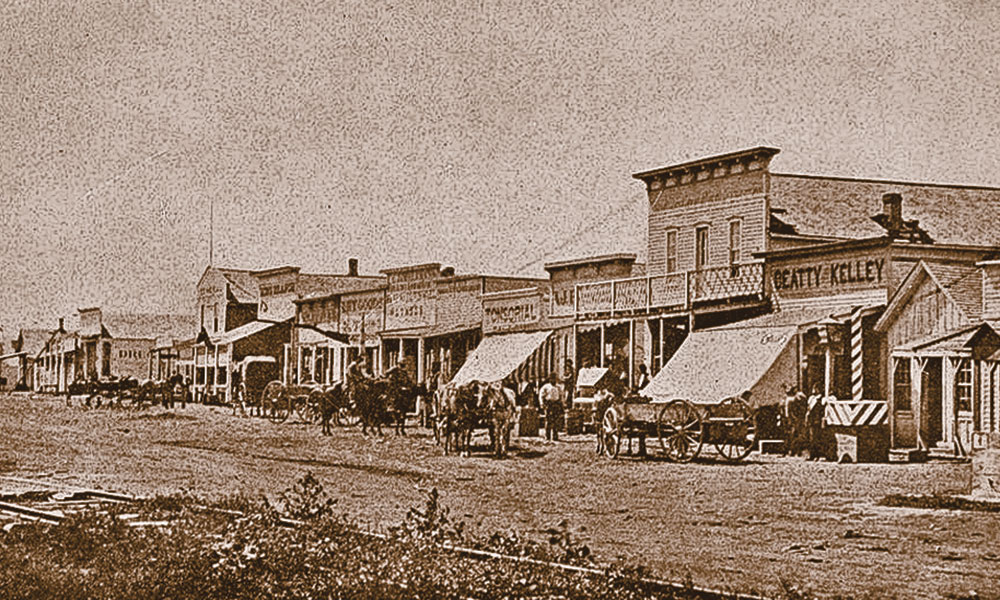 Once the Atchison, Topeka & Santa Fe Railway reached the cowtown of Dodge City, Kansas, in 1872, restaurants and hotels sprang up, between 1872 and 1880, to cater to visitors and residents alike.
Meals could be had at hotels that included the Dodge House, Wright House, Great Western and the City, or at restaurants that included one owned by James H. Kelley and Peter L. Beatty, both former mayors of Dodge City, and William Robbins's place.
One hotel restaurant had a deadly beginning. In November 1872, the cook shot and killed the drunken hotel owner, J.M. Essington. George B. Cox and F.W. Boyd took over the hotel, renamed it the Dodge House and reopened in 1873. The death count continued, which explains why Capt. James Biddle, his wife, Ellen, and their sons were greeted with such a hardy hostess when they stayed at the hotel in 1873.
The hostess was a hard-faced, six-foot woman dressed in "full blue trousers drawn in at the ankle, and a long blue sacque reaching nearly to the knee; a knife and pistol were in her belt," Ellen wrote, adding that, while she looked tough, she offered the boys cake and milk upon their arrival.
At the Dodge House, guests ate buffalo meat for supper, a new delicacy for Ellen.
Beatty and Kelley's restaurant building had many homes before arriving in Dodge City. The building was erected in Leavenworth, then moved to Junction City, to Ellsworth, to Hays City and finally to Dodge City. The restaurant  offered "fresh oysters constantly on hand" and served meals at all hours.
Another restaurant owner built himself up after a scandal. After part owner Charles Heinz was acquitted of stealing $500 from the Lone Star saloon and restaurant in 1884, he opened the Delmonico.
His staff faced a tough time in those early years. In 1887, his waiters had to "wade through water" during the supper hour, because a pipe overflowed, filling the basement with three feet of water.
By 1889, though, the restaurant was appealing to respectable crowds, most notably the State Soldiers' Home Committee on Legislation. Along with entertainment by the Cowboy Band, the restaurant gave these diners a lavish dinner. The meal included blue point oysters and Saratoga chips for appetizers,  French fritters with pineapple sauce and young pig with apple sauce for entrées, and wine sap apples and mince, green apple and gooseberry pies for dessert.
By 1891, the Delmonico had become one of the most popular places in town. The Cowboy Band, which often played at the Delmonico, was uniquely Dodge City's and created a sensation wherever they played.
In the mid-1880s, The Dodge City Times raved about the band, reporting, "Their appearance is unique and peculiarly dressy. The fashionable and latest style of cowboy suits, sombrero hats, buckskin suits, clanking spurs, immense tooth picks, Bowie pattern, in the belt, and shooting irons on their hips a foot long or two feet."
Imagine a cowboy sitting down to a fancy dinner at the Delmonico, listening to tunes played by the Cowboy Band and eating potato chips! Try your hand at this popular vegetable snack.
Saratoga Chips
Ingredients:
4 white potatoes
Lard or oil for frying
Salt
Directions:
Slice the potatoes thinly and soak in water overnight. The next day, drain and completely dry them. Any water will cause the grease to explode and pop.
Place enough lard or oil in a Dutch oven to come halfway up and heat to medium-high. Gently add the potatoes in small batches and fry until golden. Place on towels to drain. Sprinkle with salt while still hot.
Recipe adapted from the Hoxie Sentinel, Kenneth, Kansas, August 10, 1893
Sherry Monahan has penned The Cowboy's Cookbook, Mrs. Earp: Wives & Lovers of the Earp Brothers; California Vines, Wines & Pioneers; Taste of Tombstone and The Wicked West. She has appeared on Fox News, History Channel and AHC.