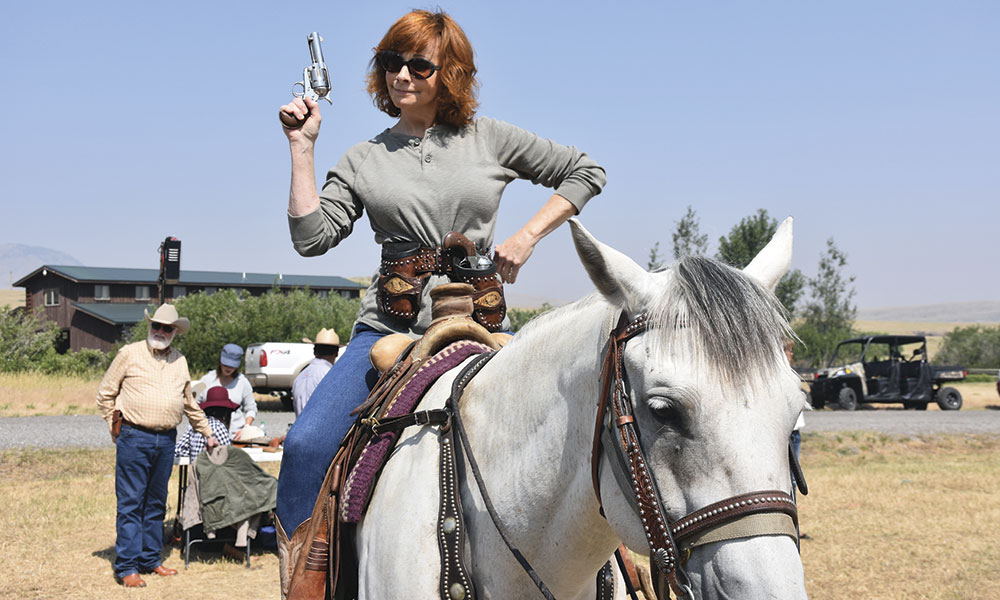 This November, the National Cowgirl Museum in Fort Worth, Texas, inducted Reba McEntire and her mother, Jacqueline, into the Hall of Fame. An Oklahoma native, Reba has sold 56 million albums worldwide, with 35 number one singles on the music charts.
The singer has also acted in 11 movies and starred in Broadway's Annie Get Your Gun and in her Reba sitcom.
Her holiday offerings this year include: hosting CMA Country Christmas on ABC and the releases of My Kind of Christmas album from Nash Icon Records and her boot line with Justin Boot Company, Reba by Justin. 
On the family ranch, my first duty was driving for Daddy while he put hay out. He'd put a 50-pound sack of feed on the seat, and either Susie or I would get up on the seat, on top of the sack, he'd put it in Granny gear and then hop out. He'd say, "Just stay straight and stay off the rocks." And he would hop in the back and throw the hay off to the cattle. One day, Daddy pulled up, and Mama looked at the truck, and there was scratches all down the side. Mama said, "What happened to your truck?" He said, "Oh, blame it on my drivers."
Down at the pen, all of us girls and Mama would be working cattle. About 11:00, Daddy would say, "Alright, you girls go help your Mama with dinner," which is what we called lunch. We'd set up in the back yard, clean the mountain oysters and take 'em in to Mama, and she'd fry 'em up for dinner. Then we'd clean up after all of us ate, but while we were cleaning up, the men would take a nap, watch TV or sit underneath the fan, whatever. We'd tell Daddy, "We're through." He'd say, "Alright, let's go back to the pen." I didn't think that was fair.
Getting into the music business was easy for me, because I was a singer, but I also knew how to handle things. I'll never forget, one time, the van guys were trying to hook the trailer up to the truck and they couldn't get it backed up. I said, "Hop out," and I backed it up just directly over the trailer hitch. Hopped back out, and let them finish up. I didn't say a word. Knew better not to. When you're in a man's world, you don't do that. You just do your job and walk on.
My daddy taught me to be dependable. You do your job, you work hard, and when someone tells you to do something, you do it. You don't say, "Well, I'm gonna go turn the horses out later on," and then 10 minutes later, "Hey Susie, you go do it." You do what you say you're gonna do, and you do what you're told.
I started rodeoing at age 11. I was running barrels like my sister Alice did. Alice was the best rider and the toughest cowhand we had in the family. I finished running barrels at age 21 when I got my recording contract, thanks to Red Steagall. I was a lot better singer than I was a cowgirl.
Grandpap won bulldogging and steer roping off the running board of a Ford car. That was one of the tales he'd tell us kids. Grandpap, his name was John McEntire, won Cheyenne in 1934, for steer roping. Daddy won it in 1957, 58 and 61. Daddy was a calf roper too.
I still ride, when I can. I was up in Montana this summer with Mike Ingram and Red Steagall at Red's Roundup over there in Cascade. Red and I won the team penning. I got the horsemanship award 'cause I worked out on all events. I won the trap and skeet shooting. It was a lot of fun.
My favorite spot in the American West is Jackson Hole in Wyoming. It's just captured my heart. The women will say it does that to Southern women. I just absolutely love it.
Having played Annie Oakley twice, in Buffalo Girls and on Broadway, I feel a kinship to her. She was a special woman—had a great heart, took care of her family, loved to travel and tended to business. She was always my hero. I remember meeting Alice and Pake when they got off the bus at the cattle guard and telling 'em what went on that day on the Annie Oakley show.
This Christmas, I'll spend in Tennessee with my family—my son Shelby, daughter Shawna. I think Chassidy, my youngest daughter, is gonna be in Houston, Texas. Brandon, my oldest son, is married to Kelly Clarkson, so they're gonna be on a promotional tour. I think they'll be finished by Christmas time. I hope so, at least.