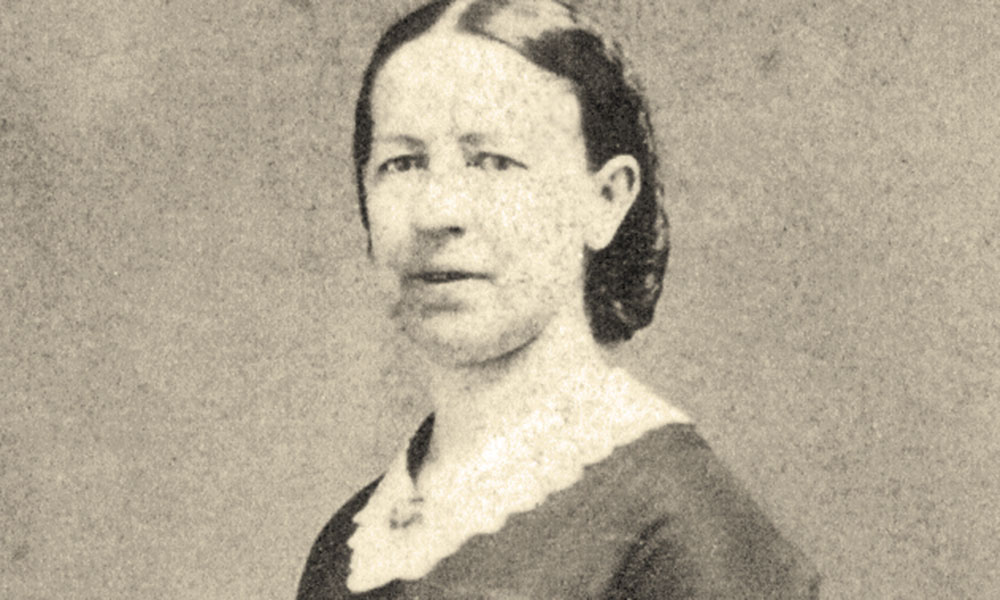 Contemporaneous newspaper accounts of "Wild Bill" Hickok's  marriage to Agnes Lake in 1876 reported a favorable view of their relationship. Accounts of the surprise marriage on March 5 in Cheyenne, Wyoming, describe Hickok as being "meek and gentle as a lamb," seemingly conquered by love.
The few letters written between them that remain display the genuine affection, respect and love between the pair. They had known each other for about five years before they married, so their union was not an impulsive decision. Yet following both of their deaths, historians in the early 20th century developed a cynical and even disbelieving view of the couple.
Because Agnes was about 11 years older than Hickok when they wed, some historians suggested that she had been looking for a husband of "renown." She was depicted as a damsel in distress, a materialistic shrew and a circus performer who disguised her body in layers of cakey makeup, unaware that she was past her prime.
The idea of this established woman, a widow with fame, money and property in her name, did not sit well with the idea of the rugged, heroic gunfighter, who, at the time of the marriage, was largely getting by on his "celebrity."   
Outside the mocking of Agnes's physical appearance, three factors played a big role in disconnecting Agnes and Hickok as an authentic couple.
1) Scarce Biographical Data on Agnes:
Like many celebrities and performers of the era, Agnes invented her own past.  Throughout her career, she claimed that she was French (she was really German), fabricated details of her past and performed under a variety of pseudonyms.
Her self-engineered past was perpetuated after her death by her son-in-law, Gil Robinson (married to Emma), and was continued in Hickok biographies, both in print and on the screen.
The varying accounts of her life perplexed historians, who, rather than delve deeper into her past, swept her aside to focus on other areas of Hickok's life. The late Joseph G. Rosa, however, did tell me he had hoped to learn more about this mysterious woman.
Agnes's true heritage was only discovered by my writing and research partner, the late Linda A. Fisher, through the diary and naturalization papers of Agnes's older brother, Joseph J. Messmann, in the early 2000s.
Yet nearly 150 years after Agnes married "Wild Bill," historians, filmmakers and journalists still minimize Agnes and oftentimes remove her identity entirely by calling her "Mrs. Hickok."
2) Calamity Jane Eclipsed Agnes After Hickok's Murder
Martha "Calamity Jane" Canary was part of the lore of the Wild West—a laundress, waitress, dance hall girl and alcoholic prostitute who was most known as the buckskin-clad camp follower of Dakota Territory military expeditions in 1875-76.
The pervasive nature of 19th-century popular literature immortalized living folk heroes, especially Wild Bill and Calamity Jane, in the collective American memory.
Calamity Jane's presence in Deadwood, Dakota Territory, when Wild Bill was murdered on August 2, 1876, and her efforts to insert herself into his narrative, made her an instant choice as his paramour.
The youthful, vivacious woman of 24 looked more appealing compared to Agnes, a 50-year-old retired circus performer who was about to become a grandmother.
Calamity Jane was a much more exciting choice to sell stories. Dime novelists jumped to tell Calamity Jane's various accounts of the sad day—whether she was cradling Wild Bill's head as he lay dying or chasing after his killer, Jack McCall, with a meat cleaver.
Calamity Jane's sensationalist imagery sharply contrasted Agnes's experience. We don't even know when or how Agnes learned of Wild Bill's murder, but we do know she wasn't able to visit Deadwood and his grave until nearly a year later.
Between the two accounts, Calamity Jane's version would and did more easily capture the public's imagination.
3) The Perpetuation of the False Diary of Jean McCormick
Jean McCormick claimed she was the love child of Calamity Jane and Wild Bill, and her false diary has plagued the historical record.
First appearing in 1941, with more pages magically appearing later on, her diary was legitimized by some Hickok family descendants, the media and even Yellowstone County, Montana.
The historical detriment this diary did to Agnes in Wild Bill's narrative cannot adequately be measured. McCormick's diary reminded the country of a charismatic female, in a masculine, rugged Wild West, who happened to be Calamity Jane. Though thoroughly debunked, perhaps the diary inspired the strong female characters in 1950s and 1960s Western films.
In the end, the perpetual dissemination of incorrect information about Agnes, from many sides, including herself, has resulted in her exclusion from Wild Bill's historical narrative.
With each new screenplay, television show, dime novel or nearly every Wild Bill biography (with the exception of Rosa's manuscripts), the same wrong information is regurgitated.
Consequently, Agnes remains eclipsed by Calamity Jane.
Carrie Bowers is the author, along with Linda A. Fisher, of Agnes Lake Hickok: Queen of the Circus, Wife of a Legend. Visit OUPress.com to purchase the book from the publisher, University of Oklahoma Press.