Tom Van Dyke, born in Detroit, Michigan, received an MFA from Cranbrook Academy of Art. Filled with creative expression, his sculptures, paintings and photography have been exhibited or are in the permanent collections of America's finest art museums. Pursuing a career in motion picture production, Van Dyke wrote and directed Are You Talking to Me?, a docudrama considered for nomination of an Academy Award. He created and produced the American Revolution Bicentennial television PSA announcements, which featured John Denver.
Moving to Cave Creek, Arizona, with his wife, Mary, Van Dyke was inspired to write A
Cowboy Christmas An American Tale. Praised by Elmore Leonard, the historical novel set in 1873 is a best seller. A magical story embracing cowboys' flavorful soup of words and expressions, it crisscrosses the expansion of the far West and collides with destiny. It's a story about cowboys who burned themselves like candles for experiences worth living and values that created strength and revealed character.
Van Dyke feels: "A writer discovers their voice through persistent investigation, fully mining the essence of their existence—a storyteller who opens the door through inspired thought—a wonderment of imagination, the alloy of the mind's eye, with a galaxy of perception and endless vault of words forging exploration of the best kind to form a communal bond of writer and reader."
A work authentically rendered is truly a gift full-circle, he believes, and recommends the following books as inspired and worth exploring.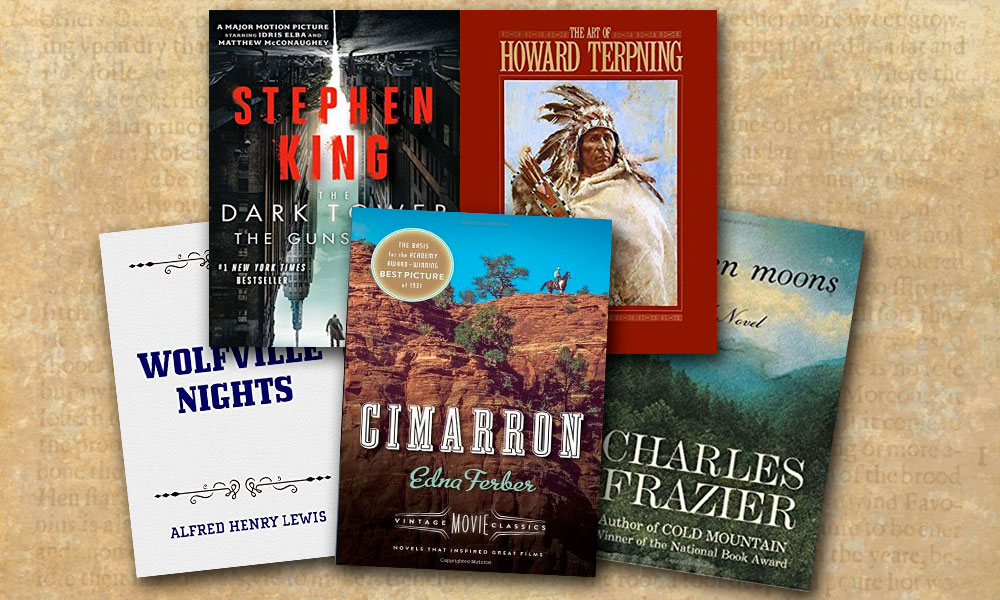 1 Wolfville Nights (Alfred Henry Lewis, Frederick A. Stokes Company): Lewis lifts his narrative above the common herd with unique degenerates and faulted players with smart, hilarious dialogue. A talent for heady thoughts and pure observation go beyond the picturesque and romantic—a harbinger of today's graphic novels.
2 The Dark Tower, The Gunslinger (Stephen King, Scribner): NEW YORK CITY! It's a wonderment of unwinding metaphors in a metaphysical arc of terror, a saga of reverberating tones of deadly violence reminiscent of surreal moments punctuated by the shrill stingers of spaghetti Westerns: dark…myth…legend.
3 Thirteen Moons: A Novel (Charles Frazier, Random House): A stoic life—full circle, feeling the machinery of the 20th century in the winter season of Will's life, he is: "Practicing for the Nightland." The prose of a brilliant gifted writer of depth and insight splay a forging work of transition and spiritual discovery along the Mississippi on the farthest edge of the United States of America.
4 The Art of Howard Terpning (Elmer Kelton, The Greenwich Workshop): This is storytelling at its finest. The mind of an artist focused and fused with composition and paint, portrays life's finest moments, merging emotion and the essence of life reflected in the eyes of American Indians, revealing their very souls. Narrative painter Howard Terpning has merged pallet with soul.
5 Cimarron (Edna Ferber, Doubleday, Doran and Company, Inc.): As Ferber points out in the Foreword, "Only the more fantastic and improbable events contained in the book are true." A sage fiction of engaging events and provocative characters, Cimarron sits on the highest shelf of my Western library.