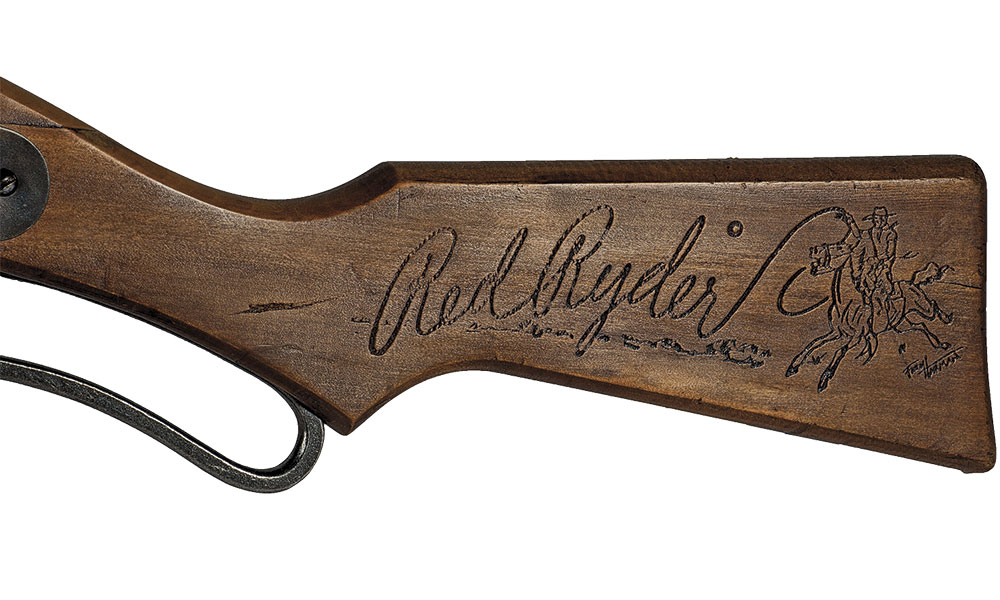 Years ago, at a friend's 50th birthday party, I gave him a Red Ryder 50th Anniversary, special edition BB rifle. Despite his being showered with a variety of unique gifts, it was this little lever gun that generated the most conversation.
Virtually everyone was fascinated by the airgun, and it seemed as though nearly everyone from this group of middle-aged men and women remembered owning one during their youth. It was then that I realized that, although often overlooked by most of us, the Red Ryder BB gun could be considered a classic Western gun.
Introduced in 1940, this air rifle represented the ultimate of a Western-style airgun at that time. Daisy air rifles date back to 1888, when the company produced its first crude model.
By the late 1930s, Daisy had been offering a "Buck Jones" model for some years, but, when the famous cowboy star tragically died in a flaming building, the firm brought out an improved version of that smoothbore, using the then-new comic strip cowboy "Red Ryder."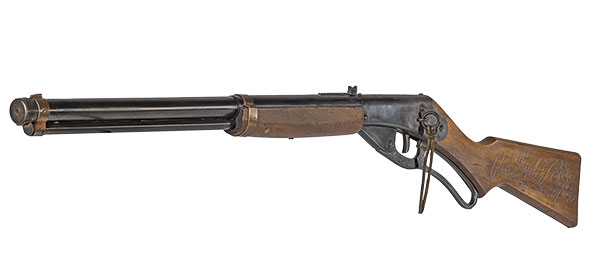 The brainchild of cartoonist Fred Harmon, this red-headed cowpoke was a rough ridin', straight-shootin' buckaroo who became the cowboy hero of many of America's youngsters.
The airgun featured blued metal parts, copper-plated barrel bands and a saddle-ring with a "gen-u-wine" leather thong—just the right touch for Red's little saddle pals. It was the first air rifle to feature such appealing details to the youngsters of the day.
Initially selling for $2.95, this dandy gun was a rousing success. When the U.S. entered World War II in December of 1941, the Daisy Manufacturing Company turned its efforts toward producing defense materials and ceased production of the Red Ryder until 1946.
The post-war version remained mostly unchanged from its pre-war version, except it had blued barrel bands rather than the earlier copper models.
Around 1950, plastic stocks and forearms were incorporated into production, and for a brief transition period, some guns were sold with both wood and plastic parts. By year's end, all Red Ryders had plastic stocks.

The No. 111 Model 40 (original designation) was finally discontinued in 1953, having delivered about six million copies to eager youngsters nationwide. In 1949 alone, over one million Red Ryders were produced.
After a slight updating and cosmetic change in 1954, the 1955 Red Ryder became the Model 94 Red Ryder, with plastic stock and forearm, leather wrapped around the butt plate, silvered silk-screened artwork on the receiver and a silvered forearm band and lever.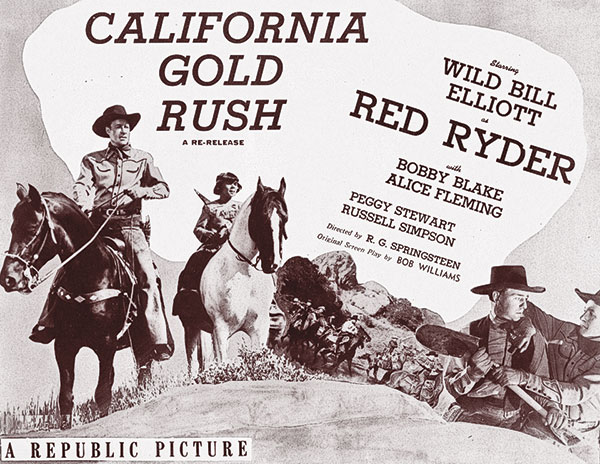 By 1959, while the Model 94 continued in production, the Red Ryder name was dropped. The next 15 or so years could be called the dark ages of the BB gun world, for no Red Ryder air rifles were produced. They did return, though, in 1972 as the Model 1938 (after the year of the birth of the Red Ryder comic series), again boasting a wooden stock and forearm.
Despite some minor details and improvements (under the Model 1938B designation), like non-removable shot tubes, and the addition of a cross-bolt safety in the trigger mechanism, the air rifle has remained the same up through today.
Arguably the most popular BB gun in the world, this 35.4-inch-long little rifle weighs just 2.2 pounds and holds 650 of the .177 caliber BBs.
Recommended for kids 10 years of age or older, a Red Ryder is capable of generating approximately 350 feet-per-second muzzle-velocity and has a range of around 195 yards.
Today's Red Ryder, with its blued barrel, lever and barrel band, saddle ring with leather thong, and the image of Red Ryder on his galloping horse pressed into its wooden stock, remains a reminder of our original airguns and a lasting memory of the Wild West of our childhoods. A classic Western gun? You betchum, Red Ryder!
Phil Spangenberger has written for Guns & Ammo, appears on the History Channel and other documentary networks, produces Wild West shows, is a Hollywood gun coach and character actor, and is True West's Firearms Editor.