From the arrival of Spanish missionaries to the present day, Arizona's climate has proved to be ideal for growing superior varieties of wheat, barley, spelt and oats.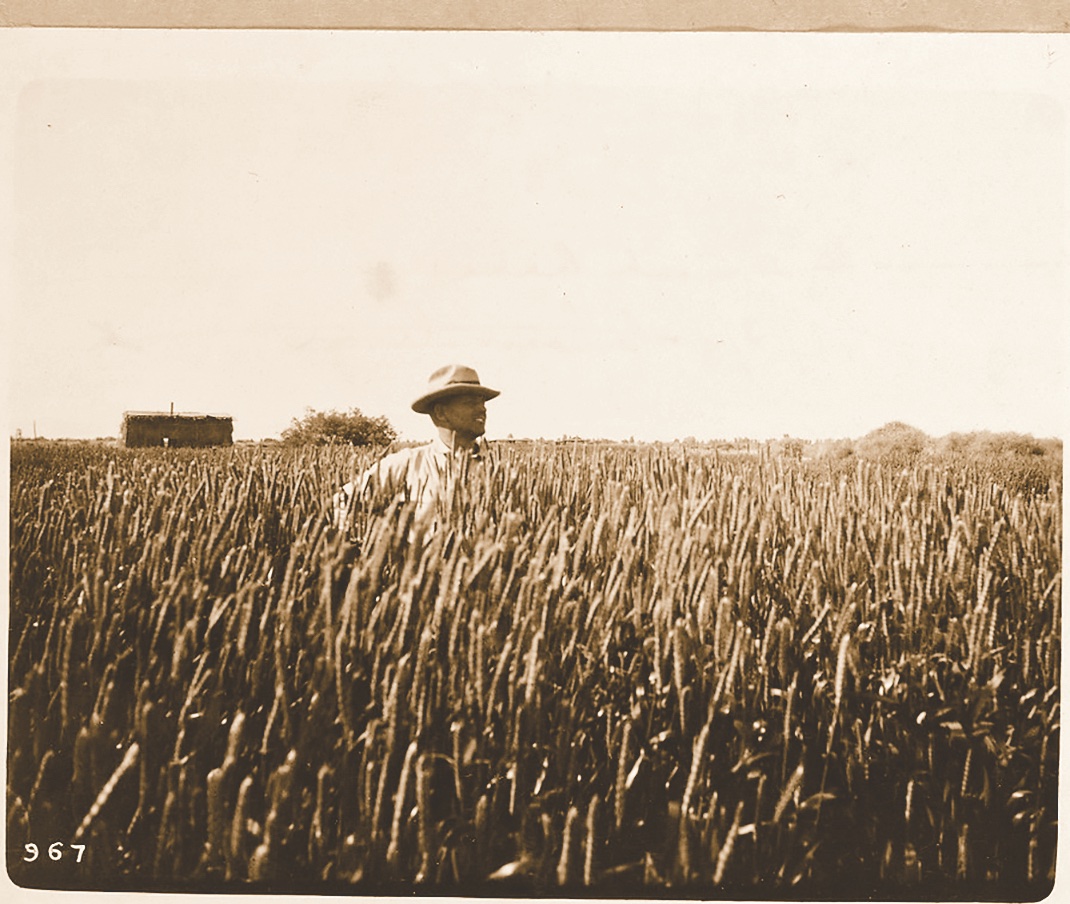 Arizona may have a dry and arid climate, but the pioneers grew a variety of crops, including fruits and grains. Grains were an important commodity during the 1800s and early 1900s. Pioneer grain farmers primarily grew White Sonora wheat, one of the varieties of white wheat in North America. It was carried over by the missionaries in the 1700s and became a very popular variety throughout the Southwest until the early 1900s. As railroads expanded in Arizona, newer varieties of wheat, like Turkey Red and Early Bart replaced the White Sonora, with some claiming its quality was inferior to others being grown in Kansas and Oklahoma.
In the 1870s, grain farmers struggled with keeping their grains from parching in the heat but managed with irrigation. In 1873 P.R. Brady in Florence, reported, "Business dull, mainly on account of poor demand from grain. Farmers all at work; ground dry, there having been no rain for several months past. Mr. B's flouring mill running steadily and making 4,300 lbs. superfine flour every twelve hours. Plenty of water in river for irrigating." 
It was 1874 when Charles Trumbell Hayden realized there was a real opportunity in Tempe, so he built a mill near the modern corner of Mill Avenue and Rio Salado Parkway. His business was successful and flourished for over 120 years. In 1876 Hayden had a merchandise store in Prescott where he sold family, superfine, graham and cracked wheat flour.
In 1878 Phoenix's Salt River Herald reported that the land in Salt River Valley was prime agricultural land. It reported, "The soil is rich in alluvium, capable of producing, with good tillage, twenty to fifty bushels of wheat, barley and corn to the acre." Between 1880-81, Arizona had 10 flour mills that produced over 5,000,000 pounds of flour. In the 1880s, the grain farmers had to contend with fruit and flower growers, who wanted more land to expand their fields. Arizona was fast becoming a flower- and fruit-producing area. Many farmers felt the grain farmers' time had passed and that they needed to make way for flower and fruit growers. Both existed, and in the 1890s, Arizona grass and grain farmers were successfully producing alfalfa, barley, oats and wheat. 
In 1900, those grains were being used in menus across Arizona. The Arizona Republic suggested a Thanksgiving menu that included cream of barley soup, toasted crackers, pies, whole wheat bread and doughnuts. Around the turn of the century newer varieties of wheat and barley were being planted. Hulless barley, spelt and Emmer grains were used for a variety of items including cereal. The Holbrook Argus had an ad for Salzer's Farm Seeds that read, "Salzer's Speltz (Emmer). Greatest cereal wonder of the age." We know spelt and Emmer as heirloom varieties today, but back in the day they were largely used for livestock feed. Emmer was also commonly called speltz, according to Prescott's Weekly Journal-Miner, but in 1912 The Holbrook News disagreed and published a story titled, "New Grains of Hardy Merit." It began, "Speltz and emmer are really two distinct grains, and differ practically as much as the pear and the apple. Emmer is the German name…Speltz is a plant of similar appearance, but quite different."
In 1918, the Sossaman family homesteaded in Queen Creek and started growing grains and still do today. They've partnered with Hayden Flour Mills' new owner, Jeff Zimmerman, who mills their heritage grains into flours. They revived the name from the original Hayden family, who had the landmark mill in Tempe for over 100 years. When Zimmerman started the flour mill, he discovered a list of brands that were familiar to generations of Arizonans, including Arizona Rose, which can be seen on their packaging. Try making this pioneer recipe with Hayden Flour Mills heritage flour.
Tea Rolls
5 cups all-purpose flour 
1 1⁄³ cups warm milk (100° to 110°)
1 package quick-rise yeast
(about 2 ¼ teaspoons)
¼ cup butter, melted and cooled to room temperature
1 teaspoon salt • 1 large egg
3 tablespoons 1% lowfat milk 
Combine 2 cups flour, warm milk and yeast in a large bowl. Cover with plastic wrap and let stand 1½ hours.
Add 3 cups flour, butter, salt and egg. Stir for about three minutes or until well blended. Place dough onto a lightly floured surface and knead for about 8-10 minutes, until smooth and elastic. If the dough sticks to your hands, add a tablespoon of flour at a time until it feels tacky, but no longer sticks.
Place the dough in a large bowl coated with butter or cooking spray. Turn to coat the top. Cover and let rise in a warm place (85°) for about 1½ hours or until doubled in size.
Turn dough out onto a lightly floured surface and dust with enough flour so it's not sticky. Pat into an 8 x 10-inch rectangle and divide dough into 18 balls. Lightly grease a 13 x 9-inch baking pan and add the rolls.
Lightly coat the rolls with cooking spray and cover with plastic wrap. Let rise in a warm place (85°) for about 1½ hours or
until doubled in size.
Bake at 375° for about 20 minutes or until browned. Cool rolls in pan 5 minutes. Serve warm, or cool on a wire rack.
Recipe adapted from Holbrook's The Argus, May 7, 1896.