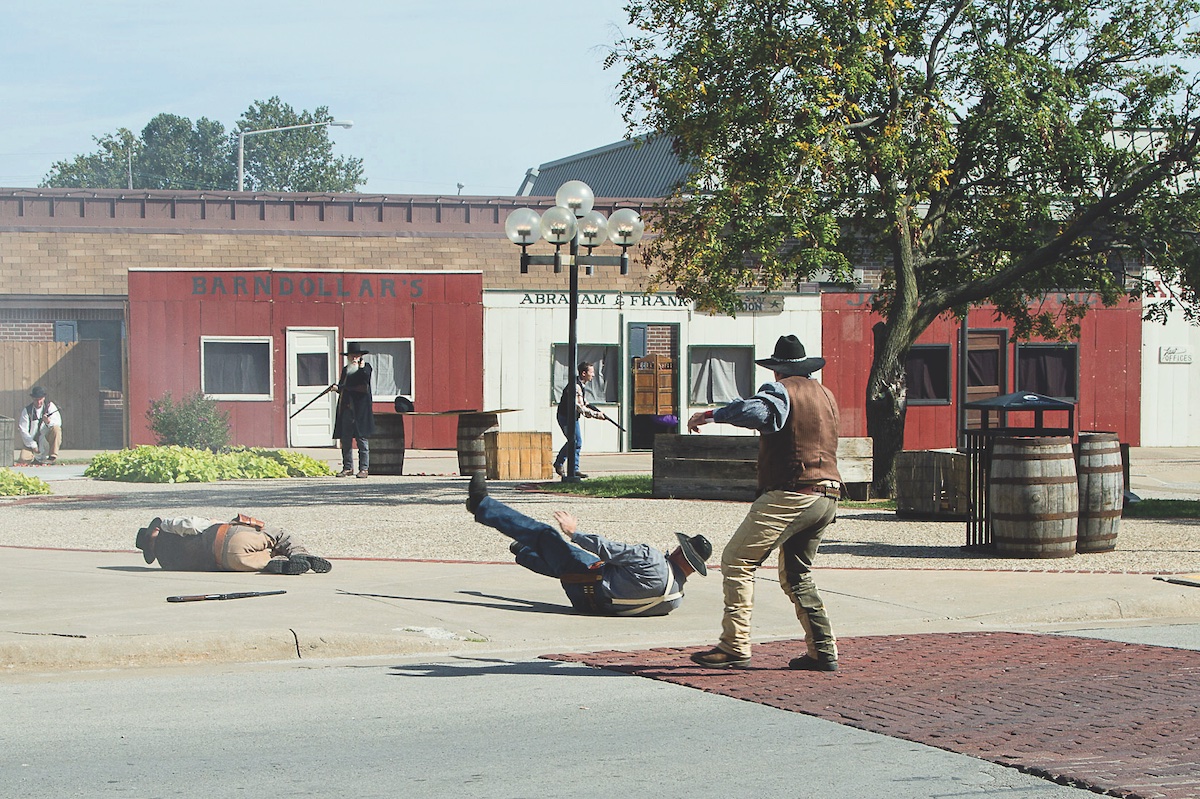 Dalton Defender Days & Cowboy Trade Days
Coffeyville, KS, October 1-2: Celebrate that fateful day of October 5, 1892, when the Dalton Gang was defeated in Coffeyville. Enjoy Cowboy Trade Days, American Indian, cowboy and true Old West artifacts, crafts and more.
620-251-2550 • Coffeyville.com
ART SHOWS
Traditional Cowboy Arts Exhibition & Sale
Oklahoma City, OK, September 30-October 1: This event is dedicated to preserving and promoting the skills of saddle making, bit and spur making, silversmithing, rawhide braiding and the role of these traditional crafts in cowboy culture.
405-478-2250 • NationalCowboyMuseum.org
Prescott Studio Tour
Prescott, AZ, September 30-October 2: The 15th annual tour is a celebration of the arts and the artists in the Prescott Quad-City area. It is a free, three-day event that allows you to visit private artists' studios, see the artists in action, learn how they create their art and purchase unique art for yourself or as gifts.
928-830-8236 • PrescottStudioTour.com
COUNTY FAIRS
Kerr County Fair
Kerrville, TX, October 7-9: Head to this 1857 Texas Hill Country town for a prospect show, cook-off, bull rides, downtown parade and dances.
830-257-6833 • KerrCountyFair.com
FILM FESTIVALS
Lone Pine Film Festival
Lone Pine, CA, October 6-9: Be sure to join all the festival supporters, stars, performers and behind-the-scenes volunteers who make this amazing small town, home-spun film festival happen. Sunday evening, just at dusk, the entire crowd gathers for the closing campfire at Lone Pine's Spainhower Park at the north end of town.  
760-876-9909 • LonePineFilmFestival.org
42nd Annual Folk Music Festival
Prescott, AZ, October 3-4: Enjoy the music of more than 200 musicians from throughout the Southwest, with 90-plus performances at four venues on the Sharlot Hall Museum campus. Bring your own instruments and jam with the artists at this longest-running folk music event in the state.
928-445-3132 • SharlotHallMuseum.org
GUN SHOWS
Texas Gun Collectors Association Show
Denton, TX, October 21-23: Held at Embassy Suites Hotel, this collectors' showcase offers historical firearms and edged weapons.
210-323-9519 • TGCA.org
HERITAGE FESTIVALS
Helldorado Days
Tombstone, AZ, October 21-23: So much has changed in the world, and yet the citizens of Tombstone will throw open their town as they have for 88 years to welcome people who love the history and magic of Tombstone and want to be a part of this annual fun- for-the-entire-family event.
888-457-3929 • TombstoneWeb.com
Rex Allen Days
Willcox, AZ, September 29-October 2: Willcox brings its heroes to life every October. Enjoy the traditions of yesterday, with events all over town, including the annual parade, rodeo and fair.
520-384-4626 • RexAllenDays.org
Cowboy Way Jubilee
San Angelo, TX, September 30-October 1: This two-day event presents "Everything Cowboy" with Western music, Western films and TV shows and Hollywood celebrities.
580-768-5559 • CowboyWayJubilee.com
Fall for History
Wallace, ID, September 30-October 2: Celebrate the mining town's history in the most colorful time of the year. Wallace's Fall for History Festival is a gala celebration of the town's heritage, featuring speakers, historic home and museum tours, live theater, military reenactments and more.
208-753-7151 • WallaceID.fun  
Cowboys on Main
Bandera, TX, October 1-20: Come sit on Redneck the Longhorn and take your picture, or visit with Kelly Scott and his chuckwagon, or take a ride in Ron Dakota's horse-drawn wagon around the town square. Saturdays, 9:00 a.m.-1:00 p.m.
830-796-4413 • BanderaCowboyCapital.com
Trailing of the Sheep Festival
Ketchum, ID, October 5-9: Be a part of another year of stories as the festival meets its mission to gather, present and preserve the history and culture of sheep ranching and herding in Idaho and the West.
208-720-0585 • TrailingOfTheSheep.org
Sundown Walk with the Spirits of Concordia Cemetery
El Paso, TX, October 15: Walk through the 1872 cemetery to learn the history of John Wesley Hardin, the Buffalo Soldiers and other permanent residents.
915-842-8200 • ConcordiaCemetery.org
Durango Cowboy Poetry Gathering
Durango, CO, September 29-October 2: The gath-ering is an exciting, fun-filled event with evening performances and Saturday daytime sessions.
Poets and musicians from around the country grace an intimate stage at a local theater, performing classic and contemporary poems and songs. 
970-749-5663 • DurangoCowboyGathering.org
Red Steagall Cowboy Gathering & Western Swing Festival
Fort Worth, TX, October 28-30: Enjoy Western swing music, cowboy poetry, a chuckwagon cook-off and a rodeo—all at Fort Worth Stockyards.
817-444-5502 • RedSteagallCowboyGathering.com
HERITAGE RAILROADS
Fall Foliage Train
Baker City, OR, Opening Date October 22: Photography and history fans take a ride on a vintage steam locomotive to capture the fall scenery.
541-894-2268 • SumpterValleyRailroad.org
Georgetown Loop Railroad Pumpkin Fest
Georgetown, CO, September 30-October 2: Take the Pumpkin Fest train on an epic journey. Your ticket is good for a train ride, face painting, games, bounce castle, holiday characters and a free pumpkin to take home.
888-456-6777 • GeorgetownLoopRR.com