The Real History of a Handcart

When True West lands in my mailbox, I turn first to "Truth Be Known" for its wisdom and wit, then I flip to the great double photo always just inside. The July-August issue's double-truck features a railroading scene in which four men occupy a vehicle described as a handcart, while two stand aside at the right.
As a former news photographer and longtime fan of railroading, may I offer some observations?  
The scene is of a track inspection being made soon after track had been laid. That the track is newly laid can be deduced by the paucity of ballast between the ties. Notice that the ties are of unequal length, sawed from round trunks and flattened on two sides.
The vehicle floor is of rough lumber and missing a board or two, showing signs of heavy use. It shows no means of propulsion such as a two-handled lever to drive a crank that would be typical of what is called a "speeder."  It looks like the type of low cart that is used to receive rails off-loaded from a flat car, then rolled to the advancing front as track is being set and spiked.
On the cart, the men in caps are probably track-laying crew supervisors. The one in the forward position, more formally dressed in the hat and high collar, is likely their boss. The man standing is the photographer who made this photo. He is holding a tripod with a camera bellows with no lens. His right hand is gripping something, perhaps a pneumatic bulb to release remotely the shutter of the camera making the picture. Seated at photo-left is a man with his hands on a rod or pole to wedge against the wheel of the cart for braking, or for poling the car forward. The two track workers at the right of the photo just as well may be this day's means of propulsion.
The man in the dark shirt is holding a spike-driving hammer. Follow the handle down to the ground and you'll see the head of a sledge or a maul. The man with the suspenders is holding a long bar to lift spiked rail and ties simultaneously for shifting into alignment. The two are accompanying the others to correct any loose spikes or crooked track found during the inspection.
Thanks for the feature on the tourist railroads.  I'm headed for Ely, Nevada. See you there.
—Rus Stolling (Fresno, California)
Thank you. We love it when our readers provide all the historical details that can be gleaned from just one photograph. —SR
Correction
A production issue led to a less-than-final version of the Western Books section being published in the July/August issue, including the incorrect version of Ashley Sweeney's "Build Your Western Library." Below is the corrected version. The corrected department can also be read in its entirety online with a subscription at TrueWestMagazine.com.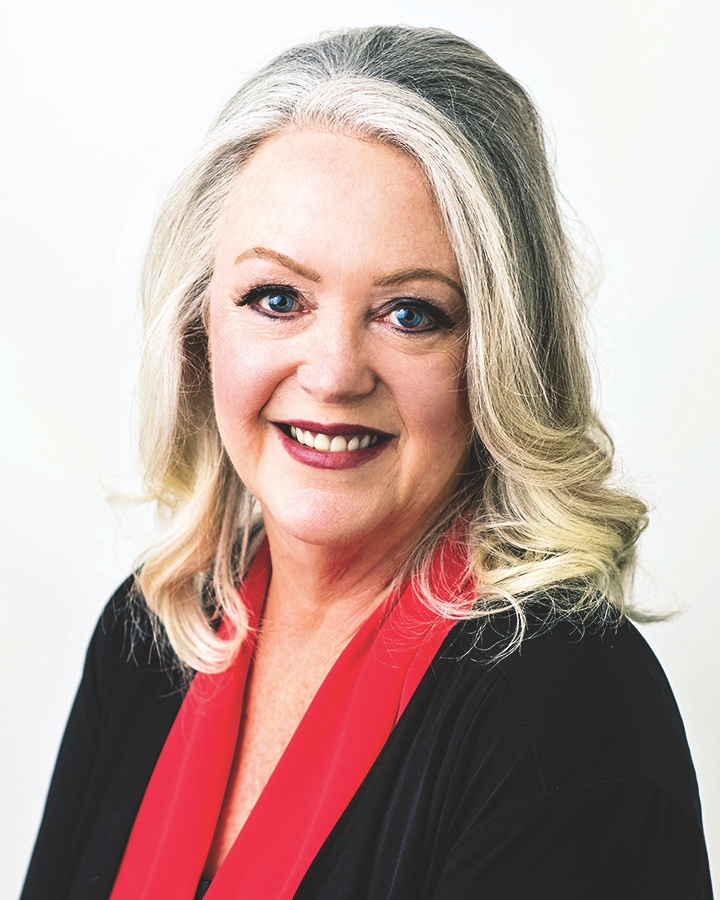 Historical Novelist Shares Her Favorites
Native New Yorker Ashley E. Sweeney writes Western historical fiction. Her first two novels, Eliza Waite and Answer Creek, have won a total
of 11 awards, including the New Mexico-Arizona Book Award, the WILLA Literary Award and the Nancy Pearl Book Award. Her third novel, Hardland, set in 1899 Arizona Territory, releases in September. [See review in this issue on page 52.] Sweeney lives in Tucson and the Pacific Northwest. She recommends these five Western novels:
  Inland by Tea Obreht (Random House): In 1893 Arizona Territory, one day unfolds for the lives of two disparate characters, homesteader Nora Lark and an outlaw and cameleer known only as Lurie, as their lives intersect toward an explosive ending. 
  All Things Left Wild by James Wade (Blackstone): Reminiscent of Cormac McCarthy, this 2021 WWA Spur Award-winner centers on 16-year-old horse thief Caleb Bentley as he's on the run with his no-good brother Shelby across Texas in 1910. 
  One for the Blackbird, One for the Crow by Olivia Hawker (Lake Union): When neighbors
Cora Bemis and Substance Webber have an affair in Wyoming in 1876, Cora's husband murders Webber and he is imprisoned. Over winter, the wives are forced to share lodging and supplies—and plan their futures. 
  Whiskey When We're Dry by John Larison (Penguin): Told from orphaned 17-year-old Jesse Harney's point of view, this novel takes readers through the Rockies as Jesse disguises herself as a man in search of her outlaw brother Noah. 
  News of the World by Paulette Jiles (William Morrow): In my favorite read of the past five years, Captain Jefferson Kyle Kidd wanders through Texas as an itinerant newspaper reader. Along the way, he's tasked with taking an orphan girl who had been previously kidnapped by the Kiowas back to her relatives.