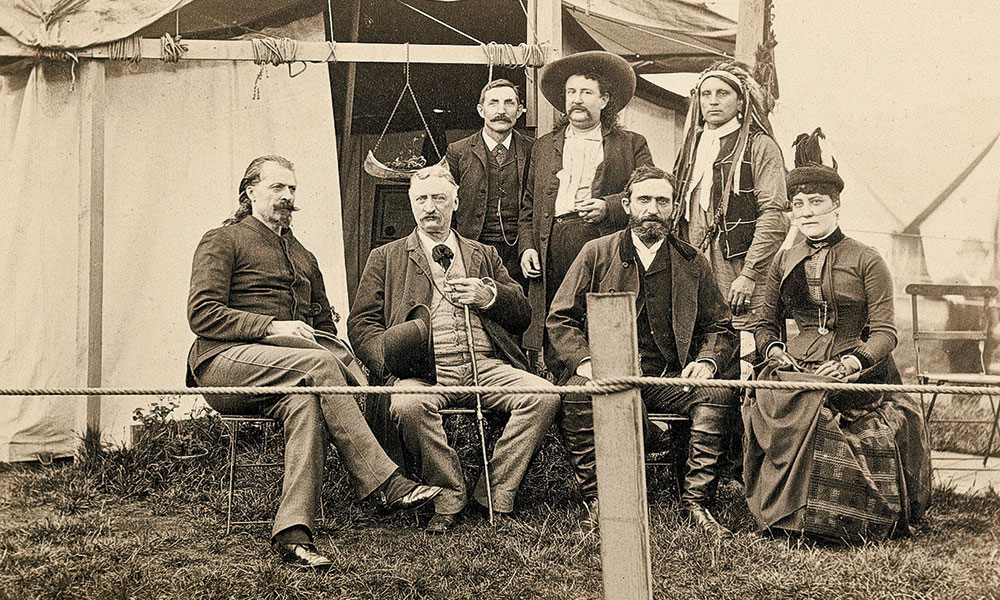 The "Prince of Press Agents," a spinmeister in a Stetson—he made "Buffalo Bill" Cody a household word around the world. But chances are the name "Arizona John" Burke is unfamiliar.
Burke's ending is both sad and shocking.  He died penniless and forgotten, buried in an unmarked grave, across the country from the frontier West he loved.
Marketing executive Joe Dobrow, known most for his work at Whole Foods and Sprouts, decided to "right a historical wrong" and give Burke, the man who promoted Buffalo Bill from 1872 to 1917, the respect he deserved.
"Burke would show up two weeks in advance of the Wild West show, typically late at night on the train, and he'd go right to the newspaper offices and pal around with the editor," recounts Dobrow, who's written a book about marketing trailblazers, Pioneers of Promotion. "The story increasingly became, not that Cody's coming to town, but that Burke's in town."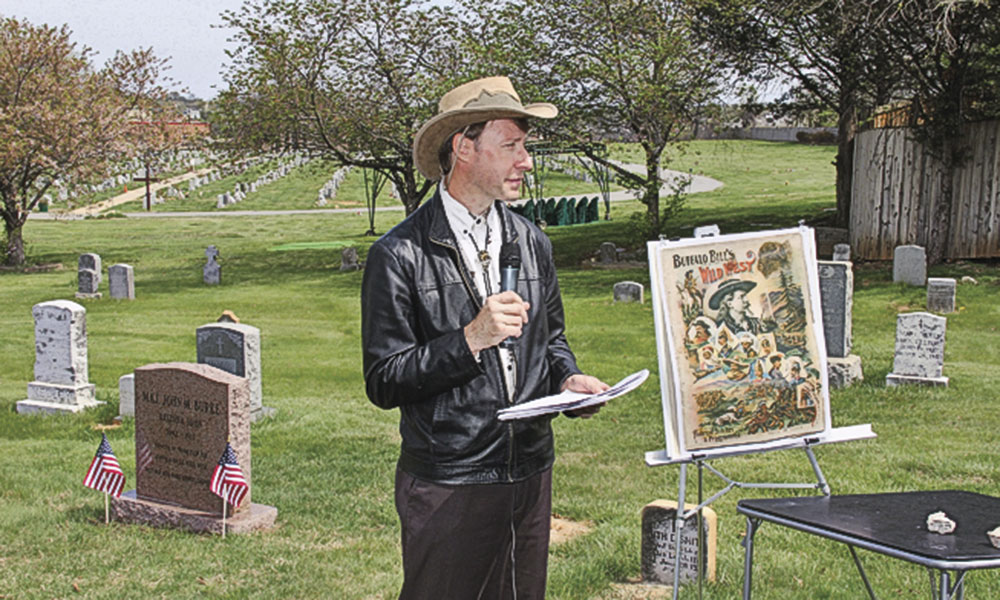 Dobrow got upset that the endings were so different for Cody and Burke, who died 92 days apart in 1917.  In fact, Cody's body was still awaiting its final burial—where to bury him was long unsettled—when Burke died on April 12.
Some 25,000 people attended Cody's funeral after his January 10 death. Many saw him buried on Lookout Mountain in Colorado on June 3.
Burke died alone, put into an unmarked grave in Mount Olivet Cemetery in Washington, D.C. by the Benevolent and Protective Order of Elks. Nobody knew, as Dobrow discovered, that Burke had told the press in 1902 that he hoped to be buried in Wyoming's Bighorn Mountains.
Dobrow found this failure to respect the man's final wish unacceptable. To mark the 100th anniversary of Burke's death, he spent $3,100 on a headstone, gathered mountain stones in Wyoming to place on the grave at Mount Olivet, found Burke's long-lost relatives and got a deacon to say a blessing.  The 2017 ceremony was livestreamed on Facebook, with the camera zeroing in on the headstone's epithet: "Hot Air and Kind Words Dispenser."
"I asked myself, 'What would Burke have done?'  and I realized he'd have used this as a publicity stunt to launch the book," Dobrow says. "But I probably spent more on the headstone than I'll make on royalties."
Plus, the book wasn't ready; University of Oklahoma Press will  publish it this spring. "No," says Dobrow, with a laugh, he never considered delaying the stunt until this April, on the 101st anniversary.
After the Burke ceremony, Dobrow had a few hours to kill before his plane ride home to Arizona, so he visited the grave of Richard F. "Tody" Hamilton, the press agent for P.T. Barnum's Greatest Show on Earth, who died August 16, 1916.  He went to the Baltimore Cemetery in Maryland and looked up his grave.
He also has no gravestone.  Stay tuned. 
Jana Bommersbach has earned recognition as Arizona's Journalist of the Year and won an Emmy and two Lifetime Achievement Awards. She cowrote the Emmy-winning Outrageous Arizona and has written two true crime books, a children's book and the historical novel Cattle Kate.