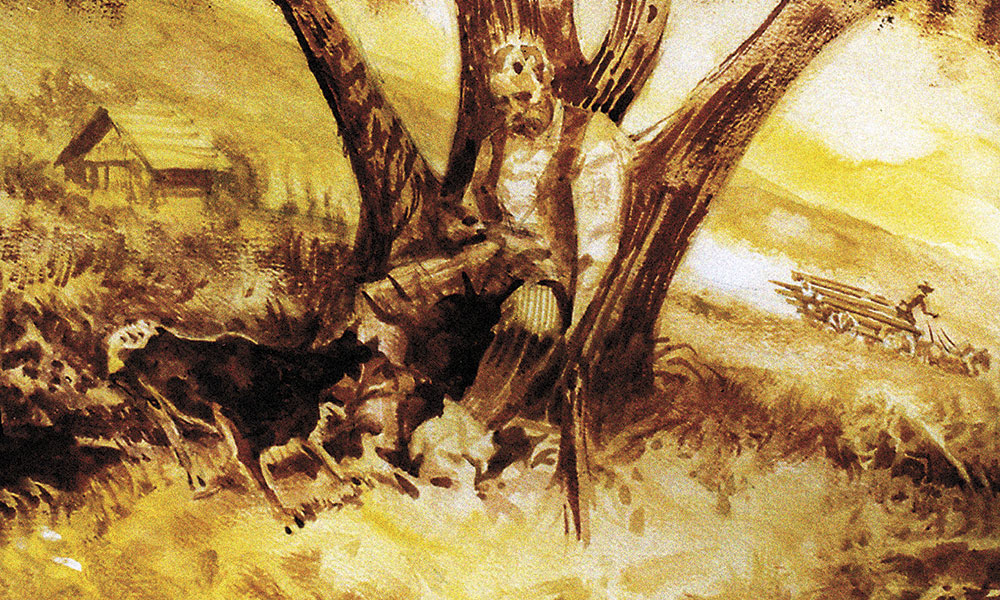 July 2, 1882
John Ringo has decided to move to Tombstone, Arizona Territory (he has been living in San Simon and Galeyville). He arrives in town and meets Editor Sam Purdy of the Tombstone Weekly Epitaph, who later writes of their talk: "…he said he was as certain of being killed, as he was of being living then. He said he might run along for a couple of years more, and may not last two days."
Taking in the Fourth of July festivities, Ringo drinks heavily, carousing with his many pards. When Ringo rides out of Tombstone, several days later, he takes extra bottles of liquor for the road.
The following Sunday, on July 9, the King of the Cowboys is spotted eating dinner at Dial's Ranch, in the South Pass of the Dragoons, still drinking.
A veritable, moving, one-man feast, Ringo encounters Deputy Billy Breakenridge, who later writes of the meeting in Helldorado: "It was shortly after noon. Ringo was very drunk, reeling in the saddle, and said he was going to Galeyville. It was in the summer and a very hot day. He offered me a drink out of a bottle half-full of whiskey, and he had another full bottle. I tasted it and it was too hot to drink. It burned my lips. Knowing that he would have to ride nearly all night before he could reach Galeyville, I tried to get him to go back with me to the Goodrich Ranch and wait until after sundown, but he was stubborn and went on his way. I think this was the last time he was seen alive."
On the afternoon of July 13, not far from Rustler Park, Ringo's horse gets away from him. He attempts to go after his big bay, but he doesn't get far. A shot is heard at about three p.m. at a nearby ranch. On the afternoon of July 14, John Yoast (or Yost), a teamster hauling wood, discovers John Peters Ringo's body.
Breakenridge later recalls the scene:  Ringo is found seated, with a bullet hole in his head, among "five large blackjack oaks growing in a semicircle from one root, and in the center of them was a large flat rock which made a comfortable seat."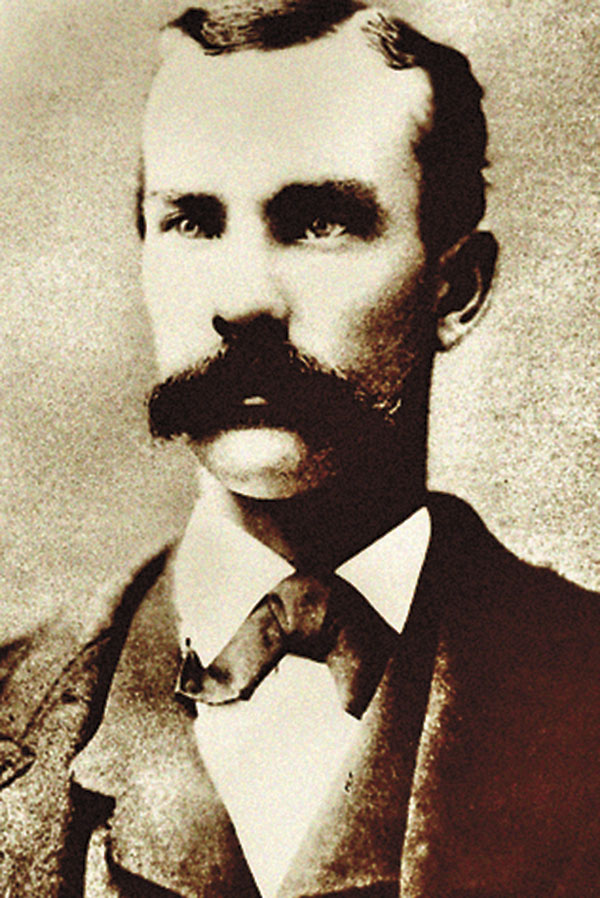 John Yoast's Statement to the Coroner
Acquaintance John Yoast discovers John Ringo's body and makes this statement to the coroner: "He was dressed in light hat, blue shirt, vest, pants and drawers. On his feet were a pair of hose [socks] and an undershirt torn up so as to protect his feet. He had evidently traveled but a short distance in this foot gear. His revolver he grasped in his right hand, his rifle resting against the tree close to him. He had on two cartridge belts, the belt for revolver cartridges being buckled on upside down.
"The undernoted property was found with him and on his person: 1 Colt's revolver, calibre 45, No. 222, containing five cartridges; 1 Winchester rifle octagon barrel, calibre 45, model 1876, No. 21,896, containing a cartridge in the breech and ten in the magazine; 1 cartridge belt, containing 9 rifle cartridges; 1 cartridge belt, containing 2 revolver cartridges; 1 silver watch of American Watch company, No. 9339, with silver chain attached; two dollars and sixty cents ($2.60) in money; 6 pistol cartridges in pocket; 5 shirt studs; 1 small pocket knife; 1 tobacco pipe; 1 comb; 1 block matches; 1 small piece tobacco. There is also a portion of a letter from Messrs. Hereford & Zabriskie, attorneys at law, Tucson, to the deceased, John Ringo."
Aftermath: Odds & Ends
Ringo's missing bay horse was found 11 days later about two miles from the death site. "His saddle was still upon him," the Tombstone Independent reported, "with Ringo's coat upon the back of it. In one of the pockets were three photographs  and a card bearing the name of 'Mrs. Jackson' [Ringo's sister]."
In the 1920s, Wyatt Earp began telling a series of writers, including Forrestine Hooker, Frank Lockwood and Frederick Bechdolt, that he had waylaid and killed John Ringo as Earp and his Vendetta posse were on their way out of Arizona in March 1882. Earp even drew a diagram of the fight. The problem with this claim is that Ringo died in July, almost four months after Wyatt had fled the state as a fugitive.
This hasn't stopped some Earp buffs from fantasizing that both Wyatt and Doc Holliday snuck back from Colorado, where they were known to have been in July 1882, and assassinated the Cowboy leader. Even this strains credulity when one considers that Holliday, at least, was in court in Pueblo, Colorado, two days before Ringo's death.
"Buckskin Frank" Leslie reputedly was the first to take credit for the death of Ringo. While in Yuma Prison for the murder of his wife, Leslie allegedly confessed to a guard that he killed Ringo. Few believe him.
Another name attached to Ringo's demise has been Johnny-Behind-the-Deuce (Michael O'Rourke), who supposedly ambushed Ringo near the latter's camp in the Chiricahuas. Why? O'Rourke got "scared up," said Fred Dodge, a Tombstone resident at the time, who shared his story with author Stuart Lake. This version has even less adherents.