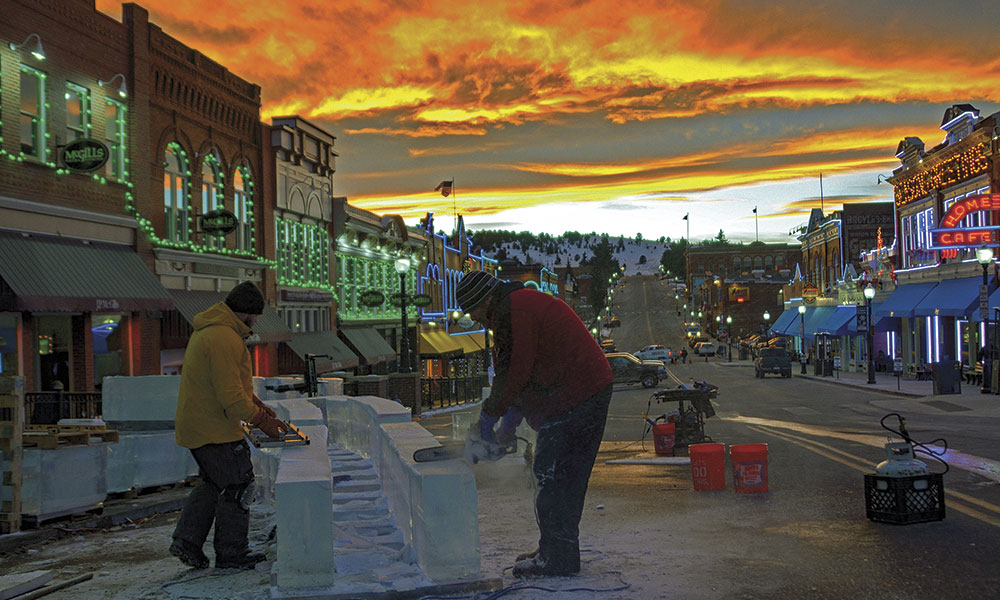 Western roundup of events where you can experience the Old West this February.
Adventure
Valentine Dinner Train
Chattanooga, TN, February 2-14 Special dinner trains during the Valentine season. Trips include a four-course dining experience on board a restored 1924 dining car.
423-894-8028 • TVrail.com
Chihuahuan Desert Bike Fest
Terlingua, TX, February 15-17: Bike riders gather for trips throughout the Big Bend region to benefit the Big Bend Trails Alliance.
888-989-6900 • Bikefest.DesertSportsTX.com
Art Shows
Aspects of Power, Light and Motion
Fort Worth, TX, closes February 4: Exhibition of equine photographs by Constance Jaeggi revealing the individual personalities of horses.
817-336-4475 • Cowgirl.net
Spirit of the West Cowboy Gathering
Ellensburg, WA, February 16-18: Celebrates traditional cowboy art, poetry and music, plus offers workshops on cowboy gear and art.
888-925-2204 • EllensburgCowboyGathering.com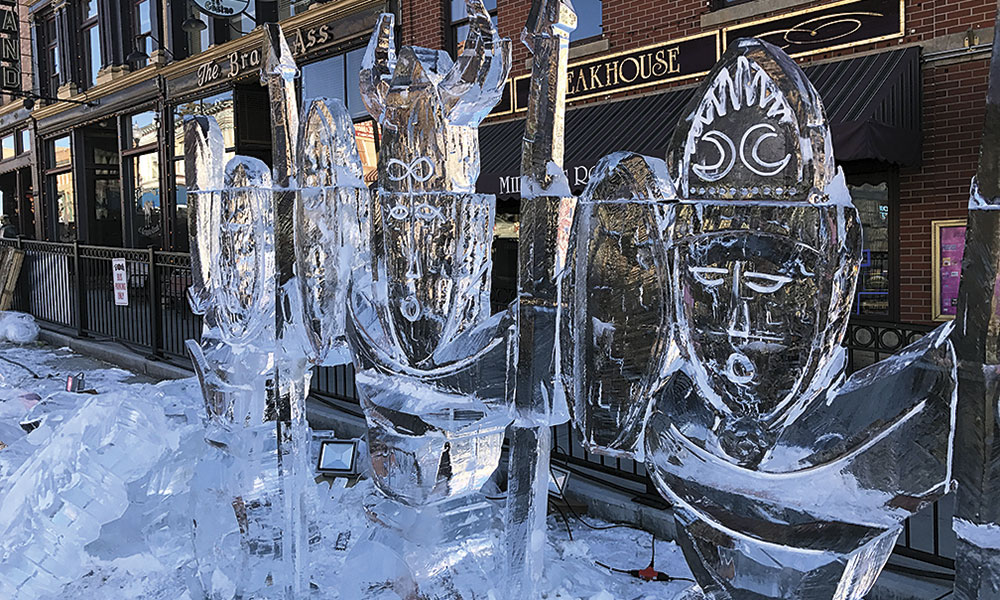 Cripple Creek Ice Festival
Cripple Creek, CO, Feb. 9-18: Watch sculptors carve ice into works of art (above and right), plus enjoy a liquor luge, ice snacks, an ice slide and ice maze.
877-858-4653 • VisitCrippleCreek.com
Wigwam Festival of Fine Art
Litchfield Park, AZ, February 16-18: This art and entertainment show promotes award-winning Western and American Indian artists.
623-935-9040 • Litchfield-Park.org
Wings Over the Platte River
Grand Island, NE, February 16 – April 8: The region's largest art exhibit dedicated to life on the Platte River. Featuring artist Sally Jurgensmeier.
308-385-5316 • StuhrMuseum.org
Heritage Festivals
Buffalo Soldier Heritage Day
San Angelo, TX, February 25: Join the Fort Concho Buffalo Soldier Living History Unit as they honor the nation's black troops.
325-657-4440 • FortConcho.com
11th Street Cowboy Mardi Gras
Bandera, TX, February 1-3: Cowboys and Cajuns come together to celebrate Mardi Gras in Bandera, the "Cowboy Capital of the World."
830-796-4849 • BanderaCowboyCapital.com
Historic Home Tour
Florence, AZ, February 10: Highlights the history and architecture of Florence homes that date back to Arizona's territorial days.
520-868-7500 • FlorenceAZ.gov
Parada del Sol Historic Parade
Scottsdale, AZ, February 10: Experience Old West fun with a parade and the Trail's End Festival featuring shopping and live music.
480-990-3179 • ParadaDelSol.us
Arizona Renaissance Festival & Artisan Marketplace
Gold Canyon, AZ, February 11 – April 2: Old West time travelers take in medieval arts and crafts, jousting tournaments and an outdoor circus.
520-463-2600 • RoyalFaires.com
Buffalo Bill Birthday Bash
Golden, CO, February 26: Observe the Wild West showman's birthday with costumed guides for Buffalo Bill Museum exhibits and birthday cake.
303-526-0744 • BuffaloBill.org
Charro Days
Brownsville, TX, February 18-25: Brownsville's residents honor their heritage at the biggest celebration in the Rio Grande Valley.
956-542-4245 • CharroDaysFiesta.com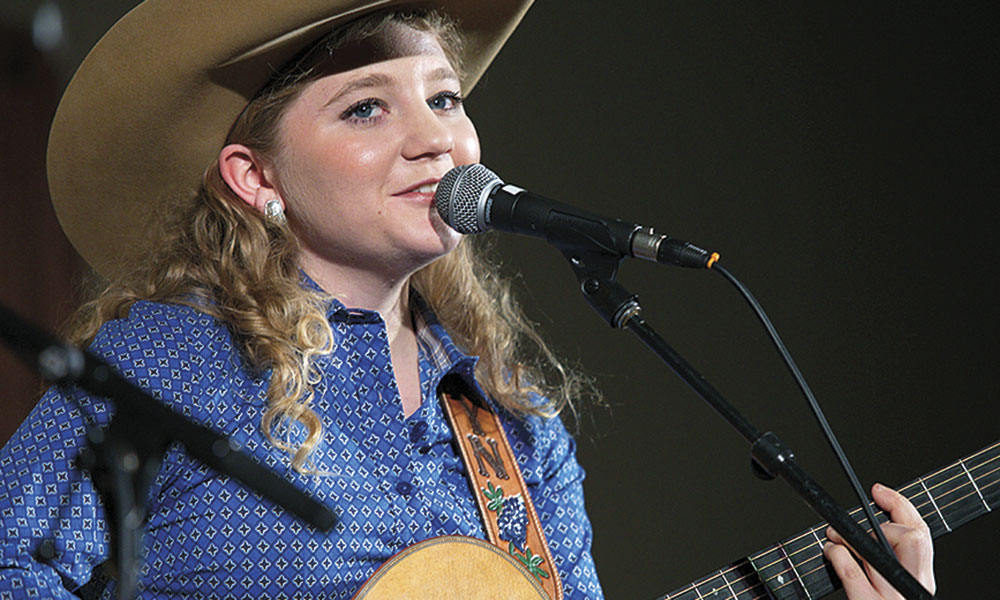 Music & Poetry
Cochise Cowboy Poetry & Music Gathering
Sierra Vista, AZ, February 2-4: This celebration of Western heritage offers up poetry and music by featured trio 3 Trails West and others.
520-417-9776 • CowboyPoets.com
Cochise Cowboy Music and Poets Gathering
Celebrating their 20th year of entertaining audiences throughout the Southwest, The OK Chorale Cowboy Trio (above, right) will be back at the prestigious Cochise Cowboy Music and Poets Gathering on February 1-3.  Founded by an original member of the True West staff when it first came to Arizona you won't want to miss the trio at this unique cowboy weekend.
National Cowboy Poetry Gathering
Elko, NV, February 29- February 3: Poets and musicians recount stories, first-hand accounts and narratives passed down through the years.
888-880-5885 • WesternFolkLife.org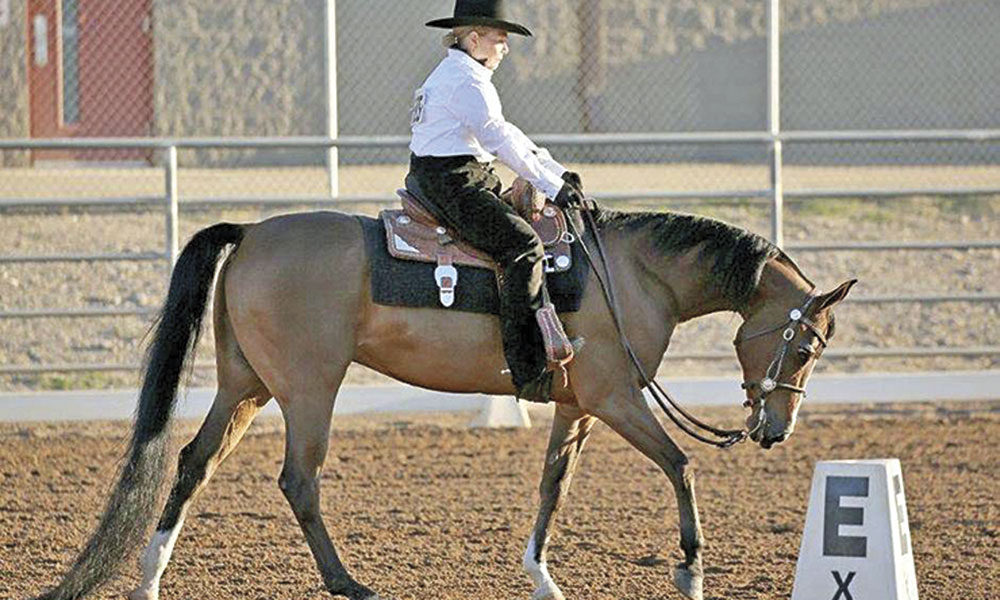 Rodeo & Horse Shows
Fort Worth Stock Show & Rodeo
Fort Worth, TX, Closes Feb. 3: Offers up numerous days of livestock and horse shows, rodeos, concerts and food fit for cowboys.
817-877-2420 • FWSSR.com
Scottsdale Arabian Horse Show
Scottsdale, AZ, February 15-25: About
2,000 horses compete for more than $1 million at this horse show that also features
equine seminars.
480-515-1500 • ScottsdaleShow.com
San Antonio Stock Show & Rodeo
San Antonio, TX, February 8-25: Features PRCA rodeo and ranch rodeo competitions, horse and livestock shows, plus Country music concerts.
210-225-5851 • SARodeo.com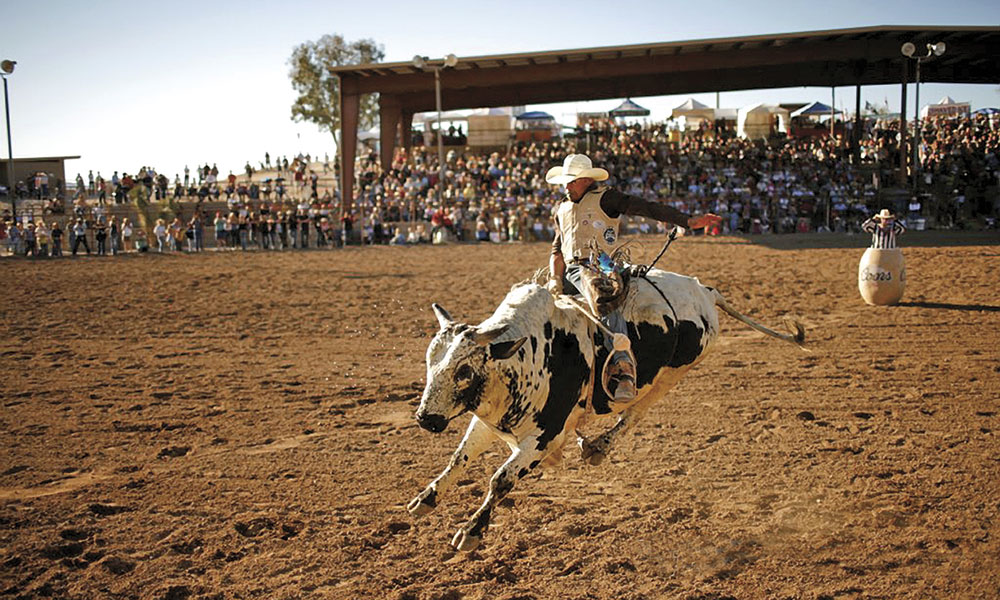 Gold Rush Days and Senior Pro Rodeo
Wickenburg, AZ, February 9-11: Honor Wickenburg's mining and ranching origins at this pro rodeo featuring a carnival and concerts.
800-942-5242 • WickenburgChamber.com
–PHOTO by SETH JOEL PHOTOGRAPHY–
Nebraska Cattlemen's Classic
Kearney, NE, February 17-25: Features ranch horse rodeo, competition, sale and draft horse team races.
308-627-6385 • Cattlemens.org
PBR Iron Cowboy & The American
Arlington, TX, February 24-25: The top 10 rodeo athletes in the world compete in seven events at the world's richest one-day rodeo.
307-760-7099 • ATTStadium.com