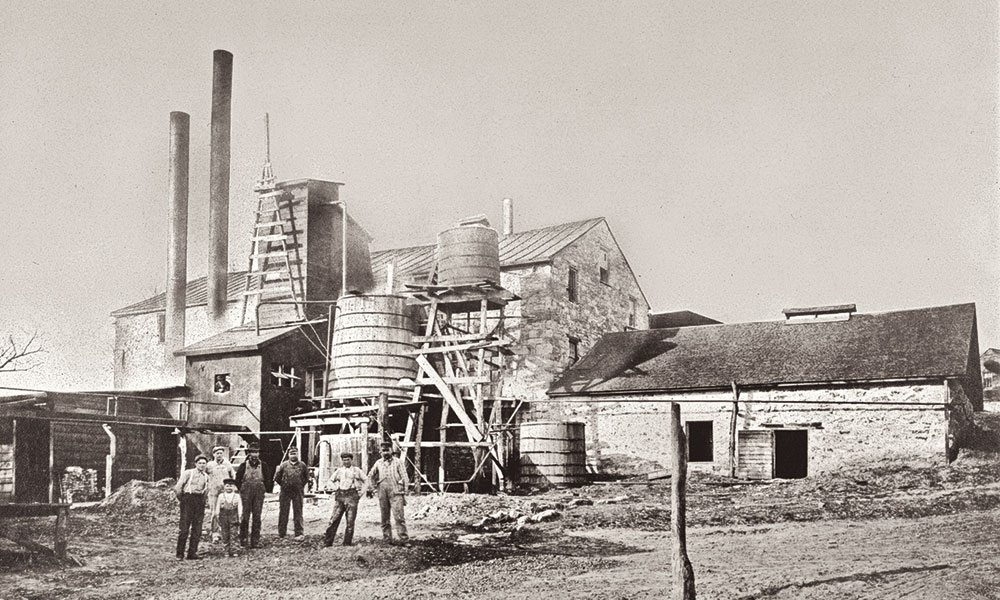 After explorers Meriwether Lewis and William Clark found limestone springs in 1804
that later generations used to fill water barrels on their way west, Ben Holladay understood that the tasty limestone-based water would be ideal to make whiskey. During the mid-1850s, the famed early Mormon trader and overland stagecoach mogul founded his distillery near Weston, Missouri. Today, the Holladay distillery has returned to its roots.
The distillery rests on or near a limestone spring Lewis and Clark found during their Corps of Discovery expedition, producing whiskey that history records as a genuine, handmade sour mash bourbon whiskey that was unadulterated. 
Holladay competed against George Shawhan, whose whiskey roots ran deep, from the stills in West Virginia to those in Bourbon County, Kentucky. In 1872, Shawhan built his distillery at Lone Jack in Missouri's Jackson County.
In 1900, the Shawhan and Holladay distilleries became one, under the name Shawhan, but operated at the Holladay location in Weston. The company tagline was, "It Keeps on Tasting Good."
"Shawhan is the only distillery of any note west of the Mississippi River making a large amount of fine whiskey," a 1906 ad in The Kansas City Star shared. "West of the Mississippi River more consumers use Shawhan whiskey than any other brand. It has grown in favor so rapidly as to necessitate an increased production every year."
The ad also noted that the Missouri Valley produced the best grains for distilling, and Shawhan had the benefit of local limestone springs to make its product superior.
Over the decades, the Holladay distillery has changed ownership and names. Starting in 2016, though, the distillery went back to its roots—making whiskey using Holladay's methods. And the company makes that recipe in the same mid-1800s stillhouse.
Shawhan is still influencing the frontier fare market in Weston as well. In 1898, he built a beautiful Queen Anne-style mansion on Main Street. In the early 1900s, Charles Benner purchased the house. Today, the Benner House is a bed and breakfast.
Guests dining at the bed and breakfast, or at restaurants in town, will find a variety of goods just like pioneer residents did. Shawhan, Holladay and other residents of Weston dined on delicious items because of their river locale. The town's confectionery offered soda water, candies, cakes and Cove oysters. Grocers sold fancy imported food, as well as local produce, such as strawberries. The meat market offered beef, veal, mutton and pork. As the town grew, residents could buy lobster and sardines, canned fruit, pies, raisins and apples.
With all the dining options available, residents also had the benefit of some delicious whiskey. Try your hand at this historical whiskey cocktail.
Whiskey Sour
Ingredients:
Juice of ½ lemon
½ teaspoon powdered sugar
2 ounces whiskey
Carbonated water
Berries
Directions:
Dissolve the sugar with a little of the carbonated water. Combine all ingredients, and shake with crushed ice. Strain into a six-ounce glass. Fill with carbonated water, and top with berries.
Recipe adapted from Harry Johnson's New and Improved Bartender's Manual, 1882
Sherry Monahan has penned Mrs. Earp: Wives & Lovers of the Earp Brothers; California Vines, Wines & Pioneers; Taste of Tombstone; The Wicked West and Tombstone's Treasure. She's appeared on the History Channel in Lost Worlds and other shows.