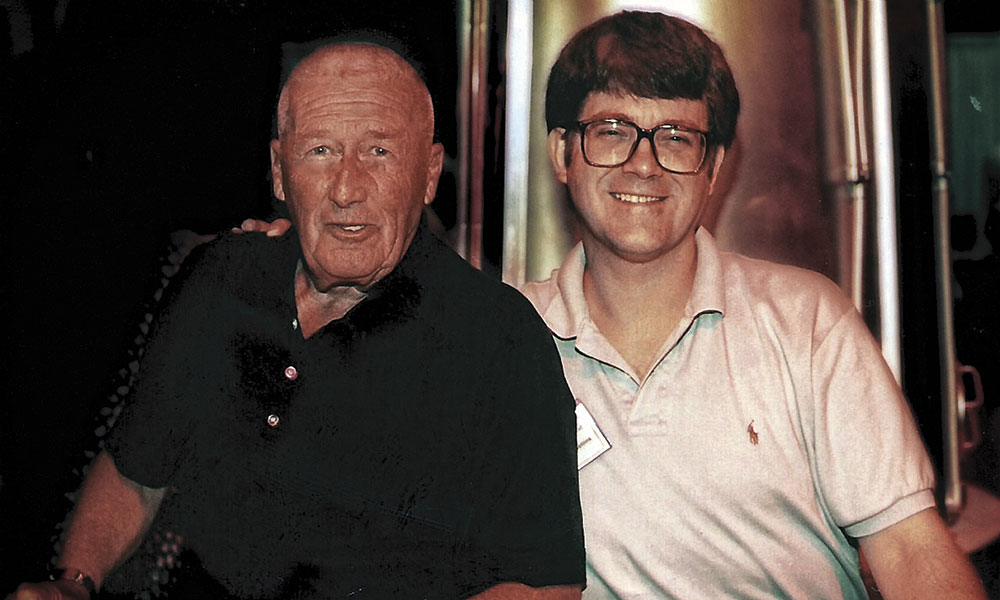 In the photo above, Max Allan Collins sits at right next to his writing partner, the late Mickey Spillane, for the Kensington series of Caleb York Westerns. Named a Grand Master by the Mystery Writers of America in 2017, Collins is a prolific writer across many genres. In 2018, he will release: The Bloody Spur (Caleb York Western); Killing Town; Antiques Wanted (with his wife, Barbara); and dual biography Scarface and the Untouchable: Al Capone, Eliot Ness, and the Battle for Chicago (with A. Brad Schwartz). His passion for storytelling has taken him all the way to the Academy Awards, where his graphic novel-turned-film Road to Perdition received the Best Oscar for Cinematography.
My greatest influence is a group of crime writers I discovered when I was around 13: Dashiell Hammett, Raymond Chandler, Mickey Spillane and James M. Cain.  For Westerns, my influences are more TV and film: Maverick series, the Randolph Scott/Budd Boetticher movies, The Searchers, Rio Bravo.
When I'm not writing, I'm at the movies or playing music or spending time with my beautiful wife, Barb. We both love Western movies, with a particular fondness for our fellow Iowan John Wayne, but also for Audie Murphy, Lee Van Cleef (the model for my character Nolan) and Joel McCrea.
A musical obsession growing up was Bobby Darin—initially, I think, because "Mack the Knife" was a violent crime story sung in a hip, offhand manner.
I live in Muscatine, Iowa, because that's where my parents and my wife's parents were, and it was a great place to raise our son, Nathan.
My favorite Sunday newspaper funnies include story strips Red Ryder, Joe Palooka, Li'l Abner and, of course, Dick Tracy.
Comics as an art form is as valid a storytelling format as prose and film, and, in some ways, the hardest of all. As a kid, I wanted to be a cartoonist, but later Mystery writing called. I wound up doing both, but always with someone else providing the artwork for the comics.
Writing the comic strip Dick Tracy was a dream come true. I wrote Tracy's creator, Chester Gould, when I was seven and asked if I could take over for him, if he ever got tired of doing it. He warned me, at the time, it would be a while…
Writing with my wife, Barbara Collins, is a breeze. Barb and I have the same sense of humor, which is crucial to our zany Cozy Mystery series, Trash 'n' Treasures. We plot it together, but she does a draft with little or no input from me, then hands it off, and I do my draft. Separate offices on different floors keep the marriage going.
Antiquing is a way to find the joy of discovery that online shopping has drained from the experience.
My first Western hero was the Lone Ranger, with Roy Rogers right behind. But I knew about John Wayne early on—I dragged my parents to a drive-in showing of The Searchers—still my favorite Western.
Psychedelic Siren is the 1967 record I made in Nashville with my Muscatine band, the Daybreakers. It was a regional hit and has a cult following, with bands all over the world doing cover versions of it. And we're in the Iowa Rock 'n' Roll Hall of Fame because of it. But I don't believe I ever got a royalty check over $5.
Directing a movie is the best of times and the worst of times.  You are trying to tell a story on a battlefield.
My one-man show, Eliot Ness: An Untouchable Life, was an opportunity to correct the record on a great American, who has had a lot of unfair, inaccurate trash written about him.
If I could meet Arthur Conan Doyle, I'd say, "Thank you for starting it all."