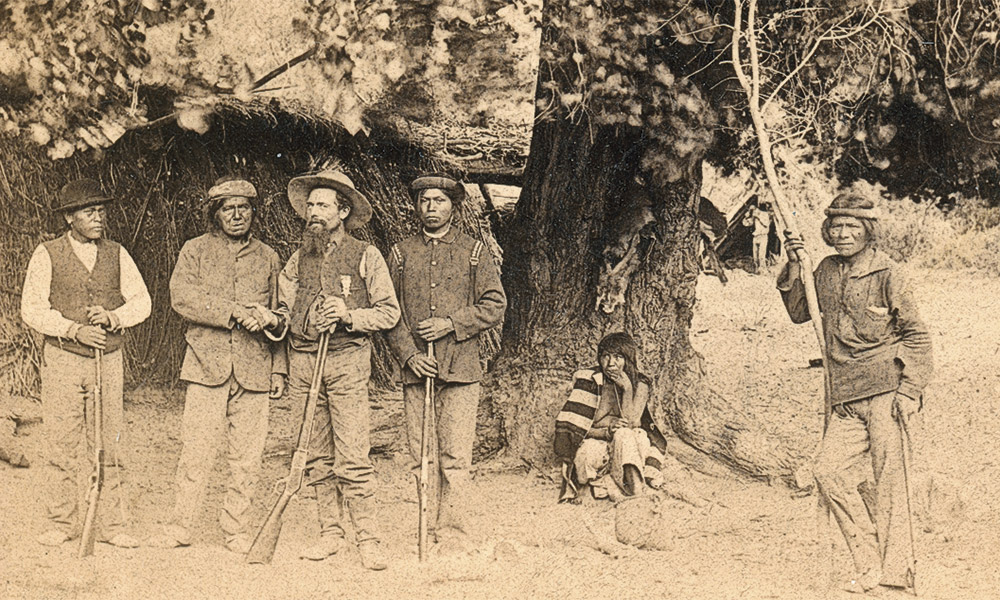 John Campbell Burge is one of my favorite Territorial Arizona photographers. Though his work is less common than other early Arizona photographers, Burge had a fine touch with his stereoviews, capturing motion and the personality of his subjects, and creating aesthetically pleasing scenic images.
This is a brief story about a stereoview by Burge that I'd never seen before.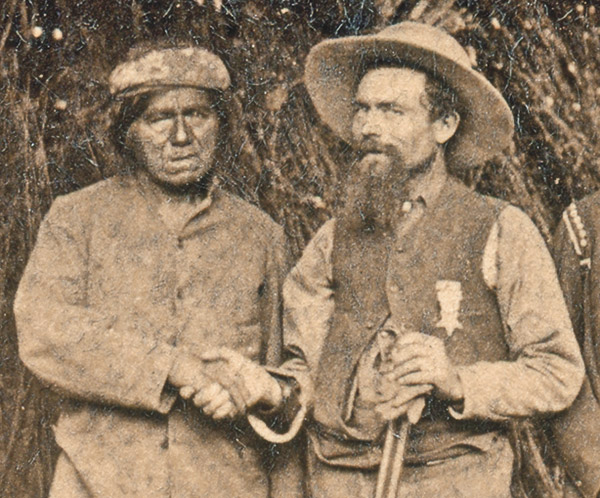 The "New" Burge Stereoview
Burge was an itinerant photographer. His first studio was the Phoenix Gallery on Montezuma Street in Prescott, which he opened in April 1881. He moved his operation briefly to Phoenix that summer, before returning to Prescott that fall.
In early 1882, he moved his studio to Globe and traveled throughout eastern Arizona to the mining communities and the San Carlos reservation.
In 1885, he moved to Flagstaff and formed a partnership with James Hildreth. Burge made images of northern Arizona for several years before moving east—first to Kingston, then to Deming, New Mexico Territory, at the end of the 1880s, then on to El Paso, Texas, in the 1890s.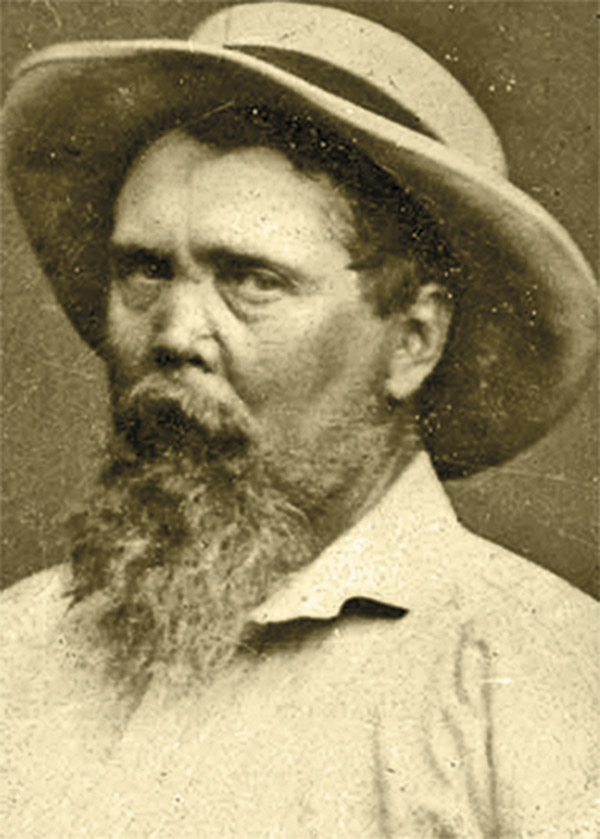 The image of his I'd never seen before was on a yellow Burge mount, and it depicted a camp scene of six individuals, in front of a lean-to under the shade of a large cottonwood tree, with a seventh figure in front of a tent at the rear.
Three of the American Indians wear shell coats, and one wears a backpack. Three men, including the only white in the scene, lean on rifles. A young woman draped in a blanket kneels at the base of the tree. The individual on the right leans against a branch, posed to create a separation with the background to enhance the stereo effect.
The white gentleman wears a medal and is shaking hands with an older Indian who wears a headband. The photographer's imprint on the mount is the only identification available, but the man looked familiar. A search of relevant figures in Arizona Territory at the time located a comparison image for Corydon Eliphalet Cooley.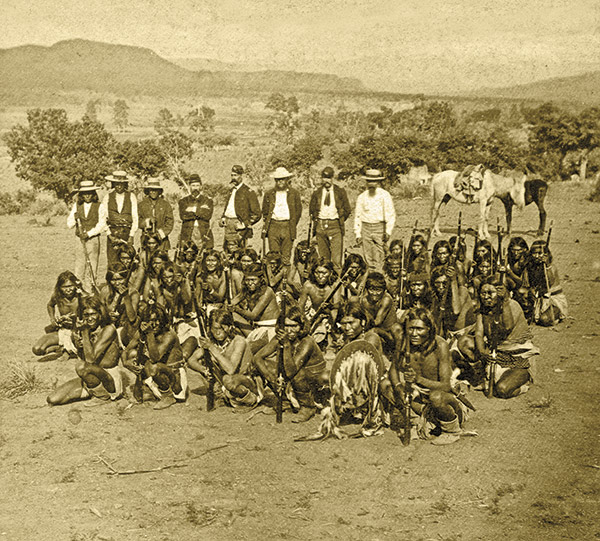 Could This Be Cooley?
Cooley was born on April 2, 1836, in Loudoun, Virginia, and served in Company C of the 1st New Mexico Cavalry during the Civil War. His unit served on garrison duty and engaged in operations against Indians and Confederate forces in Arizona and New Mexico Territories. During the war, Cooley became knowledgeable with central and northeastern Arizona Territory, and the White Mountain Apaches who lived there.
After the war, Cooley located his home base, Cooley's ranch, about 10 miles east of Camp Apache in Arizona Territory. Cooley's special connection with the Apaches came to the attention of George Crook soon after the general arrived in the territory. Crook hired Cooley, whose relationship with the Apaches proved invaluable in recruiting scouts and guiding troops as they attempted to contain uprisings through the territory.
In 1874, Dudley Flanders took a stereo photo of Crook with his Apache scouts at Camp Apache. Cooley appears at the right group of men, standing at the rear, in a white shirt. Unfortunately, he moved during the exposure, so his face is blurred in the image, but he also has a beard and wears a hat similar to the man in the Burge image.
Burge took his stereo about eight years after the Flanders stereo, while Burge was working out of his studio in Globe, which places it during Crook's second Apache campaign. Cooley retired from his service with Crook in November 1882 and returned to his ranch. If the stereo can be definitively dated before that date, it would increase the likelihood that Cooley is the scout depicted.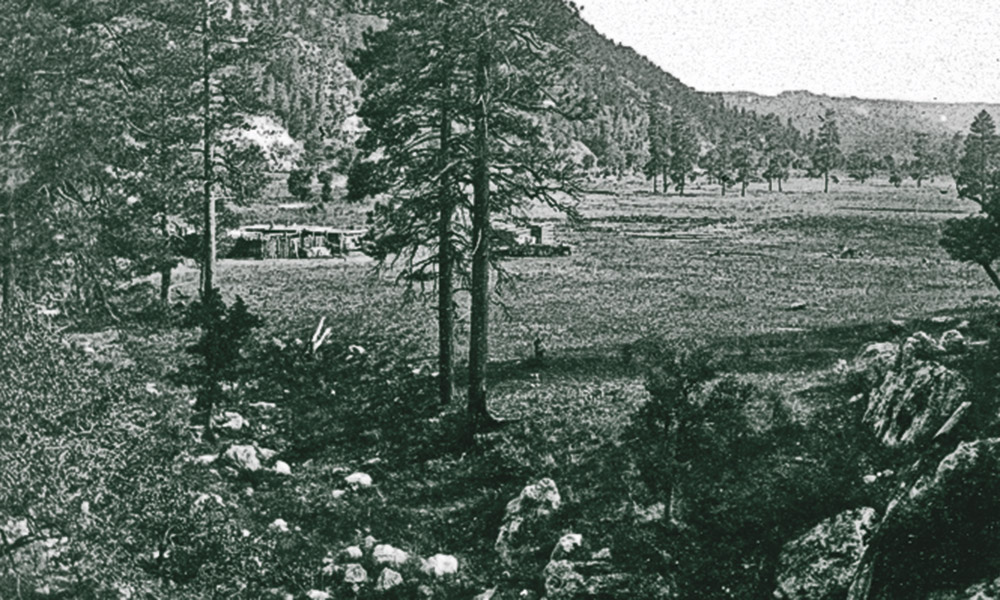 An Ongoing Challenge
Identifying individuals in historical photographs without provenance or definitively identified copies for comparison is an ongoing challenge. Understanding the format, mount style and information embedded within the image, as well as the context of the photographer who created it, provides extra ammunition for identification.
Unfortunately, the Burge image provides little information about the location where it was made. The subjects appear to be scouts in a camp with both an Apache-style lean-to and what appears to be a military-style tent at the rear behind the tree.
The white gentleman I believe to be Cooley is wearing a badge. Since the badge provides little detail, it does not aid in identifying the image or individual. Cooley was, however, appointed sheriff of Yavapai County in 1877, so if this is a sheriff badge, that could further increase the notion that this photograph depicts him.
A comparison with the Flanders image  and later images of Cooley shows a least a believable similarity in terms of facial characteristics, beard and style of head gear.
In the end, though, identification often boils down to beliefs.  Hopefully, this Burge stereo will encourage a lively discussion about the process of researching potential attributions.
Do you believe that the white scout in this image is Cooley?
Jeremy Rowe has collected 19th-century and early 20th-century photographs for more than 30 years. He has written several photography books and has curated museum exhibits, including a permanent one at Talking Stick Resort in Scottsdale, Arizona. He is emeritus professor at Arizona State University and a senior research scientist at New York University.
https://truewestmagazine.com/painters-cabin-maynard-dixon/