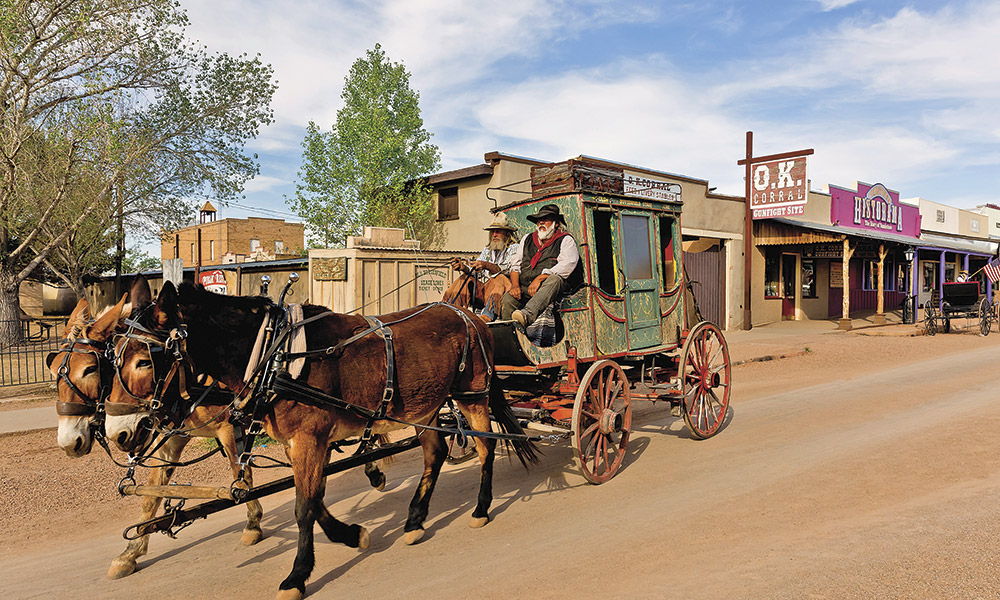 "Howdy, Tex!"
True West's Bob Boze Bell has traveled the world wearing his  signature cowboy hat. From France to Thailand, Bob has sported his Triple-B crease with pencil-curl-brimmed custom hat. Soon after he returned from one of his adventures in Paris, France, he shared the story that he would be regularly greeted across plazas with the friendly shout-out of "Hey, Tex!"
Now, for a man who grew up in Kingman, Arizona, being called "Tex" could be considered at the minimum a slight, and at the most, a downright insult. But Bob knows full well that his cowboy hat is an American icon and internationally recognized a a symbol of America—maybe just behind Old Glory and Lady Liberty—and just ahead of rock 'n' roll, baseball and Route 66.
To honor the makers and wearers of America's iconic headgear, True West has chosen a dozen Western towns where the cowboy hat still rules. And who knows? Maybe when you are sporting your favorite Gus, Rancher or Montana Peak along the Avenue des Champs-Élysées someone will shout out "Hey, Tex," and you'll tip your hat, smile and wave—knowing full well they've given you and your hat the greatest compliment of all.
Author's Note: This is by no means a complete list of all the great Western cowboy towns
where more residents sport cowboy hats than ballcaps or hipster beanies, but just some of the West's most iconic cowboy communities where cowboy hats rule the day. If you would like your town featured or mentioned in next year's column, send an email to Stuart Rosebrook at stuart@twmag.com, and include a high resolution photo of your town and favorite local Western wear, tack, boot and hat store(s).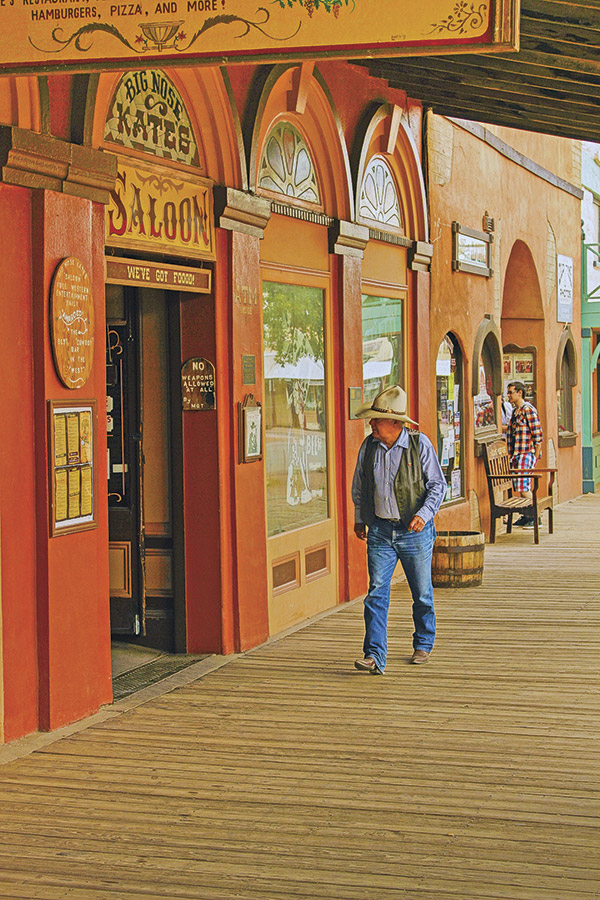 Tombstone, Arizona
In storied Cochise County—home to iconic and historic Tombstone, and legendary Western towns including Benson, Bisbee, Bowie, Douglas, Hereford and Willcox, once the cattle capital of the state and Rex Allen's hometown—it is almost a crime not to wear a cowboy hat. To immerse yourself in the cowboy culture of Cochise County, book a room at Tombstone's Landmark Lookout Lodge and spend a week exploring the county's Old West historic towns, sites and monuments. One not to miss is the legendary O.K. Corral Historic Complex, including daily gunfight re-enactments, Tombstone's Historama and the historic offices of the Tombstone Epitaph.
When in Tombstone This Summer, Don't Miss: Tombstone Freedom Days featuring the 25-year Reunion of the Movie Tombstone, June 29-30, 2018, and Tombstone's Fourth of July, July 4, 2018. More info @ ExploreCochise.com.
Where to Stay: Landmark Lookout Lodge, LookoutLodgeAZ.com, (520) 457-2223.
Where to Eat: Big Nose Kate's, BigNoseKates.info. Try the Big Ass Burger!
In Arizona, Tack Up At:
Tombstone's SpurWesternWear.com
Cave Creek's JWBrooksCustomHats.com and WatsonsHatShop.com
Bisbee's Optimo, HatWorks.com
Prescott's CowboyCorner-AZ.com and PrescottHats.com
Scottsdale's AzTexHats.com and Sabas.com Tucson's ArizonaHatters.com
Wickenburg's WesternSaddlesRUS.com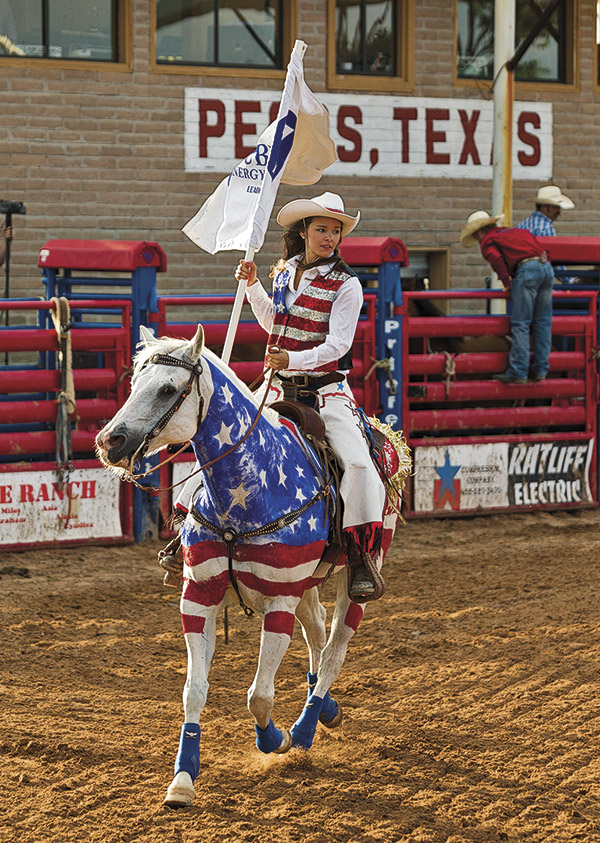 Pecos, Texas
In Texas, the official state hat is the cowboy hat. So, if you have any doubts about wearing your cowboy hat when you cross the state line, put those fears aside. One of the best places in the Lone Star State to relax in your best cowboy gear is the welcoming West Texas town of Pecos. It's the home of the world's first rodeo, West of the Pecos Rodeo, which has been held every summer since 1883. When visiting Pecos, don't miss touring the West of the Pecos Museum, Judge Roy Bean Courthouse and Jail Replica and the Texas Railroad Museum and Depot, home to the Chamber of Commerce and Texas Rodeo Hall of Fame.
When in Pecos This Summer, Don't Miss: West of the Pecos Rodeo, June 27-30, 2018. More info @ VisitPecos.com and PecosRodeo.com.
Where to Stay:
Best Western Plus Swiss Chalet Hotel & Suites, BestWestern.com, (432) 447-9477.
Where to Eat:
Pody's BBQ, Facebook.com/PodysBBQ;
you're in Texas: order the beef brisket, cheese hominy, banana pudding and sweet tea!
In Texas, Tack Up At: 
Pecos's WestOfThePecosSaddlery.com
Bowie's AmericanHat.net
Brookshire's Shudde.com
Bryan's CatalenaHats.com
Fort Davis's LimpiaCreekHats.com
Fort Worth's BestHatStore.com
Frankston's AtwoodHats.com
Garland's MilanoHats.com
San Antonio's ParisHatters.com
Smithville's PatriciaWolf.com
Waller's DesignsByPat.com
Tucumcari, New Mexico
Before the Army came in 1863 to build Fort Bascom, the future townsite of Tucumcari was Comanche territory, part of the Plains' tribe's vast empire built on trade, war and the buffalo. A railroad arrived in 1898 south of what could be considered the original townsite, Liberty, and was first known as Six-Shooter-Siding for its rough-and-rowdy ways. In 1902, Six-Shooter-Siding, temporarily known as Douglas, was renamed Tucumcari, after the nearby mountains. Today, the railroad-ranching-Route 66 city is a crossroads of travelers going east and west on I-40, or north and south on U.S. 54. Tucumcari's Old West past can be enjoyed at the Tucumcari Railroad Park, Tucumcari Historical Museum and at the Annual Logan Chuck Wagon Cook Off, held the third weekend in April and Tucumcari's Annual Rawhide Days presented during the first weekend of May.
When in Tucumcari This Summer, Don't Miss: The Quay County Fair, August 15-18, 2018. More info @ TucumcariNM.com and QuayExtensionNMSU.edu.
Where to Stay: Historic Route 66 Motel, RTE66Motel.com, (575) 461-1212.
Where to Eat: Kix On 66, KixOn66.com. Hungry for breakfast, try the huevos rancheros with green chile sauce!
In New Mexico, Tack Up At:
Tucumcari's CowpuncherBoots.com and TURanchSupply.com
Albuquerque's TheMansHatShop.com
Anthony's CorrienteSaddleCo.com
Cliff's JSSaddlery.net
Santa Fe's MontecristiHats.com and OFarrellHatCo.com
Stanley's DavisHatting.com
Tularosa's BroncoSue.com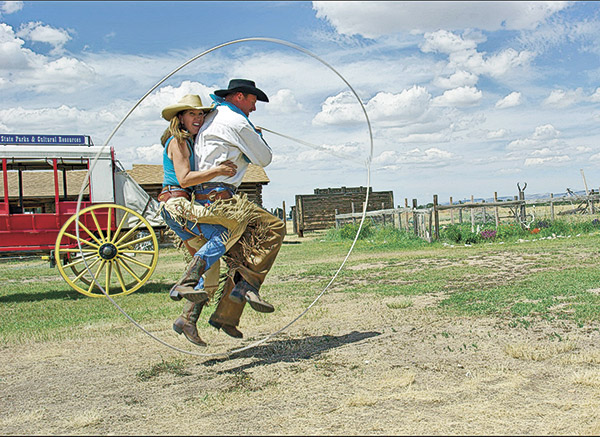 Laramie, Wyoming
The Albany County Seat, Laramie, Wyoming, was settled along the banks of the Laramie River for its steady source of water needed for the Union Pacific Railroad that was built in 1867. A Hell on Wheels railroad town, Laramie quickly needed law enforcement, and the territorial prison—for both federal and Wyoming prisoners—was constructed in 1872, a dual role it held until 1902. Today, Laramie is a perfect destination for fans of the Old West. Tours of Laramie and Albany County should include the Wyoming Territorial Prison State Historic Site, Ivinson Mansion, Laramie Plains Museum, Laramie Historic Railroad Depot and the American Heritage Center.
When in Laramie This Summer, Don't Miss: Laramie Jubilee Days, July 7-15, 2018 and Wyoming Statehood Day Celebration, July 10, 2018. More info @ VisitLaramie.org and LaramieJubileeDays.net.
Where to Stay: Vee Bar Guest Ranch, VeeBar.com, (307) 745-7036.
Where to Eat: Prairie Rose Cafe, Facebook.com/pg/JsPrairieRoseCafe, (307) 745-8140.
Can you say, green chile breakfast burrito?!
In Wyoming Tack Up At:
Laramie's Martindale's Western Wear, 217 Grand Avenue, (307) 721-4100
Casper's, LouTaubert.com
Cody's CustomCowboyShop.com
Jackson's JHHatCo.com
Pinedale's CowboyShop.com
Shell's MackeyCustomHats.com
Sheridan's KingSaddlery.com and Hat Creek Hatters, (307) 334-0900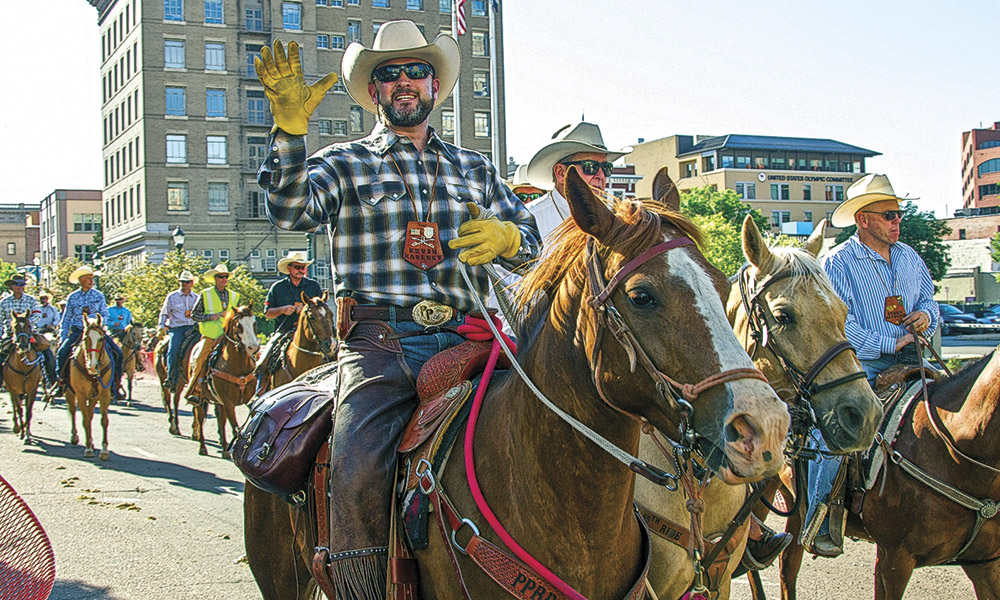 Colorado Springs, Colorado
Colorado Springs started humbly as Colorado City in 1859, a supply camp for miners and settlers. After Gen. William Palmer founded Colorado Springs as a planned community/resort city in 1871, ranching was a major industry in the area, before gold was discovered on Pikes Peak in 1890. Today, the town honors its Western roots with the Pro Rodeo Hall of Fame and Museum of the American Cowboy, one of the state's premiere museums. When visiting, don't miss a chance to trail ride through the Garden of the Gods Park, visit the Rock Ledge Historic Site, the Colorado Springs Pioneers Museum, and stay at an area guest ranch.
When in Colorado Springs This Summer, Don't Miss: The 78th Annual Pikes Peak or Bust Rodeo & Parade, July 11-14, 2018. More info @ VisitCos.com and PikesPeakOrBust.org.
Where to Stay:
The Ranch at Emerald Valley, TheBroadmoor.com, (855) 634-7711
Where to Eat: Ted's Montana Grill, TedsMontanaGrill.com. Try the Bison Pot Roast!
In Colorado Tack Up At:
Colorado Springs' Cavendars.com
Aspen's AspenHatters.com
Denver's CowboyUpHatters.com
Durango's HeadWestCustomHats.com Elizabeth's PowderRiverHats.com
Estes Park's ColoradoHats.net
Fairplay's CMHats.com
Greeley's GreeleyHatWorks.com
Penrose's HatsOfTheWest.com
Dodge City, Kansas
Across the West, few cities conjure the mystique of the West as well as Dodge City, Kansas. Built along the tracks of the Santa Fe Trail and the banks of the Arkansas River, Dodge City was a buffalo hide hunters' camp in the shadow of nearby Fort Dodge before the railroad's arrival in 1872. By the time the cattle drives and thirsty, free-spending cowboys came to town just off the Western Trail Texas in 1876, Dodge City was on its way to becoming a legend of the Wild West. Today, visitors to the "Queen of the Cow Towns" can immerse themselves in Dodge City's Old West past at the Boot Hill Museum, gunfighter shows on Front Street, the Long Branch Saloon, the Gunfighters Wax Museum, Boot Hill Cemetery, Fort Dodge Museum, Trail of Fame and Wild West Heritage Buffalo & Longhorn Exhibit.
When in Dodge City This Summer, Don't Miss: Dodge City Days,
July 26 – August, 5, 2018. More info @ VisitDodgeCity.org and DodgeCityDays.com.
Where to Stay: Boot Hill Casino & Resort, BootHillCasino.com, (877) 906-0777.
Where to Eat: Casey's Cow Town Club, CaseysCowTownClub.com. Order the Dodge City Strip, locally raised, grain-fed beef served just the way you like it!
In Kansas Tack Up At:
Dodge City's LongsInc.net and Out West (620) 225-9025
Kansas City's NigrosWesternStore.com
Long Island's Running N Saddlery (620) 789-1227
Wichita's HatManJacks.com
Winfield's Liermann's Saddle & Boot Shop (620) 221-1498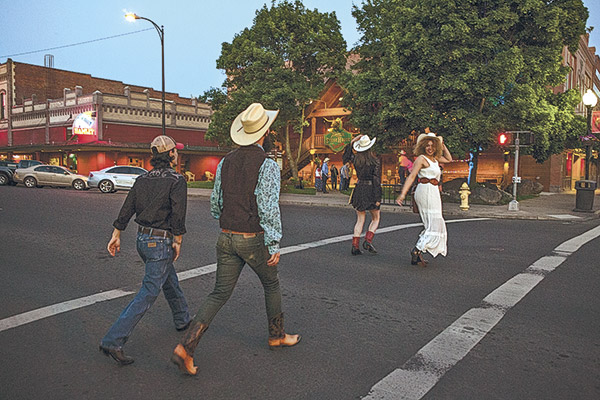 Elko, Nevada
The unofficial Buckaroo Capital of the West, Elko is smack-dab in the center of the West's Great Basin, a vast arid region of high desert, sky-island mountain ranges and giant cattle ranches managed by fiercely independent ranchers and their crews of buckaroos. Founded as a Central Pacific railroad town in 1868 astride the California Trail, Elko's steady source of water has made it a crossroads for travelers traversing the Owyhee Desert for centuries. Immerse yourself in the history of the region and the buckaroo culture at the Western Folklife Center, Capriola's Old West and Cowboy Arts Museum, Northeastern Nevada Museum, Sherman Station Visitor's Center and California Trail Interpretive Center.
When in Elko This Summer, Don't Miss: The Silver State Stampede,
July 13-15, 2018. More info @ ExploreElko.com and SilverStampede.com.
Where to Stay: Red's Ranch, RedsRanch.com, (775) 753-6281.
Where to Eat: JR's Restaurant, GoldCountryInn.com. Order the steak, the best in northeastern Nevada.
In Nevada Tack Up At:
Elko's Capriolas.com
Gardnerville's DougCoxCustomSaddles.com
Las Vegas's DBarJHat.com
Reno's DBarM.com
Virginia City's Pioneer Emporium & Virginia City Hat Maker LesChapeauxBaboulin.com
Winnemucca's TipsWestern.com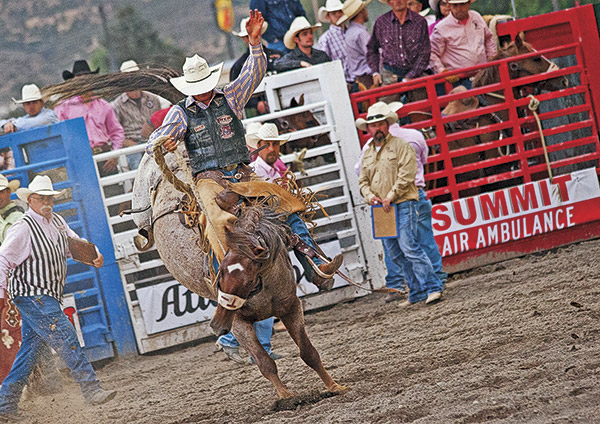 Pendleton, Oregon
World famous for the annual Pendleton Round-Up held the third weekend of every September, Pendleton has its roots as a frontier crossroads trading post. The city straddles the Umatilla River and has been an economic center for the ranching and farming communities, including the Confederated Tribes of the Umatilla, of northeastern Oregon. A city with a rich Western heritage, visitors should not miss an opportunity to tour the Pendleton Round-Up and Happy Canyon Hall of Fame, Pendleton Underground Tours, Pendleton Woolen Mills, Tamástslikt Cultural Institute and the Umatilla County Historical Society' Heritage Station Museum.
When in Pendleton This Summer, Don't Miss: The Pendleton Whisky Fest,
July 14-15, 2018, and Pendleton Round-Up, September 12-15, 2018. More info@ TravelPendleton.com and PendletonWhiskyFest.com.
Where to Stay: Pendleton House Historic Inn, PendletonHouseBNB.com, (541) 276-8581.
Where to Eat: Hamley Steakhouse & Saloon, HamleySteakhouse.com. What's for dinner? Beef!
In Oregon Tack Up At:
Pendleton's HamleyCo.com, MontanaPeaks.net and PendletonHatCompany.com
Eugene's NorthwestHats.com
Salem's NorthValleyHat Co.com
Sister's BaldwinHats.com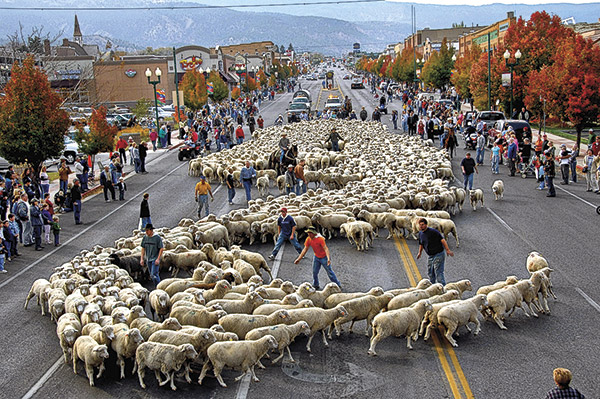 Cedar City, Utah
Mormon pioneers settled the Cedar City area in 1851 for access to iron and coal deposits, but soon Cedar City became primarily a farming and ranching community. In 1923 the railroad arrived and Cedar City became a gateway to Zion and Bryce national parks. Today, visitors to Cedar City can explore and learn about its Western heritage at Frontier Homestead State Park, the Historic Downtown District and Daughters of the Utah Pioneers Museum. The city also is known for rodeo and the arts, with the Cedar City PRCA Championship every June and the world-class Utah Shakespeare Festival,
June 28-October 13, 2018. Cedar City's local national parks, monuments and forests make it a popular destination for outdoor enthusiasts and horseback riding. 
When in Cedar City This Summer, Don't Miss: Cedar City Independence Day Parade and Fireworks, July 4, 2018; Iron County Fair, August 30-September 3, 2018. More info @ VisitCedarCity.com and IronCountyFair.net.
Where to Stay: Abbey Inn and Suites, AbbeyInnCedar.com, (800) 325-5411.
Where to Eat: Rusty's Ranch House, RustysRanchHouse.com. Try the Cowboy Burger, of course!
In Utah Tack Up At:
Cedar City's LopezKellySaddles.com and RussFawson.com
Park City's BurnsCowboyShop.com and Parowan's ParowanLeatherWorks.com
Salina's BurnsSaddlery.com
Spanish Fork's JNevesSaddles.com
Springville's TaitonBaird.com
Vernal's DryForkSaddle.com and SawtoothSaddle.com
West Valley's JWHats.com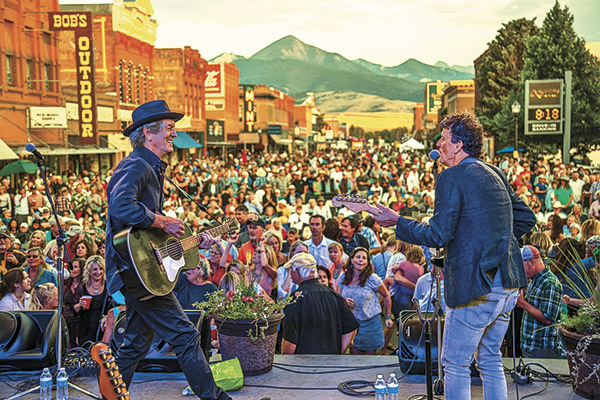 Livingston, Montana
Originally known as Benson's Landing, a small trading post on the Yellowstone River, Livingston's origins as a city are tied to the construction of the Northern Pacific Railway, which arrived in the area in July 1882. The new town quickly became an important rail hub for the company, and when a NPR spur line was built to Yellowstone, Livingston became well known as the "Gateway to Yellowstone Park." Ranching, agriculture, tourism and outdoor recreation, including world-class hunting and fly-fishing, have been cornerstones of Livingston's economy for many decades, and Montana's Western heritage is imbued in all the Old West activities to be enjoyed in Livingston throughout the year. Don't miss Livingston's downtown district where you can hang your hat at the historic Murray Hotel, enjoy a good meal at the Livingston Bar & Grille, The Mint Bar and Grille and The Stockman.
When in Livingston This Summer,
Don't Miss: Livingston Roundup & Rodeo, July 2-4, 2018; Park County Fair, July 25-28, 2018; and Montana Old-Time Fiddler's Picnic, August 3-5, 2018. More info @
DiscoverLivingston.com, LivingstonRoundup.com, ParkCounty.org and FiddlersPicnic.Blogspot.com.
Where to Stay: The Murray Hotel, MurrayHotel.com, (406) 222-1350.
Where to Eat: The Stockman, TheStockmanBar.com. Experience the hand-cut Stockman Rib Eye, rare-to-medium rare, of course! (Bar & Grill reopens in early June.)
In Montana Tack Up At:
Livingston's WilsonBoots.com and Bob's Outdoor 114 N. Main Street, (406) 222-1954
Billings's LawDogHatCompany.com, LouTaubert.com and RandHats.com
Bozeman's RockyMountainHatCompany.com 
Darby's DoubleHats.com
Great Falls' GrizzlySaddlery.com,
Hamilton's BitterrootSaddleCo.com
Twin Bridges' MontanaHats.com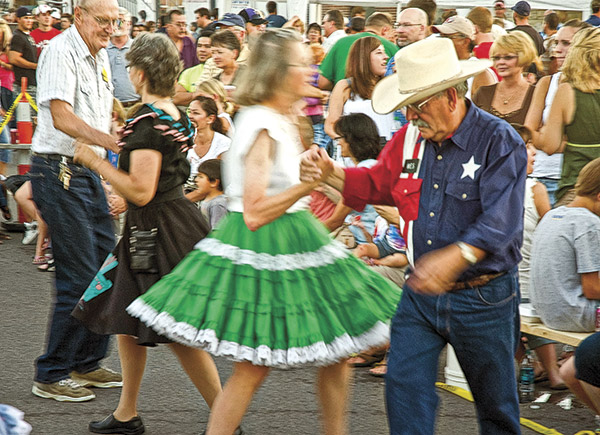 Scottsbluff/Gering, Nebraska
From time immemorial, travelers have followed the North Platte River through the Scottsbluff/Gering area as they traversed the region and continent. Nearby Scotts Bluff National Monument preserves and protects the geologic beacon that harkened fresh water and grass to Native peoples, trappers, traders, emigrants and freighters on the Overland Trail. Following the Civil War, the Scottsbluff/Gering area remained a critical stop on the national trail, but with the conclusion of the Indian Wars, cattle ranchers who drove herds north through western Nebraska, returned to the Sand Hills to establish major ranches, while homesteaders settled the Great Plains and developed farms along the North Platte River Valley. Today, the Scottsbluff/Gering community treasures its Old West heritage and visitors should allow themselves at least a long weekend to enjoy and explore all the area has to offer including the Scotts Bluff National Monument, Legacy of the Plains Museum, Chimney Rock National Historic Site and North Platte Valley Museum.
When in Scottbluff/Gering This Summer, Don't Miss: Oregon Trail Days,
July 12-18, 2018. More info @ NebraskaLandmarkCountry.com and OregonTrailDays.com.
Where to Stay: Barn Anew B&B, BarnAnew.com, (308) 632-8647.
Where to Eat: Platte Valley Creamery, 1005 E Overland, Scottsbluff, NE (308) 632-4225. This just may be the best ice cream in all of Nebraska!
In Nebraska Tack Up At:
Scottsbluff/Gering's Murdochs.com
and Arthur's Marshall Custom Hats
(308) 764-2420
Burwell's DryCreekWesternWear.com
Mitchell's BunkhouseWestern.com
Omaha's WolfBrosWestern.com
Platte Valley's PlatteValleySaddle.com
Thedford's BarNoneHats.com
Valentine's DiscountWesternWear.com
W (Young's Western Wearhouse)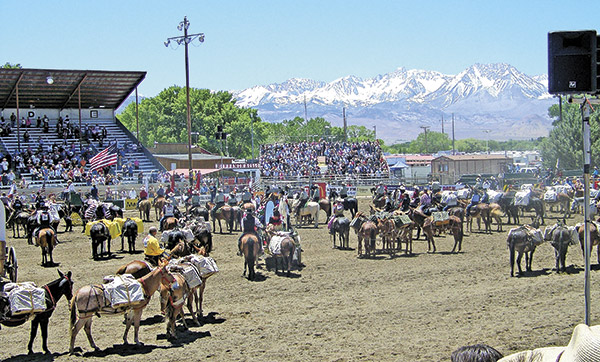 Bishop, California
At the top of California's Owens Valley north of Lone Pine and south of Mammoth Lakes, Bishop is in the heart of California's historic Eastern Sierra Nevada cattle country. Founded in 1862, a year after pioneer rancher Samuel Bishop drove his herd of cattle into the area to help feed miners in Aurora, Bishop has been a thriving center of livestock, cowboy and mining culture ever since. Today, Bishop celebrates its Western heritage throughout the year, but is best-known worldwide for its Mule Days Celebration held every Memorial Day Weekend.
When in Bishop This Summer, Don't Miss: The Jr. Livestock Show and Auction, July 11-14, and the Tri-County Fair, August 30 to September 2. More info@ BishopVisitor.com and TriCountyFair.com.
Where to Stay: Creekside Inn, BishopCreeksideInn.com, (760) 872-3044.
Where to Eat: Mahogany Smoked Meats, SmokedMeats.com. Order the Rodeo double-decker sandwich and a bag of elk jerky to go!
In California, Tack Up At:
Bishop's ToggeryBishop.com
Bakersfield's EmporiumWesternStore.com
Burbank's BaronHats.com
Folsom's HandleysWesternWears.com
Oakdale's AlamosaHatworks.com
Paramount's TwinstoneHats.com
Red Bluff's FlanigansCowboyStuff.com Richmond's KnudsenHats.com
Santa Barbara's KJMurphys.com
Ukiah's ShadyBrady.com
Cowboy Up!
Do you have a bucket list to attend the greatest cowboy events held across the West
every summer? Then get out your calendar, pull on your jeans, put on your best cowboy hat, boots, belt and buckle, and book a trip to one of these great summer Western
events that honor and celebrate the American cowboy.
Ponca City, OK • Jun 7-8: 59th Annual 101 Wild West Rodeo, 101WildWestRodeo.com
Bickleton, WA • Jun 8-10: 108th Annual
Alder Creek Pioneer Picnic & Rodeo, AlderCreekPioneerPicnicRodeo.Weebly.com
Woodward, OK • Jun 8-9: Oklahoma Championship Chuck Wagon Cook Off, AmericanChuckWagon.org
Stevensville, MT • Jun 22-23: Western Heritage Days, MainStreetStevensville.com
Prescott, AZ • Jun 28-Jul 4: 131st Frontier Days, Worlds Oldest Rodeo & Parade, WorldsOldestRodeo.com
Grangeville, ID • Jul 4-6: 107th Annual Grangeville Border Days, GrangevilleBorderDays.org
Calgary, Alberta, CAN • Jul 6-15: Calgary Stampede, CalgaryStampede.com
Salinas, CA • Jul 19-22: 108th Annual California Rodeo Salina, CARodeo.com
Minot, ND • Jul 20-28: North Dakota State Fair, NDStateFair.com
Cheyenne, WY • Jul 20-29: 122nd Annual Cheyenne Frontier Days, CFDRodeo.com
Deadwood, SD • Jul 24-28: 96th Annual Days of '76, DaysOf76.com
Dubois, WY • Jul 27-28: National Day of the Cowboy Celebration & Parade, DuboisWyoming.org
Duncan, OK • Jul 28: The Chisholm Trail Western Heritage Center's National Day of the Cowboy (Free admission), OnTheChisholmTrail.com
Abilene, KS • Aug 1-4: Wild Bill Hickok Rodeo, WildBillHickokRodeo.com
Crow Agency, MT • Aug 15-20: 100th Annual Crow Celebration Powwow & Rodeo, CrazyCrow.com
Payson, AZ • Aug 15-17: 135th Annual World's Oldest Continuous Rodeo, PaysonProRodeo.com
Westcliffe, CO • Aug 17-19: Custer County Cowboy Gathering, CusterCountyCowboyGathering.com
Clinton, AR • Aug 25-Sep 2: National Championship Chuckwagon Race, ChuckWagonRaces.com
Bandera, TX • Jul 28: National Day of the American Cowboy, BanderaCowboyCapital.com
Dayton, IA • Aug 31-Sep 3: 81st Annual Dayton Rodeo, DaytonRodeo.com
Lubbock, TX • Sep 7-9: The National Cowboy Symposium & Celebration, Cowboy.org
Stuart Rosebrook's favorite cowboy hat is a well-worn black Stetson Gus he bought at Saba's Western Wear in Scottsdale, Arizona, in 1987.