Red Cloud and other Lakota leaders met with Indian Commissioners at Fort Laramie in 1866 intending to negotiate an agreement that would allow safe passage of travelers using the Bozeman Trail across the Powder River Basin. This gathering came after two years of conflict that started when John Bozeman pioneered a trail to the Montana goldfields.
Bozeman and other wagon trains started using the trail in 1864 and faced minor skirmishes with American Indians that year. In 1865, Gen. Patrick Connor struck a significant blow when his military regiment attacked a camp of Arapahos led by Old David and Black Bear. The peace conference at Fort Laramie in early June 1866 included representatives of many northern Plains Indian tribes, but Red Cloud, an Oglala Lakota, served as the leading spokesman.
While Red Cloud came to the treaty conference in good faith, the negotiations broke down after eight days when Col. Henry B. Carrington and U.S. troops rode in to Fort Laramie and blew apart everything the commissioners had been striving to achieve. Carrington's troops were an alarm bell for Red Cloud and other Indian leaders who believed the government had been duplicitous— negotiating on one hand while bringing troops to enforce agreements on the other.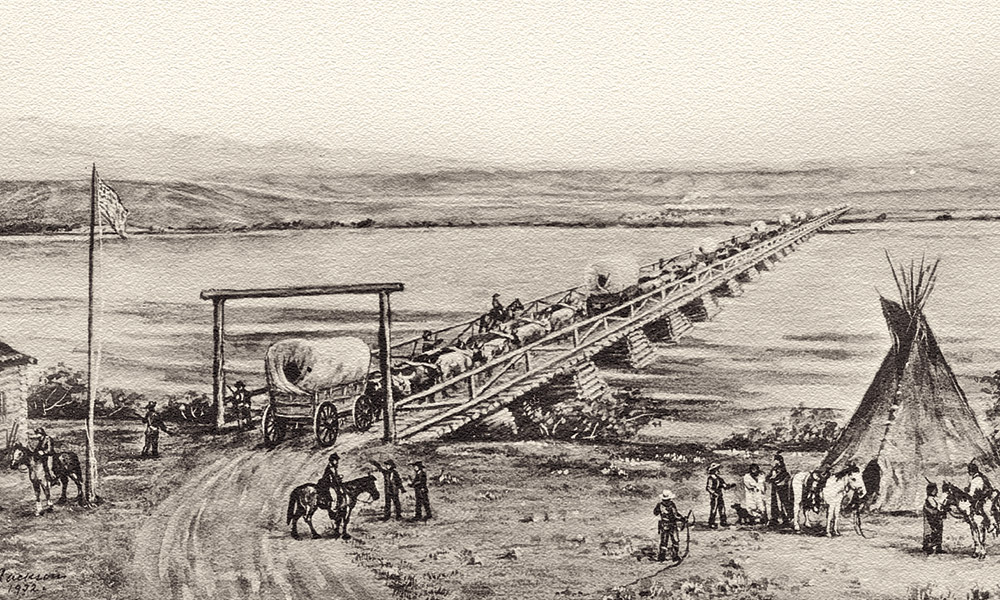 Red Cloud and the people who followed him, left the peace talks and returned to the country they considered their own—the Powder River Basin and Black Hills—the region north of the North Platte River and east of the Big Horn Mountains. Holding his rifle as he led his warriors away from the conference, Red Cloud is reported to have said, "In this and the Great Spirit I trust for the right."
The military followed not far behind.  Prior to his departure, Carrington wrote Lt. Col. H. G. Litchfield, "All the commissioners agree that I go to occupy a region which the Indians will only surrender for a great equivalent; even my arrival has started among them many absurd rumors, but I apprehend no serious difficulty. Patience, forebearing, and common sense in dealing with the Sioux and Cheyennes will do much with all who really desire peace, but it is indispensable that ample supplies of ammunition come promptly."
Red Cloud's War
The troops built forts Fetterman, Reno, Phil Kearny and C.F. Smith, each situated to protect wagon travelers headed toward Montana's goldfields. The federal troops skirmished with the tribes from 1866 until 1868, in what became known as Red Cloud's War or the First Sioux War. The Oglala headman successfully defended his tribal territory. In 1868 the military withdrew and the tribesmen burned the forts. Then Red Cloud came in to Fort Laramie and once again sat down with Indian Commissioners to negotiate a treaty.
The 1868 treaty is one of the most significant documents set down on paper in the 19th-century West. It would not only affect conditions that year, but remains important today. The Lakota people still cite that treaty when they assert territorial, land use and hunting rights. It is a document that has defined their actions for a century and a half.
When Red Cloud departed from Fort Laramie after the arrival of Henry Carrington, he rode west, and my route is similar along US 26 and then north on Interstate 25. Some of the troops who eventually patrolled this area were headquartered at Fort Fetterman near Douglas, but I continue to Casper and the site of Platte Bridge Station, established in 1862 to protect transportation lines following the North Platte River. The post was renamed Fort Caspar for Lt. Caspar Collins, who along with fellow soldiers was killed in battle with Lakota and Cheyenne warriors in July 1865. Now a city-owned historic site, the fort has been reconstructed and a museum provides details about the military and their interactions with tribal members.
My route continues north on I-25 through Kaycee, home of the Hoofprints to the Past Museum, and then to Buffalo for a tour through the Jim Gatchell Museum with its impressive collection of American Indian artifacts. Fort Reno, one of the frontier posts established to provide protection for travelers on the Bozeman Trail, sat in the heart of the Powder River Basin and there is nothing to visit these days. Col. Carrington commanded Fort Phil Kearny. Located along the east flank of the Big Horn Mountains, 14 miles north of Buffalo, Fort Phil Kearny was in the heart of the tribal hunting grounds—strategically placed by the military and strongly opposed by the Indians.
Fort Phil Kearny has been rebuilt on its original site and is now a Wyoming State Historic Site. From here, take local roads north across Lodge Trail Ridge on a route Lt. William J. Fetterman rode with 80 of his fellow soldiers in December 1866. There had been minor skirmishes prior to that cold winter day and Fetterman had been instructed not to cross the ridge. But when Indian riders taunted the soldiers, Fetterman followed them and rode right into the trap laid by Red Cloud. By  the time the fight ended, Fetterman and all his men had perished. There is a monument at the battle site.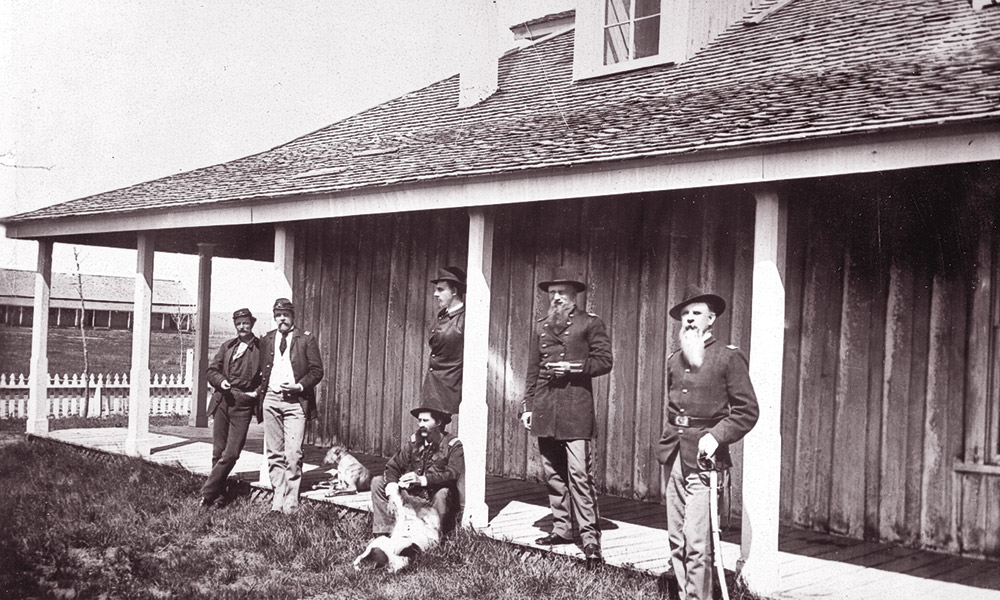 After learning of Fetterman's fate, Col. Carrington sent relief riders to Fort Laramie with an urgent request for additional troops. This led to another peace commission at Fort Laramie in early 1867, but was not productive. The tribal leaders who took part demanded that the military forts and the troops serving at them be removed, but the frontier Army refused to leave, setting up the next round of fighting.
In August 1867, Red Cloud and other tribal war leaders staged a series of coordinated attacks. At a site near present-day Story, Wyoming, a group of woodcutters from Fort Phil Kearny took cover behind their wagons as they fought off attacking warriors in what became known as the Wagon Box Fight. My route from Fort Phil Kearny on a rural road up Piney Creek takes me to the site of that battle before I continue north to Sheridan and then Ranchester, where Col. Patrick Conner attacked the Arapaho camp in 1865. Connor and his soldiers destroyed some 250 lodges and killed many of the Arapaho tribal members, including women and children.
Fort C.F. Smith, the third key military post built in the area, was beside the Big Horn River at the Spotted Rabbit Crossing on the present Crow Indian Reservation. The Hayfield Fight took place near Fort Smith in the series of coordinated attacks in early August 1867. Again, the tribal fighters were victorious.
Showing coordination, strategy, perseverance and adroit precision, Red Cloud and his warriors ultimately achieved their greatest goal—to drive the military out of the Powder River Basin. The Army closed the forts that stood along the Bozeman Trail. After the soldiers withdrew, the Indians burned the posts.
Treaty of 1868
Red Cloud returned to Fort Laramie after winning his war and sat down with peace commissioners once again. They negotiated the Treaty of 1868, which established the Great Sioux Reservation. My route from Sheridan, now heads east across the Powder River Basin into the Black Hills, which was the key area held by the tribes under the Fort Laramie Treaty.
Devils Tower, near Hulett, Wyoming, is one of many sacred places in this region for American Indians. This stone landmark is the first national monument, and is best explored on the ground by hiking around the base or on trails within the monument lands. Continuing east and deep into the Black Hills, my route takes me to South Dakota, through Belle Fourche, Spearfish and Deadwood, then south past Mount Rushmore National Memorial and Crazy Horse Memorial, to Fort Robinson, just west of Crawford, Nebraska.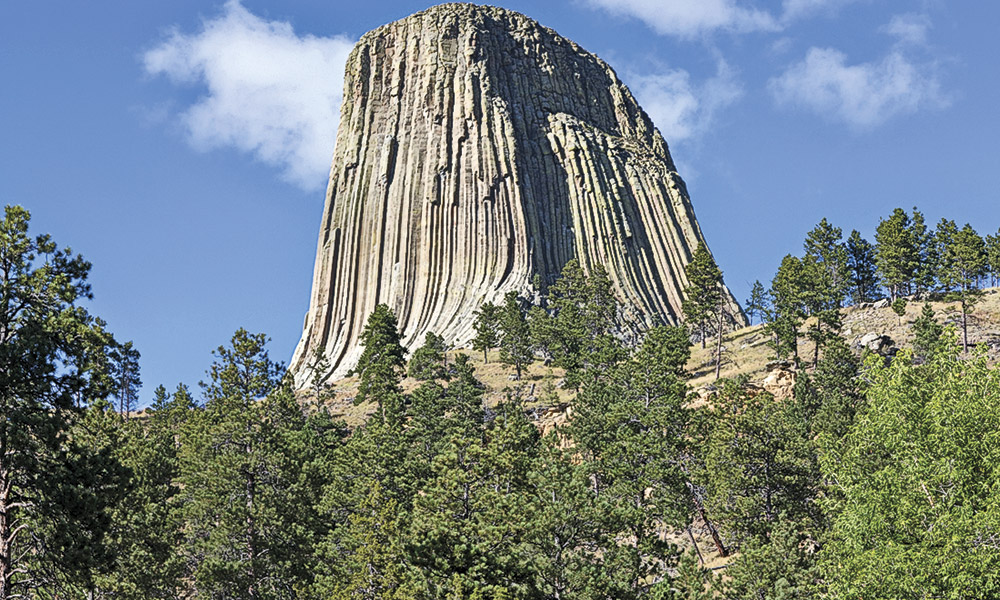 After Red Cloud ultimately moved onto the reservation, he and his followers received the annuities promised to them in the 1868 Fort Laramie treaty, first near Fort Laramie, but later at the Red Cloud Agency, which was on the boundary of Camp Robinson (later Fort Robinson).
Crazy Horse, the Lakota warrior who had fought with Red Cloud, became a primary war leader in the Second Sioux War that included the Battle of the Rosebud and Battle of Little Big Horn, both in June 1876. Crazy Horse, whose likeness is being carved into a granite mountain in the Black Hills, ultimately surrendered near Camp Robinson, and was stabbed and killed there in September 1877.
Later, the Red Cloud Agency was moved from its Nebraska location, as the people were ordered to first obtain their annuities along the Missouri River, but soon relocated to the Pine Ridge Agency in South Dakota.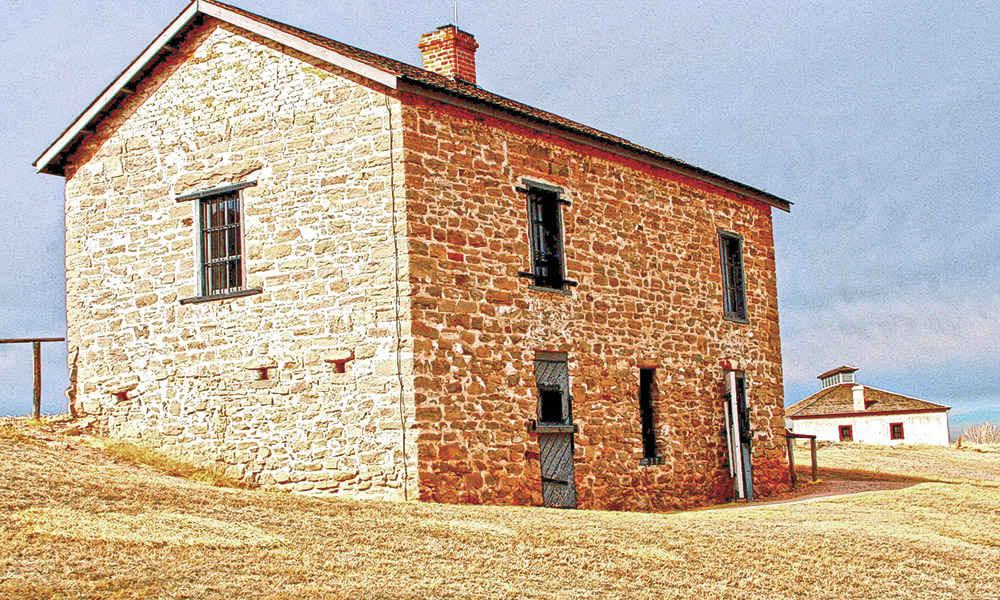 The Lakota people who followed Red Cloud and other leaders lived under terms of the 1868 treaty in the years after it was negotiated, receiving annuities even as they were forced to assimilate and learn to become farmers and take on other trades. But the treaty still holds significance. Even today, 150 years later, tribal members will remind visitors to their land that it was set aside for them during the peace conference at Fort Laramie in 1868.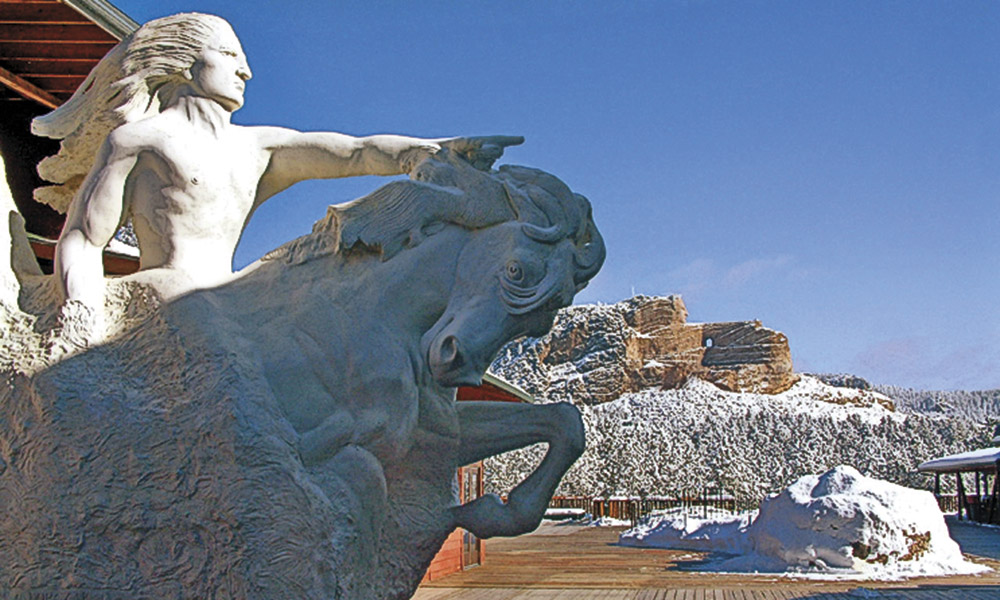 Side Roads
Celebrations and Events
Longmire Days, Buffalo, WY, Aug. 10-12; Days of '76 Rodeo, Deadwood, SD, July 24-28; Gift from Mother Earth Art Show, Crazy Horse, SD, June 15-17; Crazy Horse Night Blasts, Crazy Horse, SD, June 26 and Sept. 6
Places to Visit
Fort Laramie National Historic Site, Fort Laramie, WY; Fort Casper Historic Site, Casper, WY; Jim Gatchell Memorial Museum, Buffalo, WY; Fort Phil Kearny State Historic Site, Buffalo, WY; Sheridan County Historical Society & Museum, Sheridan, WY; Devils Tower National Monument, Hulett, WY; Journey Museum, Rapid City, SD; Crazy Horse Memorial, Crazy Horse, SD; Fort Robinson State Park, Crawford, NE
Good Eats & Sleeps
Eggingtons, Casper, WY; Fire Rock Steak House and Grill, Casper, WY: Occidental Hotel & Saloon, Buffalo, WY; Busy Bee Café, Buffalo, WY; Alex Johnson Hotel, Rapid City, SD; No. 10 Saloon, Deadwood, SD; Alpine Inn, Hill City, SD; Fort Robinson Lodge and Officers' Quarters Cabins, Fort Robinson State Park, Crawford, NE
Good Books, Film & TV
Good Books: Powder River: Disastrous Opening of the Great Sioux War by Paul L. Hedren; Eyewitness to the Fetterman Fight: Indian Views by John H. Monnett; Traveler's Guide to the Great Sioux War by Paul L. Hedren; Stone Song: A Novel of the Life of Crazy Horse by Win Blevins; Autobiography of Red Cloud: War Leader of the Oglalas by R. Eli Paul; Red Cloud: Warrior Statesman of the Lakota Sioux by Robert W. Larson; Red Cloud: Oglala Legend by John D. McDermott; The Heart of Everything That Is: The Untold Story of Red Cloud, An American Legend by Bob Drury and Tom Clavin
Movies & TV: The Glory Trail (Crescent Pictures Corp., 1936); Tomahawk (Universal, 1951); The Great Sioux Uprising (Universal, 1953); Chief Crazy Horse (Universal, 1955); The Indian Fighter (United Artists, 1955); Crazy Horse (TNT, 1996); Strong Heart: A Film by Russ Hopkins (Kiva Records, 2011); The Way West: The War For The Black Hills (The American Experience, PBS, 1995)
Candy Moulton is the author of Valentine T. McGillycuddy: Army Surgeon, Agent to the Sioux and Forts, Fights and Frontier Sites: Wyoming's Historic Sites.