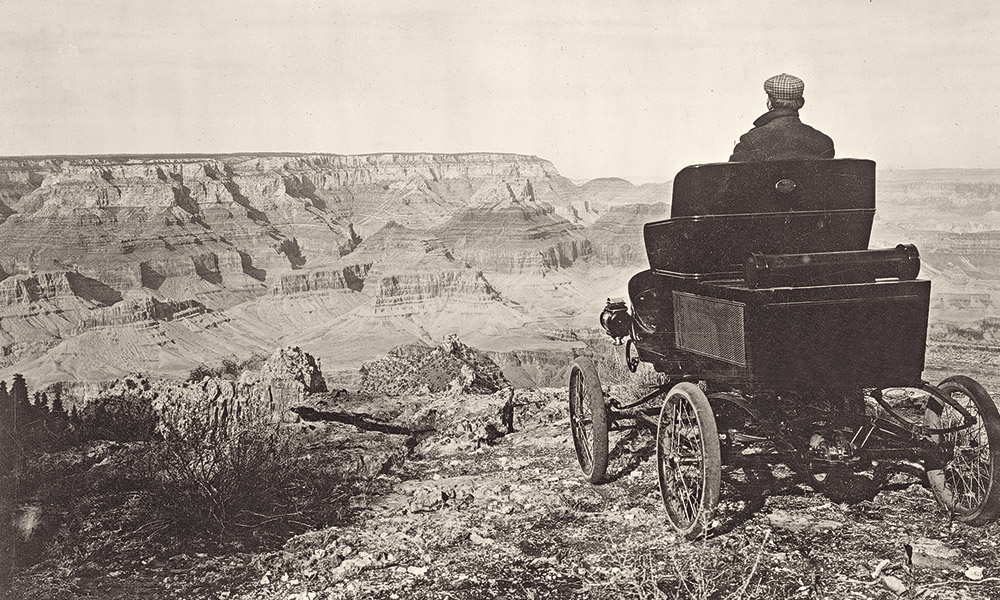 The Grand Canyon State has been my adopted home for most of my life. When anyone asks me about touring the beautiful southwestern state, I always ask two questions: How long is your visit? How are you arriving: by car, plane or train? No matter what, you will either need a car or take a bus tour around the state because the miles between points of interest can be in the hundreds, and you will want the flexibility to get out, stop and tour the many amazing historic sites in Arizona.
So, whether you have one day, a weekend or a week or more of vacation planned, pack your bag and camera for a fun, history-filled visit to seven of my favorite places in the 48th state.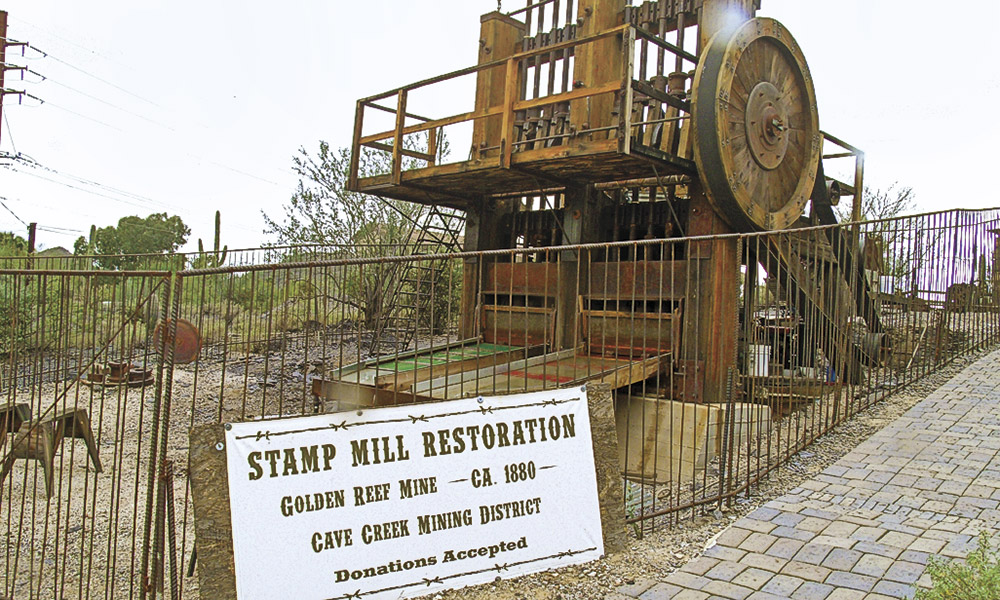 Cave Creek
Home to True West magazine's headquarters, Cave Creek is a great place to start your tour of Arizona. The old mining and ranching town adjacent to Tonto National Forest, is just north of the Phoenix metro area. The high-desert town is well known for its Western hospitality, shopping, restaurants, saloons, hotels and outdoor recreation, including horseback riding and jeep tours. An annual signature event is Cave Creek's Rodeo Days and Parade, held at the end of every March. So when in Cave Creek, please stop by True West's headquarters, Mondays through Fridays, and say hello. We love to meet our readers and give them a tour of the editorial offices.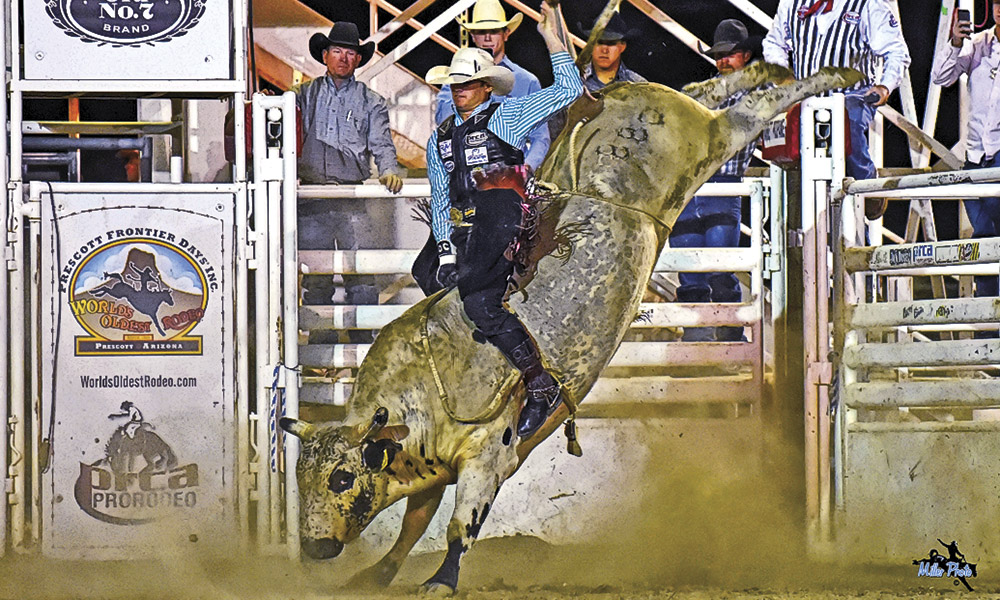 Prescott
My first memory of Prescott is the Frontier Days Rodeo and Parade in the summer of 1970. Nearly 50 years later, the parade is still as great as it was so long ago, and the World's Oldest Rodeo, founded July 4, 1888, still thrills and entertains the fans that pack the historic Yavapai County fairgrounds.
Founded as a mining and merchant camp adjacent to Fort Whipple in 1864, Prescott was Arizona's first Territorial capital. Surrounded by the pine-covered Prescott National Forest, the downtown Courthouse Plaza is the perfect place to start a tour, whatever the season. With plenty of convenient parking, Prescott's downtown has historic sites, shops (lots of antiques), restaurants and saloons for all tastes and temperament, including two of my favorites on Independence Day, Matt's Saloon (great Western dancing) and The Historic Palace Restaurant and Saloon (look for the Junior Bonner mural on the back wall) where Virgil Earp and Doc Holliday most likely enjoyed a drink and a few games of chance.
After touring downtown, make time to visit nearby Sharlot Hall Museum, a living history center that includes
the original Territorial governor's mansion; the Smoki Museum, dedicated to the heritage
and history of the state's indigenous people; and, the Phippen Museum, one of Arizona's premier Western art museums.
Staying the weekend? Prescott has accommodations for all styles and budgets, but I love staying near downtown at a historic hotel such as the Hassayampa, St. Michael's or Vendome. That way I can park my car for the weekend and spend it walking, exploring and relaxing in the mile-high city that well deserves its nickname of "everybody's hometown."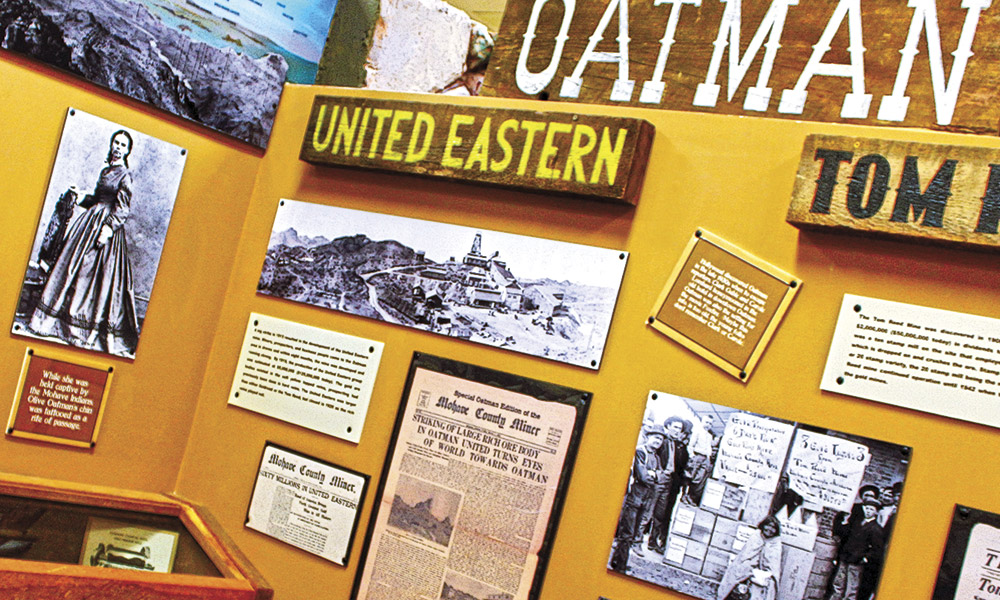 Kingman
Named for the Atlantic & Pacific Railroad construction engineer Lewis Kingman in 1882, the Mohave County seat has been a crossroads for travelers across the high desert for centuries because of key springs in the area. The Route 66 city is also the hometown of True West's very own dynamic duo, Executive Editor Bob Boze Bell and Art Director Dan Harshberger, who worked together to create Bob's memoir, The 66 Kid: Raised on the Mother Road: Growing Up on Route 66, the World's Most Famous Two-Lane Blacktop.
Kingman, filled with fun and Old West history sites, makes a great headquarters for a week of exploring the expanses of northwestern Arizona. My first stop in Kingman would be the Historic Powerhouse at 120 W. Andy Devine Avenue. Home to the city's visitor center, the massive relic of the Industrial Age was completed in July 1909 and helped spur modern growth, especially in mining. Eventually usurped by the power from Hoover Dam, the Power House ceased operations. It was restored in the 1990s as a hallmark project in preservation for the city and region.
After the Power House, my next recommended stop is the Mohave Museum of History and Arts. A tour of the museum provides visitors an introduction to the rugged history of Kingman and Mohave County, including the story of Lt. Edward Beale, the Camel Corps and Beale's Wagon Road, the first major American road across the future state of Arizona. Ask for driving directions at the museum to Camp Beale's Springs on the western edge of town, and enjoy a hike and picnic (early morning in the summer) at the historic site.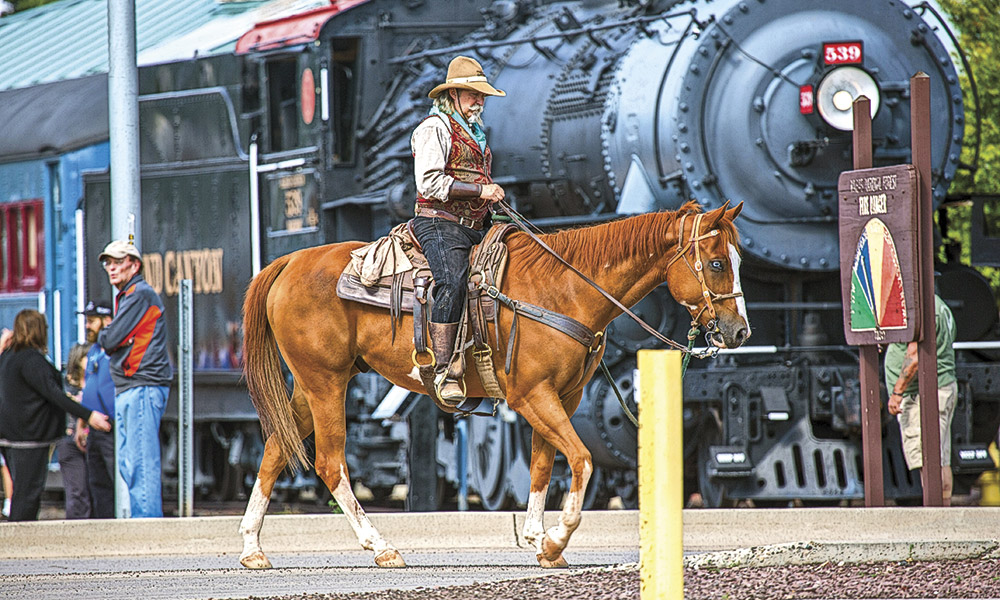 Williams
"The Gateway to the Grand Canyon," Williams celebrates its Old West history—and its Route 66 legacy—throughout the year. Founded in 1881, Williams shares its name with nearby Bill Williams Mountain. Don't miss a statue dedicated to the frontiersman in Bill Williams Monument Park. As a rail hub adjacent to the Santa Fe Railway, Williams quickly became a key economic and rail-shipping center for the logging, mining and cattle industries adjacent to the Santa Fe Railway in the 1880s and 1890s. As the tourism industry grew in the late 19th century—and railroads recognized the profit in delivering passengers to and from national parks—the Santa Fe Railway built its Grand Canyon Railway to the South Rim of Grand Canyon National Park in 1901.
The short-line to the park was quite successful until Western travelers abandoned train travel for automobiles in the 1960s and passenger train service shuttered in 1968. In 1988, Max and Thelma Biegert of Phoenix reopened the Grand Canyon Railway. Owned today by Xanterra Parks & Resorts, with historic roots to Fred Harvey Company, the railway is one of the most popular tourist attractions in Arizona today.
A Williams weekend would not be complete without a nostalgic venture down Williams' Main Street, Historic Route 66. A stroll through Williams' historic downtown district is in order whether you are looking to relax at a restaurant or pub, or shopping for cowboy boots and a hat, Route 66 souvenirs or Indian art and jewelry. And if you want to go for a hike, the visitors center can offer directions to the Beale Wagon Road Historic Trail.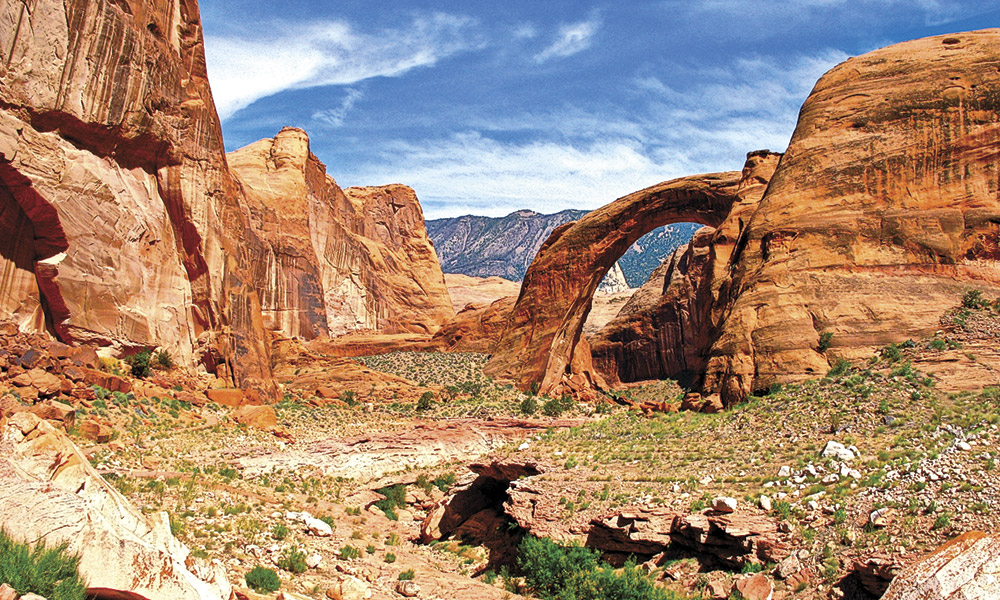 Page
While most of the towns on this Arizona tour date to the 19th century—and the awe-inspiring beauty of the canyon lands of Lake Powell are nearly as ancient as the Earth itself—the town of Page is just 61 years old. Founded in 1957 to house the construction crews building Glen Canyon Dam, Page is now an international tourist destination for Lake Powell and Glen Canyon National Recreation Area vacationers.
For many, Page  is a temporary stop before rafting or rowing down the Colorado River through the Grand Canyon—something I have done, at least the lower half. But, like many who have had the fortune to travel extensively in the Arizona, Utah, Colorado and New Mexico's canyon lands, I still need to book a week on a Lake Powell houseboat to explore the wonders of Glen Canyon, hike to Rainbow Bridge National Monument and contemplate the ancient landscape and endless nightly celestials that can only be enjoyed from quite meditation on the cool sand of a cove miles from the marina. Before heading out for a week of fun and self-reflection, why not tour the heritage sites and museums of Page, while enjoying the famous local hospitality, restaurants and shops that could never have been imagined by its earliest Indian residents and Lee's Ferry founder, Mormon pioneer, John D. Lee.
Lee's Ferry, adjacent to the small ranch, Lonely Dell, at Paria Creek's confluence with the Colorado, was built in 1872 and was the only way to cross the river until Navajo Bridge was completed in 1929. Today, visitors can tour Lee's Ferry and Lonely Dell Ranch Historic District and imagine life on the edge of the Arizona Territorial frontier. You can quickly understand why Lee named it Lonely Dell. Today, it is anything but lonely, as the input for Colorado River rafters is adjacent to the park. After Lee's Ferry, enjoy tours of the John Wesley Powell Museum and the Carl Hayden Visitor Center at Glen Canyon Dam. The Powell Museum is dedicated the region's environs and people, and to the great Colorado River explorer, who first passed through the area 149 years ago on his historic journey down the Green and Colorado rivers. After a visit to the Powell Museum, schedule time for a guided tour of the dam. Tours are offered at the Carl Hayden Visitor Center, daily, except on Thanksgiving, Christmas and New Year's Day.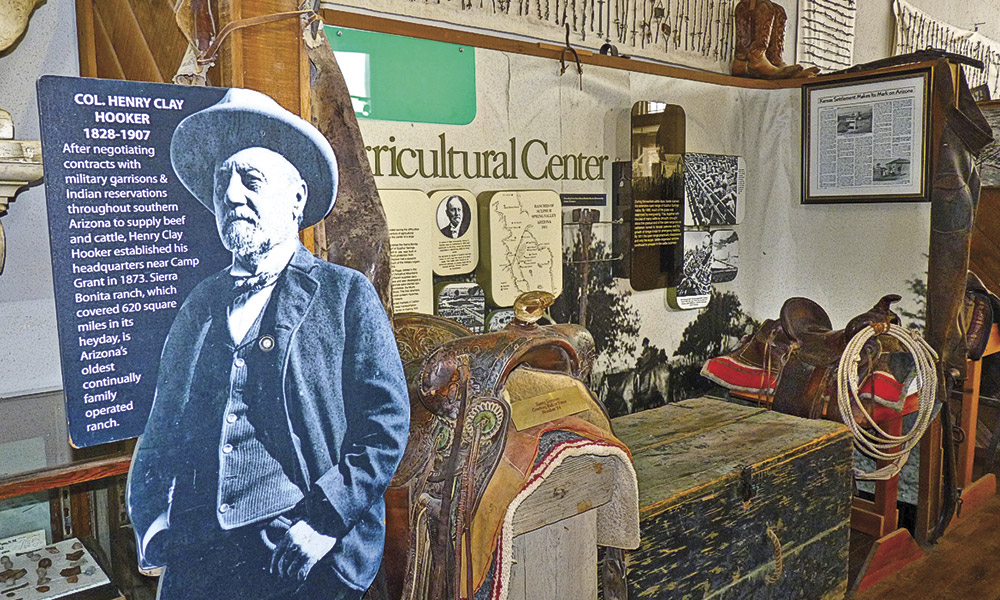 Cochise County: Willcox and Tombstone
A good place to start a weekend or week long visit to yesteryear in historically rich Cochise County is the onetime cattle capital of the state, Willcox. The town was a key railhead on the Southern Pacific Railway after the railroad's arrival in 1880. A tour of Chiricahua Regional Museum (closed on Sundays) provides a primer to Cochise County's storied past. While in Willcox, don't miss a chance to tour the Rex Allen Arizona Cowboy Museum and Willcox Cowboy Hall of Fame or pay your respects to the youngest Earp brother, Warren, who is buried in the Willcox Pioneer Cemetery, the victim of a July 9, 1900, gunfight gone bad.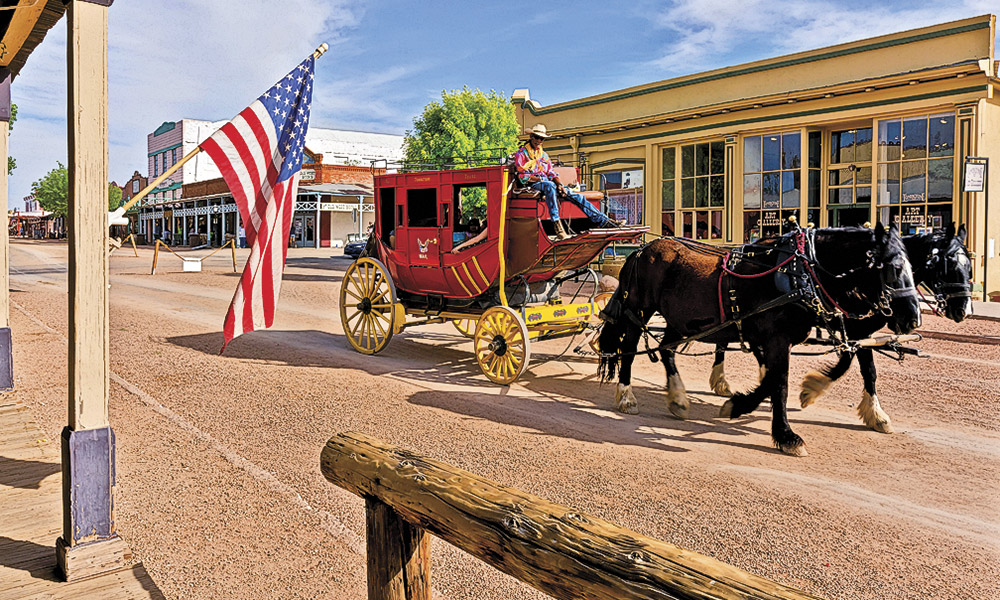 If Warren Earp's headstone is not enough Earp history for one trip, schedule a couple of days to immerse yourself in the history of Tombstone. Park in one of the convenient public parking areas and start your tour at the Tombstone Visitor's Center at Allen and Fourth streets. Enjoy the pedestrians-only historic district or take a paid, narrated stagecoach or wagon tour of the town. Don't miss the beautifully restored Tombstone County Courthouse State Historic Park, the OK Corral and Historama, the Bird Cage Theatre, Boothill Graveyard, C.S. Fly's Photography Gallery and the newspaper office of the Tombstone Epitaph, just to name a few. Thirsty and hungry? Have a drink at an original 1880s bar in Big Nose Kate's Saloon & Restaurant, and then sit back and relax over dinner.
Side Roads
Good Food & Lodging
Grub: The Palace Restaurant and Saloon, Prescott; Matt's Saloon, Prescott; El Palacio, Kingman; Black Bridge Brewery, Kingman; Red Raven Restaurant, Williams; Goldie's Route 66 Diner, Williams; Ranch House Grille, Page; Big John's Texas BBQ, Page; Tonto Bar and Grill, Cave Creek; Big Nose Kate's Saloon & Restaurant, Tombstone; Crystal Palace Saloon, Tombstone; Big Tex Bar-B-Que, Willcox; La Unica Tortilleria y Taqueria, Willcox.
Lodging: Hassayampa Inn, Prescott; Hotel Vendome, Prescott; Hotel St. Michael, Prescott; Arizona Inn, Kingman; Grand Canyon Railway Hotel, Williams; Courtyard Page at Lake Powell, Page; Lake Powell Resort, Page; Rancho Manana Resort, Cave Creek; Cave Creek Tumbleweed Hotel, Cave Creek; El Encanto Mexican Café, Cave Creek; Janey's Coffee House, Cave Creek; Cartwright's Modern Cuisine, Cave Creek; Arizona Sunset Inn, Willcox; Tombstone Monument Guest Ranch, Tombstone; Copper Queen Hotel, Bisbee.
Places to Visit: Northern Arizona
Sharlot Hall Museum, Prescott; Phippen Museum, Prescott; Smoki Museum, Prescott; Fort Whipple Museum, Prescott; Mohave Museum of History & Arts, Kingman; Beale's Spring, Kingman; Power House Visitor Center, Kingman; Grand Canyon Skywalk, Grand Canyon West; Grand Canyon Railway, Williams/Grand Canyon National Park; Williams Depot History Museum, Williams; Old Beale Wagon Road, Williams; Lee's Ferry and Lonely Dell Ranch Site, Glen Canyon National Recreation Area; Carl Hayden Visitor Center, Glen Canyon Dam, Page; John Wesley Powell Museum, Page; Rainbow Bridge National Monument, Lake Powell, UT
Places to Visit: Central and Southern Arizona
Cave Creek Museum, Cave Creek;The O.K. Corral and Historama, Tombstone; Tombstone Courthouse State Historical Park, Tombstone; Tombstone's Boothill, Tombstone; Birdcage Theater, Tombstone; Bisbee Mining & Historical Museum, Bisbee; Chiricahua Regional Museum, Willcox; Rex Allen Arizona Cowboy Museum & Cowboy Hall of Fame, Willcox; Fort Bowie National Historic Site, Bowie; Fort Huachuca Historical Museum, Sierra Vista; The John Slaughter Ranch, Douglas.
Events and Celebrations
Cave Creek Rodeo Days, Cave Creek, March 23-25; Wild West Days, Cave Creek, Nov. 2-4; Wyatt Earp Days, Tombstone, May 26-28; Frontier Days & World's Oldest Rodeo, Prescott, July 28-July 4; Andy Devine Days Festival and Rodeo, Kingman, Sept. 28-30; Williams Train Days, Williams, June 17; Hometown 4th of July Celebration and Parade, Williams, July 4; The Williams Labor Day Rodeo, Williams, Aug. 31-Sept. 1; Fourth of July Parade and Fireworks, Page, Jul. 4; Lake Powell Balloon Regatta, Page, Nov. 1-4; Showdown in Tombstone, Tombstone, Sept. 1-3 ; Rex Allen Days & Rodeo, Willcox, Oct. 5-7; Helldorado Days, Tombstone, Oct. 19-21.
Stuart Rosebrook is True West's Senior Editor. His favorite annual Arizona event is Prescott's Frontier Days and the World's Oldest Rodeo, founded July 4, 1888.