Western roundup of events where you can experience the Old West this April.
Adventure
1836 Chuckwagon Race
Neches, TX, April 13-22: Watch wagon races, plus enjoy trail rides, Dutch Oven cooking classes, cowboy poetry and cowboy mounted shooting.
903-721-9111 • 1836ChuckwagonRace.com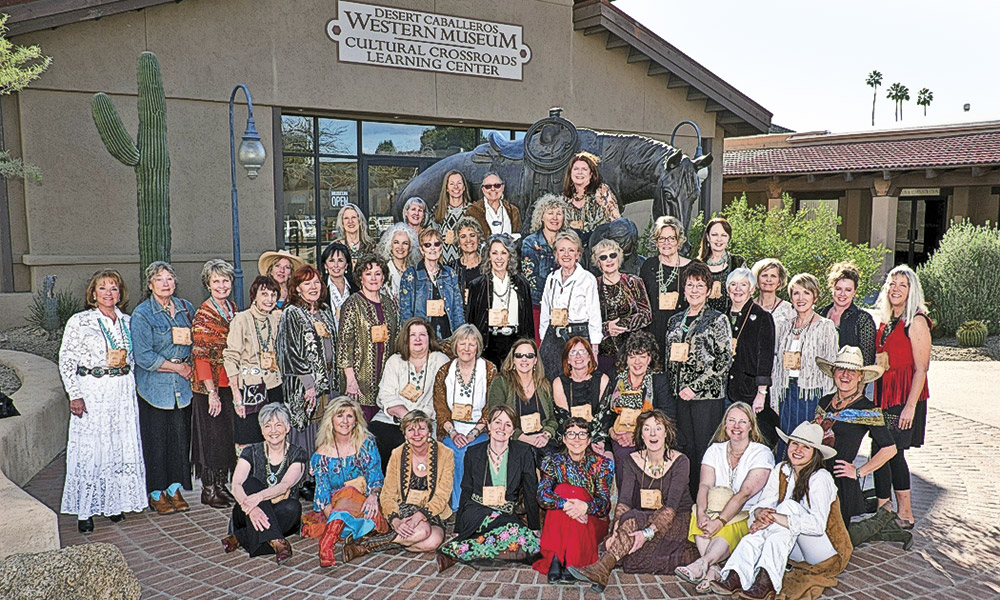 Art Shows
The Art of Joe Beeler: A Western Original
Scottsdale, AZ, April 1-30: A chronicler of the American West, Beeler's art is celebrated with an exhibit featuring more than 80 of his works.
480-686-9539 • ScottsdaleMuseumWest.org
Cowgirl Up! Exhibit
Wickenburg, AZ, April 1-30: Opening gala at the Desert Caballeros Western Museum kicks off the invitational exhibit of Western art by women.
928-684-2272 • WesternMuseum.org
Trappings of Texas
Alpine, TX, April 12-14: The nation's second-oldest trappings show offers cowboy gear and traditional Western art at the Museum of the Big Bend.
432-837-8143 • MuseumoftheBigBend.com
The Big One Art & Craft Fair Minot Spring Show
Minot, ND, April 13-14: Soak up some history in this 1886 rail town as you browse the locally made arts, crafts and baked goods.
701-837-6059 • TheBigOne.biz
California Images & History
San Dimas, CA, April 27-29: Paintings and sculptures by Western artists celebrate the state of California and its rich cowboy heritage.
909-599-5374 • SanDimasArts.org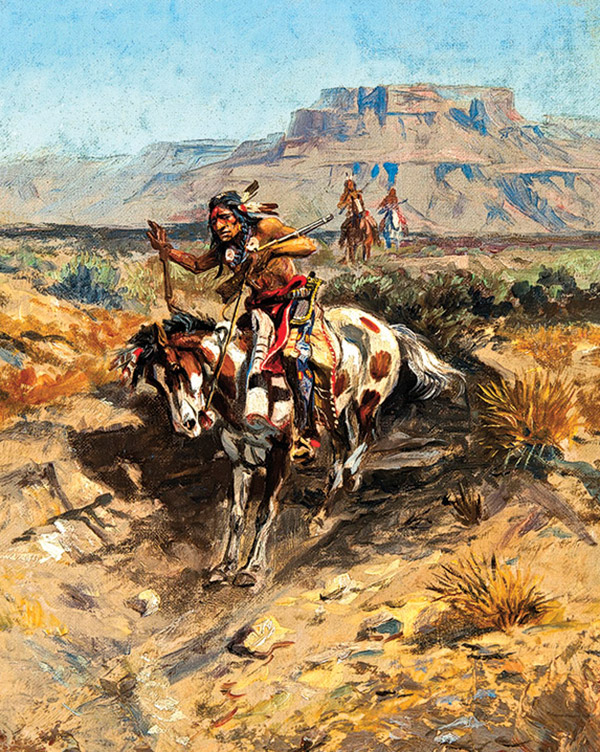 Auction
Premiere Firearms Auction
Rock Island, IL & Online, April 13-15: Highly collectible firearms are up for bid, including an original cased Colt Civilian Walker Revolver.
309-797-1500 • RockIslandAuction.com
Scottsdale Art Auction
Scottsdale, AZ & Online, April 7: Bid on Western and wildlife art, with an emphasis on Old West artists including the Charles Russel painting pictured above.
480-945-0225 • ScottsdaleArtAuction.com
Frontier Fare
Pioneer Village Dutch Oven Cook-off
Gonzales, TX, April 27: Cook-off keeps you fed as you enjoy gunfight re-enactments, saloon girls, frontier camps and tours of the 1800s village.
830-672-2157 • ThePioneerVillage.com
Gun Show
Wanenmacher's Tulsa Arms Show
Tulsa, OK, April 7-8: Gun Gurus, Jim Supica and Philip Schreier will make an appearance at this 11 acre gun show with more than 4,200 exhibitors.
918-492-0401 • TulsaArmsShow.com
Heritage Festivals
Chisholm Trail and the Cowtown That Raised a President
Abilene, KS, April 1-30: This special exhibit showcases artifacts, photos and stories about the cowtown where Dwight D. Eisenhower grew up.
785-263-6700 • Eisenhower.archives.gov
Rose Tree Parade & Festival
Tombstone, AZ, April 6-8: The blooming of the "World's Largest Rose Tree," planted in 1885, is celebrated with a parade and folklorico dances.
520-457-3326 • TombstoneChamber.com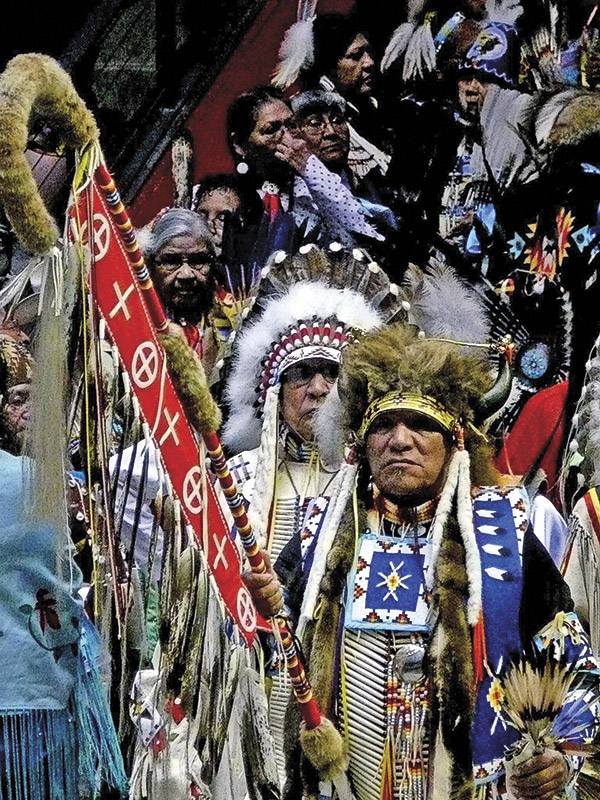 Gathering of Nations Pow Wow 
Albuquerque, NM, April 26-28: North America's biggest Powwow showcases the Miss Indian World Pageant, along with dance and drum competitions.
505-836-2810 • GatheringOfNations.com
Southwest Farm & Home Expo
Elk City, OK, April 7-8: Novice and professional alike can shop and learn about products and services for farm, home, lawn, garden and ranch.
580-225-0207 • VisitElkCity.com
Chisholm Trail Heritage Festival, Cattle Drive, and Wagon Train
Bowie, TX, April 13-15: Watch the Marlow Gunfighters Show, horse & wagon races, a stick horse rodeo for the kids and a cowboy ball.
940-872-1173 • BowieTxChamber.org
Fiesta San Antonio
San Antonio, TX, April 19-29: Old San Antonio and Old Mexico celebrations include fandangos, art shows and a pilgrimage to the Alamo mission.
877-273-4378 • Fiesta-SA.org
Rendezvous Days
Eureka, MT, April 27-29: This Mountain Man tribute offers blackpowder shoots along with street bed races, a quilt show and flea market.
406-297-4636 • EurekaMontana.org
Earth Day Festival
Los Alamos, NM, April 21: Fun for all ages this event features entertainment, food, activities, informational booths, and more.
505-662-0460 • PEECNature.org
Garden & Landscape Educational Expo & Farmer's market
Gillette, WY, April 21: Learn the ins and outs of growing your own garden or creating a beautiful landscape and shop the local farmer's market.
307-682-7281 • TravelWyoming.com
Party for the Planet
Sioux Falls, SD, April 21: This event taps into your enthusiasm for the planet with fun and educational activities about conservation and wildlife.
605-367-7003 • GreatZoo.org
Santa Clarita Cowboy Festival
Santa Clarita, CA, April 22-25: Experience the best in Western entertainment, apparel, gear, food, and history with over 35 different events.
661-286-4021 • CowboyFestival.org
Arizona History Convention
Tempe, AZ, April 26-28: True West's Executive Editor Bob Boze Bell and other historians give presentations about Arizona's cowboy history.
520-628-5774 • ArizonaHistory.org
Arbor Day Celebration
Nebraska City, NE, April 27–29: The home of the first Arbor day, in 1872, celebrates with free trees, a chili cook-off and a parade.
800-514-9113 • NebraskaCity.com
Keeping Warm in South Dakota XI
Brookings, SD, April 28-29: Quilters gather for fabric and design competitions, raffles, luncheon and a special presentation from Gudrun Erla.
605-690-3246 • BrookingsQuiltGuild.com
Music & Poetry
LLano Fiddle Fest
Llano, TX, April 6-8: Texas musicians of the past are celebrated with a competition featuring some of the best fiddlers from Texas and beyond.
325-247-5354 • LlanoFiddleFest.com
Durango Bluegrass Meltdown
Durango, CO, April 20-22: See Bluegrass jam sessions and bands Balsam Range, Special Consensus and more play in Durango venues.
970-335-9771 • DurangoMeltdown.com
Re-enactment
Bandera Cattle Company Gunfighters
Bandera, TX, April 7, 14, 21, 28: Experience the excitement of the Wild West with the award-winning Bandera Cattle Company Gunfighters.
830-796-3045 • BanderaCowboyCapital.com
RODEO & HORSE
Oklahoma Quarter Horse Spring Show
Oklahoma City, OK, April 4-8: Oklahoma and the surrounding region's finest Quarter Horses compete for ribbons and prizes in wide array of classes.
405-440-0694 • OKQHA.org
PBR Unleash the Beast
Sioux Falls, SD, April 6-8: Watch the showdown between the toughest cowboys & rankest bucking bulls along with a star-studded musical lineup.
800-732-1727 • DennySanfordPremierCenter.com
High Desert Horse Expo
Redmond, OR, April 20-22: Nearly 150 equine related vendors, clinics, demonstrations, consignment tack sale, and more.
971-224-5879 • HighDesertHorseExpo.com
West Fest & Ranch Rodeo
Willcox, AZ, April 27-28: This cowboy gathering pays tribute with ranching competitions, wagon judging, fire stories, and a Chuckwagon cook-off.
800-200-2272 • CattleCapitol.com