Among the most recognizable silver screen firearms, this Shiloh rifle has earned "star" status in its own right.

John Wayne's large lever 1892 Winchester carbine was arguably the most famous movie gun for generations. By the early 1970s, modern gun buffs undoubtedly felt that Clint Eastwood's "Dirty Harry" Smith & Wesson Model 29, .44 Magnum deserved top honors. After all, both of these firearms of film fame spawned unheard of sales and, in the case of Duke's Winchester, numerous copies. One could easily make a case that nowadays, the most famous firearm from the celluloid world is Tom Selleck's famed Shiloh Sharps rifle, featured so prominently in 1990's Quigley Down Under. This rifle played such an important role that numerous copies have been reproduced since the film debuted. It truly has become a "star" in its own right.
In this Australian Western, Selleck portrays American sharpshooter Matthew Quigley who is hired from Wyoming by a wealthy Australian stockman to use his shoot- ing skills with his buffalo Sharps rifle. When Quigley arrives and discovers his grisly task is to eradicate Aboriginal Australians, he quickly rejects the offer. The furious rancher tries to kill him for refusing. Quigley makes his escape into the outback brush country, taking a woman he frees from some of the rancher's men, and the pair is helped by the Aborigines. In return, Quigley helps the indigenous people by waging war on their mutual enemies.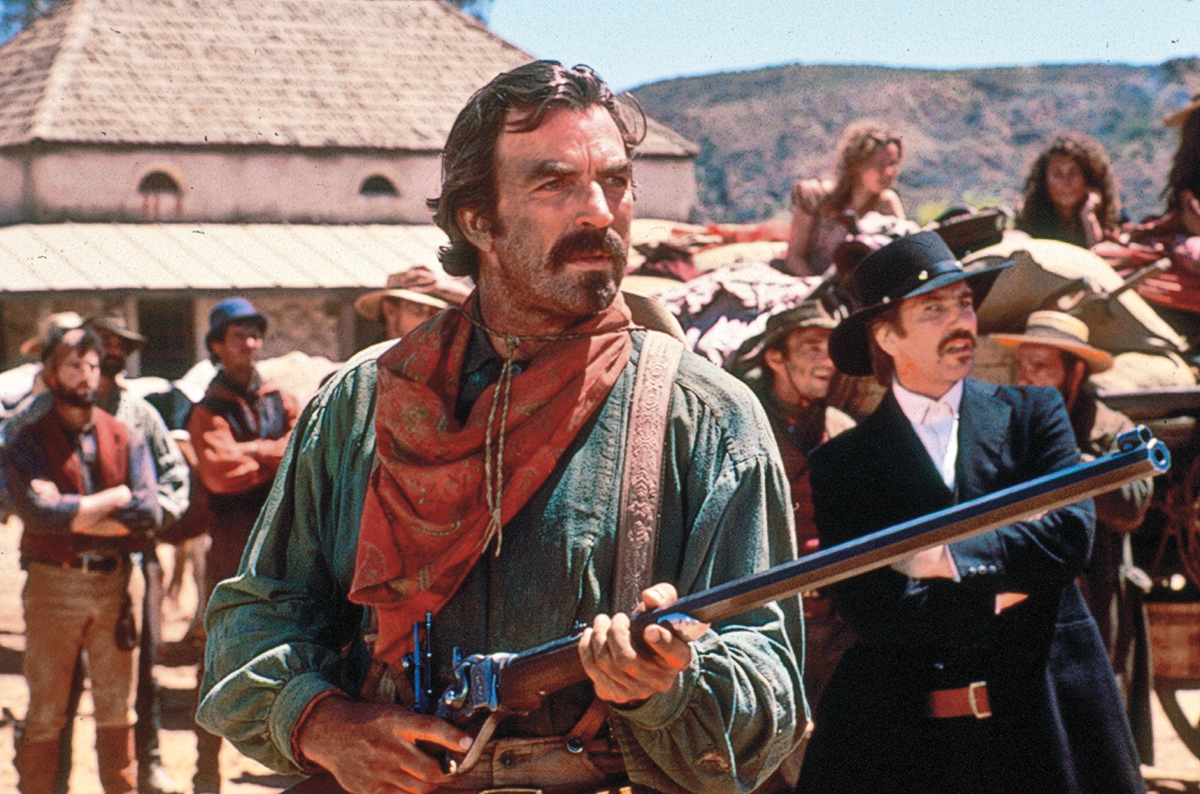 In a pivotal scene, while demonstrating his shooting prowess at the ranch, Quigley explains his rifle uses a 540-grain patched bullet, backed by 110 grains of black powder, and is equipped with double set triggers and a Vernier sight marked up to 1,200 yards. As he quips, "This one shoots a mite further," he shoots at, and repeatedly hits, a bucket set out at supposedly 1,200 yards. Thus, Quigley's Sharps becomes a major player in the film.
This writer can proudly claim credit for having steered the moviemakers toward the selection of the Shiloh Sharps as Quigley's rifle. In 1990, while working at Guns & Ammo magazine, I received a call from the movie's production company, asking me what type of circa 1850s-1860s percussion breechloader could shoot accurately at over 1,000 yards. I told them there were none, since breechloaders of that era had chambers that only held around 60-65 grains of black powder— not enough for such long-range accurate shooting. After some conversation about the story, I suggested it could be easily set in the early 1870s, so they could use an 1874 Sharps metallic cartridge rifle, which was actually introduced in 1871. They liked my suggestion and asked where they could obtain such rifles. I told them of the modern replicas being pro- duced in Big Timber, Montana, and they decided to have three guns made up for the movie by the Shiloh Sharps Rifle Manufacturing Company. Selleck's Quigley Down Under has since proved to be a lasting favorite film with Western fans—and Shiloh's "Quigley" Sharps has become iconic.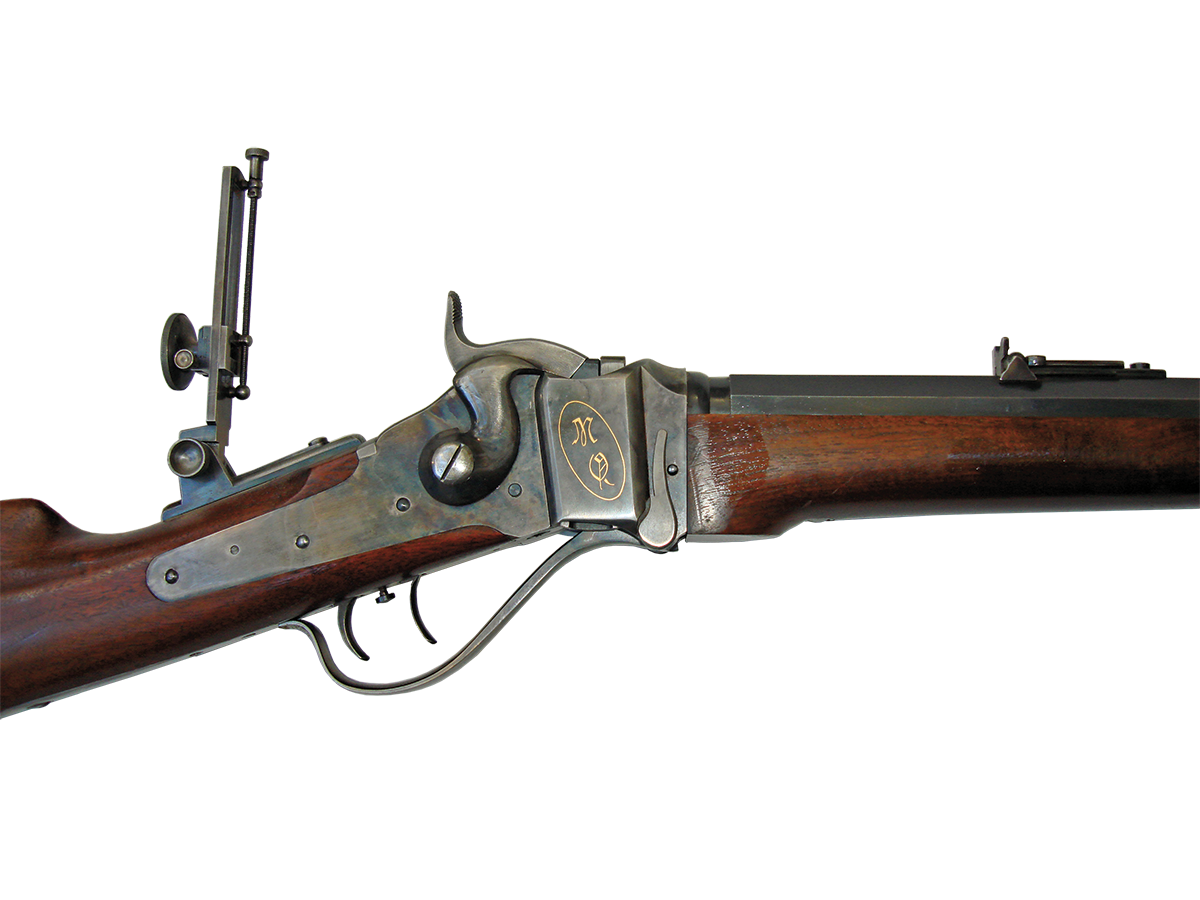 In 2007, Tom Selleck asked me to appraise several of his motion picture guns, including what he called his "Number One" Quigley rifle that he used the most, and kept for himself. Selleck had purchased the other two Quigley movie rifles from the production company and eventually donated one to the National Rifle Association's National Firearms Museum in Fairfax, Virginia, where it is currently on display. He supplied another in 1999 to the NRA to be raffled to support their shooting programs, which raised around two million dollars.
Chambered for the .45-110 cartridge, the Quigley Shiloh Sharps' double-set triggers, set screw, all small parts, and front and rear sights—including the Vernier tang sight— are blued. The right side of the color case hardened receiver is adorned with the character Matt Quigley's golden "MQ" initials, framed within a gilt oval frame. – COURTESY TOM SELLECK –
Weighing in at 12 pounds, 14.1 ounces, Selleck's Shiloh, serial number 8886, was patterned after a Hartford model 1874 Sharps. Sporting a steel military-style butt plate, the straight-grained, custom-fit American walnut stock was fitted with an extra-long length of pull for Selleck. It wears a color case hardened patchbox, and a pewter-tipped forearm. It has a 34-inch blued octagon barrel, a color case hardened receiver, hammer, butt plate and lever. The letters "MQ" (for the character "Matthew Quigley") are inlaid in gold, within a gilt oval frame on the right side of the receiver, and the rifle is chambered in .45-110 caliber. Further, the rifle has double set triggers, a Vernier tang sight, hooded front sight, and a standard folding leaf rear sight. The last time I inspected Tom's original Quigley Shiloh Sharps, it showed use, but was in overall excellent condition.
I'm proud to have played a small part in helping create one of the silver screen's most famous firearms, and for having had the chance to personally handle this celebrated rifle. Like the Duke's 1892 Winchester and Dirty Harry's Model 29 S&W, Matthew Quigley's Shiloh '74 Sharps has surely become the stuff of legend.