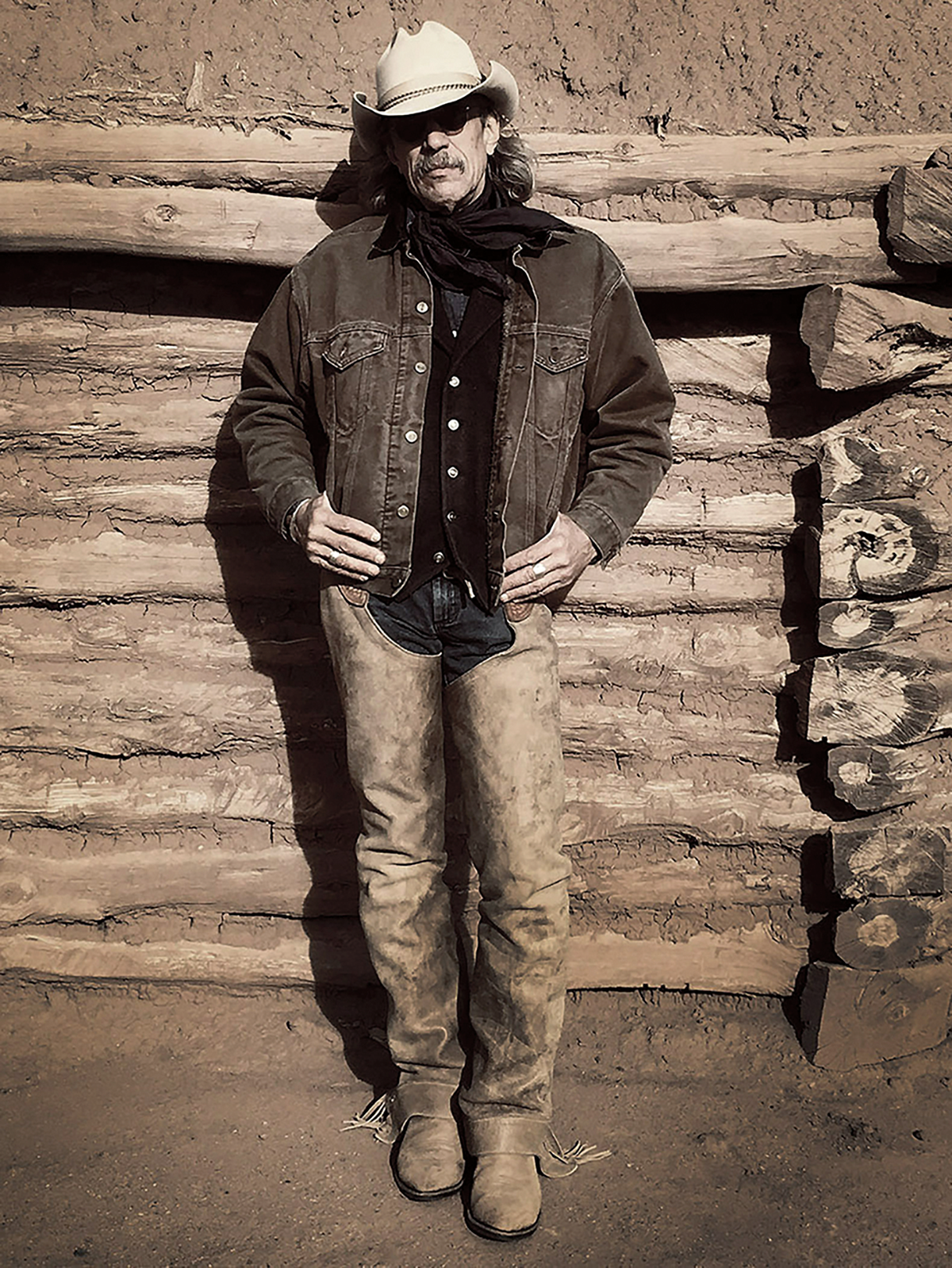 Jim Arndt – Photographer and Author
Award-winning New Mexico-based photographer Jim Arndt has been sought after for Western-style ad and publicity campaigns— from Wrangler to George Strait—for decades. He has published over ten books and calendars on cowboy culture and Western art and is currently working on books with country music star Marty Stuart, a Route 66 book with French rocker Johnny Hallyday and with his French cowgirl partner, opening Nathalie's Western Boutique in Santa Fe's Bishop's Lodge. His photographs have been exhibited in galleries in Taos, Santa Fe, Austin and Paris and are part of the permanent collection of the Museum of New Mexico.
My parents wanted us to learn about the country's history firsthand. I guess they somehow knew I was visual and had to see it and experience it. They loaded us up in the 1950 Ford. Mostly out West.
My mother's family was from Boulder, Colorado, still very much a Western town in the 1950s. And my great- grandmother had gotten there by wagon, as she told me. I asked her who was president when she was born and she said Grant!
Having a long Western history in the family, my parents put me in cowboy boots when I was little, and I never left them.
When I started shooting photos, I dressed up my friends like Old West cowboys (I thought) and tried to make "old timey" photos. One of these photos ended up at an advertising agency, and I ended up shooting major cowboy ad campaigns for many years.
The 'Cowboy-West-Adventure' thing from childhood drove my life and career.
Somehow along the way, Tyler Beard and I did four books on cowboy boots and Western wear.
Canyon de Chelly. We did weeklong trail rides there for 30 years, camping and acting like cowboys. And I met my French cowgirl, Nathalie, there. So it's a very special place for me.
Visiting Santa Fe on a "forced" vacation from shooting and work introduced me to the high desert village.
Then I moved to Santa Fe. A very historic town.
The next thing I knew, I had a horse, a trailer, an old pickup truck and my cowgirl girlfriend.
And our priority is always trying to keep the West alive.
History has taught me to never disregard it, and to learn from it. Also, the history I was taught in school was incomplete. They left out the Anasazi, and all the other early civilizations of our country. You must do your own research.
For my money, the best Western ever made is Lonesome Dove. But, as a kid, Cinerama Theatre playing How the West was Won was pretty impressive. And I can always watch The Good, the Bad, and the Ugly.
Don't get me started on disrespect for history, whatever it is, and however it happened.
I have a really hard time with all the cowboy boot experts.
My mama taught me family history is important, where you came from. Respect your history.
The best advice I ever got was never push the shutter button if it doesn't look good looking through the camera… It won't look any better when you get the film back.
If you're going to live in Santa Fe, you need to go with the quote from Governor Wallace before he left office in 1881: "Every calculation based on experience elsewhere, fails in New Mexico."
Wish I had a dime for every person I have met who knows the Marlboro Man, or his cousin's brother's uncle.
Also, do you know anybody who can take your picture? Ha. Just joshin' you.