SEE HISTORICAL SITES, NATURAL WONDERS AND WELCOMING SMALL TOWNS.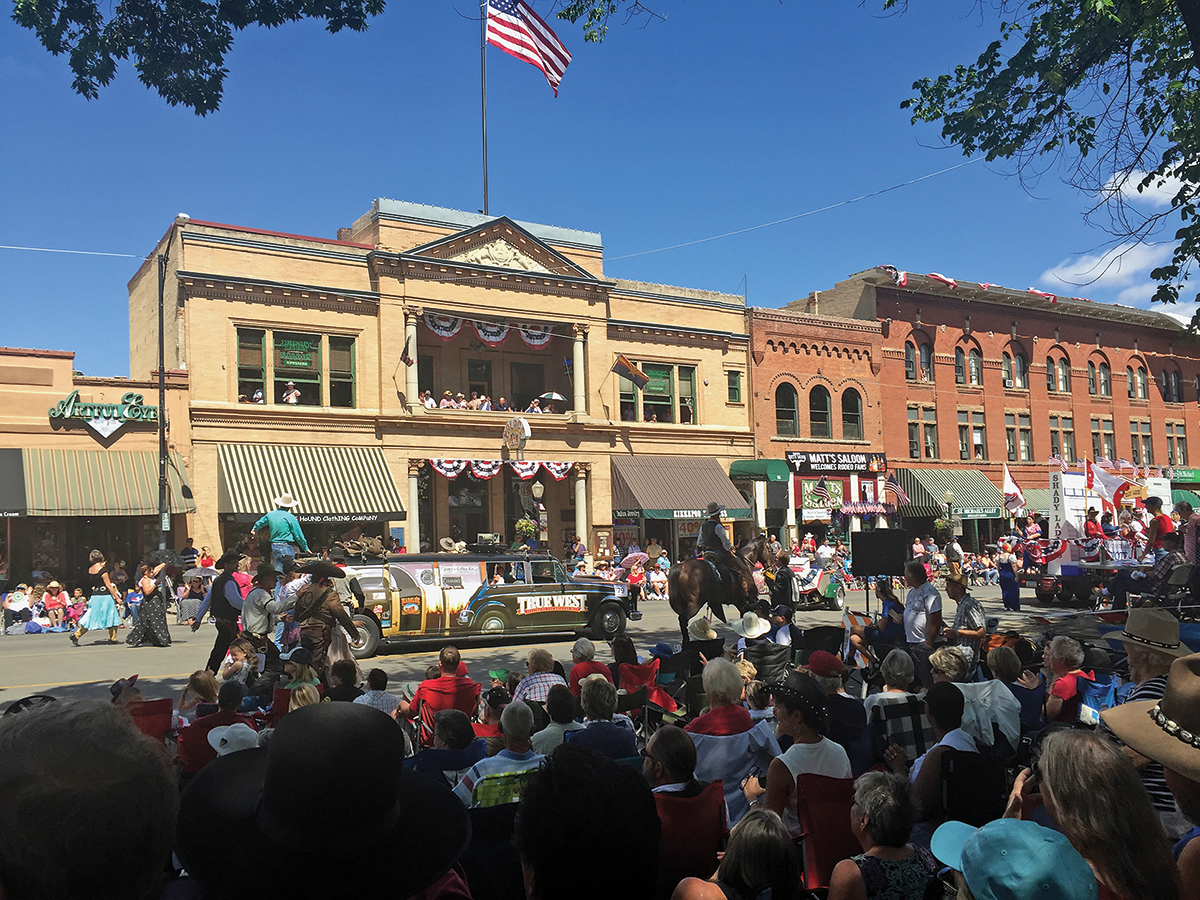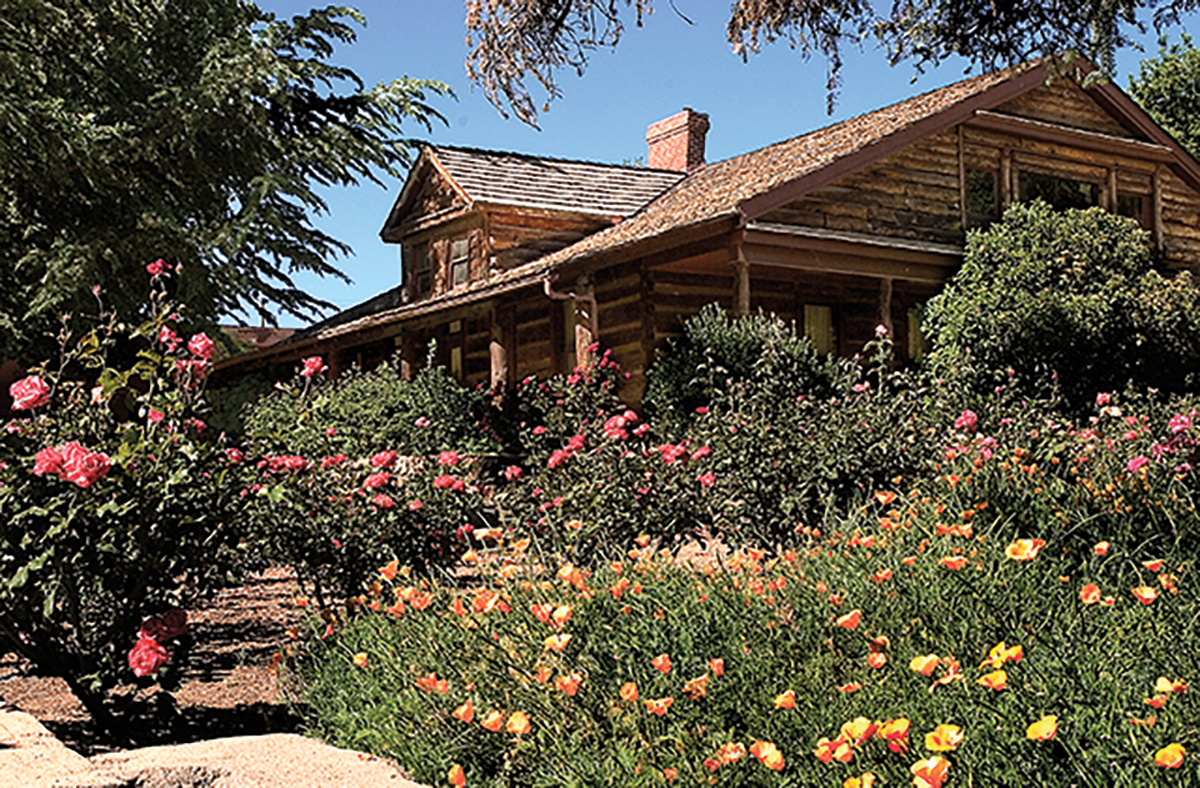 Arizona's vastness and terrain—from searing deserts to alpine meadows— provides travelers with so many variations of rewarding road trips.
We've picked three of our favorite routes that sample some of the best of the West in the sixth largest state:
The desert at Wickenburg up through mining and ranching country to the tall pines of Prescott.
The Gateway to Grand Canyon at Williams west to Kingman and Oatman along one of the longest remaining stretches of Route 66.
Cowboy and cattle country at Willcox. Then west to Too-Tough- To-Die Tombstone and back to Bisbee, the Queen of the Copper Camps.
Get it in gear and go. You can't go wrong on these road trips.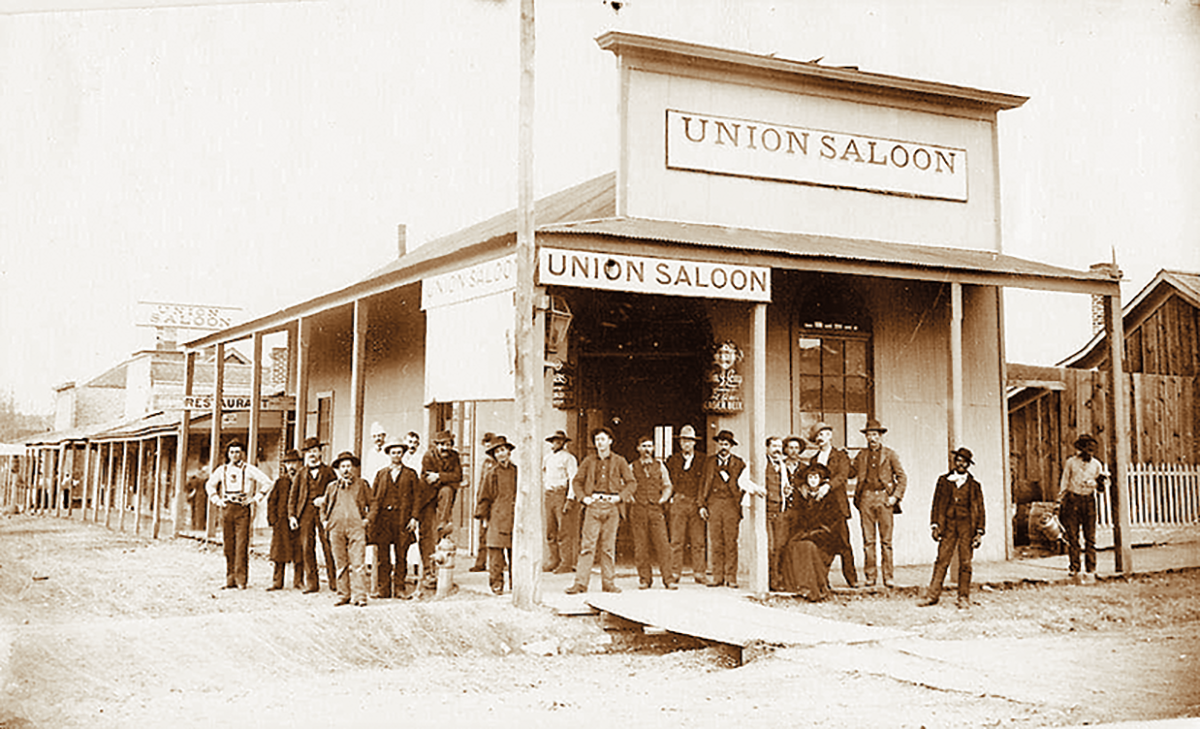 Going with the Flow of the Hassayampa
A 60-mile trip roughly following the Hassayampa River upstream from Wickenburg to Prescott rightly begins at what's left of Vulture City, an authentic ghost town where thousands of souls once lived.
That's where Henry Wickenburg discovered one of Arizona's richest gold mines in 1863. The Vulture Mine operated until World War II. What's left is a collection of weather-beaten buildings and mining equipment.
One of Wickenburg's lushest spots is the Hassayampa River Preserve. It's a Maricopa County park with hiking paths, picnic tables and a scenic view from Lykes Lookout.
Other Wickenburg attractions include a visitor center in the 1896 Santa Fe depot, Desert Caballeros Western Museum and the Jail Tree where miscreants were shackled for their sentences until a jail was built in 1890.
No paved road follows the Hassayampa north of Wickenburg. State Route 89 is the old highway from Phoenix to Prescott, passing through Congress, up Yarnell Hill to Peeples Valley. An alternate route cuts through Kirkland, Skull Valley and Iron Springs.
Congress was mining country until 1930, but there's little left from that era. A friend jokes that very little gets done in Congress, just like in Washington D.C.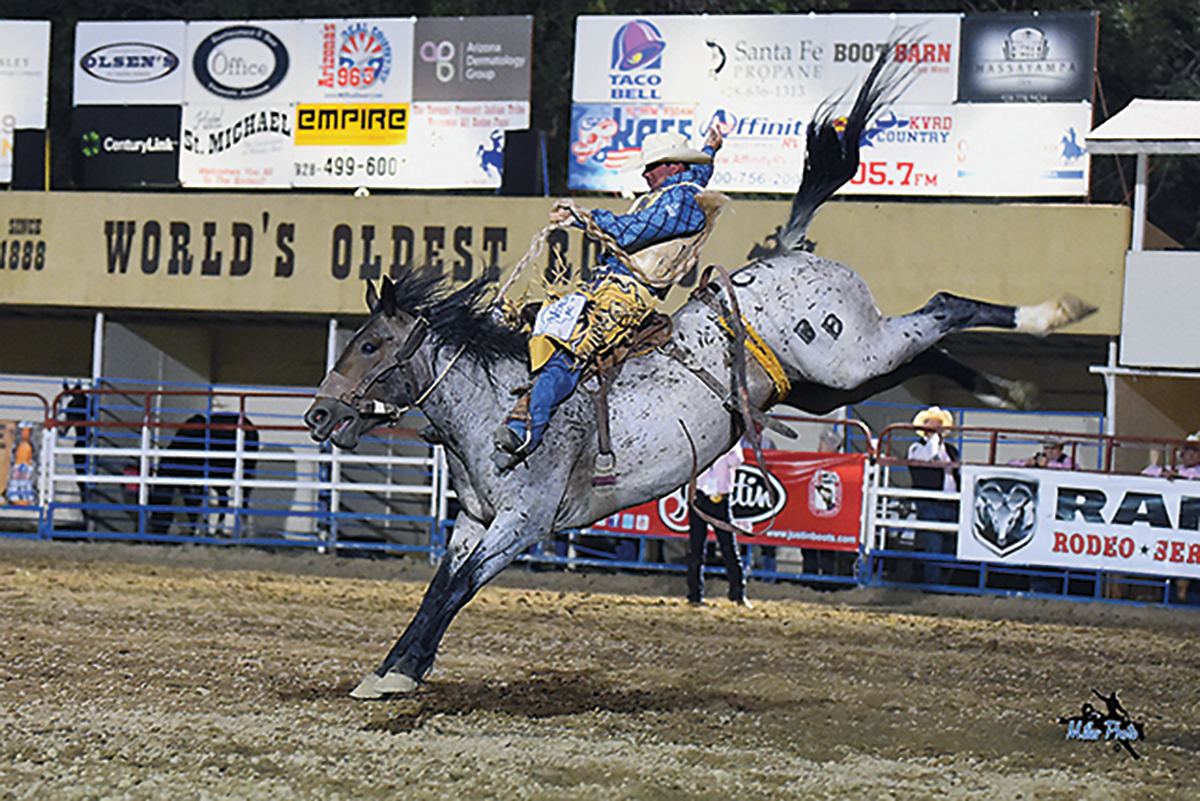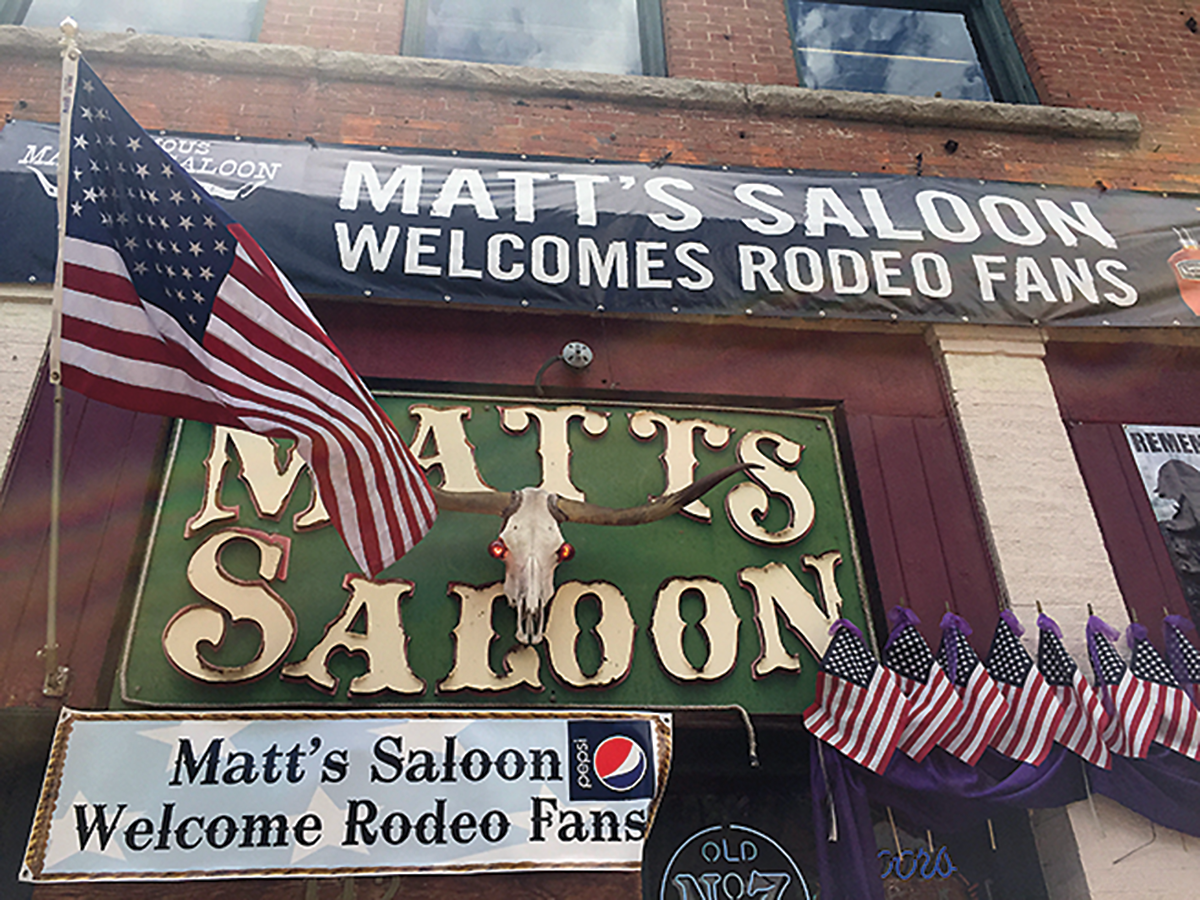 Farther north out of Congress on SR 89—once known as the White Spar Highway—motorists hit steep switchbacks winding up Yarnell Hill to the town of the same name. On the southbound side of the highway is the Granite Mountain Hotshots Memorial State Park.
There's a roadside tribute to 19 fire- fighters who gave their lives here in 2013 trying to save Yarnell from a devastating wildfire. A steep trail of seven miles roundtrip leads to a memorial site where the firefighters perished.
The remaining 30 miles to Prescott pass through high-desert grasslands with sprawling ranches before climbing into the Ponderosa pines.
A short detour to Kirkland leads to the rustic Kirkland Bar & Steakhouse that's as Western as it gets and full of relics.
Railroad geeks will want to head north to see the 1898 Skull Valley Depot and Section House Museum.
In Prescott, the mission-style Santa Fe depot, built in 1907, is now an office building. Tracks of the old Peavine Railroad were torn up for a trail popular with hikers and mountain bikers. The path passes through Granite Dells near Watson Lake.
Military history buffs should visit Fort Whipple Museum on the grounds of the Veterans Affairs Medical Center. The museum is in a 1909 officer's home with other historic structures nearby. The museum has limited hours, so check with the staff at Sharlot Hall, which manages the site, for days of operation.
At Sharlot Hall, don't miss the Territorial Governor's Mansion—a modest log cabin— and many other exhibits a few blocks west of the Yavapai County Courthouse.
At the end of the day, head over to Whiskey Row for a cold one at the Palace Restaurant and Saloon or Matt's Saloon, popular for live music and dancing, espe- cially over the Fourth of July. Craft beer lovers can get a pint at the Lazy G Brewhouse, south of Whiskey Row, or at the Prescott Brewing Company on Gurley, across from the Rough Riders Monument on the Courthouse Plaza.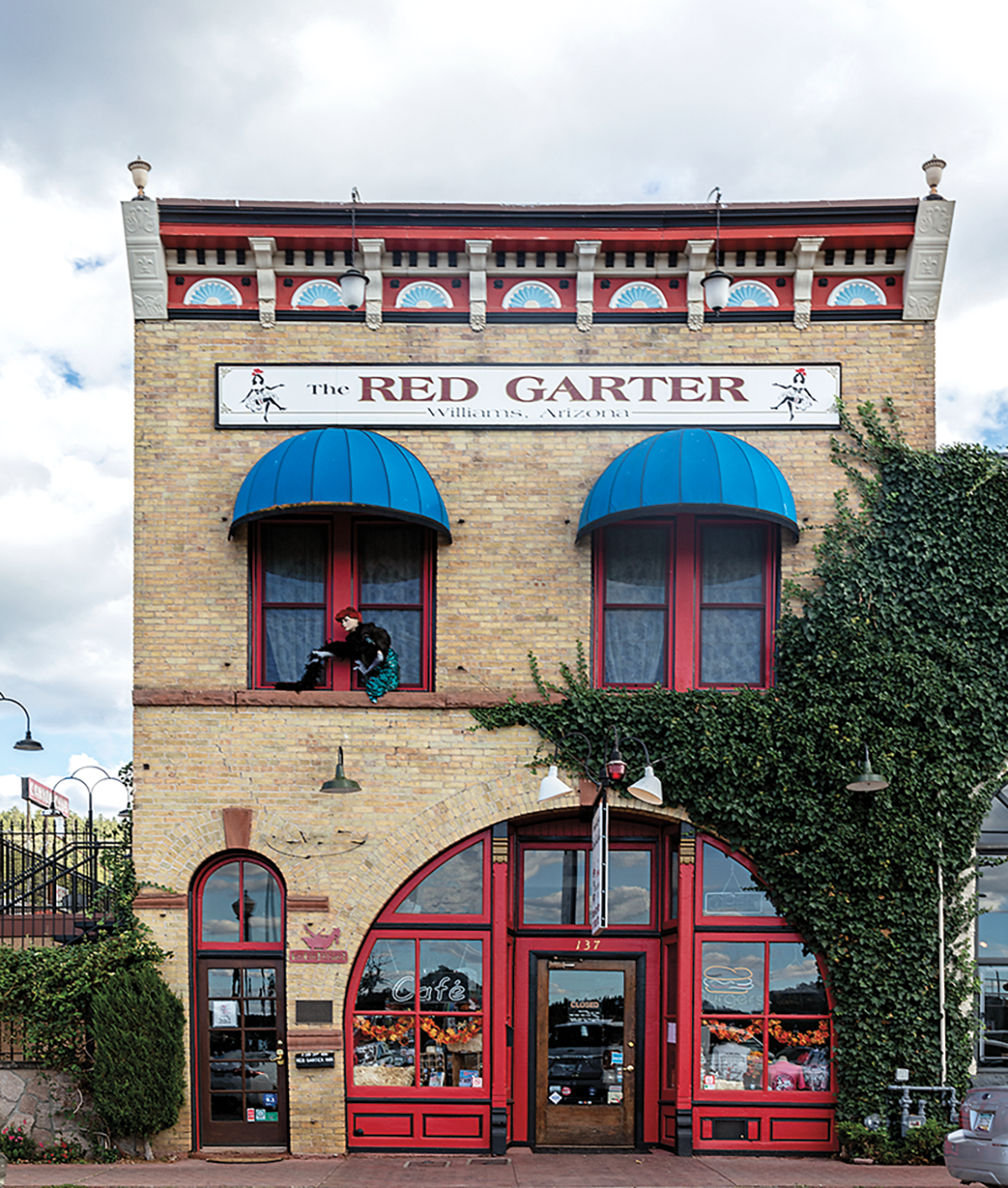 Westbound from Williams to Oatman on the Edge of Arizona
It's not known why Ute Indians chose to kill Bill Williams in 1849, but the fur trapper and mountain man was remembered decades later when the railroad town of Williams was named for him.
An eight-foot sculpture of Old Bill Williams at the town's Monument Park is as good a place as any to start a trip across western Arizona.
Travelers from the late 1850s ventured west of Williams following the Beale Wagon Road. The Atlantic & Pacific Railroad that
reached Williams in 1882 roughly followed the Beale Road west, as did the National Old Trails Highway and Route 66.
Williams is still a hub for travelers aboard Grand Canyon Railway to the national park and a key stop for Route 66 roadies. Williams was the last Route 66 town bypassed by Interstate 40 in October 1984.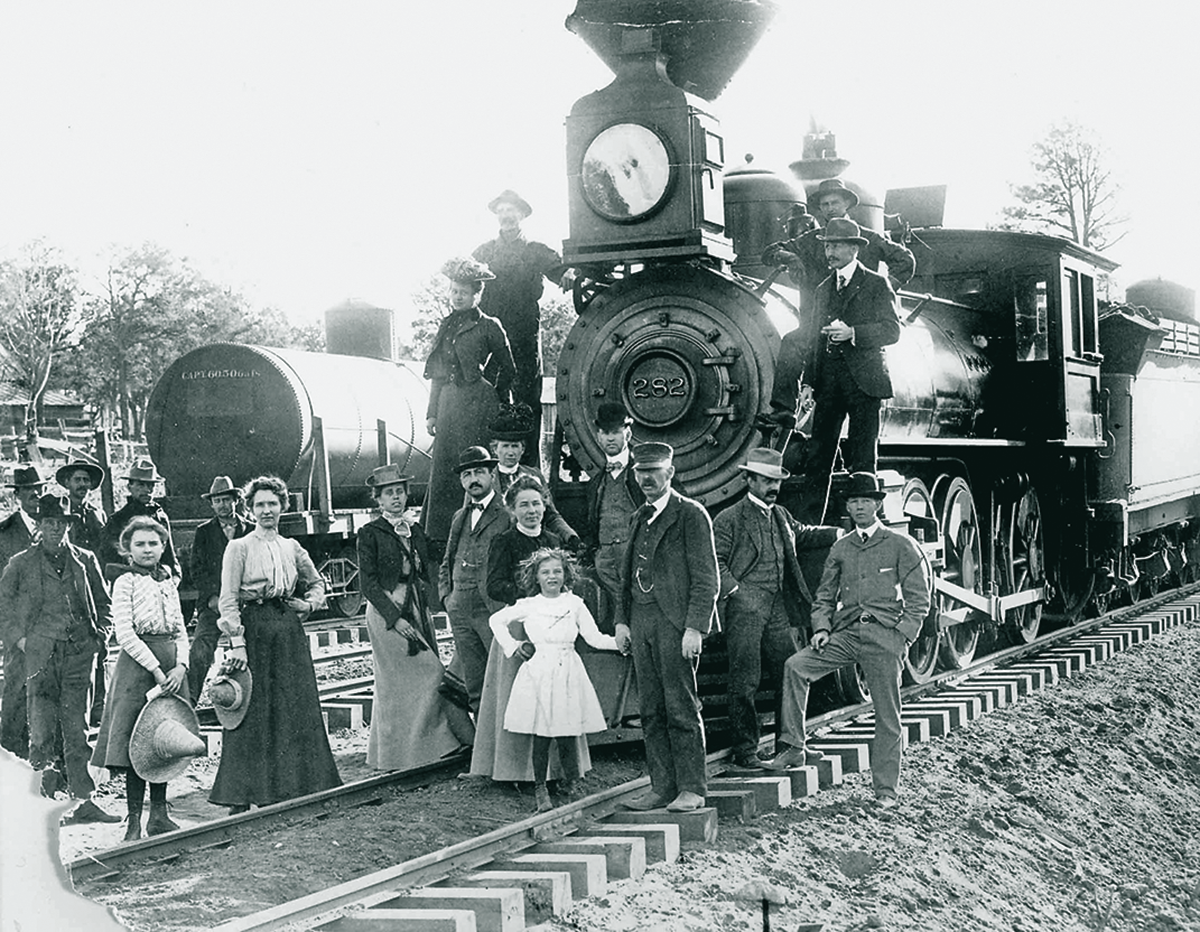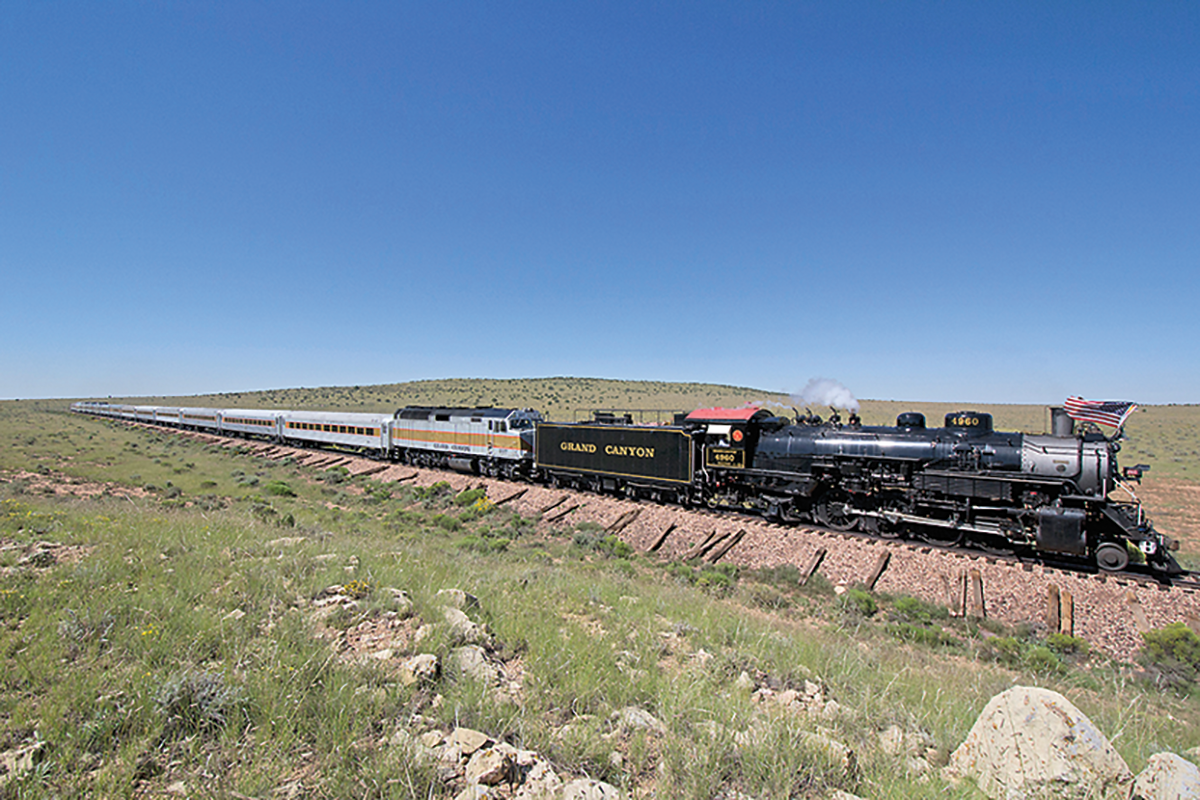 At the train depot, the Cataract Creek Gang stages mock gunfights before the train's 9:30 departure for Grand Canyon.
Route 66 roadies motoring west can jump on Interstate 40 for 18 miles to exit just past Ash Fork on Crookton Road. This follows a section of Route 66 over Crookton Pass with views of the San Francisco Peaks 50 miles to the east.
Next is Seligman. This is where famous Holbrook sheriff Commodore Perry Owens spent his spent final years operating a general store and saloon before his death in 1919.
Route 66 attractions include the Snow Cap drive-in, Angel Delgadillo's barber and gift shop, and Westside Lilo's Cafe, a restaurant that's won praise for its breakfasts, cinnamon rolls and carrot cake.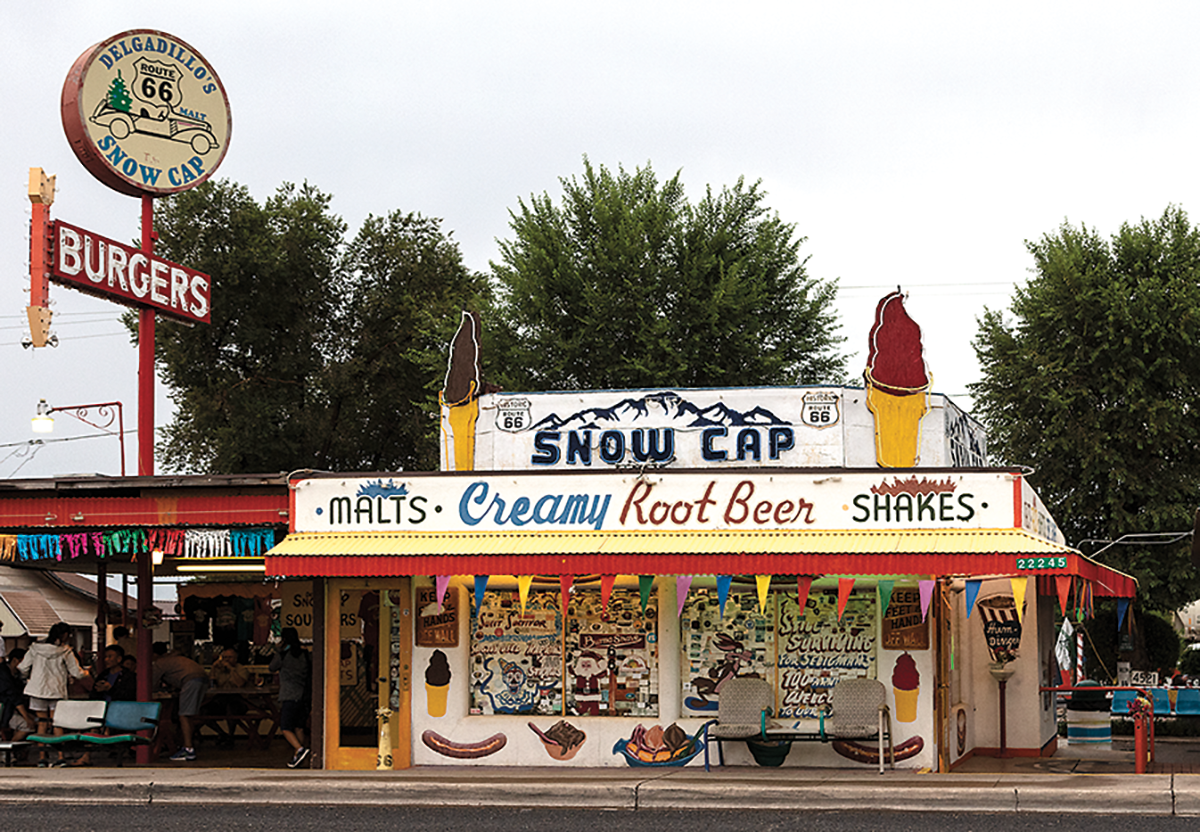 Grand Canyon Caverns and Inn is the next stop west of Seligman. Tours of the caves are available along with an unusual dining experience in the Grotto, 200 feet underground.
From the caverns, it's an hour's drive to Kingman, but travelers might choose to stop in Peach Springs, Truxton and Valentine to photograph some of the historic buildings along Route 66.
Hackberry General Store is a popular stop along this stretch of Route 66 with its oddball collection of old signs, rusty cars and gas pumps.
Kingman is the Big Kahuna of Route 66 in western Arizona and is the hometown of Bob Boze Bell, True West editor and Big Kahuna.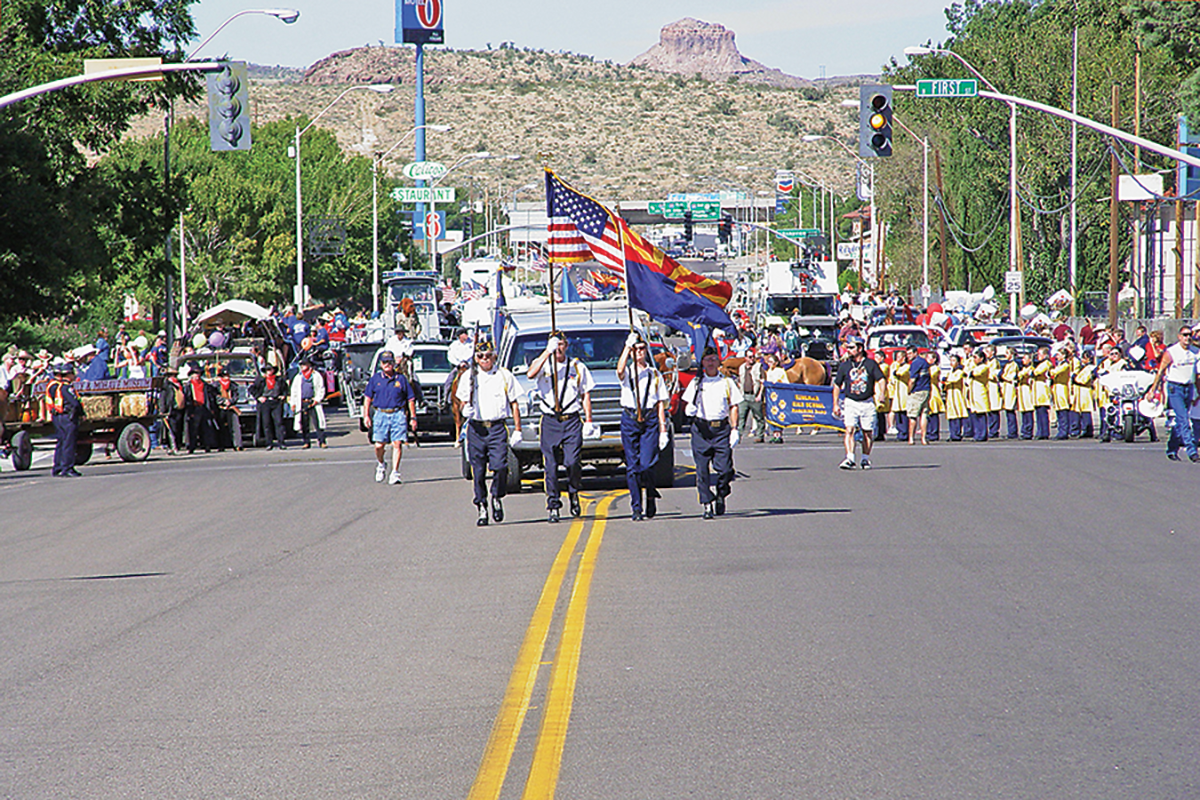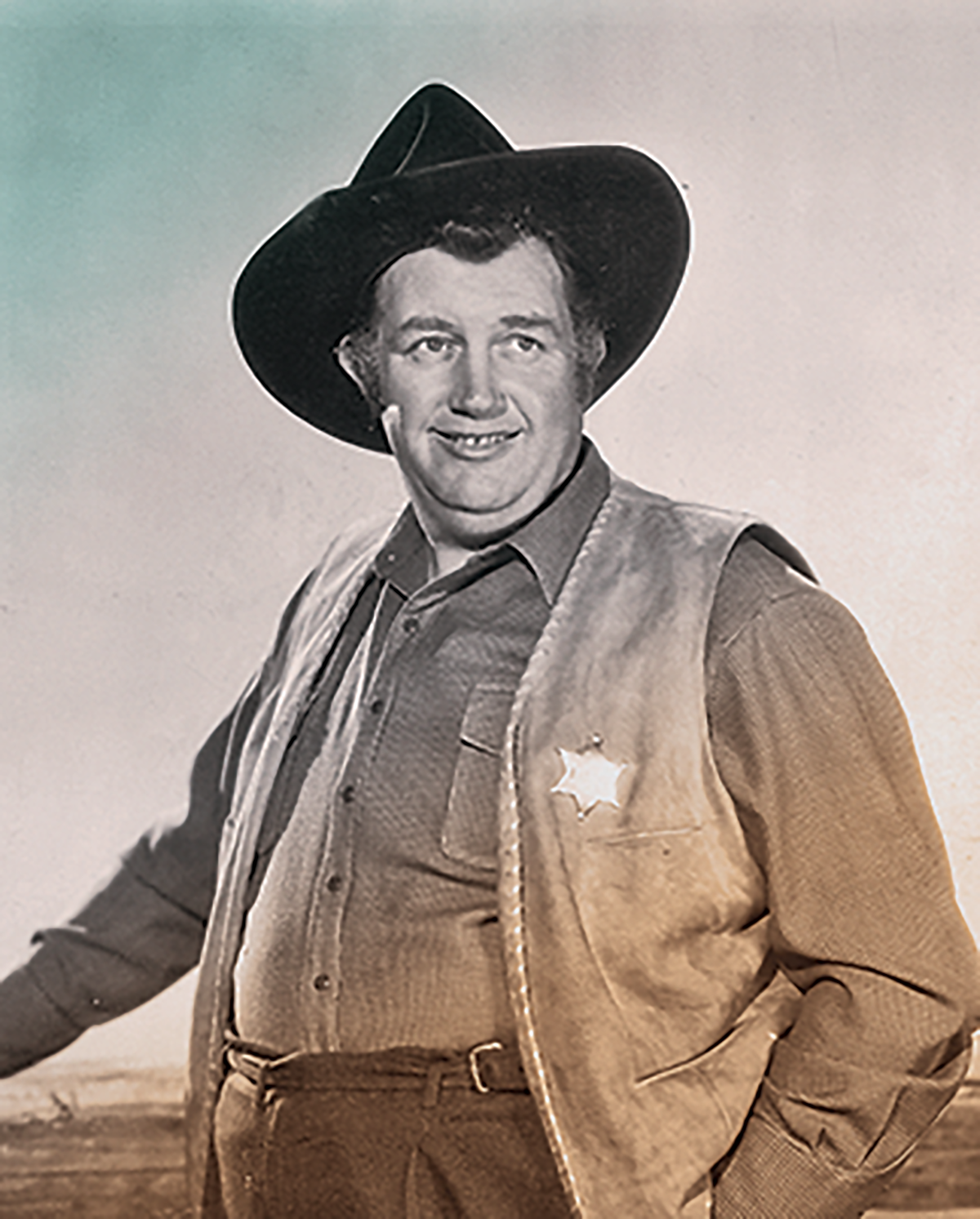 We recommend visits to one or more of Kingman's museums: Mohave Museum of History and the Arts, Kingman Visitor Center in the town's old powerhouse and Kingman Railroad Museum in the still-operating 1907 train depot.
Observant travelers will note the town's main drag is Andy Devine Avenue, named for the Western character actor who grew up here. His family operated the now closed Hotel Beale.
Ask at the museums for directions to Camp Beale's Spring. It was a vital water source for centuries and the site of an Army outpost during fighting with the Hualapai Indians in the late 1860s.
The last leg of the trip is a 35-mile jaunt into the Black Mountains and over Sitgreaves Pass at an elevation of 3,652 feet. The pass is named for Capt. Lorenzo Sitgreaves, who surveyed this route in 1851.
This narrow county road, part of Route 66 until 1952, is not for acrophobics. It seems steep drop-offs with few guardrails are around every tight curve. But it's worth it when you get to Cool Springs.
The 1926 filling station was completely rebuilt in 2004 and is a timepiece monu- ment to roadside service in the early days of Route 66.
Slow down upon arriving in Oatman. The road is often clogged with burros and pic- ture-taking tourists. Oatman's signature burros are descendants of beasts of burden left behind by miners a century ago. The feral animals roam freely and even poke their heads in local shops looking for snacks.
Be advised that cafes and lodging are scarce in Oatman. A return trip to Kingman is an option, or continue on to Needles, California, or Bullhead City on the Colorado River.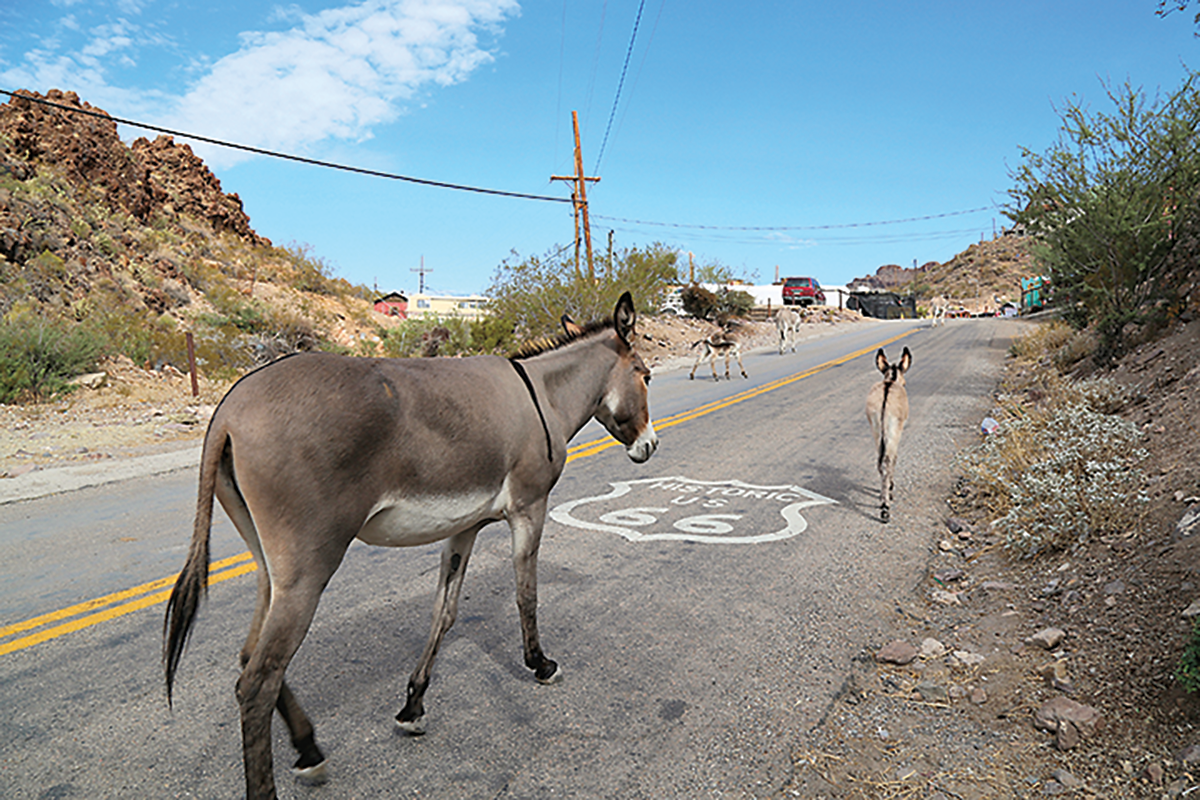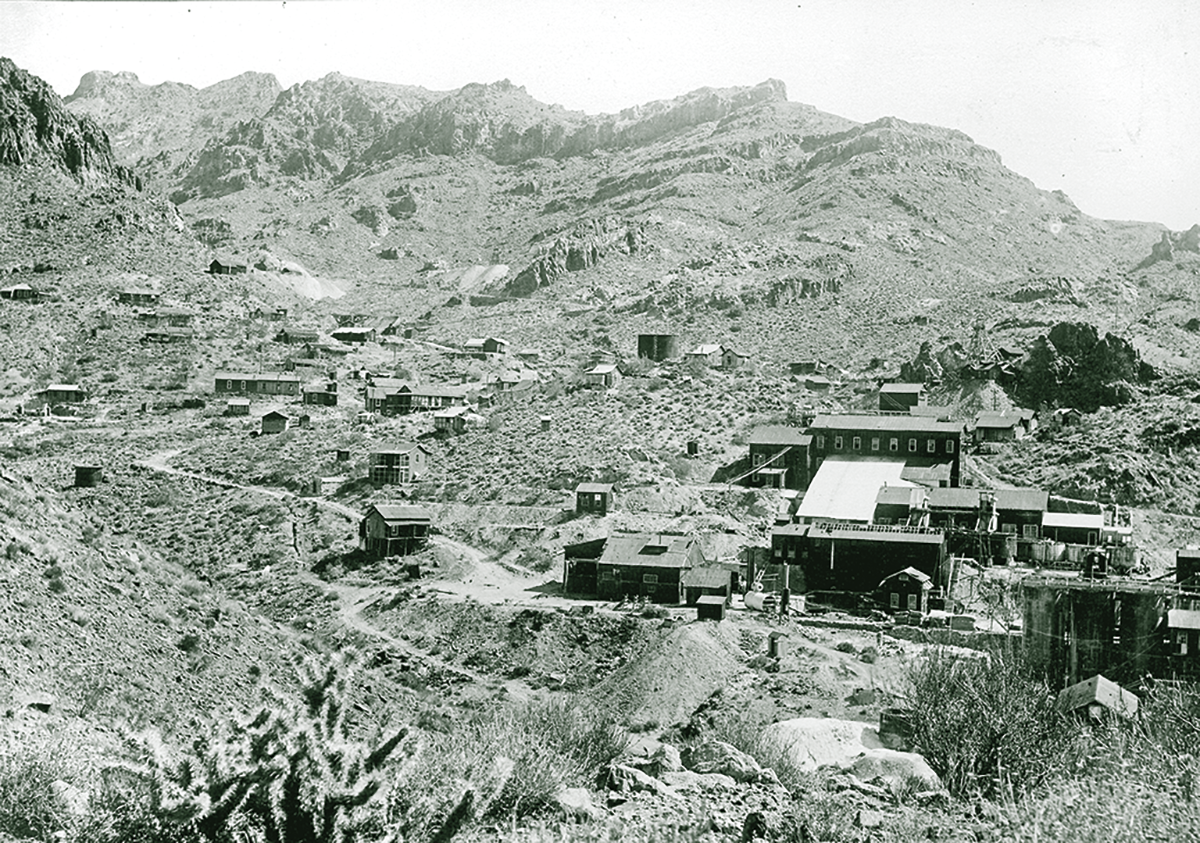 Wide Spot in the Road
Mule Pass Tunnel leading into Bisbee opened in 1958, cutting off a serpentine section of U.S. 80 over Mule Pass. Adventurous motorists can trace the old route by turning left off what's now State Route 80 at the Old Divide Road, an eighth of a mile north of the tunnel. At the pass is a 1914 marker declaring it as the Continental Divide. In reality, the divide is 150 miles to the east in Deming, New Mexico, but the erroneous marker placed by prison laborers has endured for well over a century.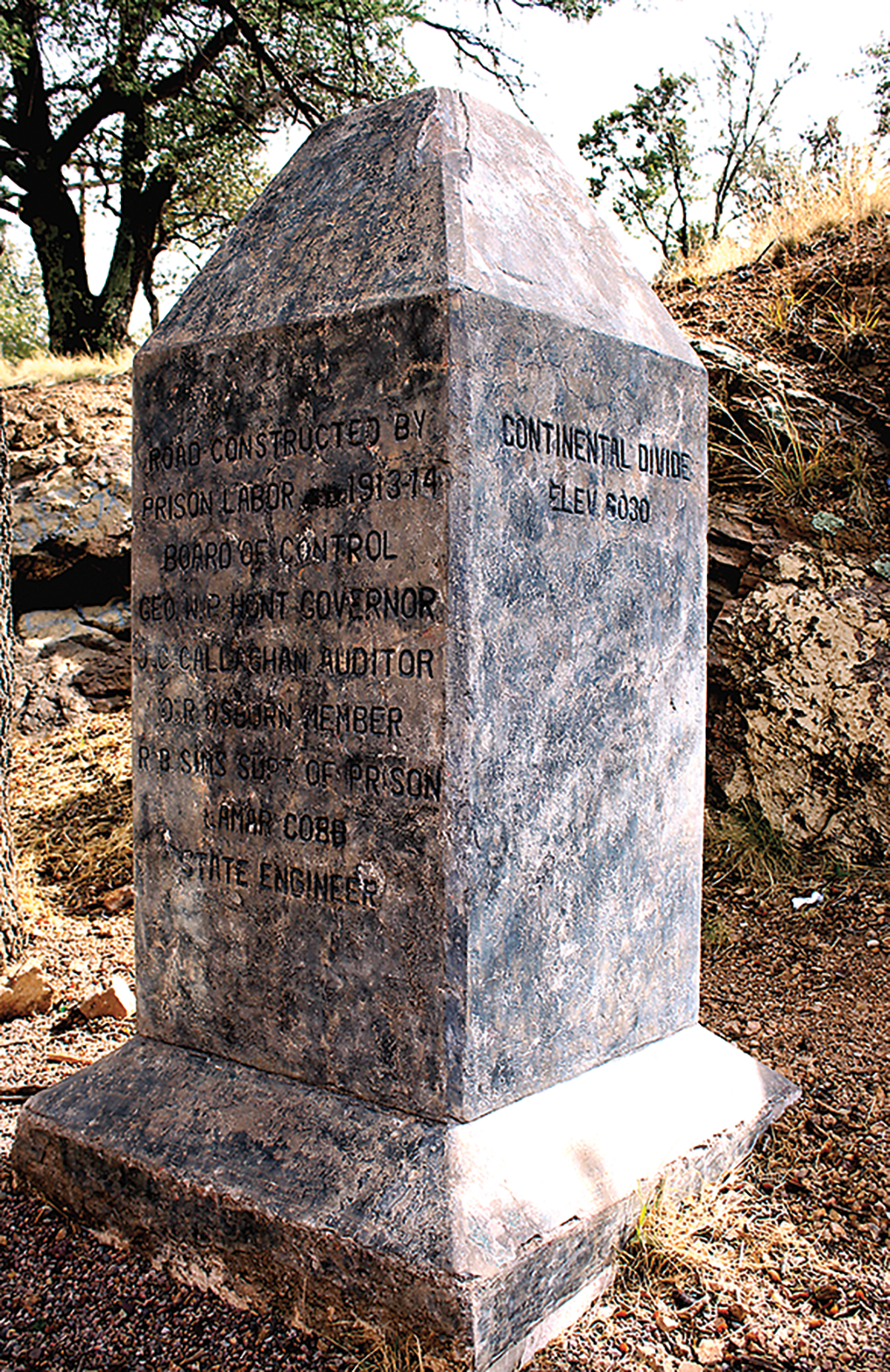 GOOD EATS & SLEEPS
Good Grub:
Palace Restaurant & Saloon, Prescott
Red Raven Restaurant, Williams
Floyd & Co. Real Pit BBQ, Kingman
Cafe Roka, Bisbee
Big Nose Kate's Saloon, Tombstone
Lodging:
Hassayampa Inn, Prescott
Hotel Vendome, Prescott
The Lodge on Route 66, Williams
Letson Lofts, Bisbee
Copper Queen Hotel, Bisbee
Tombstone Monument Ranch & Cattle Co., Tombstone
On the Trail of Cochise, Cowboys and Copper
A great Arizona day-trip starts in Willcox, heads west and then south to Tombstone and Bisbee.
It covers close to 100 miles of scenic Cochise County in far southeastern Arizona, where Apaches roamed, outlaws fought frontier sheriffs and miners hauled billions of pounds of copper, silver and gold out of the ground.
Willcox owes its existence to the Southern Pacific Railroad built across southern Arizona in 1880. The town's depot is the original redwood, frame structure from 140 years ago. It now serves as Willcox's town hall.

Down the block, is the Rex Allen Museum, honoring the town's favorite son, known as the last of the singing cowboys in Hollywood Westerns.
Willcox also adopted the Friends of Marty Robbins Museum, celebrating the singing career of the famed country singer from Glendale, Arizona.
Visitors can learn about Cochise County history at the Chiricahua Regional Museum in Willcox.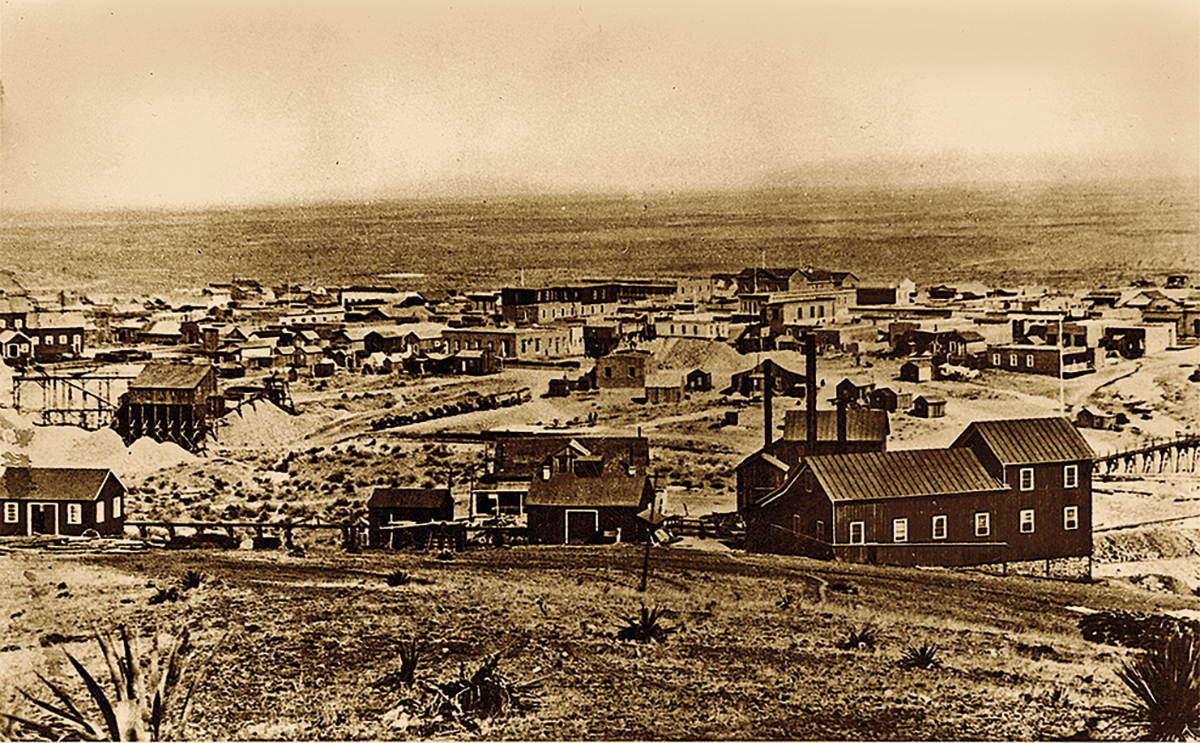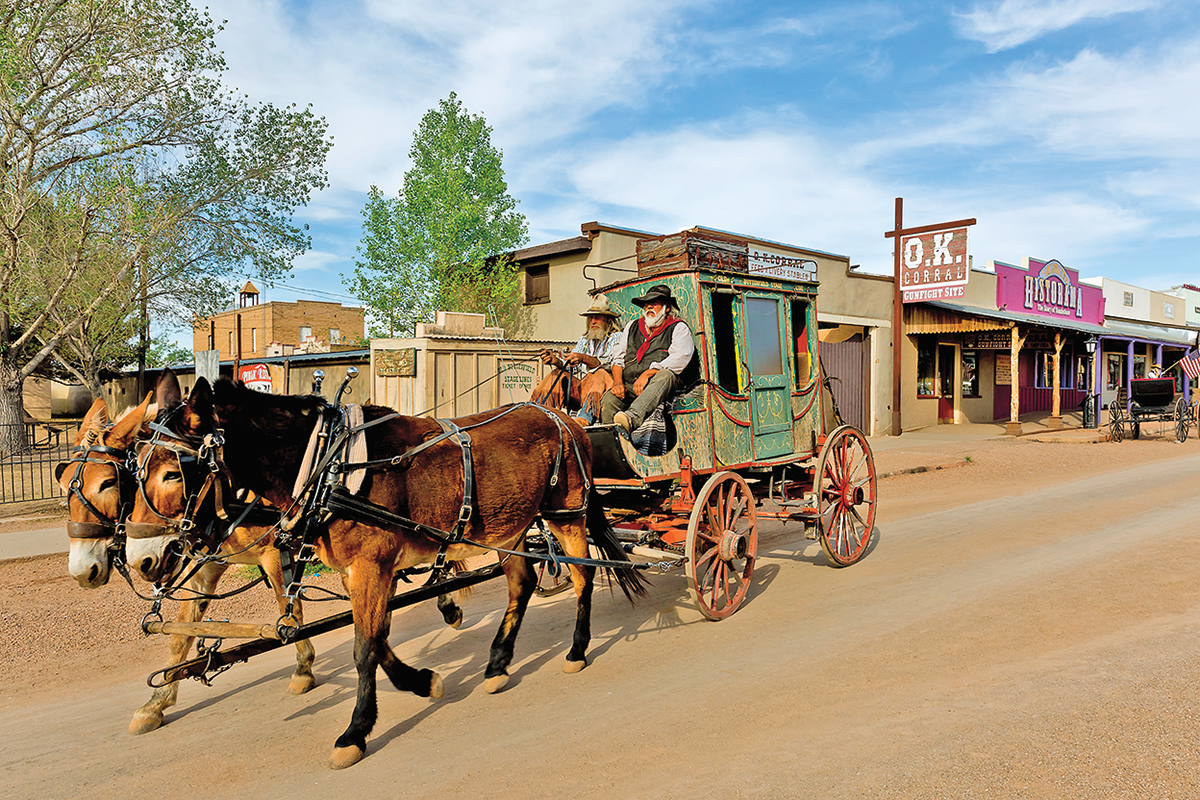 A town cemetery is the final resting place of Warren Earp, youngest of the Earp brothers, who was shot dead in the Headquarters Saloon on July 6, 1900.
Twenty-five miles west of Willcox is the Amerind Foundation Museum, with exhibits on Native American history and culture. Take Exit 318 off Interstate 10 at Dragoon Road.
In Tombstone, visitors can park their car, put on their boots, ride in a stagecoach and watch a mock gunfight at the OK Corral
or on dusty Allen Street. The Tombstone Courthouse State Historic Park conveys the many stories of the town during the silver boom of the late 1870s.
Take a tour of the Goodenough silver mine, one of the early strikes by town founder Ed Schieffelin. Visit the Tombstone Epitaph to see what it was like to publish a newspaper in a frontier town.
Get a look inside one of Tombstone's many gambling halls. The Bird Cage Theatre was known as one of the West's wickedest night spots in the 1880s.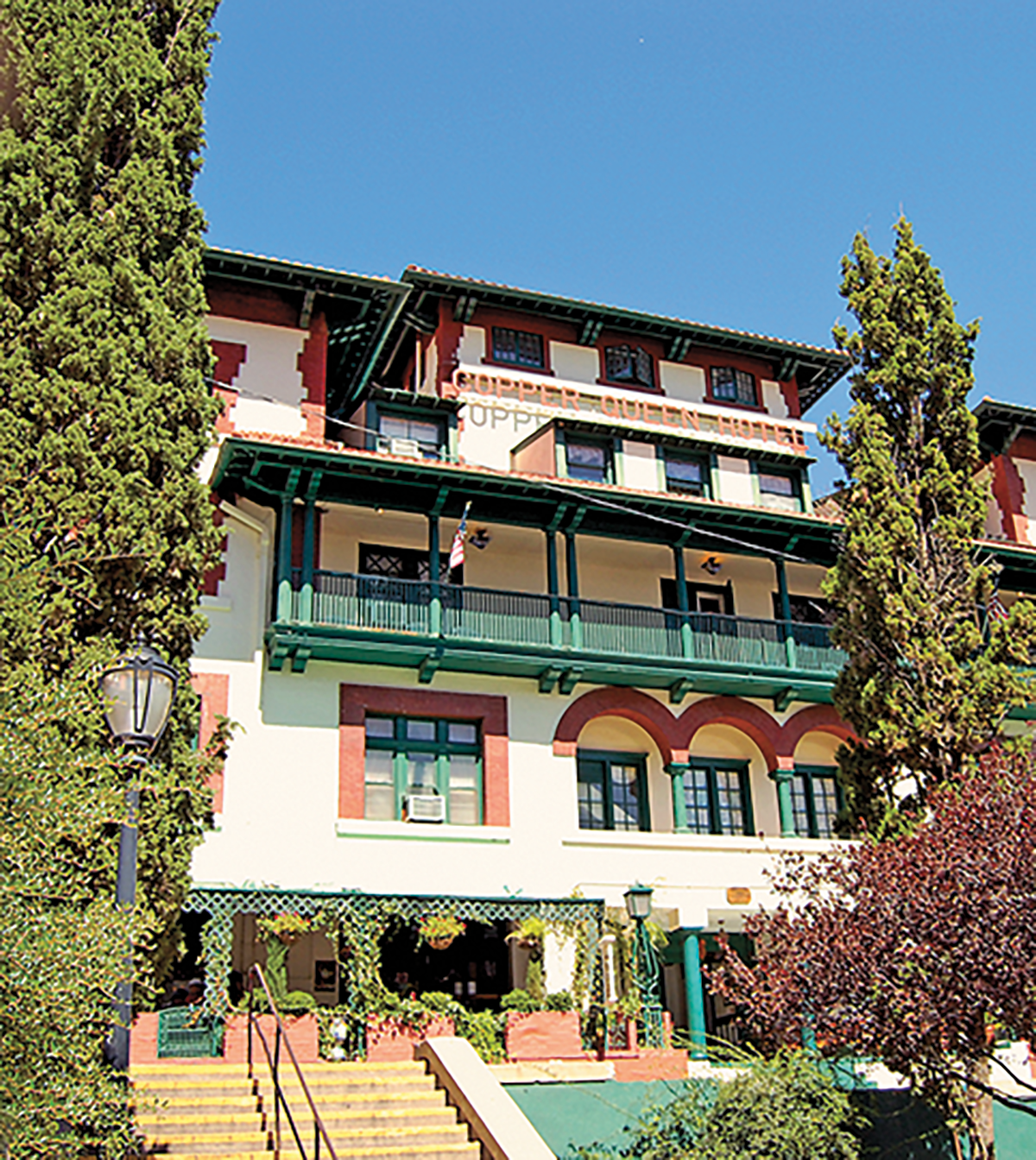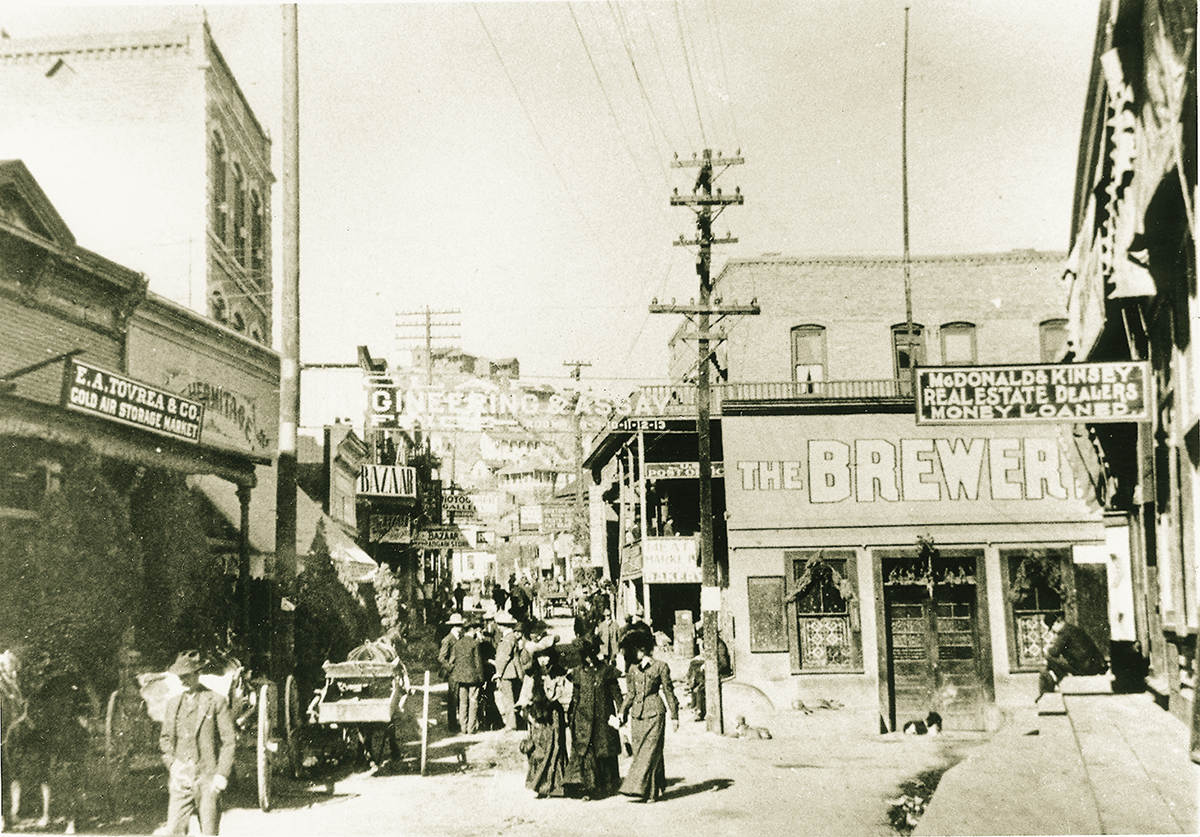 Bisbee is 20 mile southeast of Tombstone in the Mule Mountains. Once known as the Queen of the Copper Camps, it's now home to artists and a destination for tourists explor- ing its narrow streets and historic homes clinging to steep hills.
Get the full story of the town at the Bisbee Mining and Historical Museum or head underground for a Queen Mine tour.
Take a short drive south to see the 1909 Warren Ballpark, one of America's oldest baseball parks.
At day's end, find your way to Brewery Gulch for a cold one at the Stock Exchange Saloon, St. Elmo, Old Bisbee Brewing Co. or the Room 4 Bar in the Silver King Hotel. It's Arizona's smallest saloon with room for four at the bar. "Salud!"