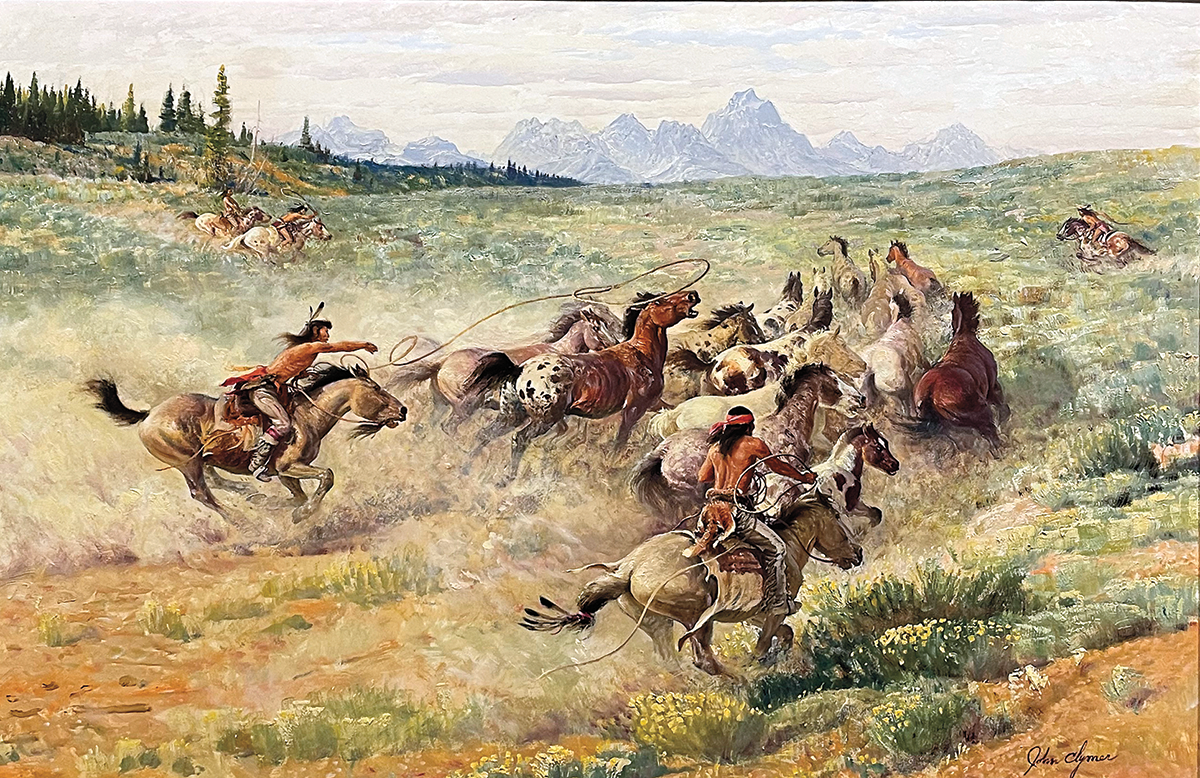 SCOTTSDALE ART AUCTION
Scottsdale, AZ, April 10: Over 350 lots of the finest in Western, wildlife and sporting paintings and sculptures will be auctioned
in person and online.
480-945-0225 • ScottsdaleArtAuction.com
Art Shows
DESERT CABALLEROS WESTERN MUSEUM "COWGIRL UP!" EXHIBIT & SALE
Wickenburg, AZ, April 1-30: The 16th annual "Cowgirl Up! Art from the Other Half of the West" invitational exhibition and sale will attract emerging and established women artists from all over the West who depict the Western lifestyle in painting, drawing and sculpture.
928-684-2272 • WesternMuseum.org
WESTERN SPIRIT: SCOTTSDALE'S MUSEUM OF THE WEST EXHIBITION "MAYNARD DIXON'S AMERICAN WEST"
Scottsdale, AZ, April 1-30: Presenting the most comprehensive retrospective ever of premier artist Maynard Dixon's life and artistic career, this exhibition includes more than 250 works by Dixon, his poetry, custom furniture and a special section dedicated to nine contemporary artists inspired by Dixon's artistry.
480-686-9539 • ScottsdaleMuseumWest.org
Award Show
WESTERN HERITAGE AWARDS
Oklahoma City, OK, April 9-10: The awards honor the best literature, music, film and television to reflect the heritage of the American West
405-478-2250 • NationalCowboyMuseum.org
Heritage Festivals
BANDERA CATTLE COMPANY GUNFIGHTERS
Bandera, TX, April 3, 10, 17, 24: Experience the excitement of the Wild West with the award- winning Bandera Cattle Company Gunfighters. 830-796-3045 • BanderaCowboyCapital.com
ROSE TREE PARADE & FESTIVAL
Tombstone, AZ, April 8-10: Tombstone celebrates
the blooming of what is said to be the world's largest rose tree. The crowning of the Rose Queen and her court, a parade, live music, an art show and a pet parade are just some of the festival's offerings. 520-457-3326 • DiscoverTombstone.com
FIESTA SAN ANTONIO
San Antonio, TX, April 15-25: Old San Antonio and Old Mexico celebrations include fandangos, art shows and a pilgrimage to the Alamo mission. 877-273-4378 • Fiesta-SA.org
WILD WILD WEST FEST
Andrews, TX, April 23-24: Western heritage is celebrated with cowboy mounted shooting dem- onstrations, a BBQ cook-off, live music and more. 432-523-2695 • WildWildWestFest.com
COWBOY WAY JUBILEE AT FORT CONCHO
San Angelo, TX, April 29-May 2: A cowboy comic- con features Western stars, authors, workshops and demos, with cowboy music all day, every day. 580-768-5559 • CowboyWayJubilee.com
ARBOR DAY CELEBRATION
Nebraska City, NE, April 30: The home of the first Arbor Day, in 1872, celebrates with free trees, a chili cook-off and a parade.
800-514-9113 • NebraskaCity.com
History Conference
62ND ANNUAL ARIZONA HISTORY CONVENTION, ALL VIRTUAL
Tucson, AZ, April 20-24: This year's theme is "Advocating for Change, Navigating Crises." Panelists will present papers and host panels on change-makers from Arizona's past.
520-628-5774 • ArizonaHistory.org
Music
LLANO FIDDLE FEST
Llano, TX, April 2-4: Texas musicians of the past are celebrated with a competition featuring some of the best fiddlers from Texas and beyond.
325-247-5354 • LlanoFiddleFest.com
Powwows
ANNUAL GATHERING OF NATIONS POWWOW, VIRTUAL
Albuquerque, NM, April 23-24: The Gathering of Nations Powwow will be a virtual live-streamed event, featuring dancers from tribes across North America, award-winning drum groups, outgoing Miss Indian World presentation, music and a dance party both evenings.
505-836-2810 • VisitAlbuquerque.org
Stock Shows & Rodeos
SOUTHWEST FARM & HOME EXPO
Elk City, OK, April 3-4: Novices and professionals alike can shop and learn about products and services for farm, home, lawn, garden and ranch. 580-225-0207 • VisitElkCity.com
OKLAHOMA QUARTER HORSE SPRING SHOW
Oklahoma City, OK, April 10-11: The region's finest quarter horses compete for ribbons and prizes in a wide array of classes.
405-440-0694 • OKQHA.org