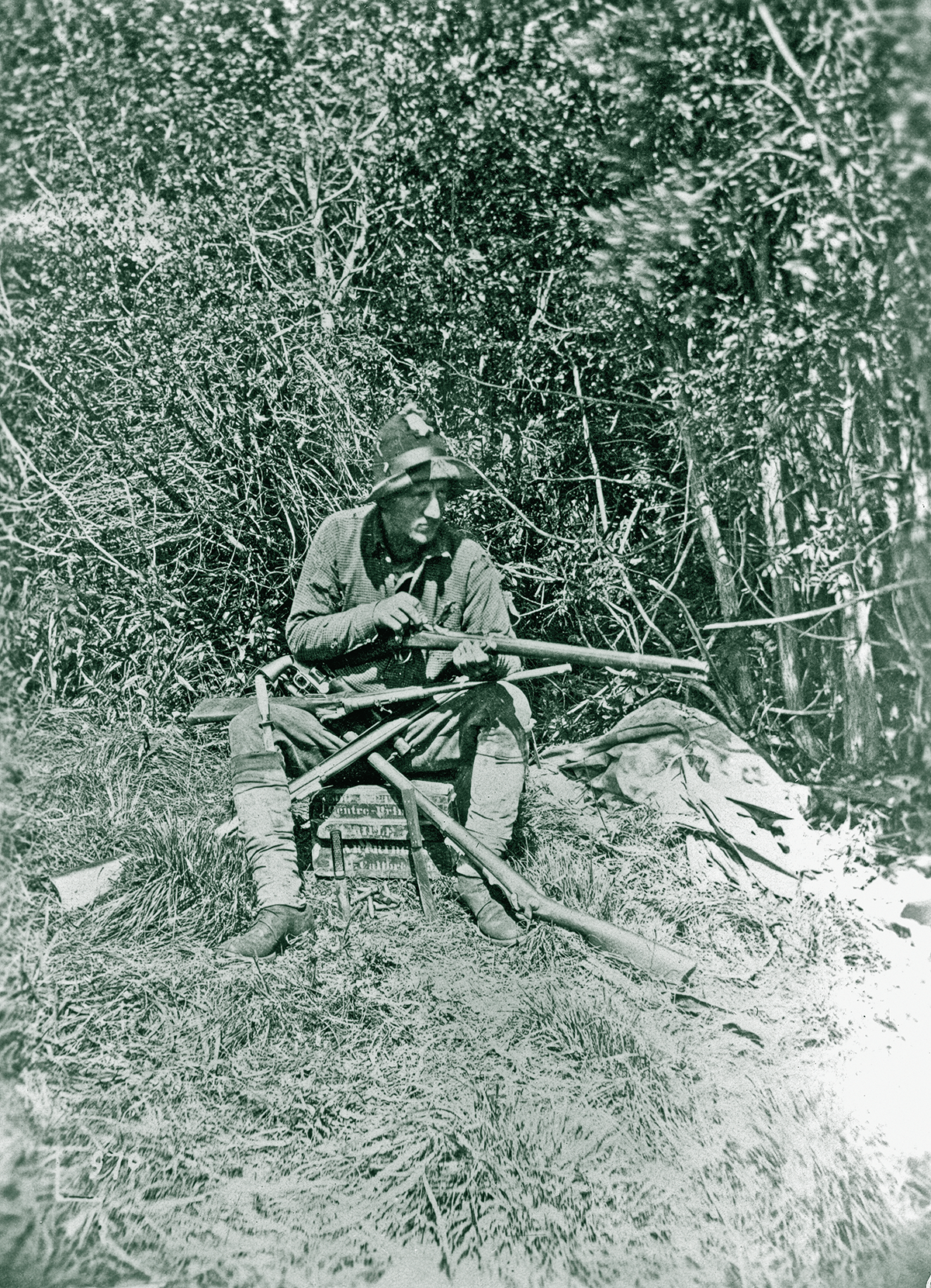 What a helluva year 2020 was! While the past 12 months will be remembered in largely negative terms, there have been a handful of firearms introduced that nostalgic gun-lovers view as definitely positive.
Return of the American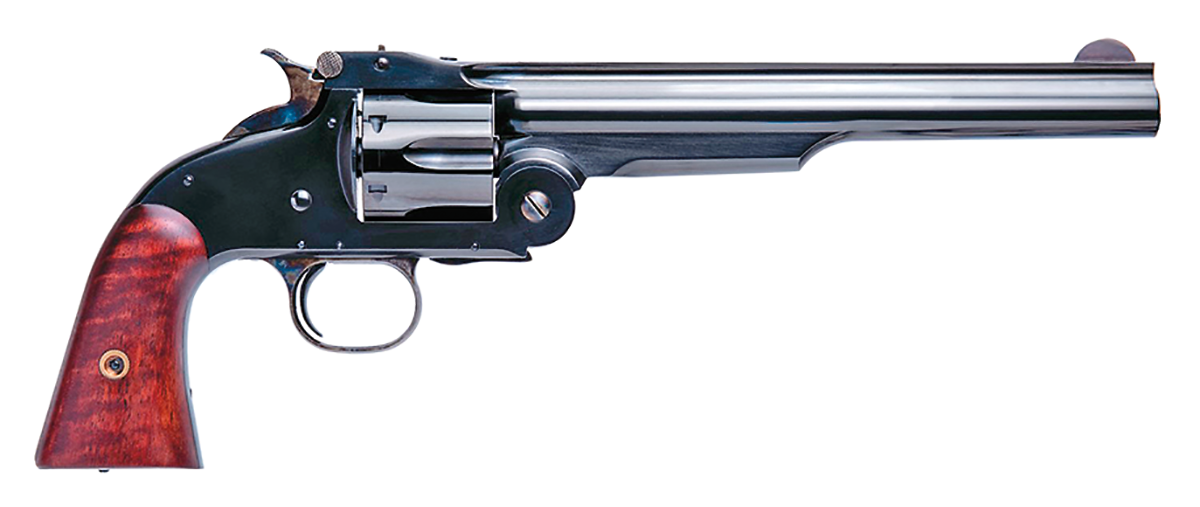 Cimarron Firearms' new spitting-image copy of the famed Smith & Wesson "American" revolver is perhaps the most important frontier replica firearm produced in recent years. This top-break six-shooter represents S&W's first big-bore, metallic cartridge revolver, and one that boasts of a rich association with the Old West. Produced from 1870-72, The Model 3, First Model was offered in .44 American chambering. Issued to the U.S. Cavalry, it was also a favorite of "Buffalo Bill" Cody, Army scout "Texas Jack" Omohundro, El Paso lawman Dallas Stoudenmire and was carried by several members of the Wheeler U.S. Geological Survey party of 1871-73.
Eagerly awaited, this Italian, Uberti-made replica has been in the works for three years. Cimarron's quality clone is currently available in .45 Colt caliber, with .44 S&W Russian, .44-40, and .44 Special, coming soon.
Cimmarron-Firearms.com
Uberti USA's Latest Guns

Uberti USA recently introduced an appealing variation of its 1885 High Wall. Dubbed the 1885 Courteney Stalking Rifle, this single-shot was inspired by the "Great White Hunters," like F. Courteney Selous, and other hunters and explorers of Africa. Chambered for the .303 British, it sports a case-hardened receiver and a pistol-gripped, AA-Satin Prince of Wales walnut stock with a rubber butt pad. The 24-inch, blued round barrel is fitted with a traditional hooded front sight, a quarter-rib slotted for a set of Weaver rings and outfitted with a fully adjustable, shallow-V rear sight. Although the Courteney Stalking Rifle is an "Africanized" High Wall, it's as perfect for the whitetail woods of America, as for the plains game of the African veldt…and at just 7.1 pounds, it's easy to carry all day.

In 2020, Uberti USA also added the Dalton Revolver to its Outlaws & Lawmen Series. It's a detailed copy of outlaw Bob Dalton's engraved Colt single-action, recovered from him after he was killed in the ill-fated 1892 Coffeyville, Kansas, dual bank robberies. This blue and case hardened, engraved .45 Colt, 5½-inch barreled six-gun, with simulated pearl grips, replicates this notorious outlaw's final six-gun.
Uberti-USA.com
Next Generation Great Plains Rifle

Lyman's popular Great Plains Rifle, first introduced in 1980, brought out its next generation Great Plains Signature Series last year. Produced in cooperation with David Pedersoli & C. of Italy, this "Hawken" style, mountain man's muzzleloader remains the same with its authentic looks and double set triggers, but has an enhanced, vintage-type flat mainspring lock and select American or European walnut stock. Sporting a 32-inch octagonal barrel, with a semi-buckhorn rear sight and a German silver blade front sight, it's available in flintlock or percussion.
The new Signature Series is offered in three different rifling twists for round ball, or sabot and conical bullets, as well as a 30-inch barreled Hunter model with a fast twist for optimum performance. All versions are offered in .50 or .54 caliber. Dixie Gun works also offers this exceptionally nice production Great Plains muzzleloader.
LymanProductsrs.com or DixieGunWorks.com
B. Tyler Henry Birthday Rifle



To commemorate firearms inventor B. Tyler Henry's 200th birthday (1821-2021), American rifle and shotgun manufacturer Henry Repeating Arms recently produced a limited edition of 200 commemorative Henrys. With the invention of his 1860 Henry, the first reliable lever-action repeating rifle, B. Tyler Henry became one of the most influential firearms designers in history. This authentic recreation of the 1860s Henry features a brass receiver and crescent-shaped butt plate, a blued steel, 24.5-inch octagonal barrel, lever, hammer and period sights. Each rifle is embellished with 1860s-style engraving with a portrait of the inventor on the right side of the receiver, and the legend "ONE OF 200" on the left side.
So today's shooters can enjoy firing their Henry, they'll be chambered for the .44-40 centerfire cartridge (factory smokeless), rather than the original (no longer produced) .44 Henry Flat Rimfire round. Henry Repeating Arms also offers guns that range from standard production 1860 Henrys, to modernized .22 rimfire, up to the powerful .45-70 centerfire lever guns.
HenryUSA.com.
1874 Sharps 150th?

Yes, this year marks a century and a half since the famed 1874 Sharps was introduced. Ironically, the model was actually first produced in 1871, but had no official designation until the company introduced its 1875 model, then they decided to give the older model the "1874" moniker. Although the original Sharps Company went out of business in 1881, Shiloh Rifle Co. has been producing some of the finest Sharps replicas extant since 1983, turning them out on a one-at-a-time custom basis. If you're looking for a top quality Sharps metallic cartridge rifle, check out Shiloh's website. I guarantee you will be impressed.
ShilohRifle.com.
With a lineup of frontier hardware like the above mentioned guns, 2021 looks to be a good year for Old West gun buffs, and that's always worth a shout out.
Phil Spangenberger has written for Guns & Ammo, appears on the History Channel and other documentary networks, produces Wild West shows, is a Hollywood gun coach and character actor, and is True West's Firearms Editor.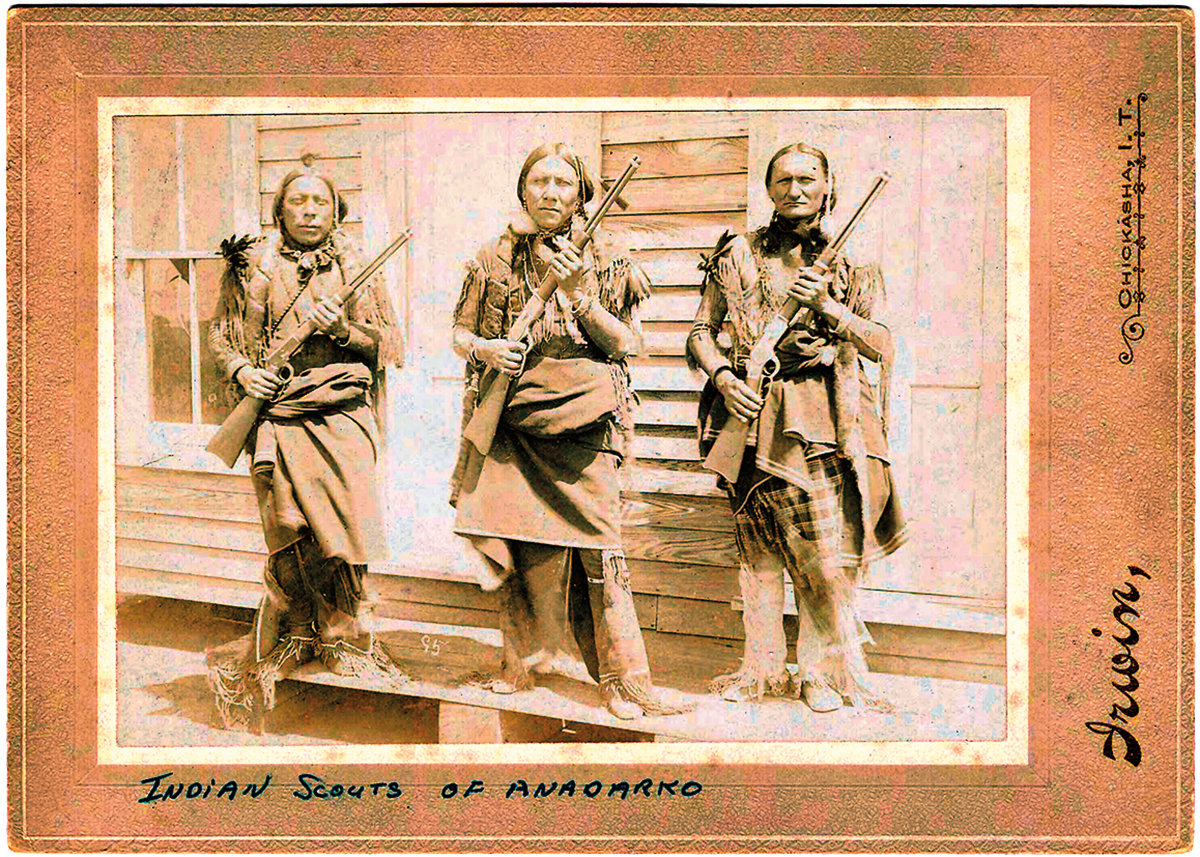 Best Gunleather Artisan
Old West Reproductions, Florence, MT
For decades, Old West Reproductions' handcrafted gun leather products have been recognized as some of the world's best. They are traditionally made and modeled meticulously after products originally used from 1849 to the early 1900s. President Rick M. Bachman is dedicated to personal customer satisfaction and custom Old West leatherwork.
OldWestReproductions.com
Readers' Choice: John Bianchi Frontier Gunleather, Rancho Mirage, CA
Best Firearm Restoration and Engraving
Turnbull Restoration, Bloomfield, NY
For the second year in a row, Turnbull Restoration Co., Inc., the nation's leader in restoration and custom upgrades of vintage firearms is True West's Editors' Choice for Best in the West. For more than 35 years, firearms experts have recognized Turnbull as the go-to company for restoration, period-correct metal finishes and custom reproductions. They have in-house engraving to their services with noted gun engraver Tom McArdle at the helm.
TurnbullRestoration.com
Readers' Choice: Otto Carter, Abilene, TX
Best Cowboy Action Pistol
Taylor's & Co. Smoke Wagon, Winchester, VA
A favorite of firearm enthusiasts for many years, Taylor's & Co.'s exclusive second-generation stagecoach-style, single-action revolver, The Smoke Wagon, has a blue finish with a case-hardened frame, and a thin, richly detailed, checkered grip for comfort and improved aim. The Smoke Wagon is an exclusive, trademarked sidearm of the Winchester, Virginia, firearms company.
TaylorsFirearms.com
Readers' Choice: Cimarron Firearms Evil Roy Comp. SA 4 ¾" .357 Magnum, Fredericksburg, TX
Best Cowboy Action Rifle
Uberti USA 1860 Henry Rifle, Accokeek, MD/Santa Ana, CA
Introduced the year before the start of the Civil War, the 1860 Henry Rifle is made today by Uberti USA in two brass-framed models and one steel-framed. The three rifles are chambered in .44-.40 and .45 Colt. New Haven Arms Company gunmaker B. Tyler Henry only produced 1,700 of the innovative lever-action repeating rifles for Union troops, but the long gun quickly gained popularity among soldiers. Uberti's 1860 Henrys also have a lever lock at the rear of the receiver and an external cartridge follower that aids in loading the tubular magazine.
Uberti-USA.com
Readers' Choice: Navy Arms Lightning Deluxe .45 Colt or .357, Martinsburg, WV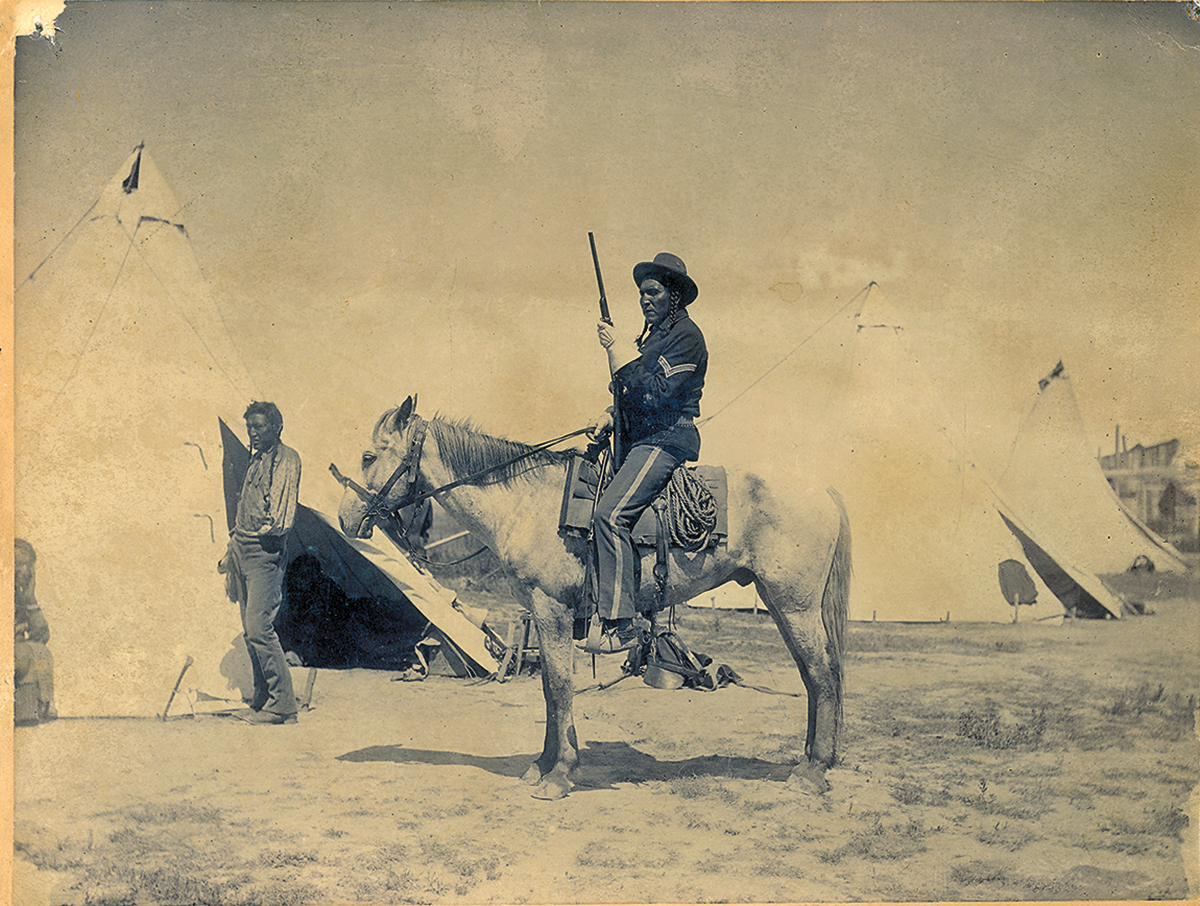 Best Action Shotgun
EMF Company 1878 Hartford Coach Gun
For many years a favorite of True West's editors, EMF has manufactured an instant classic with its popular, 12-gauge Wyatt Earp 1878 Hammer Shotgun. The side by side shotgun with its 20-inch barrel can be easily opened with one hand, allowing for very fast loading and extraction of shells. The walnut pistol grip stock is checkered, and the case hardened frame is engraved with "Wyatt Earp." The blued barrels feature chrome bores, and the sturdy Colt-style hammers can be cocked together in a simple and safe manner.
EMF-Company.com
Readers' Choice: Taylor's & Co. 1887 Lever Action Shotgun, Winchester, VA
Best Single Shot Rifle
Shiloh's Sharps 1874 Saddle Rifle, .30-40Krag, Big Timber, MT
A repeat Editors' Choice in the Best Single Shot category, Shiloh Rifle Manufacturing makes nine models of the 1874 Shiloh Sharps with such precision that their gun parts are the only ones in the world that fit the original 19th-century models. Nearly every significant action and part of the Shiloh's Sharps Saddle Rifle can be customized to the exact specifications of the buyer, including caliber, barrel length, weight, wood for the stock and much more.
ShilohRifle.com
Readers' Choice: Cimarron Firearms Officer's Billy Dixon Trapdoor .45-70 Rifle, Fredericksburg, TX
Best Classic Old West Firearm Kit
The Hawken Shop—Original Hawken Rifle, Oak Harbor, WA
Since the early 1800s, the Hawken Rifle has held a legendary place in the pantheon of American firearms history. The legacy of St. Louis, Missouri, brothers Jake and Sam Hawken's original gun works passed through generations of gunsmiths until eventually the original "Hawken Shop" was purchased and saved by Greg Roberts and Claudette Green, who moved it to Oak Harbor, Washington. Today, they are the sole purveyors of the Original Hawken Rifle Kit based on Jake and Sam's original. The Hawken Shop also now offers finished completed Hawken rifles from their kits; contact them for details.
TheHawkenShop.com
Readers' Choice: Lyman's Great Plains .50 or .54 Rifle Kit from Lyman Products, Middletown, CT or Dixie Gun Works, Inc., Union City, TN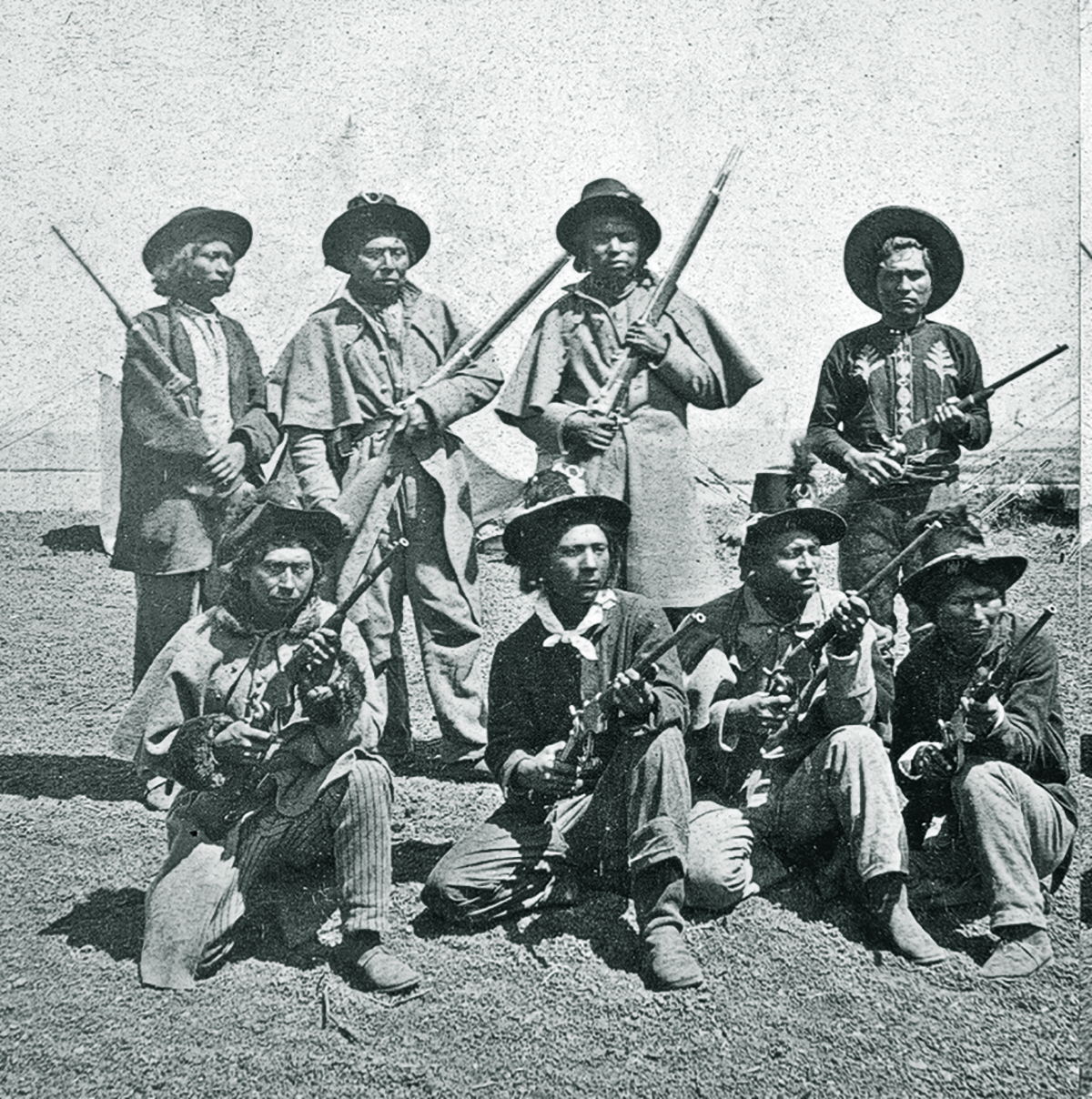 Best Commemorative Rifle
Henry Repeating Arms—The American Farmer Tribute Edition, .22 S/L/LR
Henry Repeating Arms rifles have been recognized for their excellence in craftmanship and innovation. Their American Farmer .22 caliber tribute edition features etched, detailed scenes of farming life on the receiver, splashed with gold. The American walnut stock has additional carved images. The nickel-plated receiver, this lever action is dedicated with "heartfelt gratitude to a hundred generations, past and present, who feed our world."
HenryUSA.com
Readers' Choice: Heroes & Patriots—The Dodge City Kansas Henry .22 LR Commemorative Rifle, Fort Collins, CO