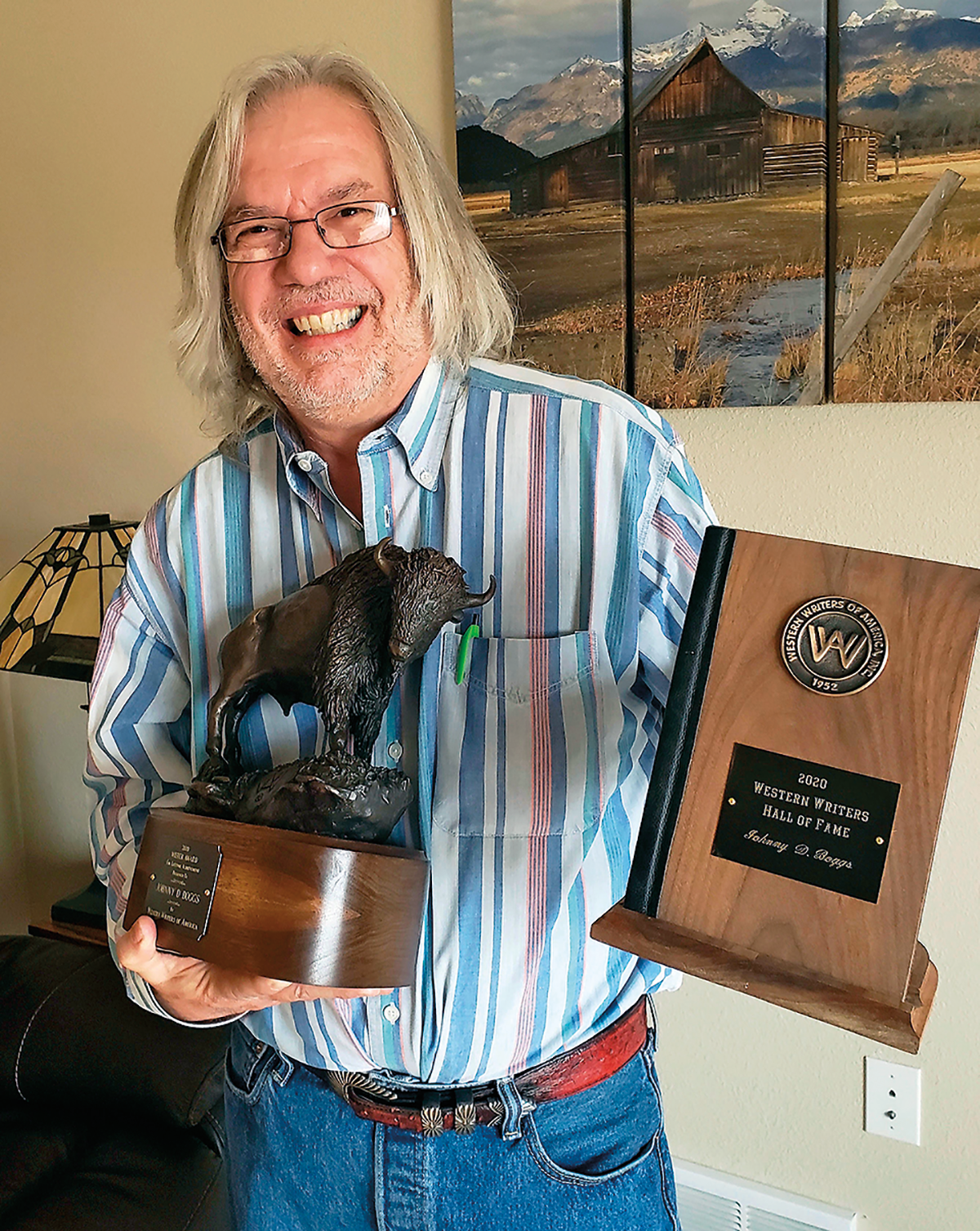 My mother and father… Songwriter Rodney Crowell wrote my life story in "Long Hard Road (The Sharecropper's Dream)": "But Mama kept the Bible read/and Daddy kept our family fed/ And somewhere in between I must have grown…"
Growing up in South Carolina is where I first learned about the West: on TV, at Ray's Novel Shop and playing cowboy using Daddy's hammer as a Colt and a tobacco stick as a Winchester.
Hush puppies and grits can only be made properly by Southerners. I make great shrimp and grits. My hush puppies suck, which I blame on Great Grandpa Daniel, an Illinoisan who served under Grant.
Moving from South Carolina to Texas… I knew I'd made the right decision when the first bookstore I entered had Elmer Kelton's latest novel on the table at the entrance.
Living in Santa Fe… I've been to all 50 states, three countries, and I've never found a place I'd rather live.
My favorite instrument is not a Blu-ray player. John Ford didn't mean for us to watch The Searchers and spot a car with its lights on in the background.
Johnny Cash taught me the key to writing a good story. Tell it. End it. Don't waste words or time.
Gunsmoke, Bonanza or… The Dakotas. It didn't last long, but it pushed the envelope. So did Gunsmoke. But Bonanza? Ben should have kicked his sponging sons off the Ponderosa.
A Western movie has few boundaries. It can be Allegheny Uprising, Rio Bravo, Callaway Went Thataway or The Last Picture Show. But it's not The Proposition. That's an Outback-ern.
If I could have had a drink with Anthony Mann I'd have learned the real story behind his breakup with James Stewart—if we ever stopped talking about Border Incident and The Tall Target.
Billy the Kid shows us how photogenic an outlaw with bad teeth can become $2.3 million later.
Cotton Smith memories still make me smile. Yes, Cotton, John Wayne, was great in Red River, but if anyone got robbed of an Oscar in 1949, it was Humphrey Bogart for The Treasure of the Sierra Madre.
Fatherhood beats writing. Baseball/burger trips…Jack driving across Ohio while I made notes for Taos Lightning. …Watching him grow into a fine young man.
Max Evans always told me, "Have fun, pardner."
Ol' Max had enough fun for 1,022 lifetimes.
A bowl of New Mexico green chile cures everything. But I do love our native New Mexican neighbor's red chile–her posole also cures all.
A historian doesn't need a doctorate, just a passion for history, ability to sniff out facts and discipline to tell a good story.
A writer's life isn't easy. My advice to beginners is, "Don't quit your day job." Which is what Loren Estleman told me in 1997. I'm glad I didn't listen to him—that time, anyway.
Receiving a Spur Award is the greatest honor Western writers can receive from their peers.
My greatest challenge as a novelist is teaching myself not to think with my fingers—impossible for a fast-typing ex-newspaperman.
Sports writing reinforces that there's no such thing as writer's block and that no matter how many games or races you cover, you'll often see something new.
The best advice I ever received came from Ol' Max Evans: "Write what you want to write, because there's no guarantee you'll get to write anything else."
Being awarded the Owen Wister Award is any writer's dream, but I can still name off the top of my head a dozen writers who are far more deserving than me—Michael Wallis, Ron Hansen, Paul Zarzyski, Sandra Dallas, Larry McMurtry, Paul Hutton, Virginia Driving Hawk Sneve, Tom Russell, Joseph Marshall III, John Fusco, Paulette Jiles, Gary Paulsen…
What history has taught me is that history is never written in stone. Obstinate research unearths new facts. Fresh perspectives stimulate our insights.