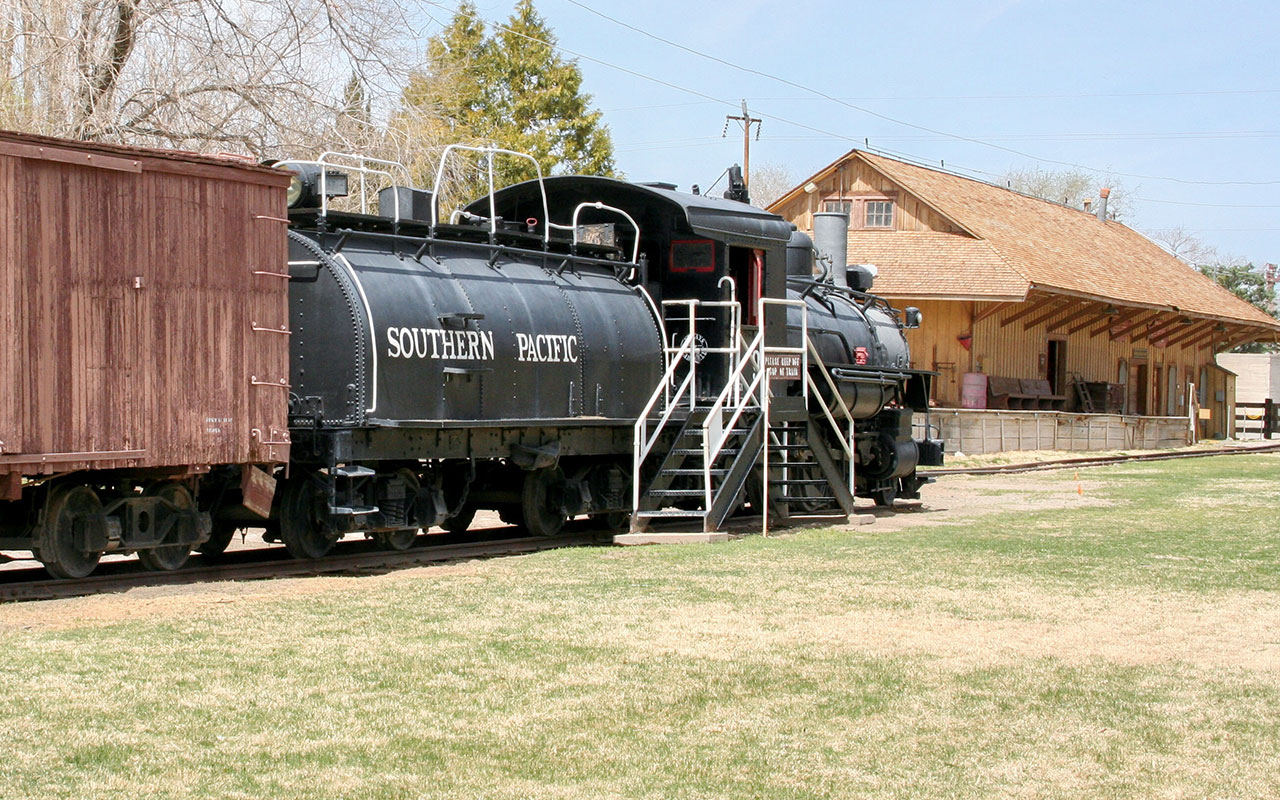 Over 20,000 visitors make their way to Laws Railroad Museum and Historic Site annually, but Laws is bypassed by drivers on California's  U.S. Highway 395 who pass the turn-off onto U.S. Highway 6 in downtown Bishop,  seeking higher-profile attractions.
That's a shame, because Laws offers an authentic look into Old West history centered around—but not limited to—trains.
Growing up in anticipation of the narrow-gauge Carson & Colorado Railway (originating in Mound House, Nevada, near Carson City and ending up in Keeler, California), Laws was ready when the first train arrived in 1883: depot, agent's house, water tanks and hand-operated locomotive turntable were already there.  "Before the train, there was no Laws," says Pam Vaughan, Laws' photo archivist and co-author of Bishop: Images of America.
Volunteer and self-described "train guy" Jim Morrow says, "They built [the narrow gauge railroad] mainly because it was cheaper and because [the route] went over mountainous areas. Narrow gauge are lighter-weight rails with not as much grading [required], so construction costs are cheaper."
At its zenith, Laws boasted homes, two general stores, a hotel, blacksmith's shop, barbershop and post office. Nearby ranchers transported crops and livestock, rail provided shipping for area mines, and Laws became a popular supply shipping point for booming Nevada gold towns. Passenger service was also available. Originally known as Bishop Station, the town became Laws to honor Southern Pacific superintendent R.J. Laws after Southern Pacific bought the line in 1900.
By the 1950s people still occasionally traveled on the Slim Princess, one of the last narrow-gauge common carriers west of the Rockies. But in 1959 Southern Pacific, citing "declining and unpredictable use of the line," decided to cease Laws operations. A final 1960 trip ended the train's 77-year run.
As once-booming Laws deteriorated and vandalism threatened its remains, a handful of local volunteers formed a historical society focused on preservation in 1964. Southern Pacific gifted 11 acres to Inyo County, which reached an agreement to have the new group take over the site.
After Paramount Studios came to Laws in 1965 to film parts of Steve McQueen's movie Nevada Smith (1966), movie prop structures remained once filming was complete. Authentic buildings were saved, and more original structures donated to recreate Laws for its 1966 opening as a museum.
Now on the National Registry of Historic Places, Laws has nearly 50 structures filled with artifacts used by cowboys, ranchers and tradesmen, from saddle collections to a wagon display with a newly built replica of a 20 Mule Team Borax wagon. A reproduction gold mining operation includes stamp mill and operational arrastra, a simple mine milling machine/ore-crusher.
Don't forget No. 9, a restored 1909 Baldwin steam locomotive with six 19th-century rolling stock cars, a restored self-propelled 1927 Brill Rail Death Valley motorcar (train rides available on selected dates), a tungsten mine train, an 1881 baggage/passenger car awaiting restoration, and old box cars.
When you visit, remember the volunteers who saved this part of Old West history. 
Plan Your Visit!
Laws Railroad Museum and Historic Site
Silver Canyon Rd, Bishop, CA 93514
760-873-5950 • LawsMuseum.org
Open all year:
10 a.m. to 4 p.m.
Admission is free, but donations are accepted.
Parking is free.
Audrey T. Hingley is an award-winning travel writer and author who lives in Urbanna, Virginia, with her husband and dog.