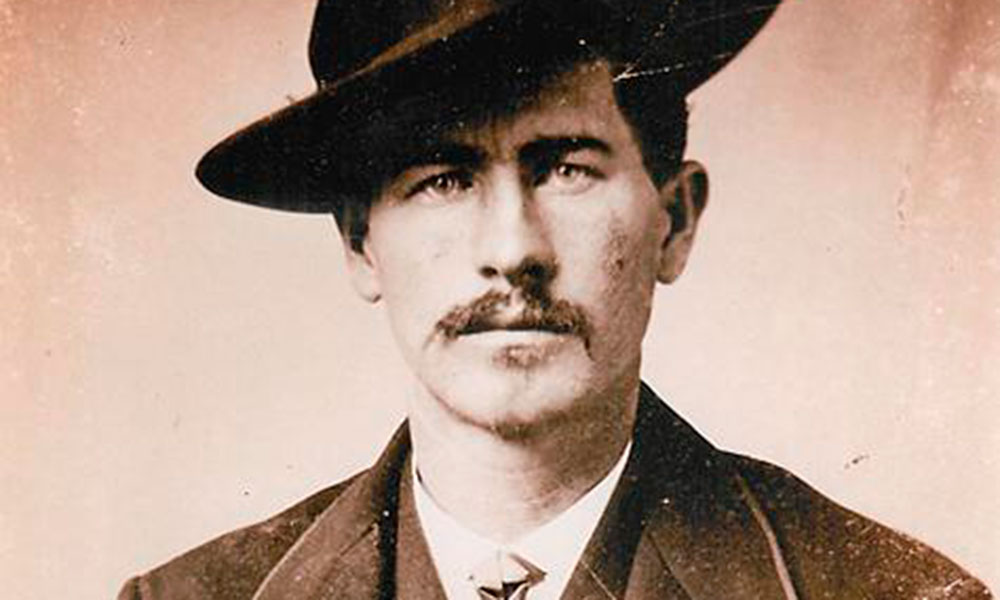 Wyatt Earp's life history is checkered with good and bad events from his early manhood in Missouri to his final days in California. In most published biographical treatments, his shadowy past has generally been glossed over by those who see him as a lawman hero. Were he to have been a 21st-century character, his early unlawful actions—especially in Indian Territory (Oklahoma) and Illinois—would have been scrutinized with background checks and investigations, and he would never have achieved notoriety as a lawman in Kansas or Arizona.
Today, more people in the general population are aware of the legends and myths about Wyatt Earp than are aware of the truth. Whether considering factual history or historical fiction about Earp, the emphasis is consistently on his career as a lawman. What has failed to receive due emphasis is that Wyatt spent more years running from the law than he did chasing lawbreakers.
—Roy B. Young
Summer 1869: Wyatt is involved in a barroom incident with a railroad brakeman named Thomas D. Pinard, at Waltown's Hotel (and brothel) in Beardstown, Illinois. Pinard draws a pistol, and Wyatt shoots him in the hip.
Fall 1869: Wyatt joins the Earp family in Lamar, Missouri.
November 17, 1869: Wyatt is appointed constable of Lamar Township, when his father, Nicholas P. Earp, resigns to become Lamar's justice of the peace.
January 1870: Wyatt marries Aurilla Sutherland and on March 3 he is named constable of Lamar, when the town is incorporated.
August 29, 1870: Wyatt buys a home in Lamar, and settles down with his young wife, Aurilla.
September 1870: James Earp is arrested for burglary in Deer Lodge, Montana Territory. He is convicted but granted a new trial.
Late October or early November 1870: Aurilla Sutherland Earp dies of typhus or typhoid, possibly while giving birth to a stillborn child.
November 7, 1870: Wyatt sells his home in Lamar, the day before he is reelected constable, over his half brother Newton and two others. Soon thereafter, Morgan, Virgil and Wyatt fight a bloody street brawl with Aurilla's brothers and friends, who may blame Wyatt for the death of their sister.
January 1871: Charges are filed against Wyatt for the mismanagement of funds owed the county, and he is replaced as constable of Lamar by Morris B. Earll. James Earp is arrested for brawling in a bordello in Deer Lodge. He and other prisoners escape on February 24. Captured and put back in jail, James secures his release and leaves Montana for Utah.
March 1871: Wyatt leaves Lamar along with Eckmon "Ed" Kennedy, a young stage driver, ahead of additional charges brought against him in the Barton County Court. Along the way they are joined by John Shown likely from Hartford, Ohio County, Kentucky, where the Earp family had previously lived.
April 6, 1871: Wyatt, Kennedy and Shown are arrested for horse theft on March 28, 1871, from James M. "Jim" Keys near Fort Gibson in the Indian Territory.
May 8, 1871: Wyatt escapes from the Van Buren, Arkansas, jail with Shown and five other men; seven days later a grand jury indicts Earp, Kennedy and Shown.
June 1871: Kennedy is acquitted at Fort Smith, Arkansas; Earp and Shown are never caught.
October 1871: James Earp is run out of Utah by an angry mob of Mormon men for James's beating of one of their friends who objected to James's attempted seduction of his wife. While fleeing Utah, James befriends Ed Bennett, who is later mistakenly killed by the posse after James, while the Earp desperado rides east to join the rest of the family in Illinois.
February 1872–September 1872: Wyatt and his brother Morgan join Virgil Earp in Peoria, Illinois, where he is working as a bartender. Wyatt and Morgan work as enforcers in local brothels, and are arrested on several occasions as "johns" and "pimps" for their activities related to prostitution. During this time, Wyatt also becomes involved with a prostitute named Sally Haspel, who may have been his wife, aka Sarah Haspel Earp.
Summer 1873: James Earp with his new wife, Bessie Catchim, whom he married in April, open a bordello in Wichita, Kansas. In May 1874, Bessie is charged with prostitution, along with Sally Earp, who was most likely Sarah Haspel of Peoria, the "wife" of Wyatt.
November 1873: Virgil Earp is arrested in Council Bluffs, Iowa, on suspicion of arson, and is convicted in January 1874. A legal error or such puts him back in jail for a retrial. He is released in May, after almost five months in the city's jail known as "Fort Moss."
July 23, 1874: Virgil is shot in a Council Bluffs bordello by prostitute "Wild Madge." He recovers and starts an illegal saloon. In December he is charged with selling alcohol without a license.
May 27, 1874: Wyatt is arrested in Wichita, Kansas, for fighting, the same day that Charlie Sanders is killed by a Texan.
Spring 1875: Virgil joins Doc Baggs' gang of confidence men. While in Omaha he meets former prostitute Allie Sullivan, the future Mrs. Virgil Earp. Virgil is arrested in March with Baggs and other gang members for fleecing a man out of $1,200 in a rigged game of three-card monte.
Editor's Note: "The Earp Rap Sheet—Before Wichita, Dodge City and Tombstone, the Earp Brothers Were More Notorious Than Heroic" is excerpted from Roy B. Young's "Wyatt Earp, Outlaw of the
Cherokee Nation" in A Wyatt Earp Anthology. The timeline is excerpted from John Boessenecker's Ride the Devil's Herd and "The Life of Wyatt Earp—A Timeline," by Casey Tefertiller and Gary L. Roberts, in A Wyatt Earp Anthology.