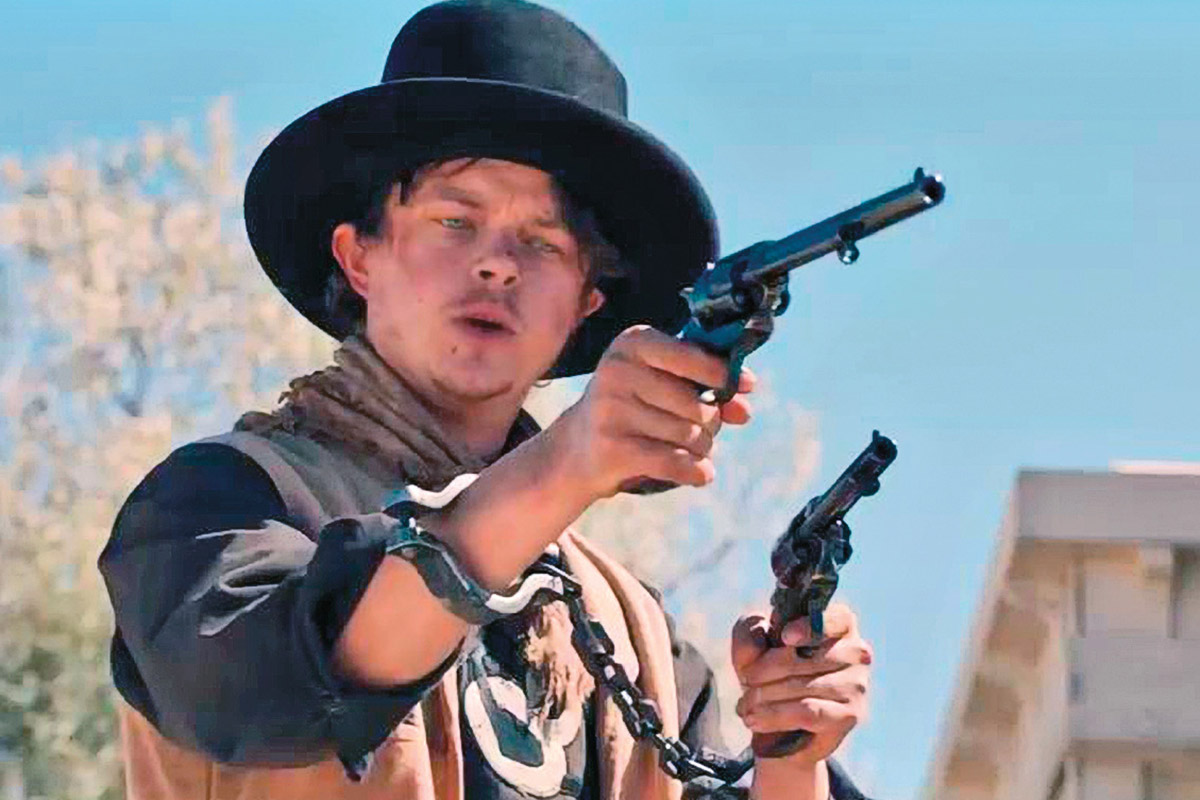 Westerns are Everywhere— Except in Theaters
There's been a quiet explosion of Western film releases in 2019—from indies to international productions. The irony is that when it comes to watching Westerns, the bigger the screen, the better, but while it's been a big year for small-screen Westerns, it's been a tiny year for theatrical releases. The Kid, Vincent D'Onofrio's vision of Billy the Kid and Pat Garrett through the eyes of a young boy, and The Mustang, Laure de Clermont-Tonnerre's true tale of a violent convict who learns to train wild horses, gained respect and playdates, were released during the year, but they took in only $1.5 million and $5 million, respectively.
The three biggest Western hits of the year were by subscription. Netflix had a double-barreled success: the Coen Brothers' delightful anthology film, The Ballad of Buster Scruggs; and Westernish The Highwaymen, starring Kevin Costner and Woody Harrelson as the retired Texas Rangers who gunned down Bonnie and Clyde. And David Milch and HBO ended an unintended 13-year cliffhanger with Deadwood—The Movie, all three receiving exceptional viewership and critical response.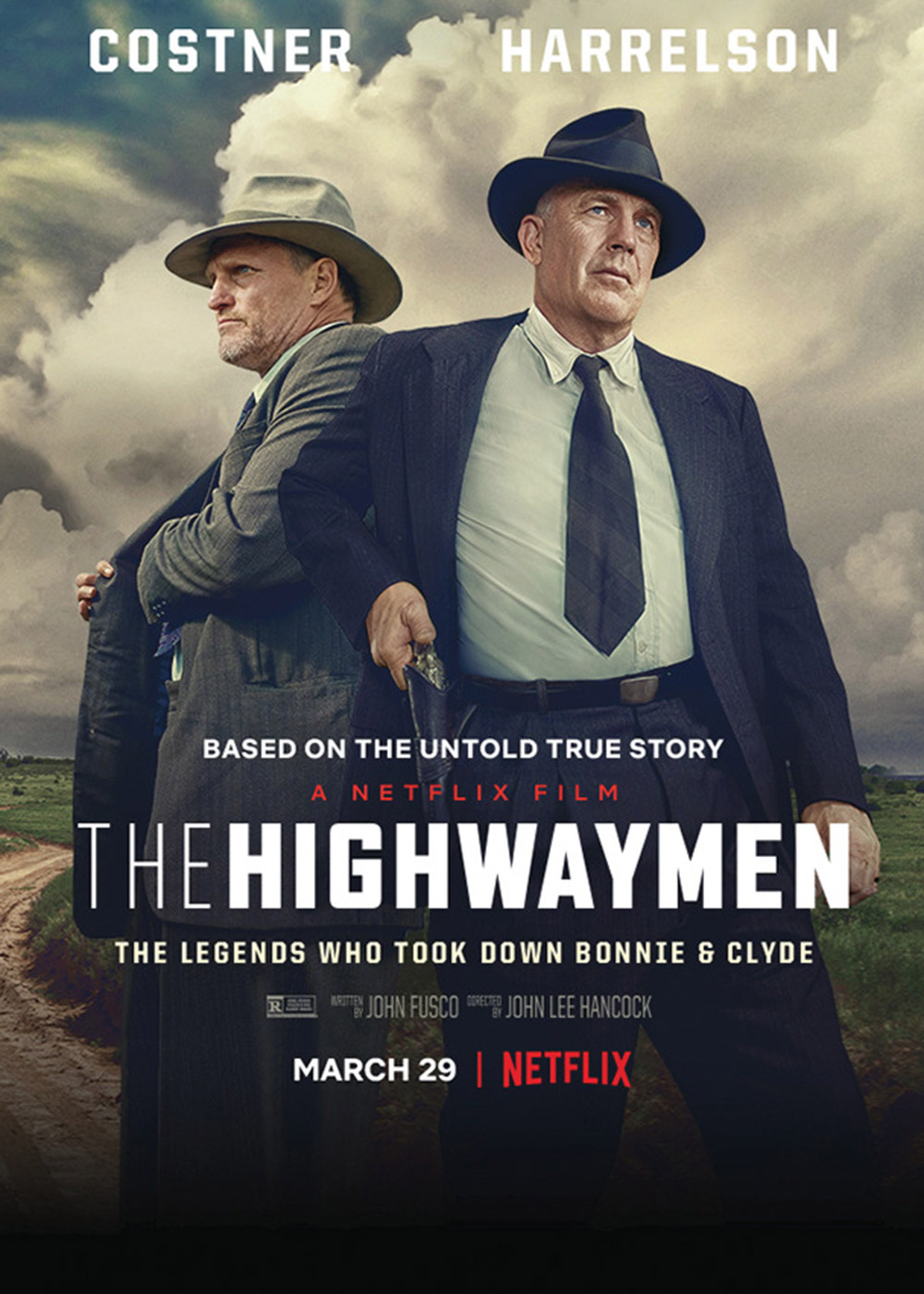 There were two Western series this year, a 100 percent increase over any year this century. And remarkably, although the settings are separated by a century, the stories were hard to tell apart. In both, the star—Kevin Costner in Yellowstone and Pierce Brosnan in The Son—is a widower trying to protect his oil and cattle empire. Each has a closeted gay son lawyer with political aspirations, a loyal and feisty daughter (a granddaughter in Son), plus a married son who left both the family business and his wife and child, but returns to both to help save the empire. Both prodigal sons are supposed to be their story's moral compass, but in fact are whiny bores. While the Paramount Network's Yellowstone will have a season three, sadly, AMC's The Son will not.
The resurgence of the genre in recent years has been exclusively in adult Westerns. There has been no exciting but kid-appealing Western to draw new converts since Dr. Quinn, Medicine Woman. The INSP Channel has moved to bridge that gap, producing its first original Western feature, The Legend of 5 Mile Cave, focusing on a young boy's dime-novel-fueled obsession with a legendary gunman—and a fabled treasure.
INSP had already carved a niche for itself with "Western-adjacent" original programming. Its in-house production The Cowboy Way, following the real-life exploits of three likable Alabama cattlemen for five seasons, has now been joined with The Ultimate Cowboy Showdown, a six-night event in which a dozen cowpokes demonstrate their ranching skills, battling for ownership of a herd of cattle, under the steely gaze of Trace Adkins and cowboying experts. The Paramount Network has The Last Cowboy, following a dozen rodeo cowboys preparing for a Las Vegas reining competition with a million-dollar purse.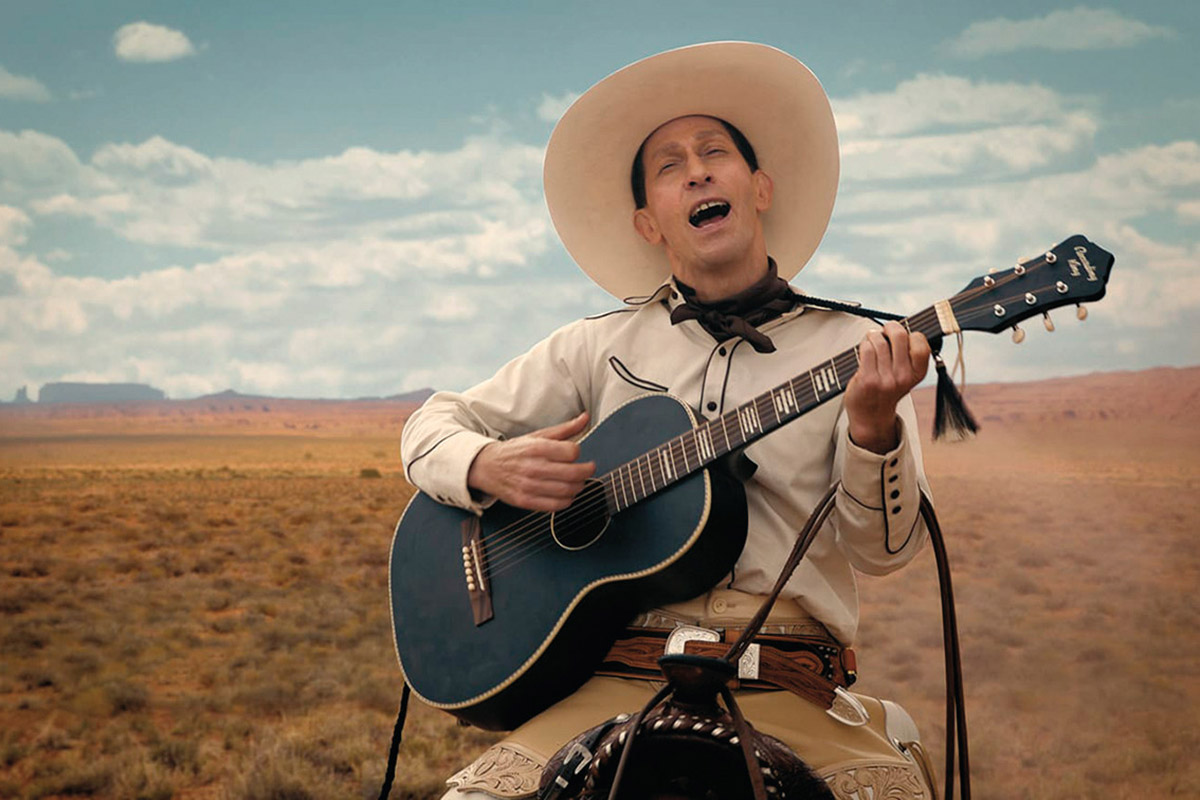 It was a surprisingly busy year for international Westerns, including films from Brazil (Bacurau), Colombia (Luz), Bolivia (Santa Clara), South Africa (Flatland), Argentina (Pistolero), Turkey (Bozkir Kuslara Bak Kuslara) and Australia (The True History of the Kelly Gang). The British-made Day of the Stranger proclaims itself an "Acid Western," and Spain's busy Chip Baker Group produced its third Spaghetti Western, The Price of Death.
Never Grow Old, shot in Ireland and Luxembourg, features an unusually dynamic John Cusack as a villain destroying a religious town. Emile Hirsch stars as the undertaker, who you keep expecting to save the town, but who instead lurks in corners, looking pensive, until it's too late to matter. From Germany comes Adamstown, wherein an American Indian curse forces banished animals to return in the form of actors in laughable makeup. By far the best of the foreign Westerns available for viewing is Indonesia's Buffalo Boys.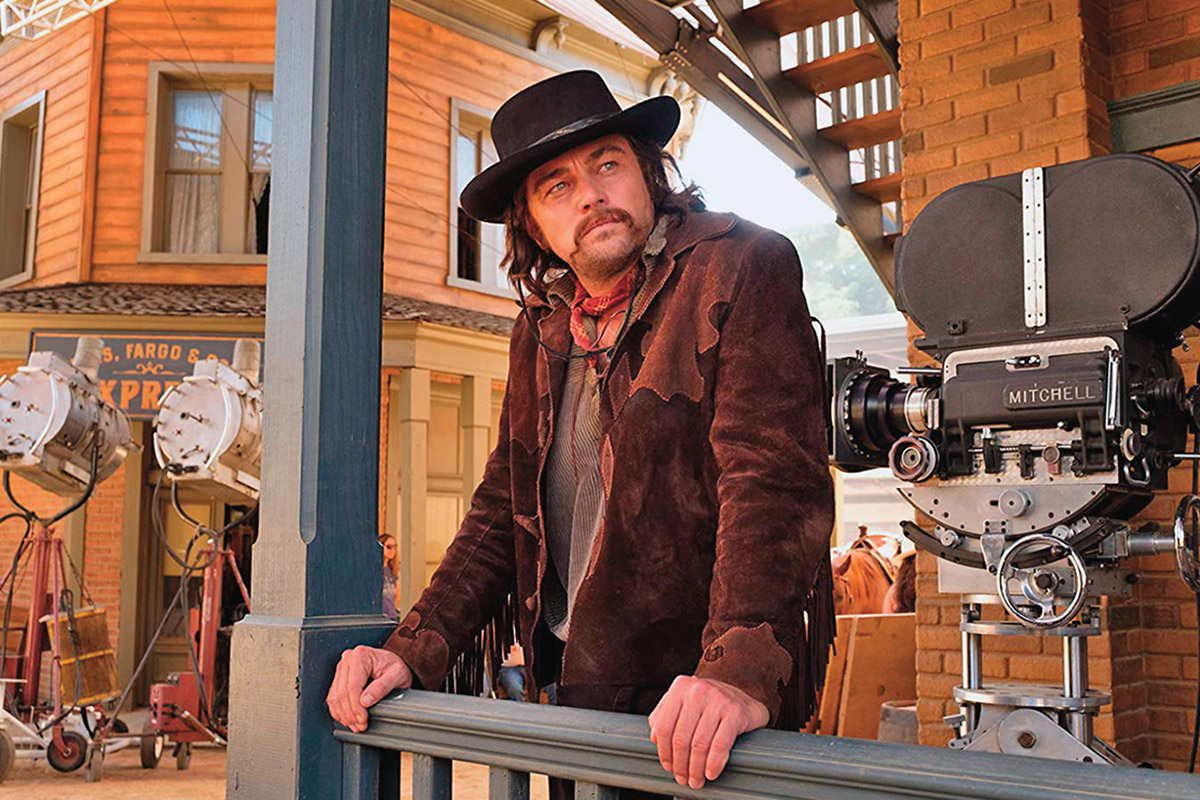 Among the low-budget indie Westerns, Bill Tilghman and the Outlaws, set in the earliest days of silent cinema, is a tongue-in-cheek tale suggested by the practice of making early Westerns with real outlaws and lawmen, and features Robert Carradine as Frank James and Darby Hinton as Cole Younger.
The best of the indies are pretty dark. With The Outsider as his sixth Western, country-music powerhouse Trace Adkins handsomely carries the film as a dirty lawman who must track down a son who is far worse. In Eminence Hill, an outlaw and his gang are pursued by lawmen as they track and kill the jury that hung his brother. With rich support by Dominique Swain, Barry Corbin and Lance Henriksen, the real surprise is that the unfamiliar leads, Owen Conway, Clint James and Charlie Motley, carry the bulk of the plot so effectively.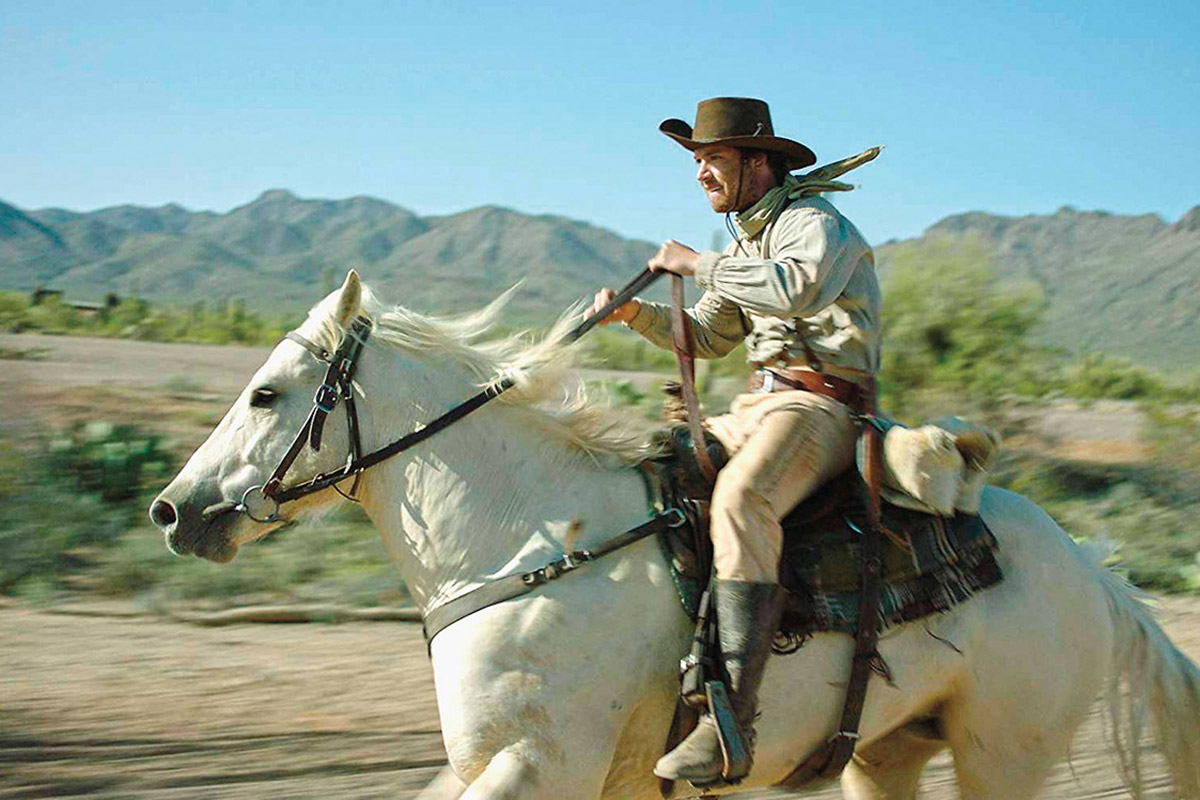 The theatrical film that brought the most interest to the genre this year was, unexpectedly, not a Western, but a movie about people who make them: Once Upon a Time in Hollywood. It seems wrong to describe a Quentin Tarantino film, featuring Charles Manson, as a delightful fable, but that's just what it is. Leonardo DiCaprio plays Rick Dalton, once the star of the series Bounty Law (modeled on Wanted: Dead or Alive), then a star of Spaghetti Westerns, and now reduced to playing a guest-villain on Lancer. Tarantino has proposed turning Bounty Law into an actual series, in the "original" black and white, of course.
Particularly memorable is the chilling sequence when Brad Pitt, as Rick's stunt double, takes a drive out to Spahn Ranch, a dilapidated movie town, to check on his old friend, George Spahn. It's so convincing because it's so true: it was in fact TV's Lone Ranger, Clayton Moore, who took his 11-year-old daughter, Dawn, to visit. Dawn remembers the ranch just as it was portrayed in the film. "Rusted out pickups, straggly dogs, disintegrating horse corrals and falling-down facades were in every direction. And hippies. Lots of young people in peasant blouses and headbands all gathered quietly as we drove up." Clayton explained what he wanted. When they entered the disintegrating trailer, her father announcing himself, George gasped, "Clayton! Is that you?!" and began to cry. After an hour visit, during which George assured them that the hippies were there with his permission, and taking care of him, the Moores left. "Two weeks later we heard—along with the rest of the world—of the Tate/LaBianca murders executed by the Manson family living on Spahn Ranch."
In the film, Spahn is portrayed by Bruce Dern, who reluctantly took on the role when his friend, Burt Reynolds, died before he could be filmed. Dern has been busy in Westerns this year, also playing the head of the horse-training program in The Mustang, and a dying former Confederate officer in Badland. The twice Oscar-nominated 83-year-old actor returns to the form time after time. "A lot of people will tell you that the reason they don't make them anymore is because Star Wars and Lord of the Rings—those are the Westerns to the kids now. But you and I know there's always a place for a Western. The stories are great, the times are great, and for the most part it really happened." Once upon a time…
Best 2019 Western Movie
The Mustang (Focus Features)
Roman Coleman (Matthias Schoenaerts), a Nevadan imprisoned for a horrendous crime, seeks redemption through a program that trains convicts to train wild horses. Bruce Dern is the stern but forgiving head of the program, and Gideon Adlon is the daughter the inarticulate Roman wants so desperately to reconnect with.
Readers' Choice: The Kid (Lionsgate)
Best 2019 TV Western Series
The Son (AMC)
Based on Philipp Meyer's novel, The Son is the best Western series since AMC's own Hell On Wheels. The story of Eli McCullough is told in two eras, with Jacob Lofland as the teenage captive who is raised as a Comanche, and Pierce Brosnan as the aging oil mogul whose ruthless ways grew from his early fight to survive.
Readers' Choice: Yellowstone (Paramount Network)
Best 2019 TV Western Movie
Deadwood: The Movie (HBO)
With his exceptional cast and crew, writer David Milch recaptured the lost world of Deadwood, and thrust it a decade into its future. He not only concluded the dangling story, but showed the changes of time; most visually striking, Timothy Olyphant's Sheriff Seth Bullock matured into the visage of Wyatt Earp.
Readers' Choice: Ballad of Buster Scruggs (Netflix)
Best 2019 Western Film Book
The Wild Bunch—Sam Peckinpah, a Revolution in Hollywood, and the Making of a Legendary Film, by W. K. Stratton (Bloomsbury Publishing)
The proof that this volume is, for now, the definitive telling of the making of a beloved—and often reviled—classic American film is the fact that every time I ask a question of anyone who was involved with The Wild Bunch, the immediate response is, "Didn't you read Stratton's book?"
READERS' Choice: Ennio Morricone in His Own Words (Oxford University Press)
Best 2019 Western to Stream
The Outsider (Cinedigm)
A marshal (Trace Adkins) returns to his town to learn a Chinese railroad worker (John Foo) is on a homicidal rampage because the marshal's own son (Kaiwai Lyman) has raped and murdered the man's wife. Shot almost entirely at night, in the rain, The Outsider is a revenge Western that focuses more on the pursuers than the pursued.
Readers' choice: Eminence Hill (Uncork'd Entertainment)
Best 2019 Blu-Ray Western Movie
Forty Guns (Criterion Collection)
No one got more joy out of making a Western than the man who would fire a gun rather than call "Action!," Sam Fuller. Here, rancher Barbara Stanwyck has surrounded herself with 40 gunmen, but not one is man enough for her, once she meets lawman Barry Sullivan. The breathtaking black-and-white Cinemascope will make you wonder why anyone bothers with color.
Readers' choice: Wagon Master (Warner Brothers Archive)
Best 2019 Western Movie Collection
The Lone Ranger Double Feature (Universal)
What better time than the 70th anniversary of television's first Western series, to return to those thrilling days of yesteryear! The Lone Ranger (1956) and The Lone Ranger and the Lost City of Gold (1958), starring Clayton Moore and Jay Silverheels, are not cut-together episodes, but original, full-length movies, and a delight for viewers of all ages.
Readers' choice: Red Ryder—The Complete Cinecolor Collection (VCI)
Best 2019 TV DVD
The High Chaparral—Season 3, "The High Chaparral—The Final Season" (Shout Factory)
The last two years of Chaparral were a continuing struggle with antiviolence censorship, but David Dortort and his writers coped by focusing more on character than blazing action. In the final season, Blue Cannon (Mark Slade) was re- placed by a half-Pawnee teen named Wind (Rudy Ramos), who gave the show a shot of adrenalin. Ramos now plays a continuing
character on Yellowstone.
Readers' choice: The High Chaparral–Season 3, "The High Chaparral—The Final Season" (Shout Factory)
Best 2019 Silent Western
White Gold (1927, Grapevine Video)
Holland-born Jetta Goudal stars as the lovely young Mexican bride of Alec Carson (Kenneth Thomson). But Carson's father resents sharing his son's attention, and when a drifter shows interest in her, her father-in-law sees a perfect opportunity.
Readers' choice: The Call of the Desert (1930, Alpha Home Entertainment)
Best 2019 Western Documentary
Sad Hill Unearthed (Hark)
Half a century ago, Sergio Leone hired a thousand soldiers from Generalissimo Franco to build a 5,000-grave fake cemetery in Burgos, for the climactic scene of The Good, The Bad and The Ugly. Beginning a year before the 50th anniversary, local fans, and fanatics from all over Europe, joined to unearth the vanished monumental set. Their devotion is mesmerizing.
Readers' choice: And With Him Came The West (Grasshopper Film)
Best 2019 Foreign Western
Buffalo Boys (Indonesia, Samuel Goldwyn Films)
Exiled brothers Suwo (Yoshi Sudarso) and Jamar (Ario Bayu), raised by their uncle as cowboys in the American West, return to Java to avenge their father, the sultan, as only pistol-packin' cowboys can, against the evil Dutch colonizers. Buffalo Boys is full of action, exuberance, sorrow, humor, history and startlingly beautiful sights.
Readers' choice: Never Grow Old (Ireland and Luxembourg, Saban)