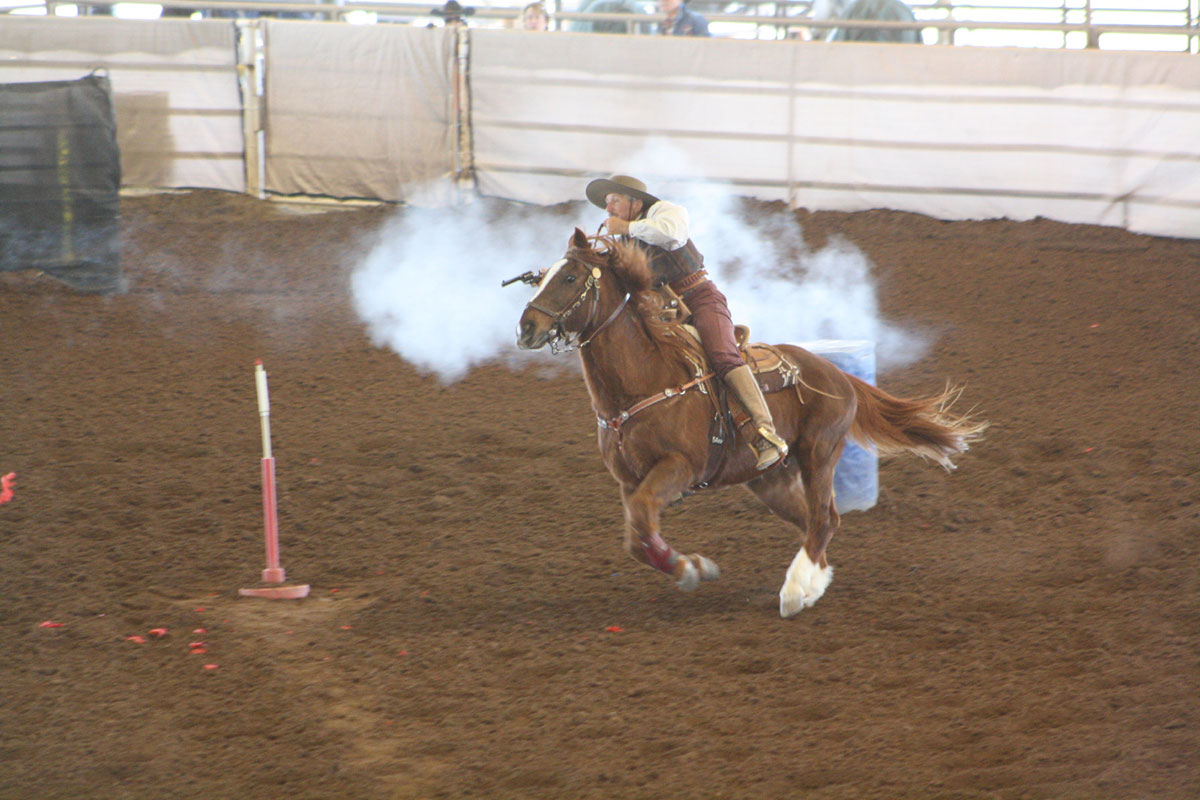 Keeping the Faith
For Old West gun enthusiasts, this may well be the best time to be alive, thanks to several companies offering quality authentic replicas of the firearms and
accessories of the American frontier. Look at some of the classic arms to be had by the modern gun buff: There are Sharps buffalo guns, Springfield trapdoor cavalry carbines,
Henry and Winchester repeaters, Spencer lever guns, Colt, Remington and Smith & Wesson revolvers and much more. After spending nearly half a century as a professional writer and gun handler, I have determined that four firms have done the most to make these Wild West arms available. Each of the four outfits have maintained high quality and authenticity in their replicas, while also introducing new historical models. Listed in alphabetical order, here are my top four replica gun companies.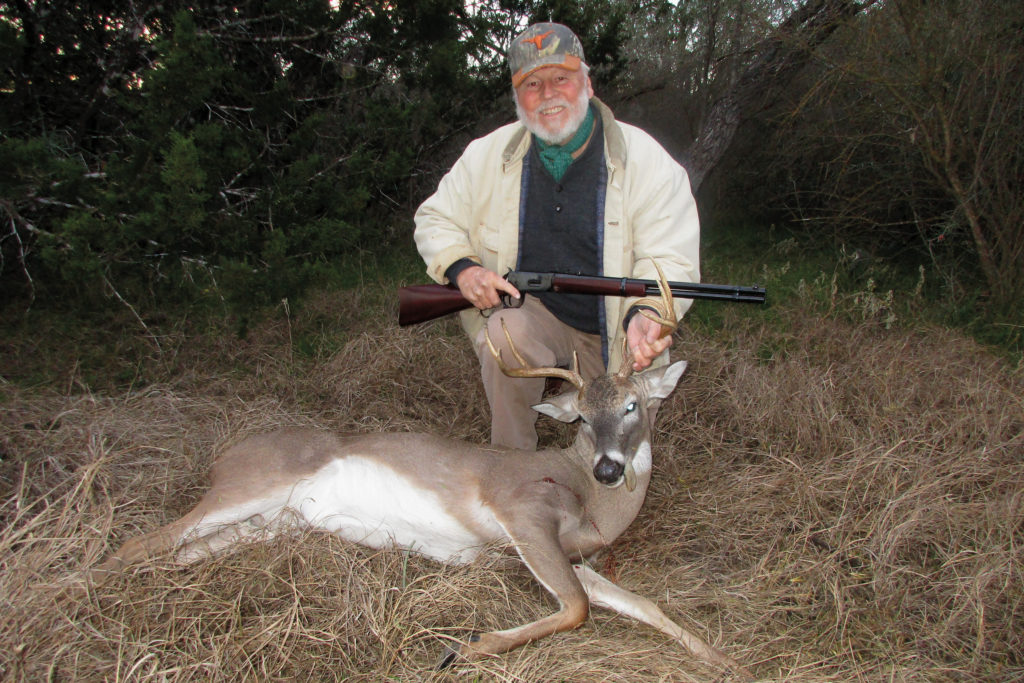 Cimarron FireArms
Cimarron Firearms has been one of the leaders in the Old West gun field for the past 37-plus years. Founder and president Mike Harvey has been responsible for introducing several replicas, like the Colt conversion revolvers, the 1872 Open Top, Civil War Henry, the Thunderer birds head-gripped, single-action revolver and more. He also spurred replica manufacturers into making more accurate replicas by supplying them with original arms to use as a guide. For example, he's had the 1873 single-action revolvers totally reshaped, period stampings added, and many importer's marks were hidden, all while improving their finish, function and accuracy. This has been Cimarron's modus operendi for its complete line of replicas and more modern guns, like its 1911 semi-auto pistols. In 2019, Cimarron brought out an 1894 rifle that boasts the original features of a late 1890s Winchester, rather than today's versions, along with a '62 Pocket Navy Conversion with a 6-inch barrel (3-incher also offered) in .380 ACP caliber. Cimarron is also producing a martially marked, Original Finish Colt Walker, emulating those vintage six-guns issued to Capt. Sam Walker's troops in 1847. Cimarron is devoted to providing  the most authentic replica firearms possible. In fact, Cimarron demands authenticity.
Cimarron-Firearms.com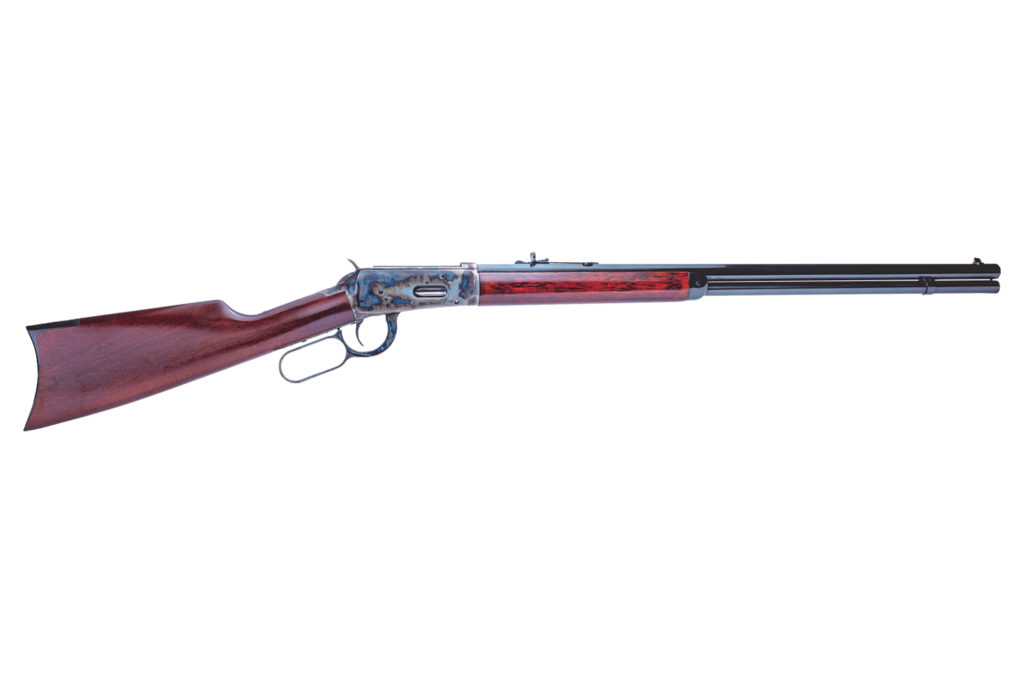 EMF Company
The oldest company of the replica outfits is the EMF Company (Early and Modern Firearms), and it has been supplying Old West gun fanciers with replica firearms since 1956. Importing guns from such renown Italian replica manufacturers as F.A.P. F.LLI. Pietta, A. Uberti, and D. Pedersolli & Co., EMF offers an extensive variety of black powder and metallic cartridge replicas. Besides the popular percussion Colts and Remingtons, EMF offers black powder replicas like the LeMat Civil War revolver, Starr single and double-action six guns, and the .50 caliber Smith breech loading (Civil War-era) carbine. Their cartridge gun line encompasses the 1887 lever-action shotgun, 1873, 1886 and 1892 lever guns, along with several versions of the classic 1873 single-action revolver, including the popular bird's head-gripped models and many other replicas. Last year saw the introduction of the handsome, laser-engraved, blued and polished steel framed peacemaker clone with a one-piece black grip. As part of EMF's dedication to the preservation of our Western heritage, the company has been instrumental in the growth of the Single Action Shooting Society (SASS) and the Cowboy Mounted Shooting Association (CMSA) through its support and sponsorship overthe years. In fact, it was the first company tostep forward as a SASS sponsor—at its very birth.
EMF-Company.com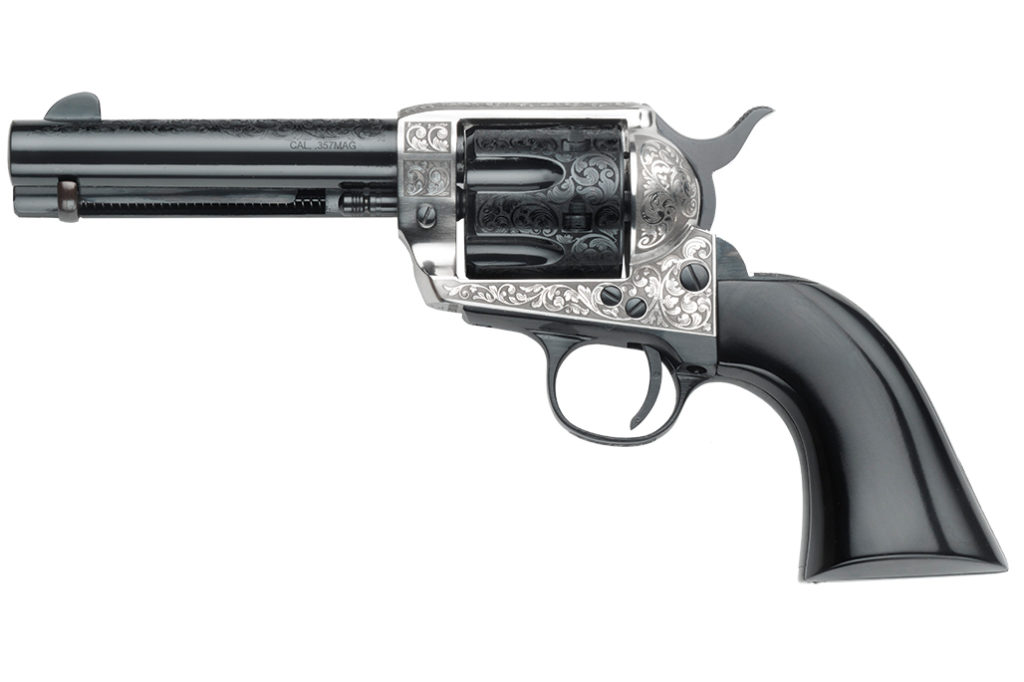 Shiloh Rifle Mfg. Co.
Shiloh is the name for top-of-the-line Sharps replicas. For decades, its guns have been known for perfection, down to the last detail. And the company is known for making actor Tom Selleck's famed Quigley Down Under buffalo rifle. Whether it is the popular 1874 model, or the 1877, so-called "English" model, Shiloh's Sharps look and handle exactly like the original "Old Reliable" rifles of the 1870s. No mass production arms here, rather every Sharps is painstakingly crafted in Montana to meet each customer's personal specifications. The company has earned a well-deserved reputation for producing the most authentic, and one of the best single-shot rifles in existence. Shiloh's Sharps rifles are not only firearms artistry, they also shoot like a house on fire! Besides enjoying endless hours of casual plinking and target shooting with them, I've hunted mule deer, pronghorn and buffalo with my Shiloh rifles, using both black powder cartridges and smokeless powder ammunition. I can attest to their beauty and reliability. From plain-Jane rifles to the most elaborately decorated models, each Shiloh Sharps is a straight-shooting work of art.  I've said it before and I'll say it again, "If Christian Sharps were alive today, I'm certain he'd be proud to put his name on a Shiloh Sharps."
ShilohRifle.com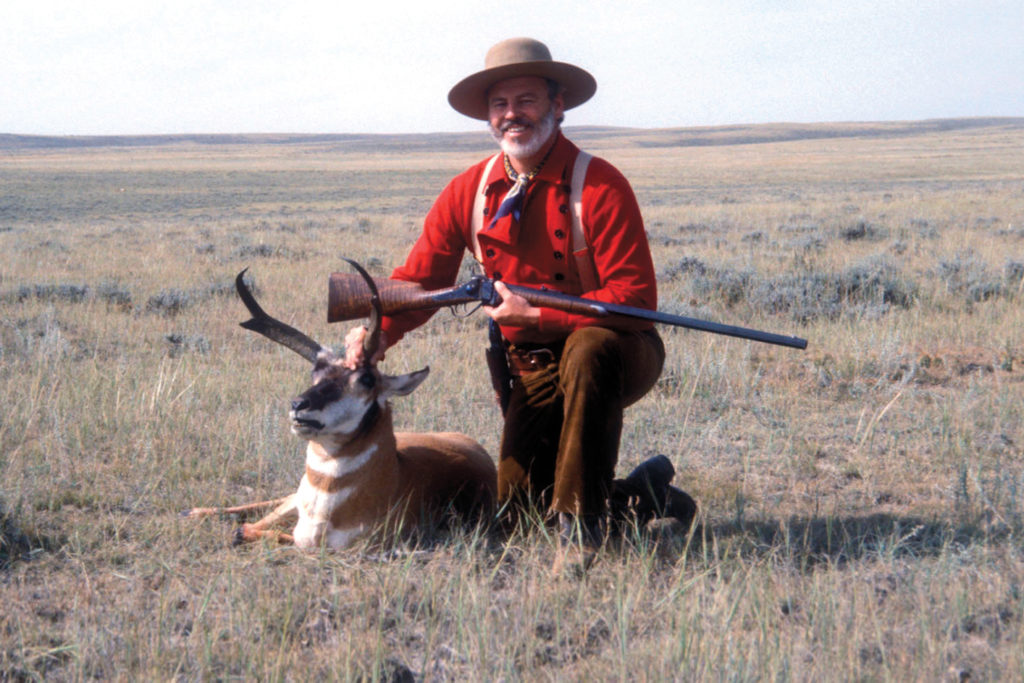 Taylor's & Company
Since 1988, Taylor's & Company has been providing Old West gun buffs with quality handguns and longarms that boast authentic lines and straight-shooting capabilities. Along with historical replicas, Taylor's has also introduced several competition revolvers, rifles and scatterguns designed for the competitive SASS and CMSA shooters. The company imports traditional hunting
arms, period shooting irons for living history re-enactors and more modern firearms for self-defense purposes. On the shooting line or in the saddle, Cowboy competitors enjoy Taylor's competition-ready, fine-tuned, short stroke rifles and six-guns. Taylor's Runnin' Iron stainless steel, single-action revolvers are among the favorites with Cowboy Mounted Shooters, and Taylor's 1873, 20-inch barreled, Comanchero rifles, as well as the 16 1⁄8-inch barreled, Runnin' Comanchero carbines are big hits with winning competitors in both SASS and the CMSA. New in 2019 is Taylor's "Devil Anse" peacemaker-styled six-shooter, designed with the infamous Kentucky & West Virginia family feud in mind. It has a sleek look with a blued forged-steel frame, blued finish parts, case-hardened hammer and a matte-black-finished Navy-size wood grip, making it stand out among any collection.
TaylorsFirearms.com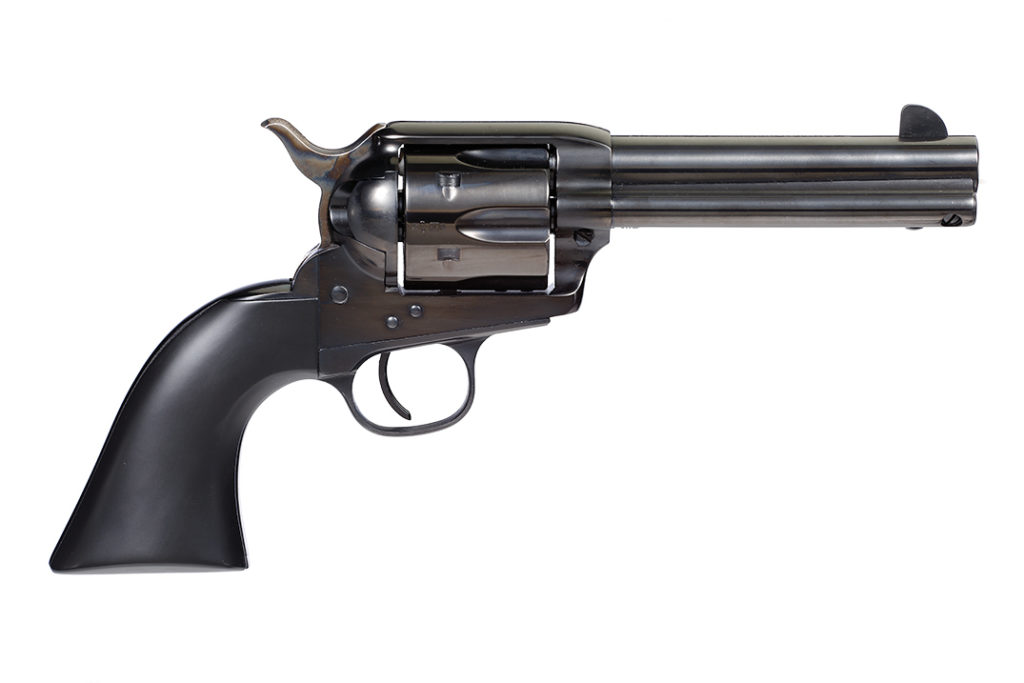 If you're looking for a frontier firearm, I don't think you could do better than to check out these outfits. After all, they've been keeping the faith for Old West firearms enthusiasts with their offerings for a long time.
Firearms
Best Gunleather Artisan
John Bianchi Frontier Gunleather, Cathedral City, CA
For 57 years John Bianchi's holster designs and top-quality craftsmanship have been considered the standard by which all gun leather is judged. Frontier Gunleather now offers its worldwide clients full custom-design service on products ranging from personal concealment holsters to full-size Western gun belts. A complete color catalog is available.
FrontierGunLeather.com
Readers' Choice: Old West Reproductions, Florence, MT
Best Firearm Engraver
Turnbull Restoration, Bloomfield, NY
For over 35 years, Turnbull Restoration Co., Inc., has been the nation's leader in restoration and custom upgrades on vintage handguns, rifles and shotguns. Industry leaders recognize Turnbull as the go-to company for restoration, period correct metal finishes and custom reproductions.
TurnbullRestoration.com
Readers' Choice: The Gun Engraver – Jim Downing, Springfield, MO
Best Cowboy Action Pistol
EMF Great Western II Gambler's Royale, Santa Ana, CA
The Great Western II Gambler's Royale, is an exacting replica of the 1873 Colt Single Action Army revolver from EMF Company and manufactured by FAP F.LLI Pietta. This new revolver is elegantly engraved with Victorian scrollwork on the contrasting black barrel and the polished steel frame. It is further accented with a one-piece black grip and available in .357 mag or .45 LC.
EMF-Company.com
Readers' Choice: Uberti USA El Patron Grizzly Paw, Acokeek, MD
Best Cowboy Action Rifle
Cimarron Firearms 1866 Yellowboy
Fredericksburg, TX
In 1866, Winchester introduced the 1866 Yellowboy lever-action rifle as the first true cowboy lever-action rifle. Built to carry in a cowboy-style saddle scabbard, the Yellowboy had a convenient new type of loading gate, devised by Winchester plant superintendent Nelson King. The gate passed cartridges through the side of the receiver. The gun was popular and sold well nationally as well as internationally. Cimarron Firearms' reproduction of the 1866 Yellowboy is built for the collector or the hunter and remains a favorite among Old West enthusiasts.
Cimmaron-Firearms.com
Readers' Choice: Henry Repeating Arms: The New Original Henry
Bayonne, NJ
BEST COWBOY Action Shotgun
Taylor's & Co. 1887 Lever Action Shotgun
Winchester, VA
Old West enthusiasts and cowboy action shotgun shooters all agree that Taylor's & Co.'s 1887 Lever Action Shotgun is one of the best on the market. Based on John Browning's design for the Winchester Repeating Arms Company, it is considered the first repeating shotgun. Fast and accurate with a five-round magazine, plus one in the chamber, the shotgun is an excellent choice for hunting. The stock and forearm are made of American walnut.
Taylorfirearms.com
Readers' Choice: Cimarron Firearms 1897 Pump Action Shotgun,
Fredericksburg, TX
Best Single Shot Rifle
Shiloh's Sharps 1874 Saddle Rifle, .30-40K, Big Timber, MT
Shiloh Rifle Manufacturing makes nine models of the 1874 Shiloh Sharps with such precision, that their gun parts are the only ones in the world that fit the original 19th century models. Nearly every significant action and part of the Shiloh's Sharps Saddle Rifle can be customized to the exact specifications of the buyer, including caliber, barrel length, weight, features, wood for the stock and much, much more.
ShilohRifle.com
Readers' Choice: Uberti 1873 Trapdoor Army Model, .45-70, Accokeek, MD
Best Commemorative Rifle
Heroes & Patriots – Geronimo
Legendary War Chief and Shaman Rifle,Fort Collins, CO
The commemorative Henry Big Boy rifle chambered in .45LC
is a special edition limited to 50 individually numbered rifles. Engraved on the receiver, forearms and stock with a 24-karat gold-plated satin finish on the barrel band, receiver and buttplate, this fully functional rifle tells Geronimo's story in the way the infamous Apache warrior told it himself.
HeroesAndPatriotsLLC.com
Readers' Choice: Henry Repeating Arms – American Rodeo Tribute Edition, Bayonne, NJ