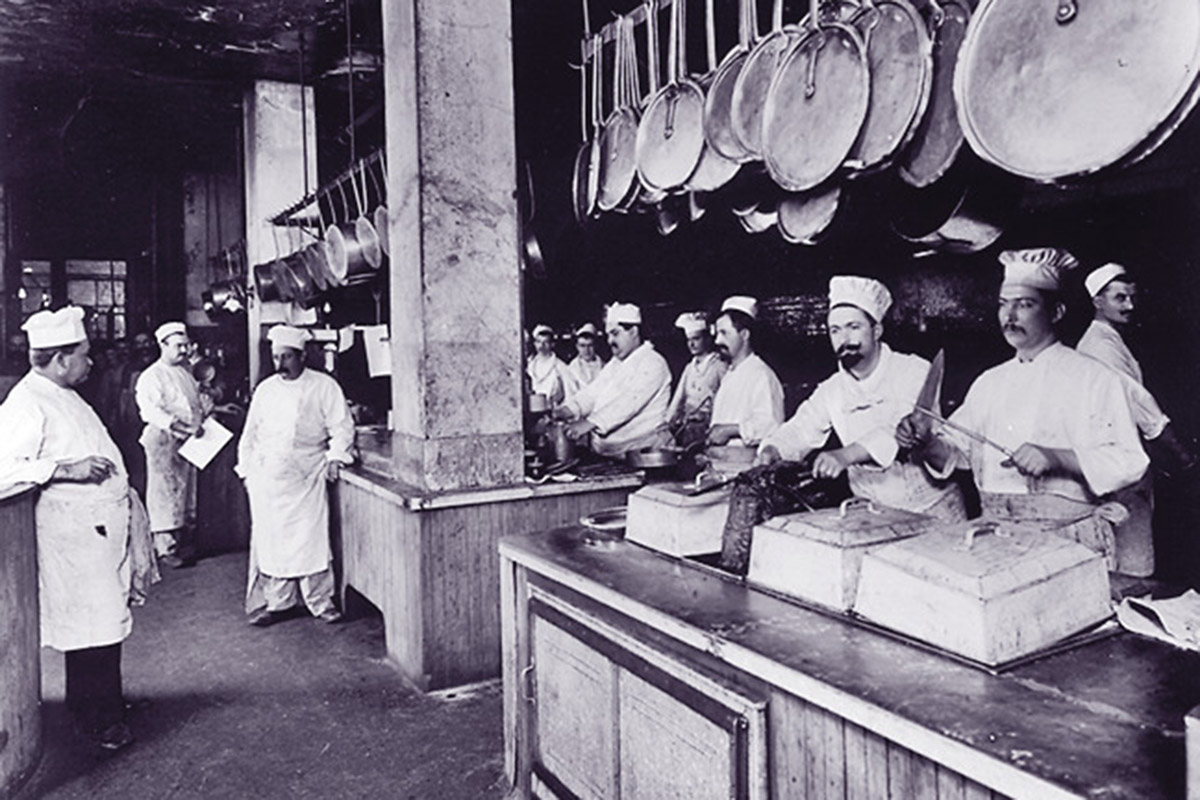 Delmonico's of the West
Many people know the famed New York City steakhouse, Delmonico's, but most probably don't realize the influence it had on the frontier. Culinary delights such as Lobster à la Newberg, Baked Alaska (originally called Florida Alaska), Chicken ala King (originally Keene), Delmonico potatoes and steak (a ribeye) and Eggs Benedict graced frontier menus.
The original Delmonico's Steak House Restaurant, which opened in New York City in 1837, set many of the restaurant standards used today and was reportedly the first to use menus, tablecloths and serve women in private dining rooms. The top chef was Charles Ranhofer, who was the first French chef to bring the grandeur of his country's cuisine to America. He ran Delmonico's kitchen for nearly 35 years and is credited with creating those well-known culinary delights. He authored a detailed cookbook titled The Epicurean, which was published in 1894.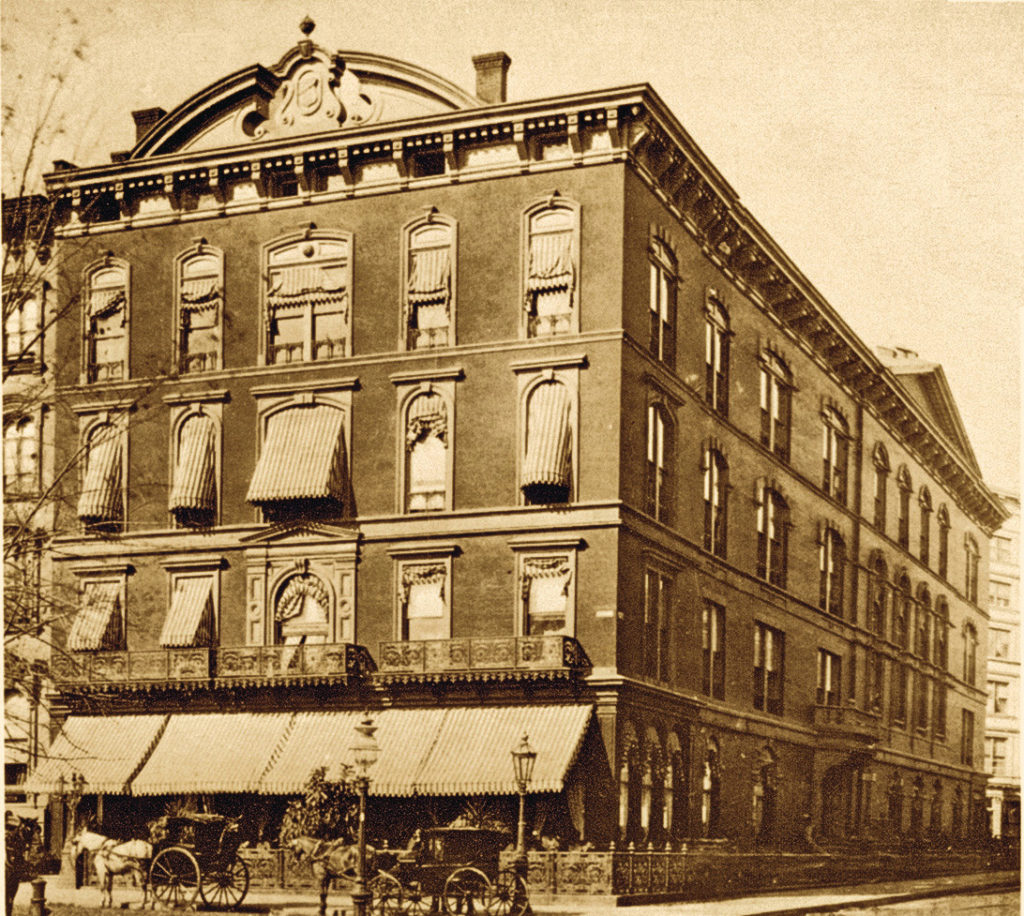 Because Delmonico's was synonymous with elegant dining and fine cuisine, many Easterners who went to the West named their restaurants after the New York icon. While Delmonico's had had 10 locations  locations in the city during the 1800s, it was not a chain. Restaurateurs in Tombstone, Arizona; Idaho City, Idaho; Portland, Oregon; San Francisco, California; Camp Douglas, Utah; and scores of other towns across the frontier called their restaurants Delmonico's. Of course they weren't associated with the
New York Delmonico's, but diners knew the name and had great expectations. Even restaurant reviewers at Kansas' The Fort Scott Weekly Monitor compared their local cooks to those at Delmonico's. They wrote, "The supper was perfection, and would challenge the cookery at Delmonico's, New York."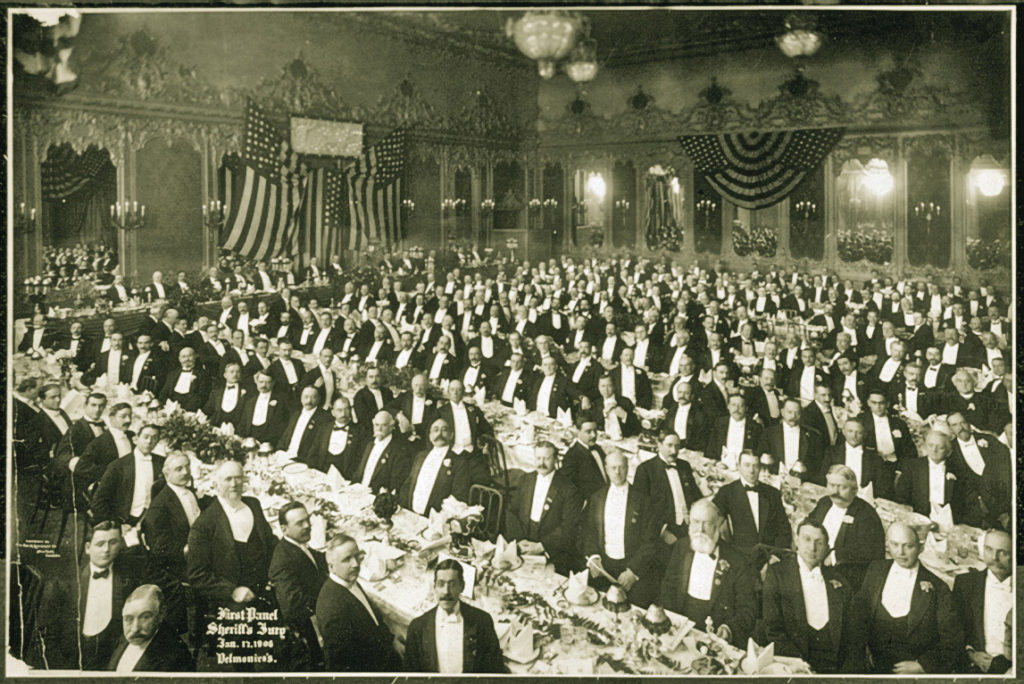 Even cowboys like Sam Long, who worked on a ranch along the Colorado River in Texas, knew the reputation of Delmonico's. In the August 12, 1900, New Orleans' The Times Democrat editorial column "By the By!" his lifelong ambition to have dinner at Delmonico's in New York City before he died was recounted. Sam believed that eating there would be the topmost pinnacle of human luxury. He said, "It's shorley the limit, boys," and frequently declared, "And if I could stack up against just once I'd be willin' to come back to the cow camp and turn up my toes." No one, including Sam, ever dreamed that would happen, but luck was on Sam's side when a rich New Yorker visited his ranch. After hearing Sam's aspiration, the New Yorker invited him on an all-expense paid visit to fulfill his dream.
When his fellow rowdies learned Sam was going to Delmonico's, they advised him to order outlandish dishes, like rattlesnake eggs or cactus pie, to befuddle the staff. When Sam got back from his New York adventure his buddies asked him all about his experience. He told them, "Well, fellers, I have ter admit they brung me what I ordered. The cowboys excitedly asked what he ordered and Sam replied, "I got so bad skeered after I set down that I plumb forgot to order all you tole me to and ordered ham an' eggs."
Many of Delmonico's signature dishes still appear on menus across America. If you aren't lucky like Sam was, you can sample some of Delmonico's signature dishes in historic settings in the West. Sample Mary's Bay Benedict, which is Wyoming's Lake Yellowstone Hotel's take on Eggs Benedict. Pop into California's Fairmont Sonoma Mission Inn & Spa's Santé restaurant for its take on Baked Alaska or visit the Cliff House Hotel in Manitou Springs, Colorado, to experience its signature ribeye steak. Until you can dine at one of these historic locales, enjoy this original Delmonico's Florida Alaska at home.
Florida Alaska aka Baked Alaska
Makes 2
1 cup sugar
1/3 cup water
3 egg whites, room temperature

Sponge cake (walnut is traditional)

Apricot compote/jam or banana ice cream (vanilla can be substituted)
Place the sugar and water into a saucepan and boil until it reaches 240° and
set aside. When the sugar drops to 230°, begin beating the egg whites in a large bowl. Slowly stream in the sugar while beating. Continue until firm peaks appear.

Put this egg white-and-sugar meringue into a piping bag. Cut the cake into three-inch rounds and place on a lined baking sheet. Place 2 tablespoons of compote onto the round. Scoop a generous portion of ice cream onto the compote. Pipe the meringue around the ice cream and cake until it is completed enclosed. Bake a 425° for 4 minutes until the meringue is slightly browned and crispy.
Optional method: Place the dessert on rotating cake stand. Spin the stand slowly while using a cooking torch to slightly brown and crisp the meringue.
Recipe courtesy of Delmonico's Restaurant, New York, New York
Western Fare
Best Historic Saloon of the West
Diamond Belle Saloon, Durango, CO
Famous for live music, the Diamond Belle brings saloon girls and Victorian-era bartenders together with guests as they belly up to the historic bar at the Strater Hotel. The saloon is steeped in craftsmanship at every level, and visitors enjoy fabulous food and creative drinks within the iconic saloon at the historic hotel in the heart of downtown Durango. Strater.com
Readers' Choice: Saloon #10, Deadwood, SD
Best Historic Restaurant
Big Nose Kate's Saloon, Tombstone, AZ
Tombstone's Big Nose Kate's Saloon was once the Grand Hotel, originally built in 1881. On October 25, 1881, the night before the Gunfight Behind the OK Corral, the Clantons and the McLaurys were guests here. This was the place to stay! A number of changes have been made to the structure since it burned down and has been rebuilt. The bar area, housed in the basement of the old hotel, is now located on the main level. In the basement is a gift shop, but the tunnel leading to the mine shafts still exists. The saloon holds the Grand Hotel's original long bar, the only one that survived the fire of 1882 and is still serving thirsty patrons. Imagine setting your elbows down on the very place that the Earps, Doc Holliday and the Clantons once did!  BigNoseKatesTombstone.com
Readers' Choice: Buckhorn Exchange, Denver, CO
Best Chuckwagon Cook-Off
Llano Chuck Wagon Cookoff, Llano, TX
Held every April since 2005 in this quintessential Texas Hill Country town, the Llano Chuck Wagon Cookoff celebrates the Old West with a chuckwagon authenticity contest, a traditional chuckwagon cookoff and live music on Saturday. LlanoChuckwagonCookoff.com
Readers' Choice: Chandler Chuck Wagon Cookoff, Chandler, AZ
Best Chuckwagon Show & Supper
National Cowboy Symposium & Celebration, Lubbock, TX
Western heritage is celebrated annually at the National Cowboy Symposium & Celebration in Lubbock, Texas, with several living history events, including the ever-popular Chuck Wagon Cookoff. Attendees will be entertained by cowboy poetry and storytelling, Western writers and authors, panels, film and movie seminars, horse handling demonstrations, a horse-themed parade, American Indian activities and presentations, exhibits of Western artworks and merchandise and a Youth Wild West Day.
Cowboy.org
Readers' Choice: Lincoln County Cowboy Symposium, Ruidoso, NM