Once and for all, historians set the record straight on the tragic demise of the legendary gunfighter.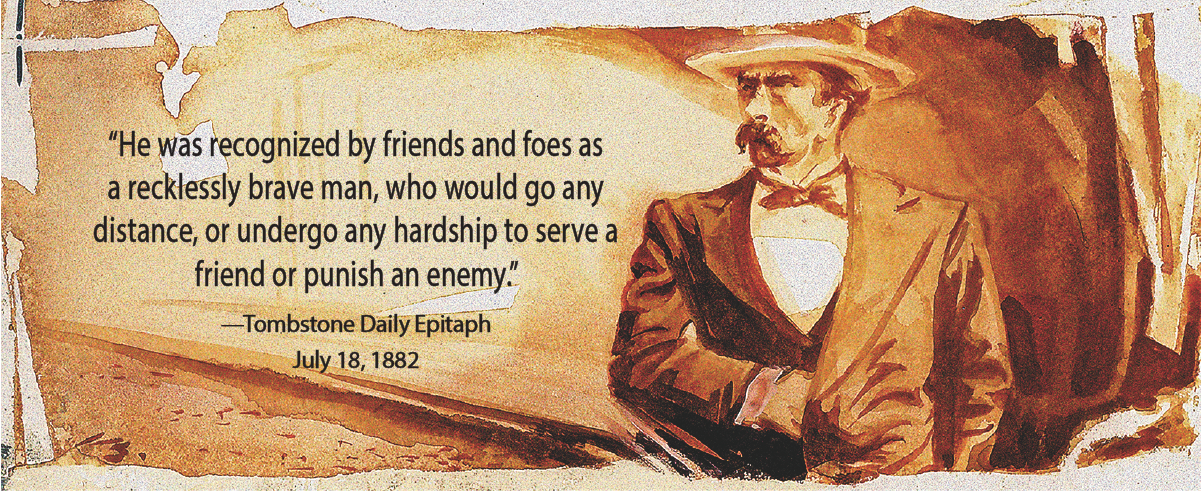 July 2, 1882
John Ringo has decided to move to Tombstone (he has been living in San Simon and Galeyville). He arrives in town and meets Editor Sam Purdy of the Epitaph, who later writes of their talk: "He said that he was as certain of being killed as he was of living then. He said that he might run along for a couple years more, and may not last two days."
Taking in the Fourth of July festivities, Ringo drinks heavily, carousing with his many pards. When Ringo rides out of Tombstone, several days later, he takes extra bottles of liquor for the road.
Two days later, the King of the Cow-boys is spotted at Dial's Ranch, in the South Pass of the Dragoons, still drinking.
 A veritable, moving, one-man feast, Ringo encounters Deputy Billy Breakenridge, who later writes of the meeting: "It was shortly after noon. Ringo was very drunk, reeling in the saddle, and said he was going to Galeyville. It was in the summer and a very hot day. He offered me a drink out of a bottle half-full of whiskey, and he had another full bottle. I tasted it and it was too hot to drink. It burned my lips. Knowing that he would have to ride nearly all night before he could reach Galeyville, I tried to get him to go back with me to the Goodrich Ranch and wait until after sundown, but he was drunk and stubborn and went on his way. I think this was the last time he was seen alive."
On the afternoon of July 13, not far from Rustler Park, Ringo's horse gets away from him. He attempts to go after his big bay, but he doesn't get far. A shot is heard at about three p.m. at a nearby ranch.
John Peters Ringo's body is discovered late in the afternoon on the 14th, by a teamster hauling wood. The body is found seated in "a bunch of five large black jack oaks growing up in a semicircle from one root, and in the center of them was a large flat rock which made a comfortable seat."
The Coroner's Report
"He was dressed in light hat, blue shirt, vest, pants and drawers. On his feet were a pair of hose [socks] and an undershirt torn up so as to protect his feet. He had evidently traveled but a short distance in this foot gear. His revolver he grasped in his right hand, his rifle resting against the tree close to him. He had on two cartridge belts, the belt for revolver cartridges being buckled on upside down. The undernoted property was found with him and on his person: one Colt's revolver, calibre 45, No. 222, containing five cartridges; one Winchester rifle octagon barrel, calibre 45, model 1876, No. 21,986, containing a cartridge in the breech and ten in the magazine; 1 cartridge belt, containing 9 rifle cartridges; 1 cartridge belt, containing 2 revolver cartridges; 1 silver watch of American Watch company, No. 9339, with silver chain attached; two dollars and sixty cents ($2.60) in money; 6 pistol cartridges in pocket; 5 shirt studs; 1 small pocket knife; 1 tobacco pipe; 1 comb; 1 block matches; 1 small piece tobacco. There is also a portion of a letter from Messrs. Hereford & Zabriskie, attorneys at law, Tucson, to the deceased, John Ringo."
A Hoodoo Warrior Cow-boy
Originally from Indiana (b. 1850), the young John Peters Ringo lived for a short time in Missouri, before his family packed up and headed for California. While crossing through Wyoming, his father accidentally shot himself with his own shotgun and was buried along the trail.
After a stay in San Jose, California, John left his mother, brother and sisters in 1870 and gravitated east to Texas, where he ultimately made quite a name for himself in the Hoodoo War (an ethnic cattle feud in the Mason section). Indicted for one killing and reportedly involved in several others, he came out of Texas in the late 1870s with a reputation as a notorious and dangerous man.
Ringo landed in Arizona in 1879 and described himself as a "speculator" in the 1882 Cochise County Great Register. After shooting a fellow drinker over his choice of liquor (his only known shooting in Arizona), Ringo took up residence in San Simon but also stayed in Galeyville, where he held up a poker game (resulting in the third formal charge against him).
He missed the Fremont Street fight with the Earps and Doc Holliday, but tried to make up for it two months later in a failed showdown on Allen Street.
At the time of his death, Ringo was one of the most well-known men in the territory and considered by the press to be the leader of the Cow-boys. 
While some who knew him could not believe he would take his own life, many others claimed Ringo "frequently threatened
suicide."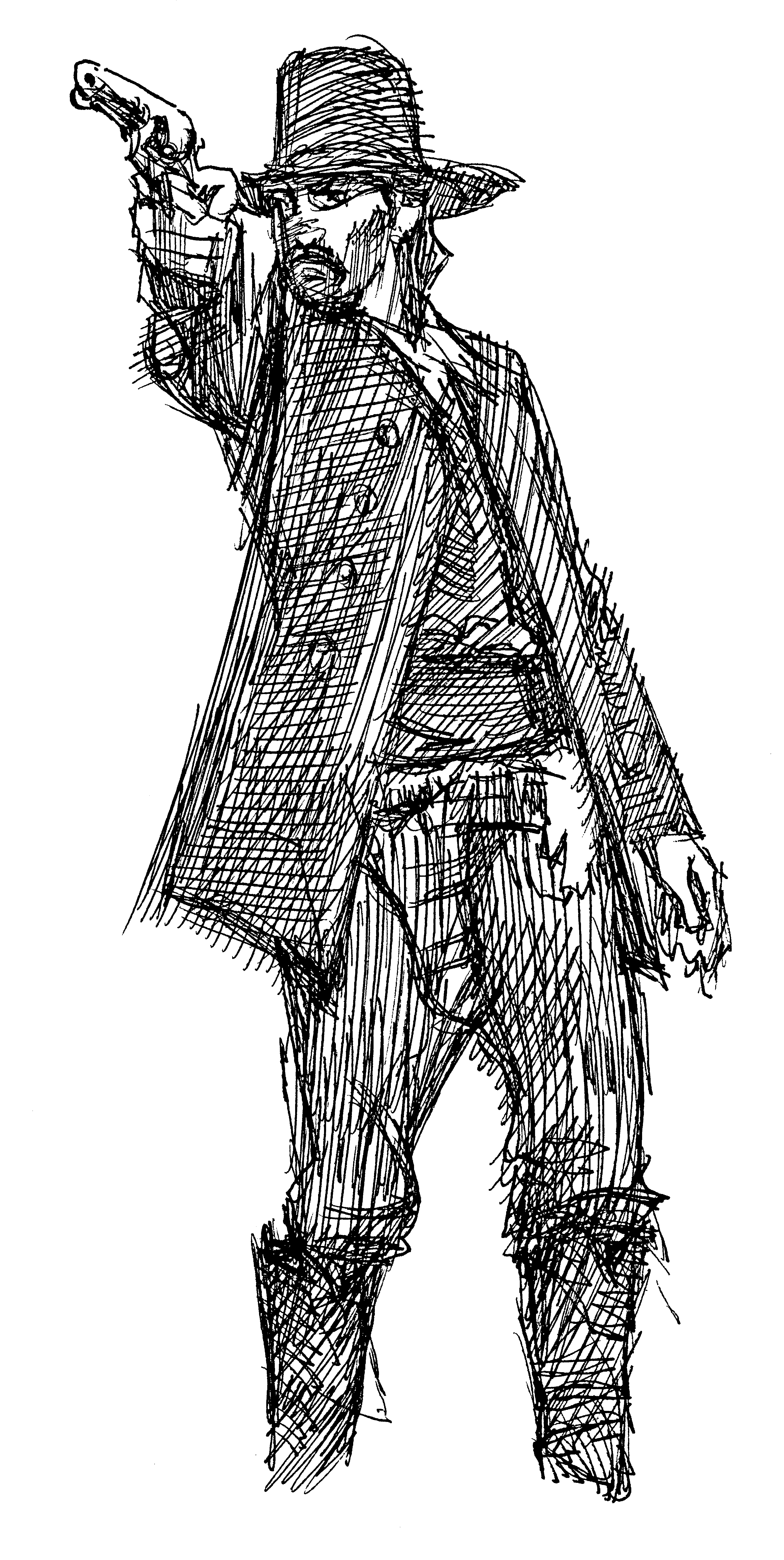 The Ringo "Mysteries" Examined
In his book Johnny Ringo, author and researcher Steve Gatto examines the so-called mysteries surrounding the King of the Cow-boys' demise. Here they are with Gatto's conclusions:
• Mystery No. 1: Ringo had torn up his undershirt and wrapped pieces of it around his feet, the theory being that Ringo's bay horse had wandered off and he started off on foot to search for him. His boots began hurting him, so he pulled them off and made "moccasins of his undershirt." "Crazed with thirst" and far from help, Ringo gave up, sat down and shot himself. 
The Facts: According to the coroner's report, Ringo had "travelled but a short distance in this foot gear." And he was found within spitting distance of water (200 feet) and "not more than 700 feet from Smith's house." Also, "The inmates of Smith's house heard a shot about 3 o'clock Thursday evening," and it is believed this is the lone shot that ended Ringo's life. The lone shot also argues against a gun battle, as described by Wyatt Earp, wherein he claims after a protracted exchange of gunfire, Earp got Ringo with a lucky shot at 75 yards (also unlikely given the trajectory of the death wound, which was upward at a 45-degree angle between the right eye and ear).
• Mystery No. 2: Found on Ringo's body were two cartridge belts, but the belt for revolver cartridges was "buckled on upside down." The conspiracy theorists believe that Ringo's killer(s) put the belt on upside down to humiliate him, or make a point. 
The Facts: Ringo was on an extended drunk and possibly put his belt on incorrectly, and who's to say, he didn't do it on purpose?
• Mystery No. 3: Small parts of the forehead and scalp were gone, including some hair, which the coroner's report said appeared as if "someone had cut it with a knife." 
The Facts: Even if someone had taken hair as a sort of trophy, it doesn't mean Ringo was murdered. It's possible John Yoast, the man who initially found Ringo, took the hair as a souvenir. 
• Mystery No. 4: There were no powder burns on Ringo's temple, suggesting that he was shot at a distance. 
The Facts: The coroner's jury made no mention of the absence or presence of powder burns. Plus, Ringo's body had been lying in the hot sun and was decomposing rapidly and "had turned black." The men were more concerned with burying the body. It probably did not occur to them that more than a century later, people would be debating the particulars of their descriptions.
In Conclusion:
"I showed [Yoast] where the bullet had entered the tree on the left side. Blood and brains [were] oozing from the wound and matted his hair. There was an empty shell in the six-shooter and the hammer was on that. I called it a suicide fifty-two years ago, I am still calling it suicide. I guess I'm the last of the coroner's jury."
—Robert Boller, 1934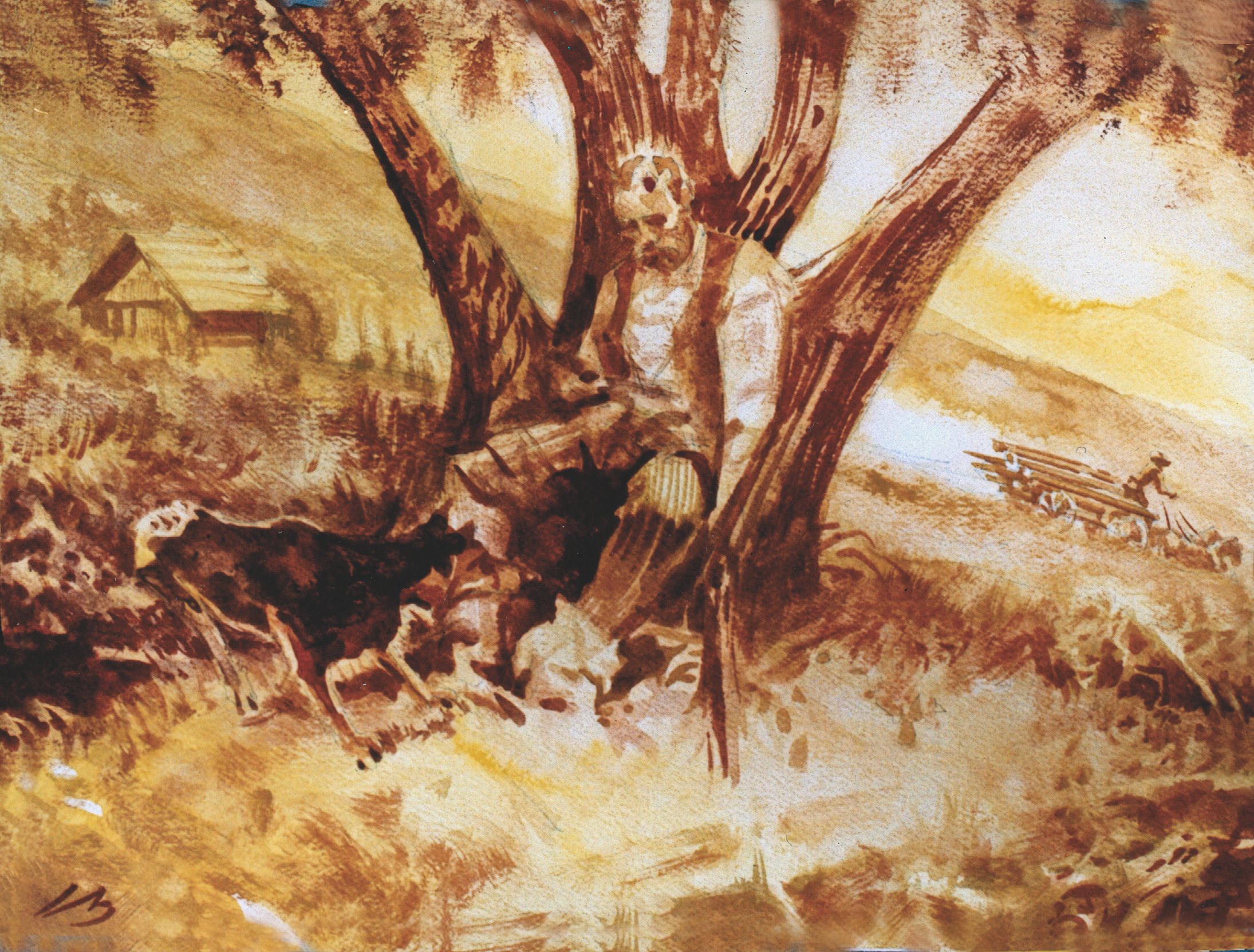 Evolution of a Legend
How did a self-described "speculator" and hard drinker, with a modest record of "kills" or gunfights, become one of the most famous names in the annals of Old West gunfighters? A trail of hyperbole gives us a clue:
"During the past few years thirty-two men dared to doubt his honor. They now fill thirty-two graves … although he had many competitors in his line, he had no true rivals, and Curly Bill and Billy the Kid will not bear comparison with him."
—Grant County Herald, July 22, 1882
"Ringo was a mysterious man. He had a college education, but was reserved and morose. He drank heavily as if to drown his troubles; he was a perfect gentleman when sober, but inclined to be quarrelsome when drinking. He was a good shot and afraid of nothing, and had great authority with the rustling element."
—Billy Breakenridge, Helldorado, 1928
"John Ringo stalks through the stories of old Tombstone days like a Hamlet among outlaws, an introspective, tragic figure, darkly handsome, splendidly brave, a man born for better things, who, having thrown his life recklessly away, drowned his memories in cards and drink and drifted without definite purpose or destination."
—Walter Noble Burns, Tombstone, 1927
"John Ringo was a man with whom everyone in that part of Arizona must reckon, the fastest gunfighter and the deadliest, a man who courted trouble, with the thoughtless courage of a bulldog."
—Eugene Cunningham, Triggernometry, 1941
"John Ringo's image was created for him by inaccuracies of innumerable writers, and I believe that he remains a western figure largely because of the mellifluous tonal quality of his name."
—Jack Burrows, John Ringo: The Gunfighter Who Never Was, 1987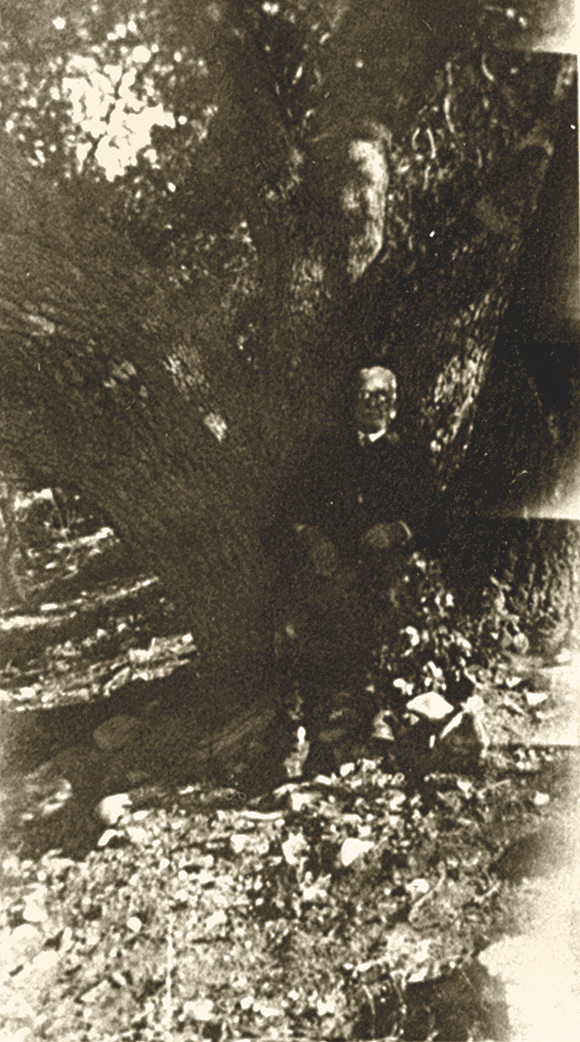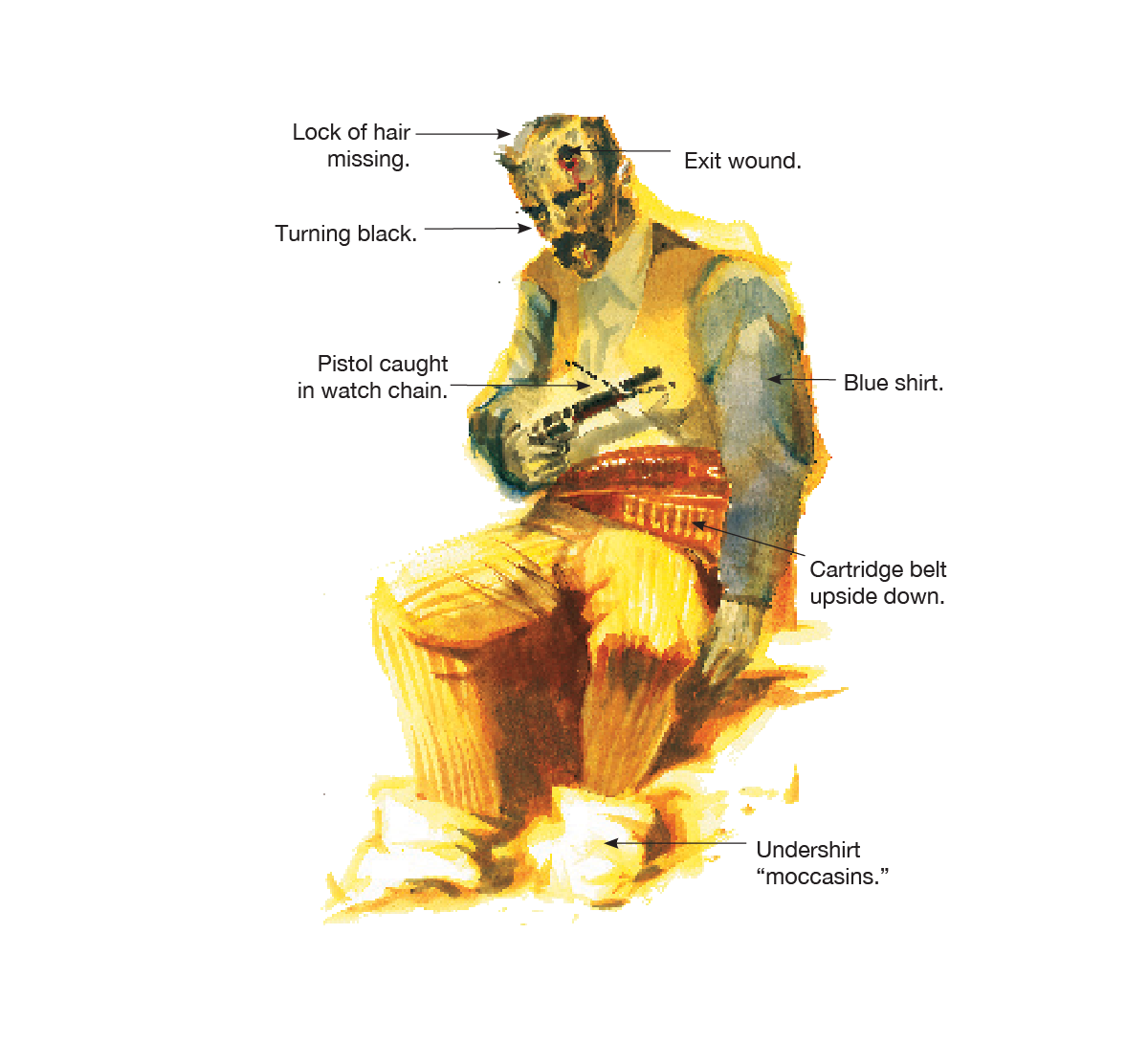 Aftermath: Odds & Ends
Ringo's missing horse was found 11 days later about two miles from the death site. "His saddle was still upon him," the Epitaph reported, "with Ringo's coat upon the back of it. In one of the side pockets were three photographs  and a card bearing the name of 'Mrs. Jackson' [Ringo's sister]."
In the 1920s, Wyatt Earp began telling a series of writers, including Forrestine Hooker, Frank Lockwood and Frederick Bechdolt, that he had waylaid and killed John Ringo as Earp and his Vendetta posse were on their way out of Arizona in March 1882. Earp even drew a diagram of the fight. The problem with this claim is that Ringo died in July, almost four months after Wyatt had fled the state as a fugitive.
This hasn't stopped some Earp buffs from fantasizing that both Wyatt and Doc Holliday snuck back from Colorado, where they were known to have been in July 1882, and assassinated the Cow-boy leader. Even this strains credulity when one considers that Holliday, at least, was in court in Pueblo, Colorado, two days before Ringo's death. 
Buckskin Frank Leslie reputedly was the first to take credit for the death of Ringo. While in Yuma Prison for the murder of his wife, Leslie allegedly confessed to a guard that he killed Ringo. Few believe him.
Another name attached to Ringo's demise has been Johnny-Behind-the-Deuce (Michael O'Rourke), who supposedly ambushed Ringo near the latter's camp in the Chiricahuas. Why? O'Rourke got "scared up," said Fred Dodge, a Tombstone resident at the time, who shared his story with author Stuart Lake. This version has even less adherents.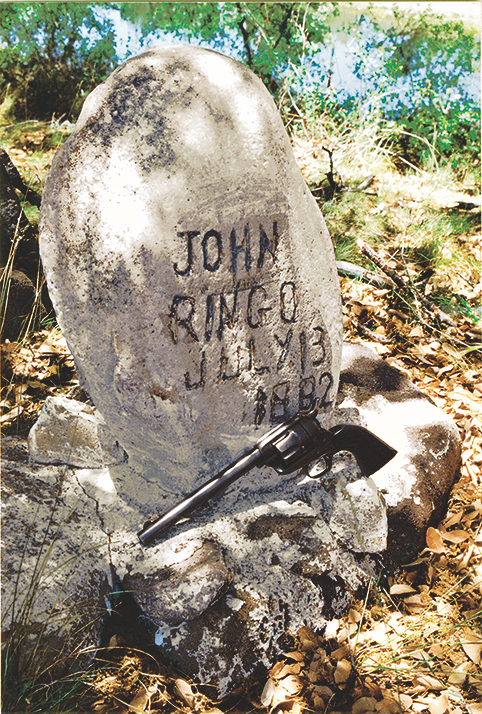 Was it Suicide or Doc?
By Gary Roberts, with Jeff Morey, Casey Tefertiller and John Boessenecker
Doc Holliday did not kill John Ringo. Nor did Wyatt Earp kill him. Most of the important evidence has already been presented by others here.
After Colorado Gov. Frederick W. Pitkin refused to honor Arizona's extradition request for the return of Holliday, Doc was ordered released on a writ of habeas corpus. Before he was processed, however, an arrest warrant for larceny was issued at Pueblo. On the morning of May 31, 1882, Deputy Sheriff Linton, Bat Masterson and Bob Paul escorted Doc to Pueblo where that afternoon he was charged with having swindled a man out of $400. Doc waived examination, posted bond of $300, and was bound over to the July term of court. 
Holliday remained in Pueblo for a while, and on June 16, 1882, he checked into the St. James Hotel in Gunnison. He was interviewed by the Gunnison paper, and it appeared in print on June 18, 1882. His reunion with Wyatt and Warren Earp continued through the end of June. On July 8, he was reported to have arrived in Salida, Colorado, with two other gamblers, Sam Osgood and Texas George Robinson. The paper reported that they would "remain [in Salida] several days." The visit was cut short by his court affairs in Pueblo.
On June 11, the grand jury indicted Doc for larceny and advised the sheriff that he could admit Doc to bail in the amount of $500. Clearly, the process had been worked out in advance because the "District Attorney, and the said defendant in his own proper person as well as by his counsel, W. G.. Hollins, Esq., also came." Doc pled not guilty, posted bail, and was released. On July 18, the case was continued, and the same day, the Leadville Daily Herald reported that Doc was visiting in Leadville. Remember, Ringo died on July 13.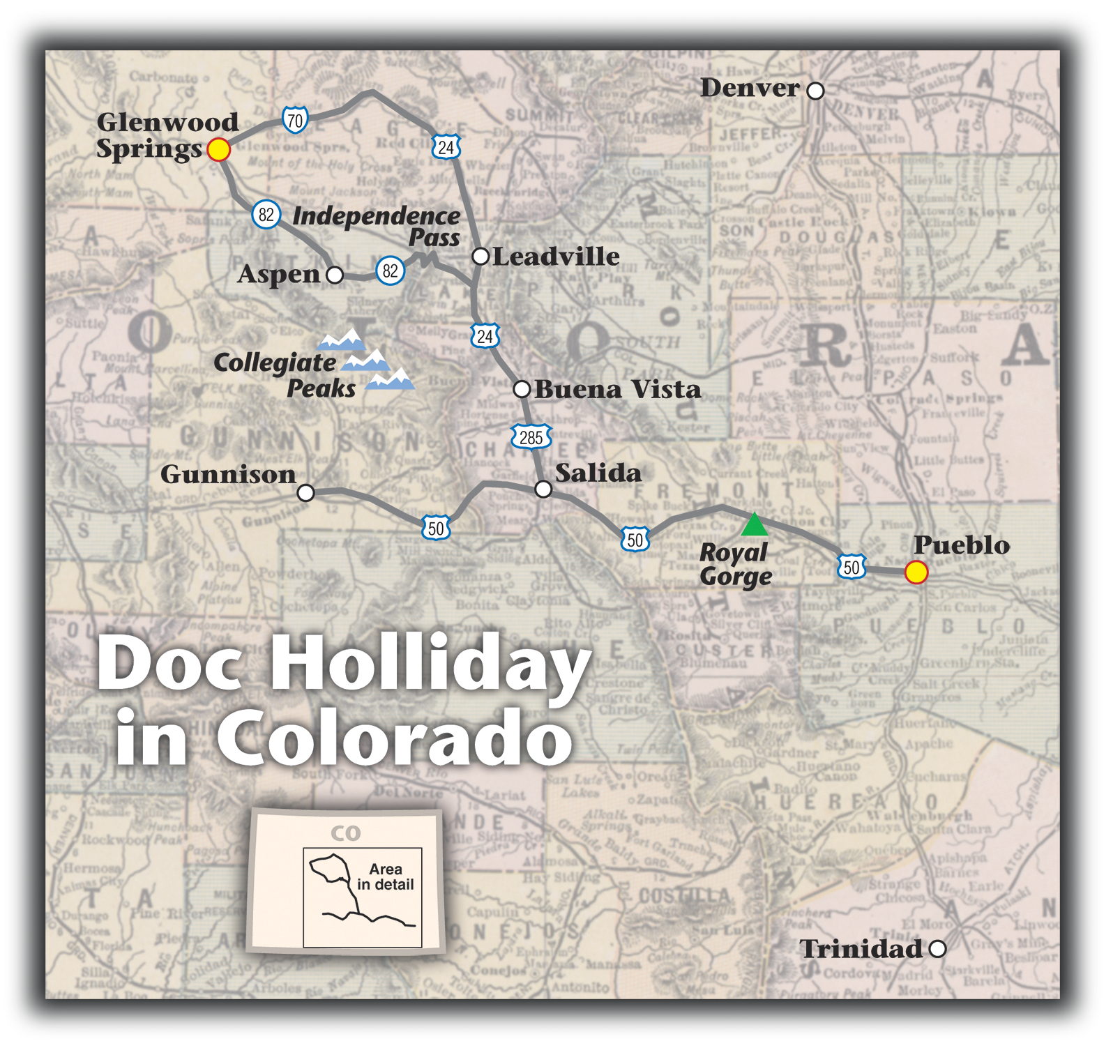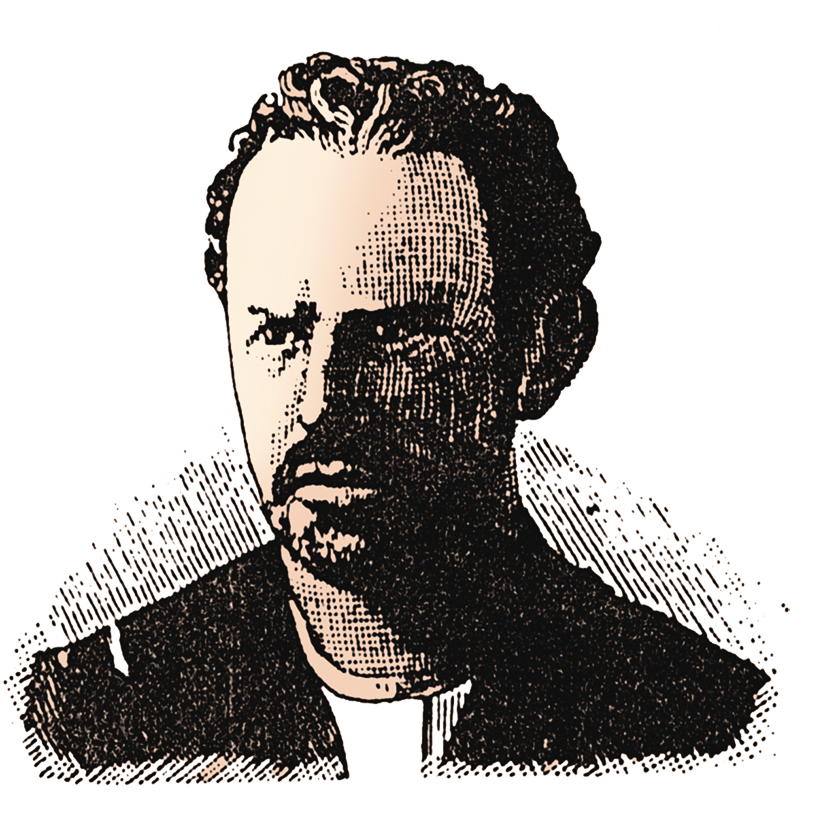 It is worth noting that Chuck Hornung, in his Wyatt Earp's Cow-boy Campaign: The Bloody Restoration of Law and Order Along the Mexican Border, 1882, acknowledges that Steve Gatto and I made a strong case that Doc was in Pueblo based on the court records. He suggests that Doc's appearance and the document's language could have been a subterfuge in a covert operation hatched in Gunnison by the Earps.
Here is a brief item from the Gunnison News-Democrat, July 15, 1882, that I believe scuttles the Wyatt Earp-killed-John Ringo story as well: "Messrs. Wyatt and Warren Earp expect to leave for San Francisco in a day or two." As far as I know, this article has not been published since it appeared in the Gunnison paper, and it is consistent with the movement of the Earps. I have not confirmed when exactly they left Gunnison, but when they left, they headed for San Francisco, where Wyatt and Josephine reunited. Early in 1883, they returned to Colorado.
I cannot believe that either Wyatt or Doc had any desire to undertake such a perilous mission. Doc's movements were followed closely, and Wyatt stayed in Gunnison until after Doc's extradition effort was dropped. 
A clarification or two: After splitting up with Wyatt in Albuquerque, Doc and Dan Tipton proceeded to Colorado. The others in the posse followed shortly. The destination was Trinidad, where Bat Masterson had just been elected city marshal. Doc appreciated the rest. The other vendetta riders arrived surreptitiously at El Moro, just south of Trinidad. Wyatt seemed comfortable there and enjoyed the company of Bat Masterson for a few days. Wyatt, Warren and Tipton left for Gunnison on May 5, actually bound first for Pueblo for a scheduled boxing match in South Pueblo that never happened because the contestants could not agree on a referee. The Earps stayed in Pueblo a day or two afterward, said their goodbyes to Bat and left for Gunnison. According to the Pueblo papers, the other associates of the Earps went south at that point.
Doc lingered at Trinidad longer, clearly feeling safe and secure. On May 8, back in Tombstone, Judge Stillwell closed the case on his altercation with Milt Joyce. Two days later, Doc moved on to Pueblo and the gambling opportunities in South Pueblo. On March 14, he left Pueblo with Texas George Robinson and Sam Osgood, two gambling buddies, bound for Denver and the horse races. Masterson was on the same train. At the fairgrounds in Denver, Doc, his friends and Bat Masterson spent the day. Among those they spoke with were David J. Cook, head of the Rocky Mountain Detective Agency, and Denver Police Chief James Lomery. That night, on Doc's way to a meeting with Colorado mining man John Vimont, who he had known in Tombstone, he was accosted and arrested by Perry Mallon. 
He returned to Pueblo after the governor refused to extradite him in company with Deputy Sheriff Linton from Pueblo, Bat Masterson and Bob Paul. On May 31, Doc appeared in court on larceny charges and was released on bond. On June 4, Wyatt made his first public statement about the situation in Arizona. Doc soon joined the Earps at Gunnison, where he was interviewed yet again and spent the balance of June with his former comrades. About July 1, he and his gambling friends, Robinson and Osgood, showed up in Salida, on the railroad between Gunnison and Pueblo, where Doc was due to appear in court on July 11. They stayed there a few days before proceeding to Pueblo and his court date.
Judd Riley, an officer of the law in Gunnison, said later that the Earp party caused no trouble in Gunnison that summer, except for a couple of episodes when Doc had too much to drink. The others quickly took Doc under control on those occasions. Incidentally, for those interested in such matters, Riley said that Earp wore two pistols, high under his shoulders.
The stop at Salida explains why Doc was there, and helps to establish Doc's movements.
—Gary Roberts, author of Doc Holliday: Life and Legend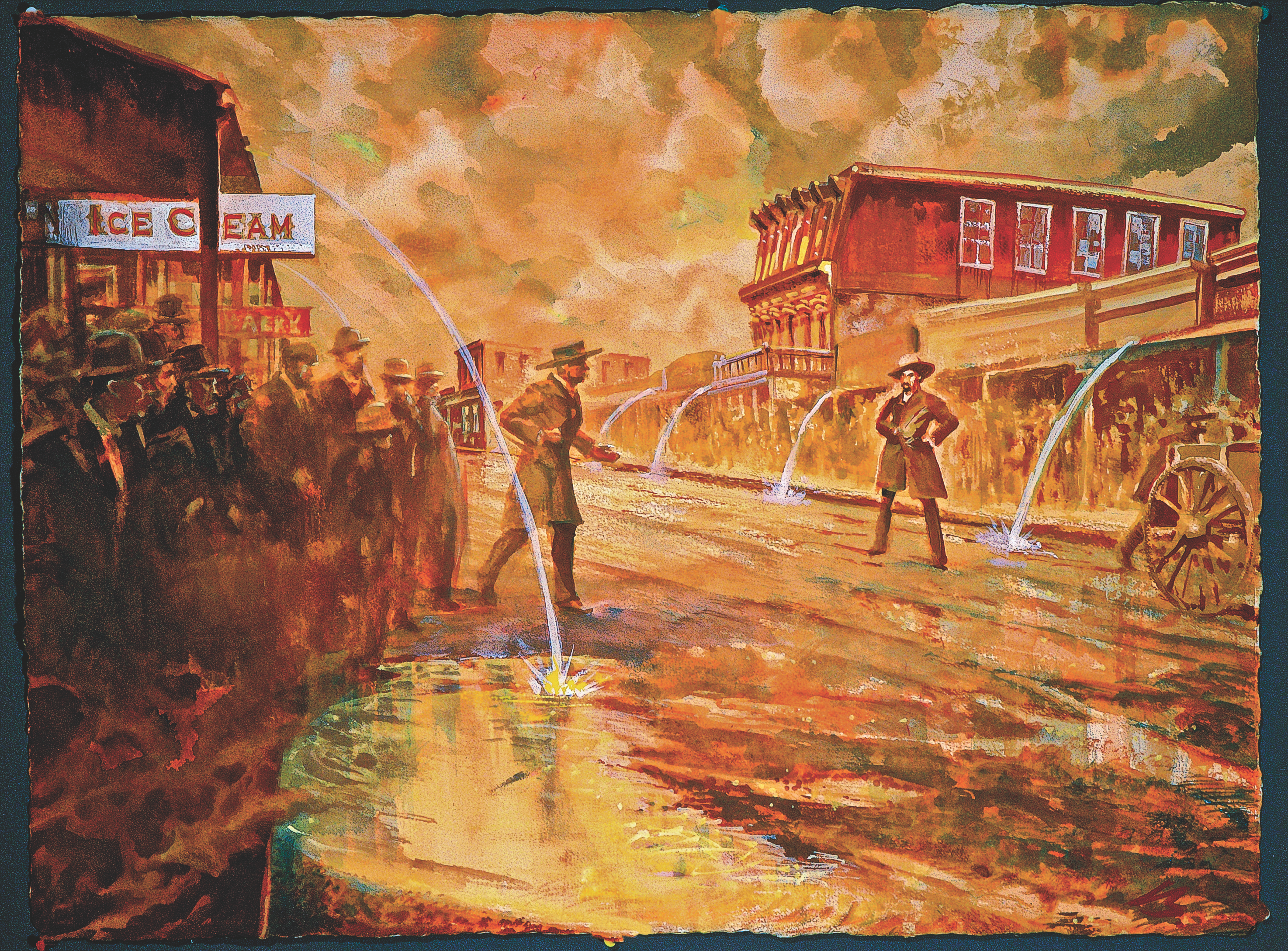 Rain-Soaked Stand0ff
January 17, 1882
The inevitable rematch between the Cow-boys and the Earp Gang almost becomes reality, with Doc Holliday and John Ringo facing off on Allen Street in front of the Occidental Saloon. The Earps and their supporters are lined up on the north side of Fremont Street, with the Cow-boys on the south side. Before a fight can open, police officer Jim Flynn grabs Ringo from behind and arrests him and Doc. Taken to city court, Ringo and Doc are fined $30 each for carrying concealed weapons. Wyatt Earp, who was watching in the crowd, is also arrested on a weapons charge, but that is dropped because he is a deputy U.S. marshal.
Who Did It?
Three Experts Share Their Perspective
Frankly, I have never been fully convinced that Ringo committed suicide. That upside-down gun belt is weird. And, there is absolutely no mention of any holster. Finally, that citizen's report on Ringo's demise claims there was a hat on Ringo's head when the body was found. If Ringo offed himself, it is hard to imagine how he managed to keep his hat on. To me, Johnny Ringo's death remains an unsolved homicide. Maybe it was a suicide. Maybe it wasn't. Unless and until more reliable information is obtained, the exact fate of Johnny Ringo remains a mystery because we simply don't have enough reliable information to settle the matter once and for all.
—Jeff Morey
There is a slim possibility that somebody else killed Ringo, but it is extremely unlikely that it was Wyatt Earp, since he was in Colorado, and even the Buntline Special could not shoot that far. I have a really fascinating old pulp Western magazine from the 1930s with a first-person witness quoted telling how he watched Nashville Frank Leslie kill Ringo. My grandfather had saved the magazine, and 30 years after his death, it was like a gift from the past. The article was by Ed Earl Repp, who wrote many TV shows. The most likely COD remains suicide. 
—Casey Tefertiller 
The Pueblo court shows that Doc appeared "in propia persona"—meaning he was there in person, so it was physically impossible for him to be in Arizona. The Boyer fans and kooks used to claim that Doc was not there and his lawyer appeared for him, but the language "in propia persona" eliminates that totally.
—John Boessenecker