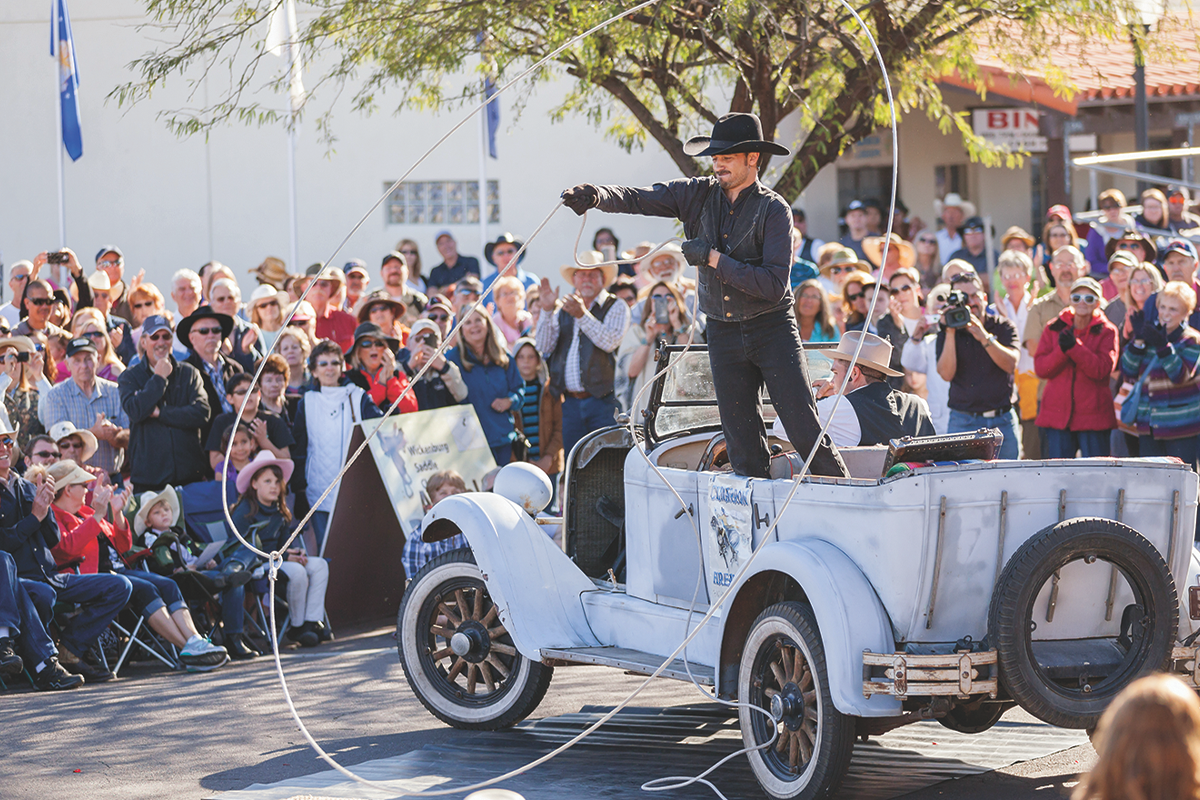 73rd Gold Rush Days and Senior Pro Rodeo
Wickenburg, AZ, February 11-13: Wickenburg's mining and ranching origins are celebrated with a pro rodeo, parade, carnival and concerts.
800-942-5242 • WickenburgChamber.com
ANTIQUE SHOW
Vintage Tulsa Show
Tulsa, OK, February 18-20: Shop a wide selection of antiques from some of the region's most prominent and professional collectors.
918-619-2875 • HeritageEventCompany.com
ART SHOWS
Wings Over the Platte River
Grand Island, NE, February 11-April 3: See the region's largest art exhibit dedicated to life on the Platte River.
308-385-5316 • StuhrMuseum.org
Wigwam Festival of Fine Art
Litchfield Park, AZ, February 18-20: The annual festival features Western, Southwestern and American Indian fine art.  
623-935-9040 • Litchfield-Park.org
Western Spirit Art Show and Sale
Cheyenne, WY, March 5-April 16: This juried art show showcases professional artists from around the United States.
307-778-7290 • OldWestMuseum.org
Cowgirl Up! Exhibition & Sale Opening Weekend
Wickenburg, AZ, March 25-27: An opening gala at the Desert Caballeros Western Museum kicks off the invitational exhibition of Western art by women.
928-684-2272 • WesternMuseum.org
COWBOY ACTION SHOOTING
End of Trail
Phoenix, AZ, February 28-March 6: The World Championship of Cowboy Action Shooting, End of Trail, moves to its new home in 2022—the Ben Avery Shooting Facility in Phoenix, Arizona. The Arizona Territorial Company of Rough Riders will host the SASS World Championship.
602-397-3434 • EndOfTrail.org
HERITAGE FESTIVALS
Arizona Renaissance Festival & Artisan Marketplace  
Gold Canyon, AZ, February 5-April 3:
Old West time travelers take in Medieval arts & crafts, jousting tournaments and an outdoor circus.
520-463-2600 • RenFestInfo.com
Battle of the Alamo Commemoration
San Antonio, TX, February 23-March 6: The Texas Army and the San Antonio Living History Association portray events leading to the Battle of the Alamo.
210-225-1391 • TheAlamo.org
Buffalo Soldier Heritage Day
San Angelo, TX, February 27: Join the Fort Concho Buffalo Soldier Living History Unit as they honor the nation's black troops.
325-657-4440 • FortConcho.com
Buffalo Bill Birthday Bash
Golden, CO, March 1: Observe the Wild West showman's birthday with tours by costumed guides and birthday cake at the Buffalo Bill Museum & Grave exhibits.
303-526-0744 • BuffaloBill.org
Goliad Massacre Re-Enactment
Goliad, TX, March 26-27: The occupation of Fort Defiance and the 1836 Goliad Massacre are re-created, with a memorial service on the last day.
361-635-3752 • PresidioLaBahia.org
Crane Watch Festival
Kearney, NE, March 20-26: More than 500,000 Sandhill cranes migrate to the Platte River Valley during their northward migration.
800-652-9435 • VisitKearney.org
MUSIC
Jam Sessions at the Occidental Hotel
Buffalo, WY, Thursdays in February & March: Local musicians gather to perform the best bluegrass, Western and folk music.
307-684-0451 • OccidentalWyoming.com
POETRY GATHERINGS
Lone Star Cowboy Poetry Gathering
Alpine, TX, February 18-19: Don Cadden, Dave Stamey, Jill Jones and the Jingle Bobs and others celebrate the oral and musical traditions of the American West.
432-216-2167 • LoneStarCowboyPoetry.com
PARADES
Arizona Parada del Sol Historic Parade & Hashknife Pony Express  
Scottsdale, AZ, February 5-6: Don't miss the arrival of the Hashknife Pony Express re-enactors on Friday and the historic parade through the heart of Old Scottsdale on Saturday. 
480-990-3179 • ScottsdaleParade.com
STOCK SHOWS & RODEOS
Fort Worth Stock Show & Rodeo
Fort Worth, TX, January 14-February 5: Numerous days of livestock and horse shows, rodeos, concerts and food are scheduled.
817-877-2420 • FWSSR.com
San Antonio Stock Show & Rodeo
San Antonio, TX, February 10-27: The event features PRCA and ranch rodeo competitions, livestock shows and Country music concerts.
210-225-5851 • SARodeo.com
Scottsdale Arabian Horse Show
Scottsdale, AZ, February 17-27: About 2,000 horses compete for more than $1 million at this internationally famous horse show that also features equine seminars, vendors and fun for all.
480-515-1500 • ScottsdaleShow.com
Winnemucca Ranch Hand Rodeo  
Winnemucca, NV, March 2-6: This annual event features ranch hands competing in rodeo events, plus cow dog trials, horse and bull sales, and a trade show.
775-623-2220 • RanchRodeoNV.com
PBR Global Cup USA
Arlington, TX, March 5: The top 10 rodeo athletes in the world compete in seven events at the world's richest one-day rodeo.
817-892-4000 • ATTStadium.com
Cinch Timed Event Championship
Guthrie, OK, March 10-12: The best all-around timed-event hands in professional rodeo compete at the Lazy E Arena in five rodeo timed events.
800-595-7433 • LazyETec.com 
TRADE SHOWS
Tucson Festival of Books 
Tucson, AZ, March 12-13: Join authors from many different genres who come together at this major annual U.S. book festival at the University of Arizona for Old West panel discussions, book signings and visiting hundreds of book venders. 
520-621-0302 • TucsonFestivalOfBooks.org
WINTER FESTIVALS
Cripple Creek Ice Festival
Cripple Creek, CO, February 5-13: Watch sculptors carve ice into works of art, plus enjoy a liquor luge, ice snacks, an ice slide and ice maze.
877-858-4653 • VisitCrippleCreek.com
TWMag.com: View Western events on our website.