California's famous candy companies have been making the world a sweeter place since 1849.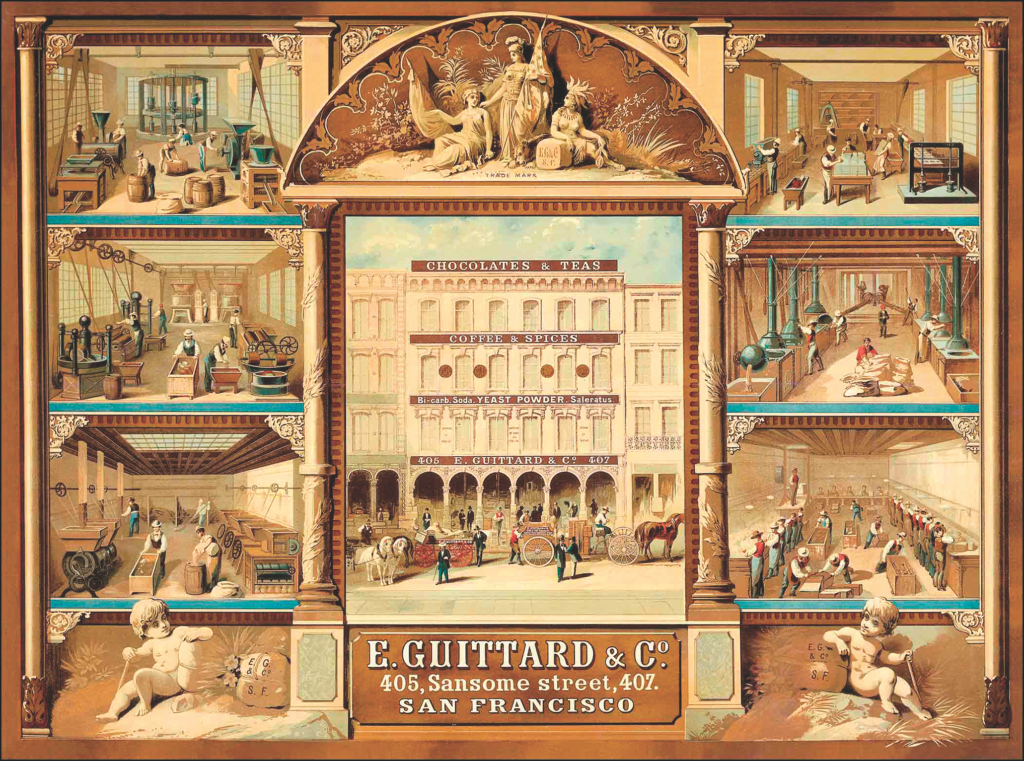 One of California's contributions to our gastronomic history includes Ghirardelli, Guittard and See's chocolates. Ghirardelli and Guittard were born out of the Gold Rush era and are still beloved today. See's is a classic example of family recipes turned into a business. 
Domenico Ghirardelli, later known as Domingo, was born in Rapallo, Italy, in 1817 to an exotic food importer and was introduced to the chocolate and confectionary trade at a young age and apprenticed with a local candy maker. He arrived in America and in 1849 opened a general store in Stockton, California, where he sold supplies and confections to local miners. He opened another store on the corner of Broadway and Battery in San Francisco.
It was 1852 when Domenico opened a confectionery shop under the name of Ghirardelli & Girard at Kearny and Washington streets in San Francisco, which is now the Ghirardelli Chocolate Company. Their Broma process for processing chocolate was accidentally discovered in 1856 when a Ghirardelli employee discovered a hanging bag of chocolate mass dripping in a warm room. The cocoa butter dripped out and left a residue that could be processed into ground chocolate that produces a more intense chocolate flavor than other techniques.
In 1867 they had a chocolate factory at 415-417 Jackson in San Francisco, where they also sold Chartres' Rio, Java and Manila coffee, ground spices, wine and liquors. They proudly advertised their cocoa was imported from Guayaquil, Ecuador. In 1869 Ghirardelli proclaimed they were the sole chocolate manufacturer in California, and in 1871 their best chocolate cost 25 cents per pound.
Domingo finally retired in 1892 and turned the management over to his three sons. A year later they expanded and moved their manufacturing to the newly acquired Pioneer Woolen Building on San Francisco's northern waterfront, which is the present site of Ghirardelli Square. In 1903 Ghirardelli ran a riddle contest for their ground cocoa and offered prizes for the best ones. The San Francisco Chronicle noted, "Riddle Making is the Rage. The Newest Fun-Fad. A Merry Pastime that has 'Caught On.'"  
While Ghirardelli was the well-known name connected with chocolate in San Francisco, Frenchman  Etienne Guittard was emerging on the scene. Etienne went to California with the hope of striking it rich during the Gold Rush. He brought delicious chocolate from his uncle's factory to trade for mining supplies, but learned wealthy miners were willing to pay a premium for it. He realized there was a market for his chocolates, but he wanted to do it right, so he went back to France to finesse his craft. He returned to San Francisco and between 1869 and 1871 worked with other confectioners until he founded Guittard Chocolate, where he sold chocolate, coffee, tea and spices.
In 1872 Etienne and a partner named Birgham operated the Eureka Coffee, Chocolate and Spice Mill on Commercial Street. In 1874 a newspaper ad read, "French chocolate manufactured from the choicest cocoa and guaranteed superior to any imported." In 1889 his business had grown and turned into an importer of luxury items including cocoas, ground and roasted coffee, teas, spices, flavoring extracts, essential oils and even perfume. 
They sourced most of their cocoa from around the Pacific, including Indonesia, Hawaii, Ecuador and Brazil, which made their chocolate unique to the West coast. Today you can get a limited-edition 62 percent chocolate that's a throwback to their original chocolate. It's made with beans sourced from the same locations they used when they opened Eureka Works, so you can enjoy a taste of their history.
The last historic chocolate company began in the early 1900s with a woman named Mary See. She and her husband ran a hotel in Canada, which is where she developed her now-famous candy recipes. After her husband passed away in 1919, her son Charles and his wife moved to Pasadena, California, and asked Mary to join them. Charles planned to start his own candy company using his mother's recipes, so they all moved into a post-Victorian bungalow. Mary made her delicious candy in the bungalow's black-and-white kitchen and only used the finest and freshest ingredients. 
Charles opened the first See's Candies in Los Angeles in 1921 and was guided by his mother's values. He made her candy recipes and paid homage to his mother when he opened his first store and designed it to look like their kitchen in the bungalow where she created her candy. His vision came to life with that first shop, and he wanted it to be a place where employees were treated like family and customers were warmly greeted with a free sample.
By 1924 See's was offering over 150 varieties to choose from at eighty cents per pound, and in December 1925 they had 10 stores in Los Angeles. Only the finest and freshest ingredients were accepted in their candy kitchen, causing suppliers to coin the phrase "See's quality"—higher than "top quality." See's still uses Mary's original recipes for their peanut brittle, Victoria toffee and chocolate walnut fudge.  
This recipe was included in a booklet published in 1930 titled Tested Recipes Calling for the Use of Guittard's Ground Chocolate. 
Guittard Cocoa Cookies
4 tablespoons shortening
1 cup sugar • ¼ cup milk
1 egg • 2 cups flour
3 teaspoons baking powder
¼ teaspoon salt
½ cup Guittard's cocoa 
Cream shortening and sugar together. Add milk and well-beaten egg. Mix well. Sift flour, baking powder, cocoa and salt together and add. Roll out ¼ inch thick on floured board. Cut with cookie cutter. Bake in hot oven 12 minutes.
Recipe courtesy of The Guittard Chocolate Company