Artist David Wright's decades of field research in all seasons reveal the beauty of the coldest season and the tenacity of the mountain men who made the wilderness their home year-round.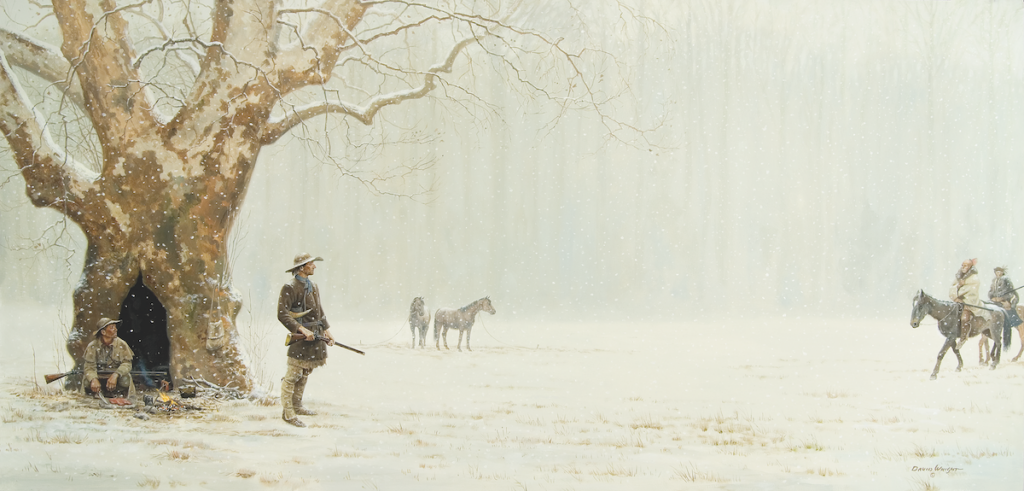 David Wright loves packing into the mountains and woods like an early American pathfinder and trapper almost as much as he loves painting them. He also loves painting the Native people of the Eastern woodlands and Western mountains and plains who traversed the areas, traded, allied and fought with each other during the 1820s-1840s, America's fur trapping era. 
Born in Kentucky, today Wright lives in the small town of Gallatin, Tennessee. He is never too far from the woods, nature and the four seasons that inspire his artwork. When the well-honored, award-
winning artist, author and historical consultant is not painting, he is conducting meticulous research and going deep into the wilderness on horseback and foot—including during the winter—to experience life as his historical subjects did 175 years ago.
We believe Wright's artwork captures the adventurous spirit, rugged determination and survival skills of the mountain men, fur trappers and American Indians who plied the streams and trails to trap and trade even through the fiercest conditions of winter.