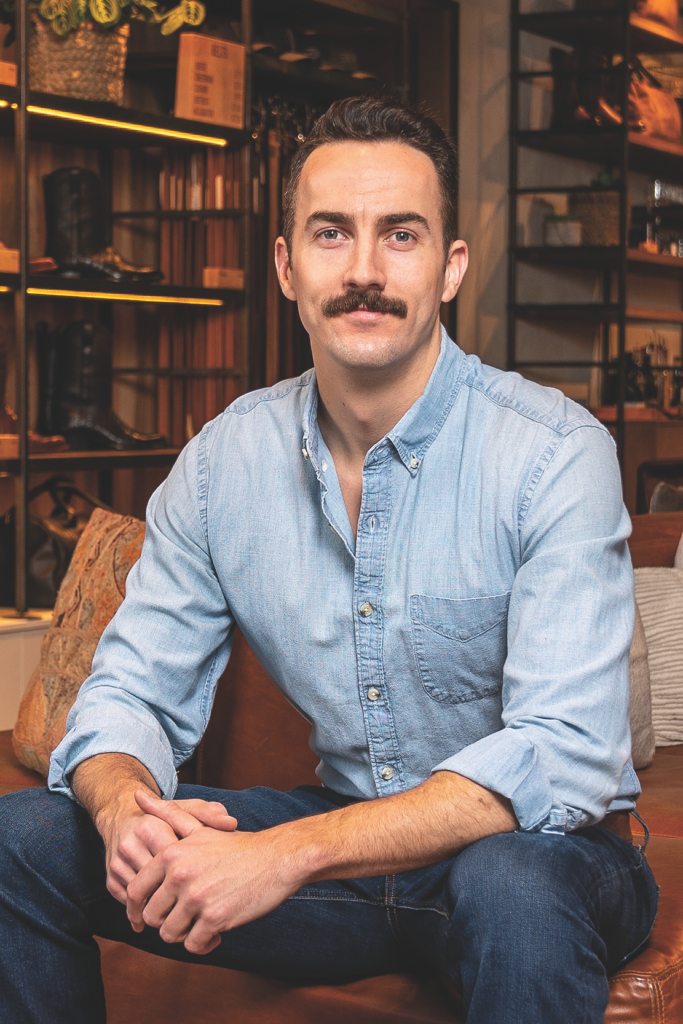 Tecovas' Founder Paul Hedrick
Paul Hedrick is an Austin-based entrepreneur and founder of Tecovas, a retail brand whose mission is to build the most trailblazing, genuine and welcoming brand in Western boots. Hedrick is a born-and-raised Texan who left his jobs in consumer investing and consulting to launch Tecovas after recognizing his own desire for a high-quality, approachable cowboy boot and a company built on customer service. Today, the brand has over 1 million customers and has over 20 retail stores throughout the U.S.
Dallas was a great place to grow up. I'm proud to be a Dallas sports fan, even though I haven't lived there in over a decade.
My parents were extremely supportive and allowed me to be self-directed, which I think was a big contributor to my entrepreneurial nature. They did force piano lessons on me pretty young, but I was very grateful for that—I loved playing music.
A teacher who had a big impact on me was my high school math teacher, Dr. Newcomb. His warmth and passion for teaching was unflagging, especially in a subject that many students found challenging. 
Cistercian Preparatory School was an extremely unique place, although I don't think I appreciated it at the time. I think I received a peerless education—better than most college educations—and it was a small enough place for me to actually play sports, too (academics were more my strong suit…).
Texas BBQ is the best. Moist brisket is all you need to order.
Harvard is far from Texas, and it made me appreciate my "Texan-ness" more than anything else could have.
Living in New York City was filled with fun, hard work and late nights, and I'm really glad I did it in my 20s. I'm also very glad I'm not there anymore.
Starting a company was not nearly as intimidating as it should have been for me (I was naïve). I wanted to create something from scratch, and I wanted to run a business, so it felt like the natural next step. Easy, right?
My first pair of boots was a pair of red kid's ropers, although I don't really remember them.
A good pair of boots has a story to tell, is an old friend, and gives you comfortable confidence. 
Selling boots is downright fun. Your job is to make people happy, make them look good and give them confidence. Serving complimentary bourbon while you're selling makes it better for everyone involved.
León, Guanajuato, is the heart of the cowboy boot universe—and a beautiful place. I love visiting our boot-making partners in Mexico, eating street tacos and watching artisans craft Tecovas to perfection.
Texas will always be my home. There's nowhere else with as much natural beauty, opportunity and diversity all in one place. 
Details are everything. Creating a product-based brand is not the same as launching a software company with a "minimum viable product." If you're offering quality, the details matter, and every moment—every inch of the boot, shirt, jeans, or hat—needs to be crafted.
Living in Austin has changed a lot in the last couple years, but it's still a great city. The food scene has exploded in the last decade; there's a lovely lake in the middle of town; and people are genuinely more open and friendly than other places I've lived—even for Texas.
Red Dirt Country is still my favorite music genre.
A Western hero can be anyone who represents real cowboy values. They're genuine—a handshake means something. They're trailblazing—not afraid to forge ahead, fearless. And they're welcoming—the West is an open campfire.
A good cowboy hat is more versatile than you think—and should never rest on the brim.
What history has taught me is integrity matters—and being uncompromising in one's values doesn't mean being uncompromising in one's opinion.