Across the West, cemeteries, monuments and memorials provide a poignant reminder of the West's historic past.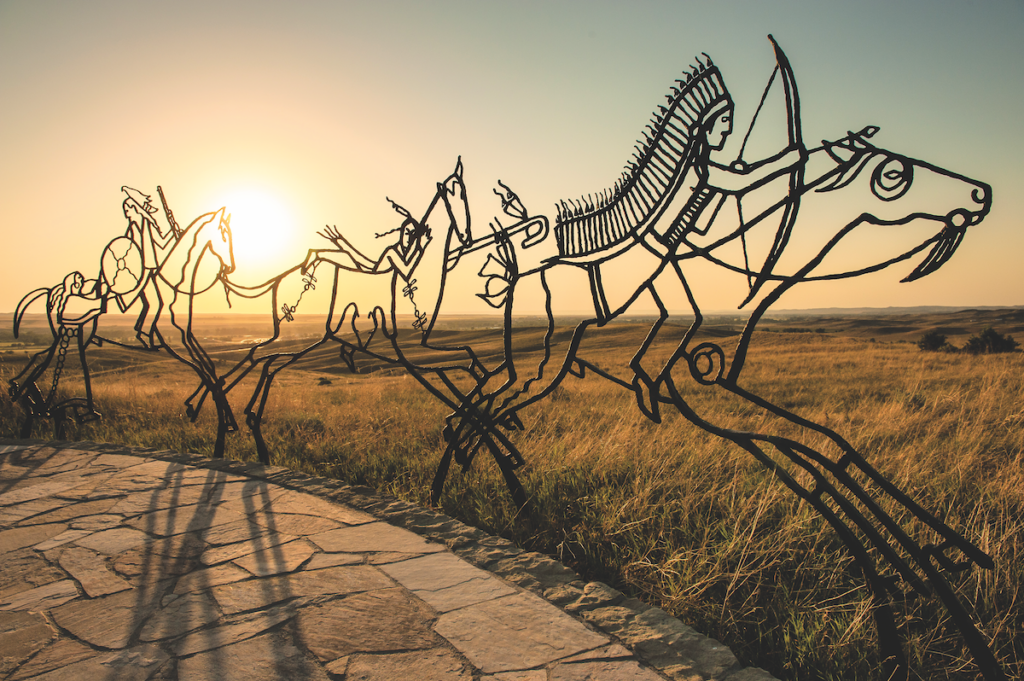 Across the United States and around the world, a popular activity for centuries has been touring historic cemeteries, columbaria, monuments and memorials. In the American West, heritage travelers will discover that walking the hallowed grounds of sites as divergent as the Little Bighorn Battlefield National Monument, Deadwood, South Dakota's Mt. Moriah Cemetery and Ogallala, Nebraska's Boot Hill Cemetery will reveal the history of the famous and not so famous, the forgotten and the oft remembered of our national and local history. Visitors who tour historic graveyards will discover a poignant reverence to our past that can only be gained from the quiet contemplation of past lives discovered in the short epitaphs of gravestones, memorials and mausoleums. 
The fifth edition of the True West Ultimate Historical Travel Guide will now include our guide to historic cemeteries, monuments and memorials. Our lists of suggested sites are in five regions and 22 states. The listings are not comprehensive but are representative of where a traveler should start within each of the regions. Visitors interested in cemeteries, funerals and gravestones, known as taphophiles, will note the importance of respecting the rules, hours and traditions of the public and private graveyards, monuments, memorials and religious sites to be toured. 
THE PACIFIC COAST
CALIFORNIA
Columbia Historic Cemetery
22956 School House St.
Columbia • ColumbiaHistoricCemetery.com
Founded in the middle of Gold Country in 1852, the cemetery includes four cemeteries within its fences. It is still an active memorial park. A special memorial to the Chinese once buried in the cemetery was erected in 1995. 
Donner Memorial State Park
12593 Donner Pass Rd.
Truckee • Parks.CA.gov
The park is situated adjacent to Interstate 80 near the location of the Donner Party's tragic winter camp of 1846-47.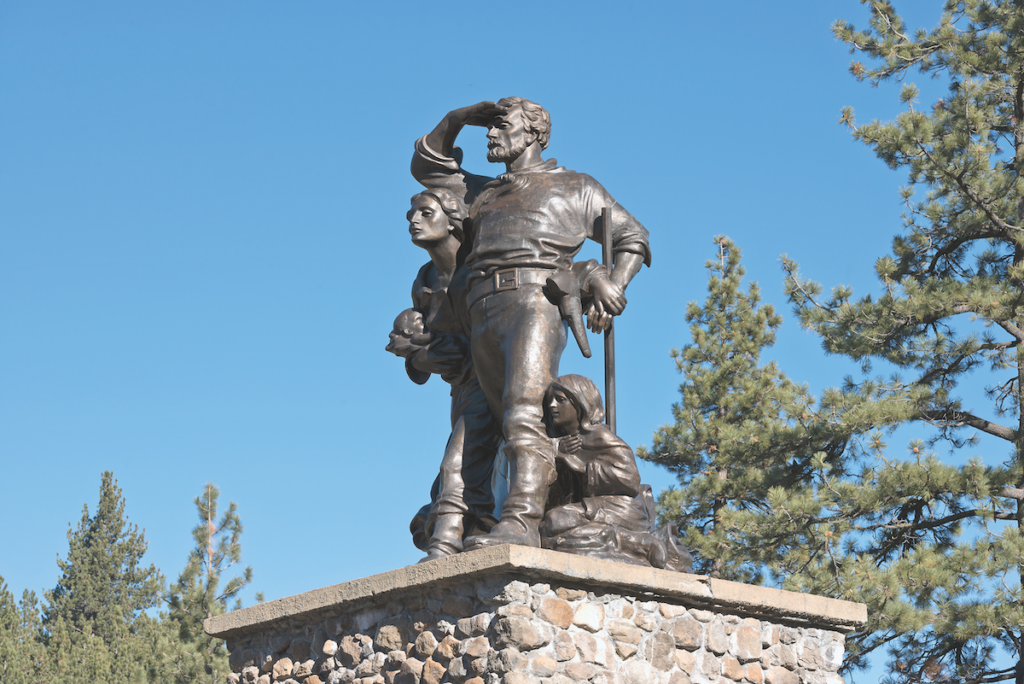 El Campo Santo Cemetery
2410 San Diego Ave.
San Diego • OldTownSanDiego.com
The city's second-oldest cemetery is in the Old Town District and was first used in 1849. Many believe it is a very spiritually active cemetery and is thus a popular place to celebrate Día de los Muertos.
San Francisco National Cemetery
1 Lincoln Blvd.
San Francisco • NPS.gov
The first American was laid to rest at San Francisco National Cemetery at the Presidio in 1854. The cemetery is the final resting for over 30,000 veterans, including Buffalo Soldiers, Sarah Bowman aka "The Great Western," Union spy Pauline Cushman Fryer and 35 Medal of Honor recipients.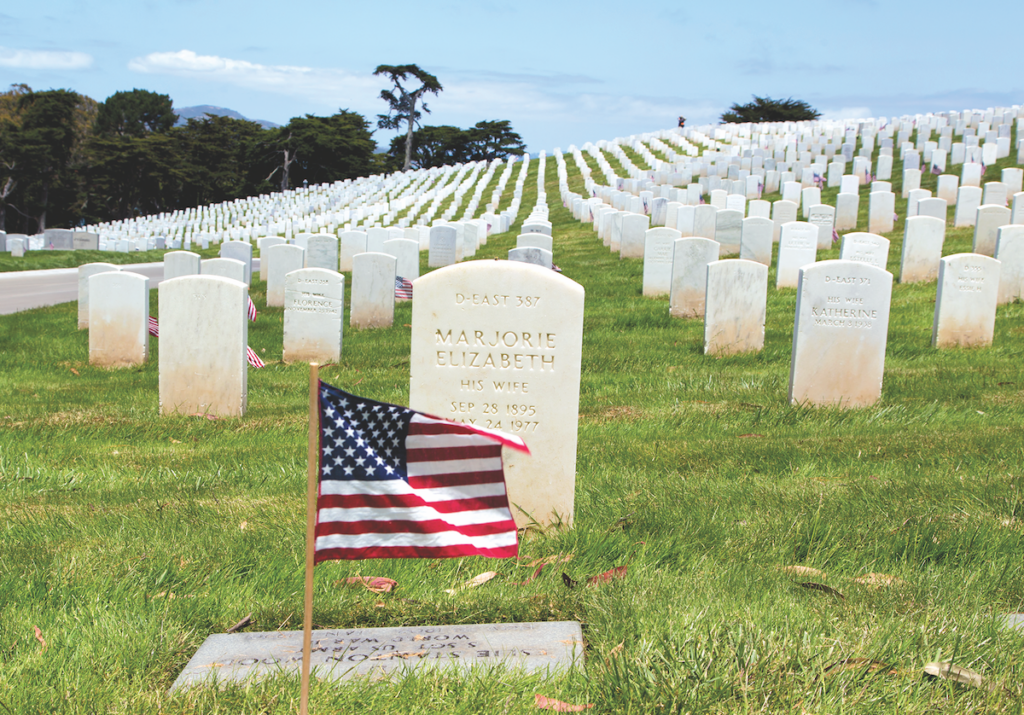 IDAHO
Idaho City Pioneer Cemetery
503 Montgomery St.
Idaho City • IdahoCityHF.org
Starting in 1864, the first of 3,000 early settlers and miners of the Idaho boomtown were buried in the pioneer section of the historic cemetery, also known as Boot Hill.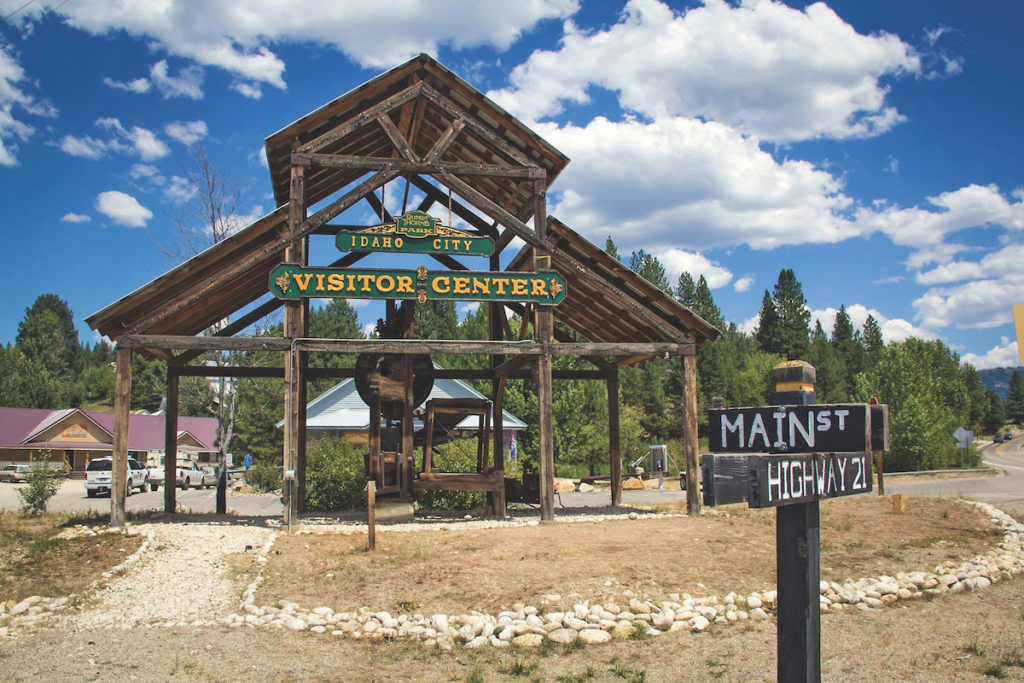 Nine Mile Cemetery
From Wallace, take Nine Mile Canyon Road northeast for about a mile and turn left onto Cemetery Road.
Wallace • VisitNorthIdaho.com
Located on a steep hillside, Nine Mile is a storied final resting place for veterans and citizens of the historic mining community.
Pioneer Cemetery
460 E. Warm Springs Ave.
Boise • CityOfBoise.org
One of the oldest cemeteries in Treasure Valley, many visitors enjoy taking the guided walking tour of the burial ground founded in 1863. Many of the Gem State's most influential pioneers are interred here, including governors, mayors and law officers. 
NEVADA
Lone Mountain Cemetery
1044 Beverly Dr.
Carson City • Carson.org
Before Lone Mountain Cemetery, the first burials were in the Pioneer Cemetery (Walsh Cemetery) beginning in 1864. Later many of those interred in the Pioneer were moved to Lone Mountain, where many of the first families of the state are buried as well as an equal number whose names have been lost to history.
Dayton Historic Cemetery
Cemetery Road
Dayton • DaytonNVHistory.org
Dating to 1851, Dayton's Historical Society maintains the Silver State's oldest cemetery. The most famous of the pioneers buried in the memorial park is miner James "Old Virginny" Finney, the namesake of nearby Virginia City.
Old Tonopah Cemetery
917 Main St.
Tonopah • TonopahNevada.com
A historic landmark, this rugged, desert cemetery is in town on Main Street next to the Clown Motel. More than 300 were buried here from 1901-11, including the victims of the 1911 Belmont Mine fire, early pioneers, their children and Sheriff Tom Logan, who was gunned down in his nightclothes.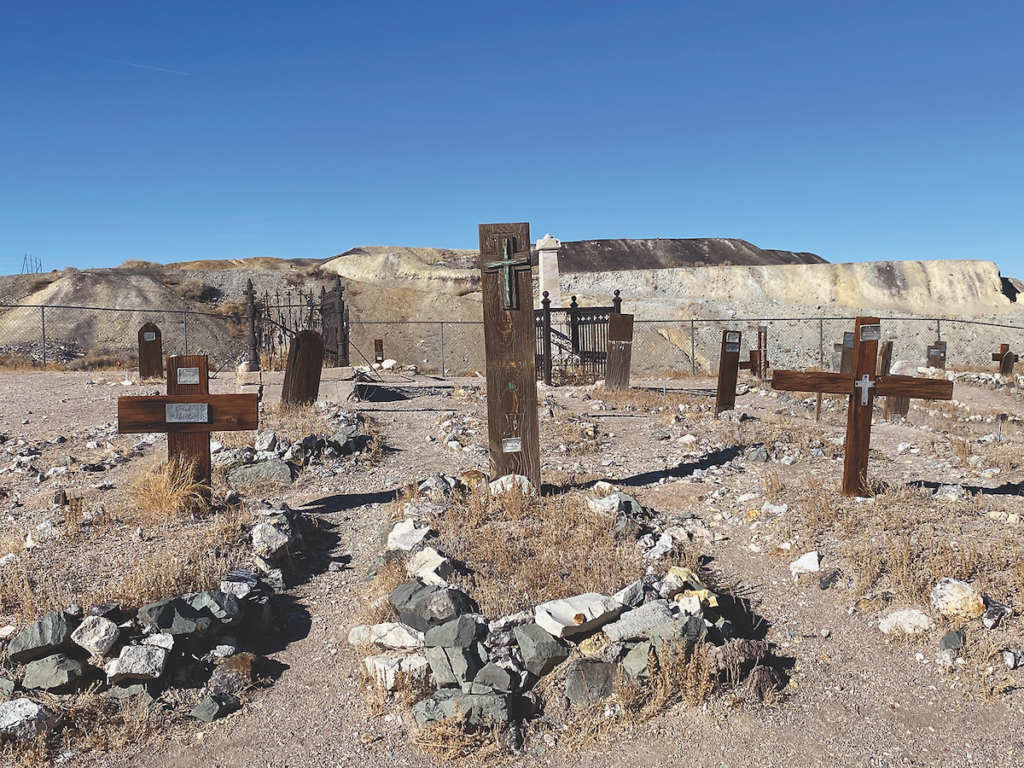 OREGON
Nez Perce Cemetery
Nez Perce National Park
Joseph • NPS.gov
The 5.1-acre cemetery sacred to the Nez Perce people is open to the public and includes a monument to Old Chief Joseph, the father of Chief Joseph, the famed leader of his tribe. Old Joseph was reinterred in the park in 1926.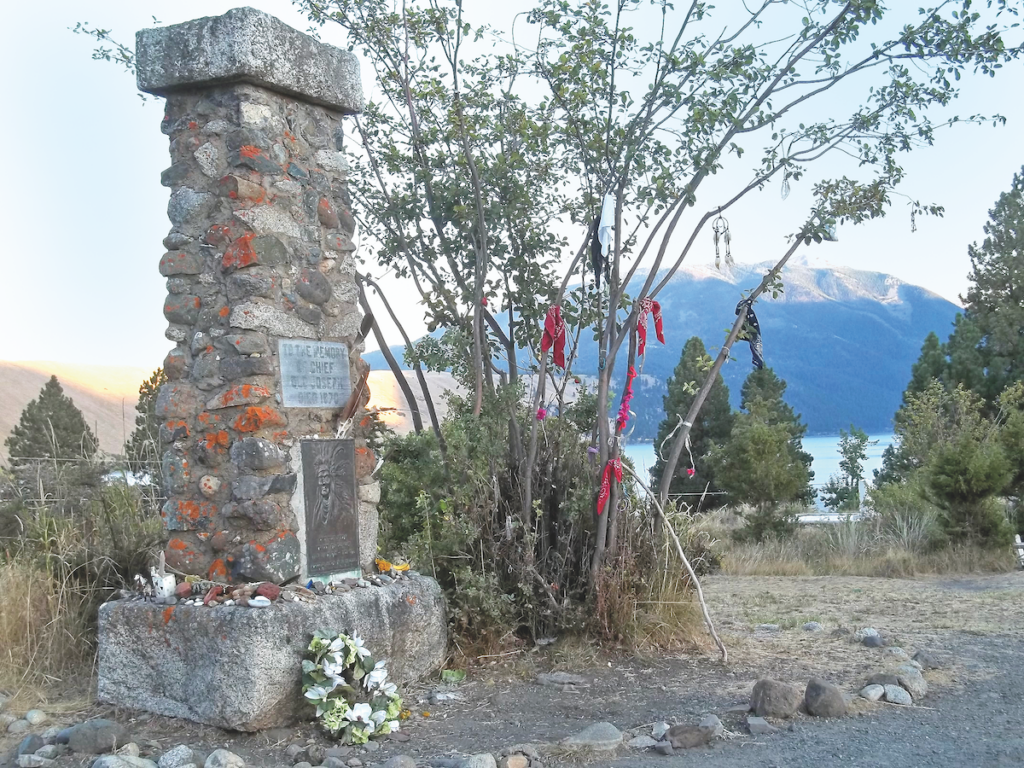 Pioneer Cemetery 
400 Block East Scenic Dr.
The Dalles • HistoricTheDalles.org
One of the oldest in Wasco County, along with the Fort Dalles Cemetery, the Pioneer was founded in 1860. 
River View Cemetery
300 S. Taylors Ferry Rd.
Portland • RiverViewCemetery.org
Among the famous buried at River View, which was founded in 1882, is Virgil W. Earp, who died in Goldfield, Nevada, on October 19, 1905. His daughter Janie Law was a Portland resident and she had him interred in the cemetery on October 29, 1905.
WASHINGTON
Lake View Cemetery
1554 15th Ave. E.
Seattle • LakeViewCemeteryAssociation.com
Founded in 1872, the private cemetery includes the final resting place of Chief Seattle's daughter Princess Angeline, the city's founders and many early prominent residents. Lake View also maintains the adjacent historic Grand Army of the Republic Cemetery.
Vancouver Barracks National Cemetery
1455 E 4th Plain Blvd.
Vancouver • Cem.VA.gov
The historic memorial park is also home to two earlier cemeteries, the original Army cemetery from the 1850s and the Hudson's Bay Company Cemetery, first used in 1839.
Whitman Monument – Whitman Mission National Historic Site
328 Whitman Mission Rd.
Walla-Walla • NPS.gov
Walk the grounds of the beautiful park and visit the Whitman Monument, an obelisk atop a hill dedicated to the victims of the Whitman Massacre. 
The Desert Southwest
ARIZONA
Arizona Pioneer's Home Cemetery
1300 Iron Springs Rd.
Prescott • PioneersHomeAZ.gov
Founded in 1911, the storied grounds hold two of the state's most famous women: territorial historian Sharlot Hall and infamous prostitute, businesswoman and Doc Holliday's girlfriend Mary Katherine Horony Cummings, aka Big Nose Kate. After a trip to their graves, plan a visit to tour Sharlot Hall Museum, which Hall founded in 1928.
Tombstone Boothill Graveyard
408 Arizona Highway 80
Tombstone • TombstoneChamber.com
The boomtown's first cemetery was started in 1879. A new city cemetery began in 1884. While many of the original residents buried at Boothill have been lost to time, the graves of Tom and Frank McLaury are located where the two brothers were buried after they were killed at the O.K. Corral.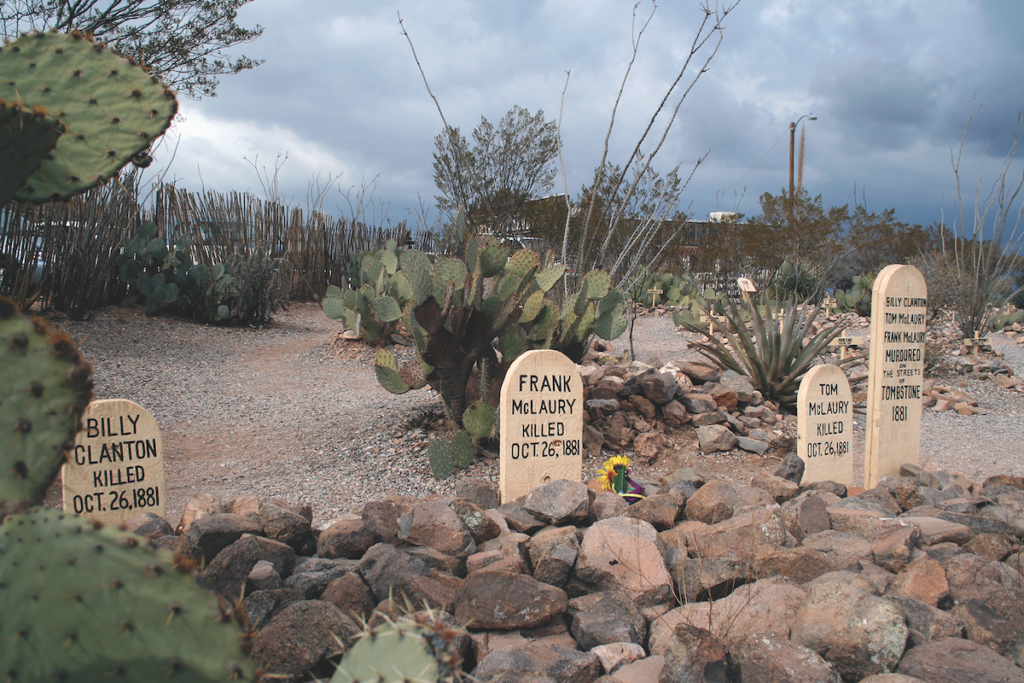 Tombstone Tourism
Do you enjoy visiting monuments, memorials and cemeteries? The American West is blessed with hundreds of federal, state and local monuments and memorials, while our cities, counties and states have dozens of government, public, private and Native reservation cemeteries. All the memorial parks have their own rules for visitation, with American Indian cemeteries having the strictest access. Before scheduling your tour, check the website for regulations for visiting, and if need be, contact the park, monument or cemetery for hours, closures, fees and or limits to who can or cannot visit. Always contact the local tribal office for permission to visit an American Indian Nation tribal cemetery.
—SR
Wesley Bolin Memorial Plaza
1700 W. Washington St.
Phoenix • WesleyBolinPlaza.com
Located in front of the Arizona State Capitol building, the plaza encompasses the state mall's monuments and memorials, including the Arizona Pioneer Woman Memorial, Father Kino and Arizona's War Heroes Marker.
NEW MEXICO
Fort Stanton Merchant Marine Military Cemetery
104 Kit Carson Rd.
Fort Stanton • FortStanton.org
The cemetery is adjacent to the hospital founded at the fort in 1899 to serve Merchant Marine sailors suffering from tuberculosis. Five thousand men were treated at the medical center until its closure in 1953. Fifteen-hundred men treated at the fort are buried in the cemetery.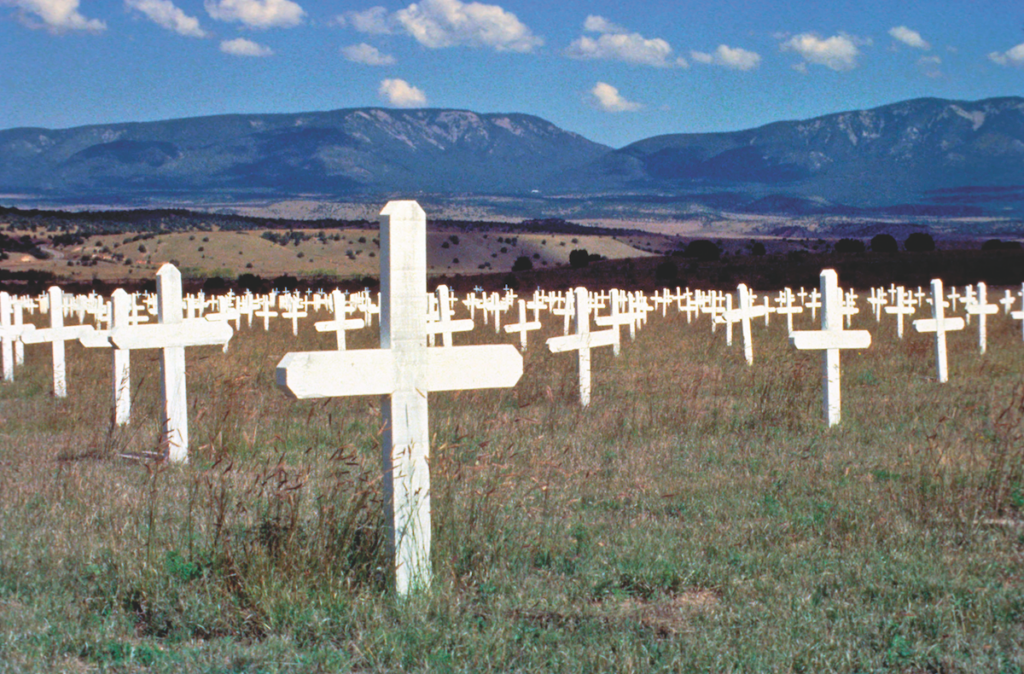 Old Fort Sumner Cemetery
3501 Billy the Kid Dr.
Fort Sumner • FortSumner.net
The most famous grave in the old Army cemetery is that of non-veteran William "The Kid" Bonney, and it is protected by a steel cage.
Santa Fe National Cemetery
501 North Guadalupe St.
Santa Fe • Cem.VA.gov
More than 68,000 are interred in the historic cemetery. Territorial residents buried in the memorial park include pioneer Charles Bent, Apache Wars veteran killed-in-action Lt. George N. Bascom and Apache scout and Medal of Honor recipient Rowdy.
OKLAHOMA
Tishomingo City Cemetery
705 S Murray Ave.
Tishomingo • JohnstonCountyOkChamber.com
Tishomingo City Cemetery is considered one of the oldest cemeteries in the state, with its first interment in 1832. Located in the Chickasaw National Historical Capital, it began as an Indian cemetery. The state's only father-son governors are buried there.
Greenhill Cemetery
1500 N. York St.
Muskogee • MuskogeeOnline.org
Greenhill was founded as the city cemetery in the early 1900s. The city's early residents interred in the frontier town's original burial grounds were all reinterred in Greenhill in 1904. But don't go searching for Bass Reeves' final resting place; his gravesite is still unknown. 
Fort Gibson National Cemetery
1423 Cemetery Rd.
Fort Gibson • Cem.VA.gov
The original seven acres of the cemetery, which began as a military post in 1824, contains the remains of 2,000 who had been interred in three early cemeteries at the fort. Today, it serves as one of the state's national cemeteries for veterans.
TEXAS
Concordia Cemetery
3700 E. Yandell Dr.
El Paso • ConcordiaCemetery.org
El Pasoans have buried their dead in the graveyard since the first soul was interred in the 1840s. Visitors can walk the grounds and see outlaw John Wesley Hardin's grave as well as a special section dedicated to Buffalo Soldiers.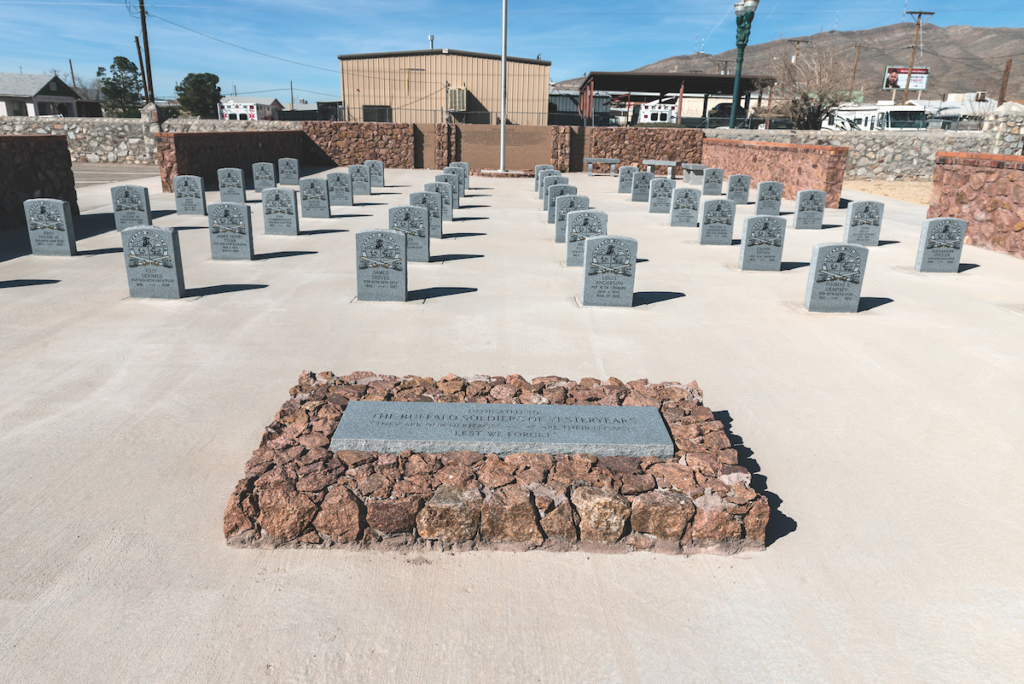 Goodnight Cemetery
Drive north from Goodnight on County Road 294 to a paved road on the right to the cemetery.
Goodnight • Cemeteries-Of-TX.com
Texas pioneer ranchers Charles and Molly Goodnight are buried in this small family cemetery.
Texas State Cemetery
909 Navasota St.
Austin • Cemetery.TSPB.Texas.gov
Founded in 1851, the Texas State Cemetery is the final resting place for many legendary Texans, including Stephen F. Austin.
Great Basin and Rocky Mountains
COLORADO
Columbia Cemetery
1201 9th St.
Boulder • BoulderColorado.gov
Tom Horn maybe the most famous (or infamous) of the 6,500 interred to date in the city's burial ground, which is still an active cemetery. Members of the local Masonic Lodge founded the cemetery in 1870.
Linwood Cemetery
Park near Trailhead at 12th Street and Bennett Avenue
Glenwood Springs • VisitGlenwood.com
Take a short .7-mile roundtrip hike to visit John Henry "Doc" Holliday's grave in Linwood Cemetery. The famous gambler and gunman took his last breath in The Hotel Glenwood Springs on November 8, 188. Outlaw Harvey "Kid Curry" Logan is also buried in the mountain graveyard.
Buffalo Bill Museum & Grave
987 1/2 Lookout Mountain Rd.
Golden • BuffaloBill.org
William F. "Buffalo Bill" Cody's famous grave is in Lookout Mountain Park, which provides the showman the eternal view of the Rocky Mountains and Great Plains he so loved. Over 400,000 visitors a year tour the museum, park and grave.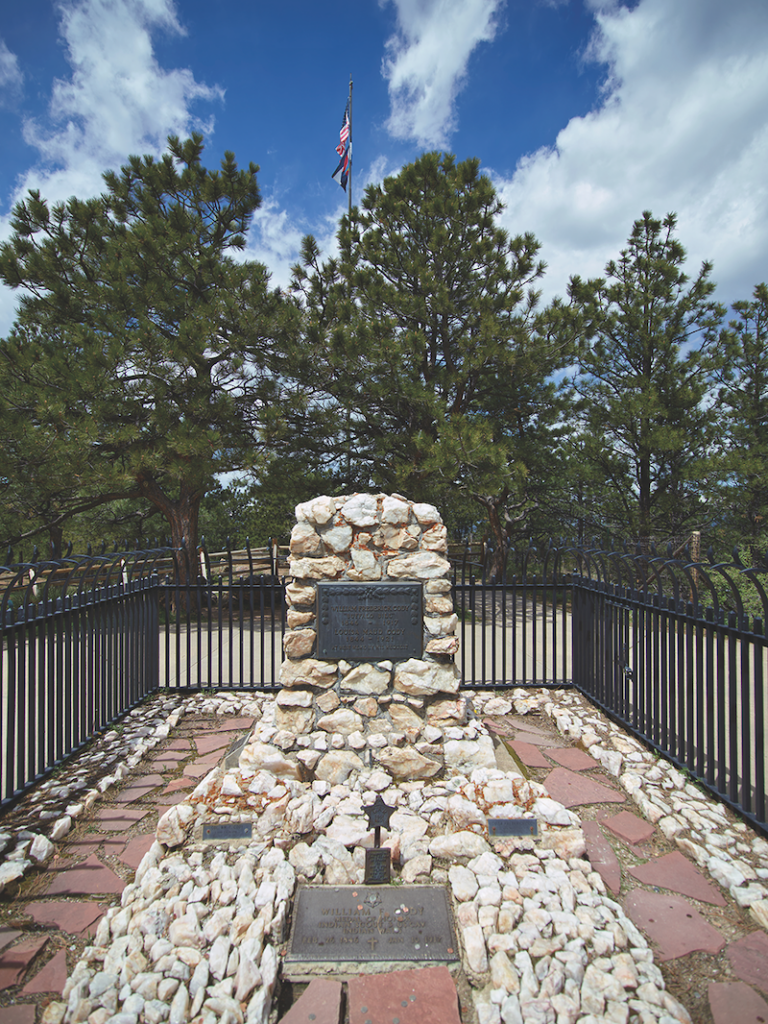 MONTANA
Boot Hill and Hillside Cemetery
Virginia City Historic District
Virginia City • SouthwestMt.com
Boot Hill opened for business when the local vigilantes hanged five road agents and buried them in the notorious mining camp's first cemetery in January 1864. Soon, more legitimate citizens decided their loved ones should not rest eternally with the outlaws and started Hillside Cemetery, with the first burial in 1865. It is one of the finest examples of historic pioneer cemeteries in the Big Sky State.
Mount Moriah Cemetery
2415 S. Montana St.
Butte • Co.Silverbow.MT.US
Local Masons founded the cemetery in 1877. The burial grounds are well-known for dramatic architecture, tombs, mausoleums, gravestones and family plots. The city's two other late 19th-century graveyards should be visited as well: St Patrick Cemetery and B'Nai Israel Cemetery.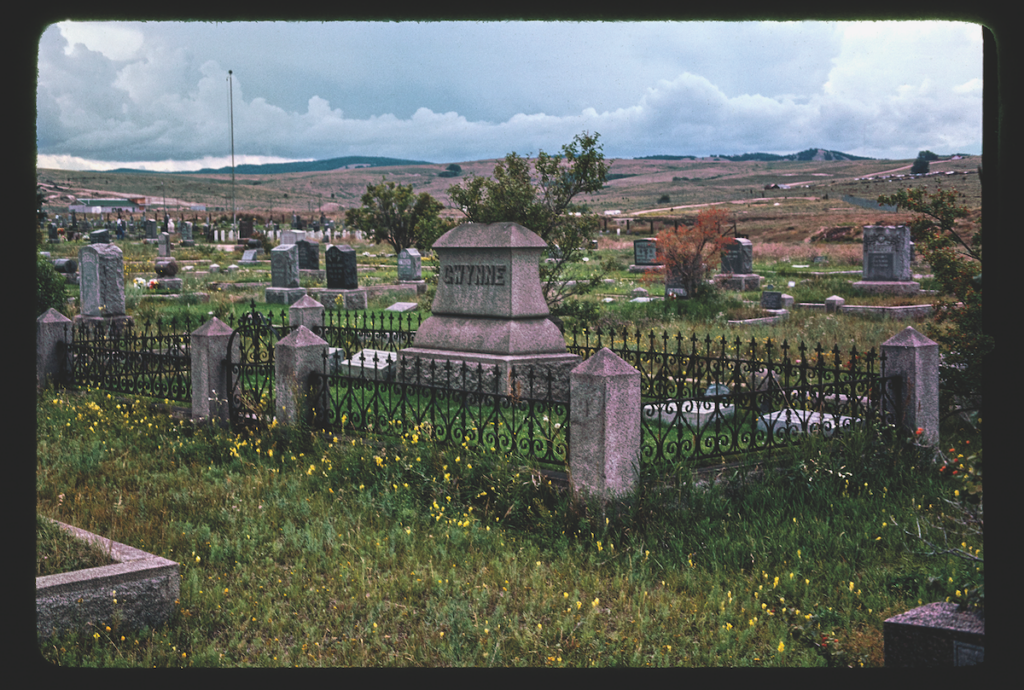 Little Bighorn Battlefield National Monument
I-90 Frontage Road
Crow Agency • NPS.gov
In the history of the United States, only three other national battlefield cemeteries are as important as Little Bighorn (Arlington, Gettysburg and Pearl Harbor), and Little Bighorn is considered a sacred place by the descendants of all the combatants of those fateful June 1876 days. Pause, reflect, walk and listen. A tour is transformative.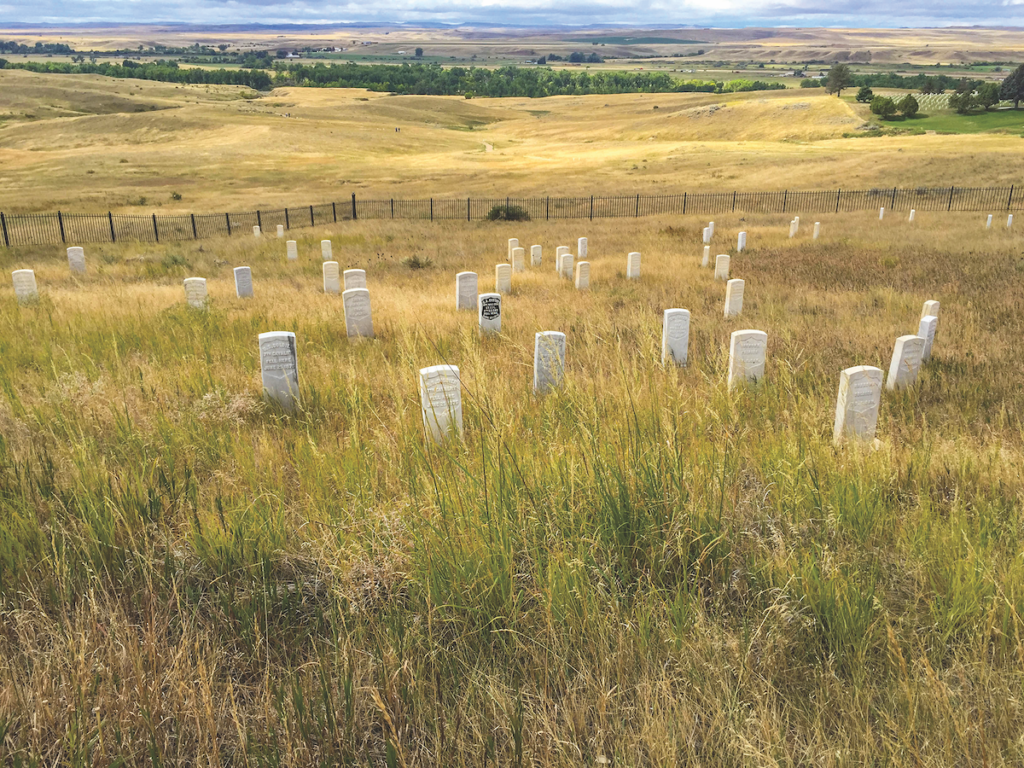 UTAH
Salt Lake City Cemetery
 200 N. St. E.
Salt Lake City • SLC.gov
The largest city-owned cemetery in the nation posted its first burial in 1848. Today, there are 125,000 interred with 5,000 plots remaining. Lawman Orrin Porter Rockwell and Black Mormon pioneer Jane Manning James are just two of the notables interred at the famous graveyard.
This is the Place State Park
2601 E. Sunnyside Ave.
Salt Lake City • ThisIsThePlace.org
In 1847, at least 32 early Utah Mormon pioneer adults and children were buried in a part of the city that became long forgotten until a construction project uncovered them in 1986. They were reinterred in an honored location at This is the Place State Park.
WYOMING
Fetterman Massacre Memorial
Old Highway 87
Sheridan • WyoHistory.org
Dedicated to the worst defeat of the U.S. Army in the West prior to the Battle of Little Bighorn ten years later, the memorial honors the 81 soldiers killed in a battle with the Lakota Sioux and Northern Cheyenne on December 21, 1866. Captain William J. Fetterman was the commander of the troops who were based at Fort Phil Kearney.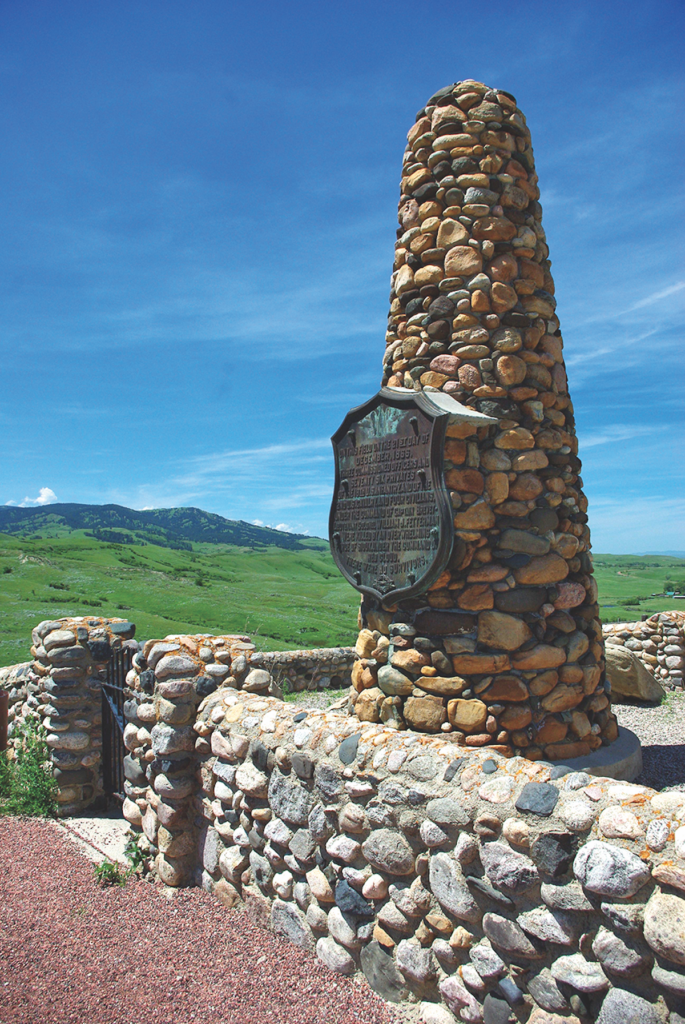 Historic Lakeview Cemetery
2501 Seymour Ave.
Cheyenne • CheyenneCity.org
One of the state's oldest cemeteries, Lakeview is well known for its many memorials and historically significant Cheyenne residents interred in its grounds. Inquire with the city for information on walking tours.
Old Trail Town Cemetery
1831 Demaris Dr.
Cody • OldTrailTown.org
Originally buried in the Los Angeles National Cemetery, Mexican-American War veteran and mountain man John "Liver-Eating" Johnson was reinterred in Cody, Wyoming, at the Old Trail Town Cemetery. Robert Redford who famously played the trapper acted as one of his pall bearers.
Northern Prairie and Plains
IOWA
Effigy Mounds National Monument
151 Hwy. 76
Harpers Ferry • NPS.gov
Located in the northeastern Bluff Country of Iowa, the Effigy Mounds National Monument protects some of the most important prehistoric tribal grave mounds along the Upper Mississippi River. The animal effigy mounds, many in the shape of animals, date to 650 to 1200 A.D. They were constructed for ceremonial and burial uses and even to mark territory boundaries.
Sergeant Floyd Monument
2601 S. Lewis Blvd.
Sioux City • NPS.gov
A 100-foot obelisk in a 23-acre park marks the grave of Sgt. Charles Floyd Jr., the only man to die on Lewis and Clark's Corps of Discovery expedition. The first National Historic Monument is located along the Lewis and Clark National Historic Trail on a bluff above the Missouri River and Interstate 29.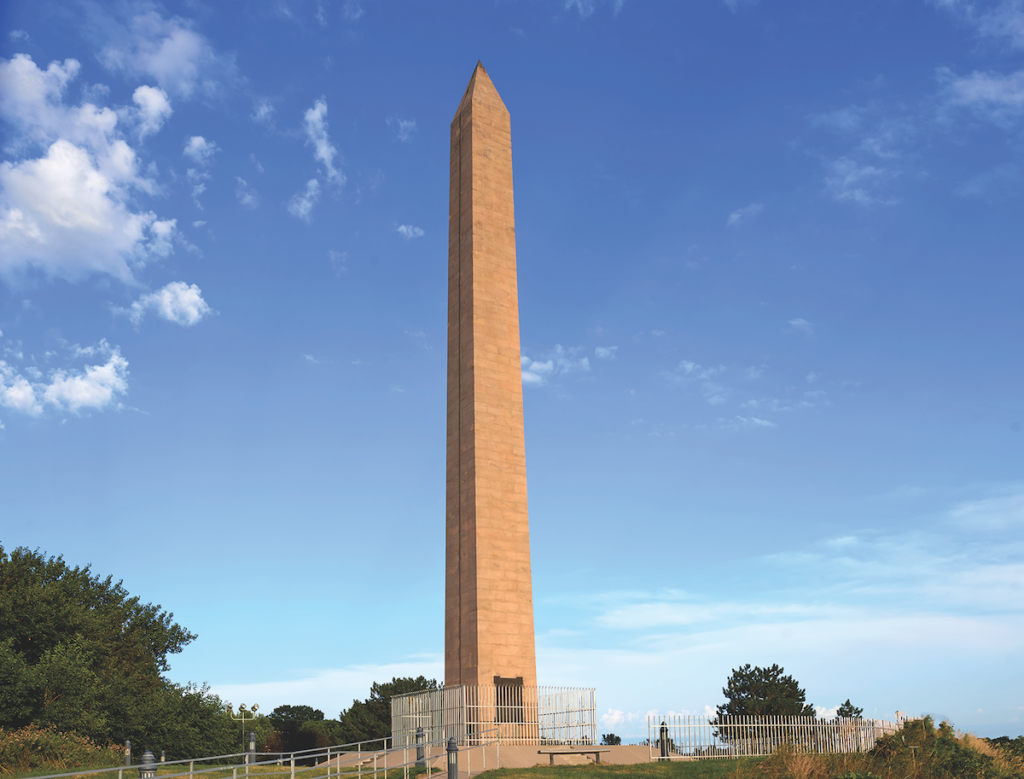 Woodland Cemetery
2019 Woodland Ave.
Des Moines • DSM.city
The oldest cemetery in Des Moines, Woodland was founded in 1848 and includes the adjacent St. Ambrose Cemetery. The first burial was of a one-year-old son of a local pioneer judge in 1849. Since then, over 40,000 souls have been interred in the graveyard, including many of the state's leading citizens, politicians and soldiers.
MINNESOTA
Fort Ridgely State Monument
72404 County Road 30
Fairfax • MNHS.org 
The frontier outpost was founded in 1853. The monument was dedicated in 1896 to honor those who defended the community during the Dakota War of 1862. Tour the Fort Ridgely Cemetery while on the grounds of the fort.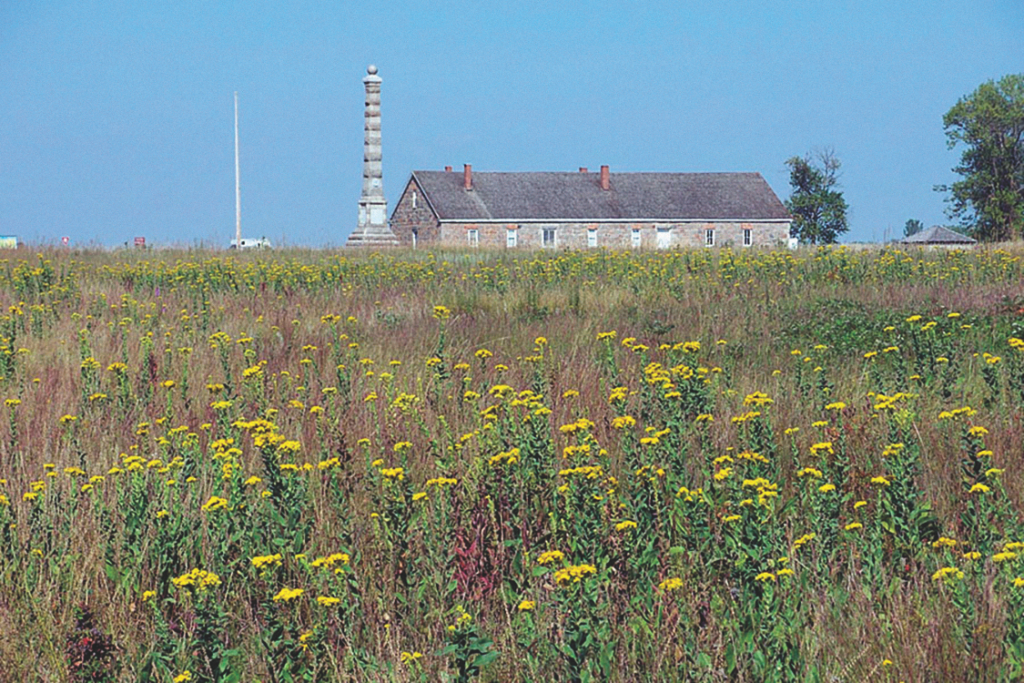 Minneapolis Pioneers and Soldier Memorial Cemetery
2945 Cedar Ave.
Minneapolis • FriendsOfTheCemetery.org
Started in 1853, the Pioneers and Soldier Memorial Cemetery has been an important burial ground for U.S. veterans, early state leaders and the city's citizens, many of whom were Scandinavian immigrants. Half of the 20,000 interred are estimated to be children.
Northfield Cemetery
1425 Division St. S.
Northfield • NorthfieldHistory.org
Nicholas Gustafson and Joseph Lee Haywood were both victims of the James-Younger Gang's failed attack on Northfield on September 7, 1876. They were interred in the cemetery, which has over 1,000 people buried in its eight acres.
NORTH DAKOTA
Fort Lincoln Cemetery
4480 Ft. Lincoln Rd.
Mandan • ParkRecND.gov
The first soldier was interred in the graveyard located at Fort Abraham Lincoln State Park in 1873. Wounded soldiers from the Battle of Little Bighorn who died from their injuries were buried at Fort Lincoln. After the fort's closure, all those interred were reinterred at Little Bighorn National Cemetery.
Riverside Cemetery
2102 5th St. S.
Fargo • FargoRiverside.com
The first burial in the historic graveyard officially established in 1879 along the Red River was in 1878. Over 18,000 have been interred in the grounds of the city's oldest and largest graveyard to date. 
Sitting Bull's Burial Site
Sitting Bull Ave., N.D. Hwy. 24
Fort Yates • NDTourism.com
After Sioux Chief Sitting Bull was murdered, he was buried nearby in Fort Yates. His monument stands as a testament to his courageous life. With great controversy, a group of South Dakota businessmen moved his bones to a new memorial site near the place of his birth along the Missouri River near Mobridge, South Dakota. Today, both sites are considered his gravesite.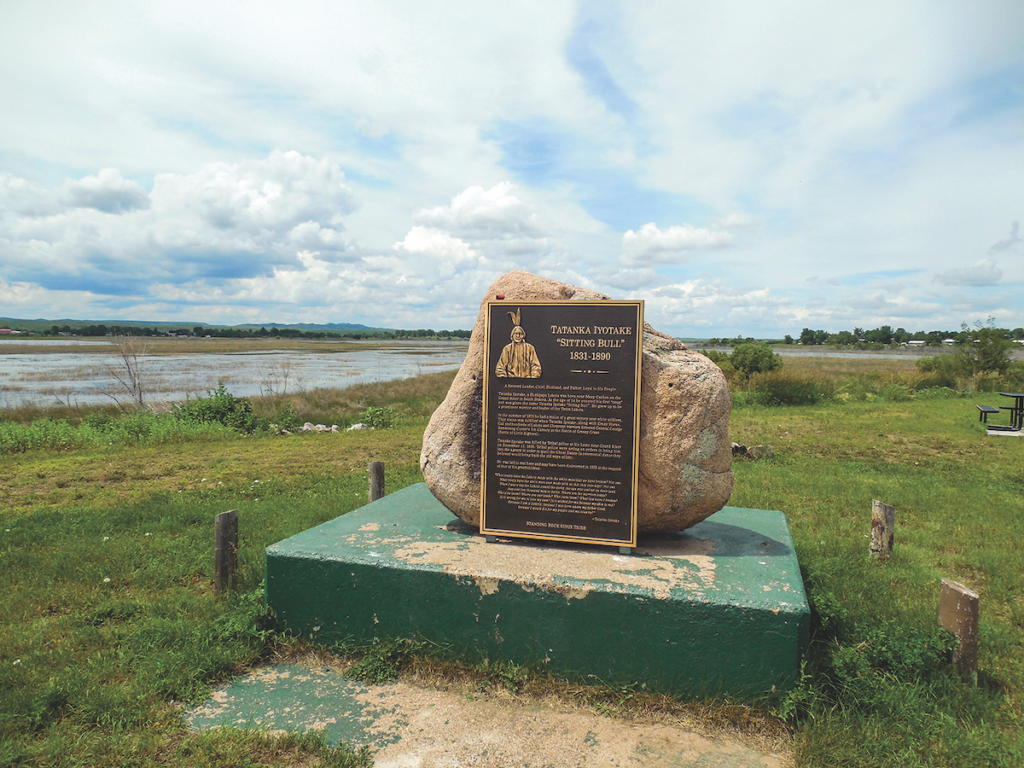 SOUTH DAKOTA
Fort Meade National Cemetery
Old Stone Road
Sturgis • CEM.VA.gov
While there are just 188 interments on its two acres, the military burial grounds are now closed to new interments. The fort was founded by surviving members of Gen. George A. Custer's 7th Cavalry as part of the military operations to keep the peace in the Dakota Territory. The cemetery was founded in 1878.
Mt. Moriah Cemetery
1 Mount Moriah Dr.
Deadwood • CityOfDeadwood.com
Situated on a bluff overlooking Deadwood, Mt. Moriah is one of the most famous historic cemeteries in the West. Amid the thousands interred in its grounds are Wild Bill Hickok, Calamity Jane and Sheriff Seth Bullock.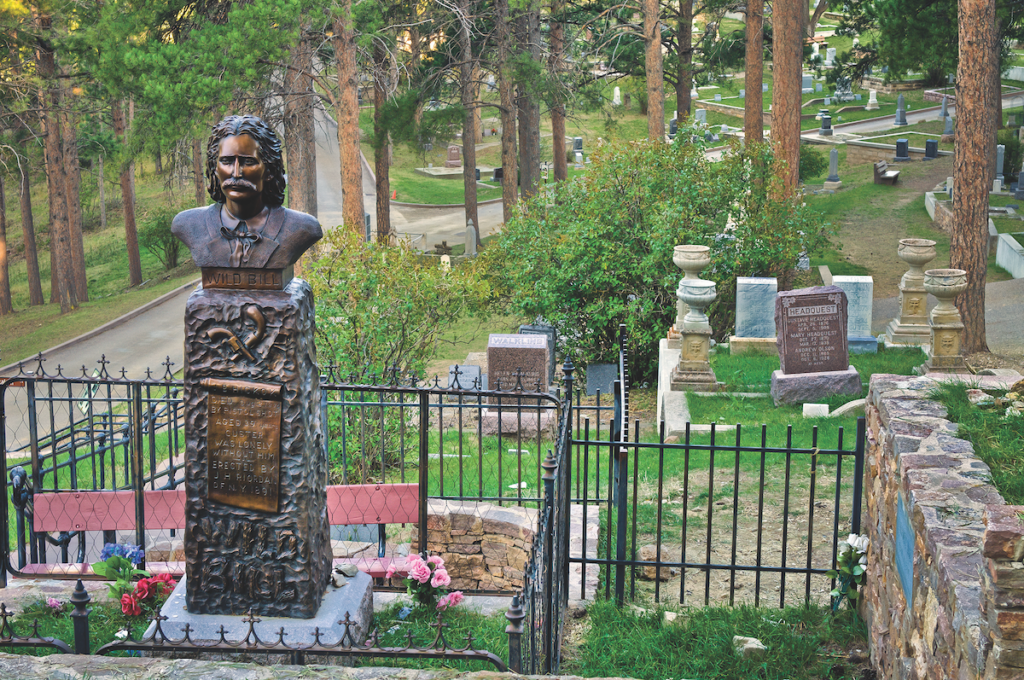 Wounded Knee Massacre Monument
Highway 18, Main St., Bldg. 159
Pine Ridge Agency • BIA.gov
For information on visiting the Wounded Knee Massacre Monument in Wounded Knee, contact the Pine Ridge Agency in Pine Ridge. For more information, call (605) 867-5125.
Southern Prairie and Plains
ARKANSAS
Fort Smith National Cemetery
522 Garland Avenue and South 6th Street
Fort Smith • NPS.gov and Cem.VA.gov
The federal cemetery for veterans is within a short walking distance of the Fort Smith National Historic Site and the Fort Smith Trolley Museum. The first interments at the military burial ground were most likely three soldiers buried in 1819. The most famous gravesite in the still-active cemetery is that of Judge Isaac Parker, known also as the hanging judge. While in the Western gateway city, schedule time to tour the adjacent national historic site, including the Cherokees' Trail of Tears Monument and Parker's courtroom.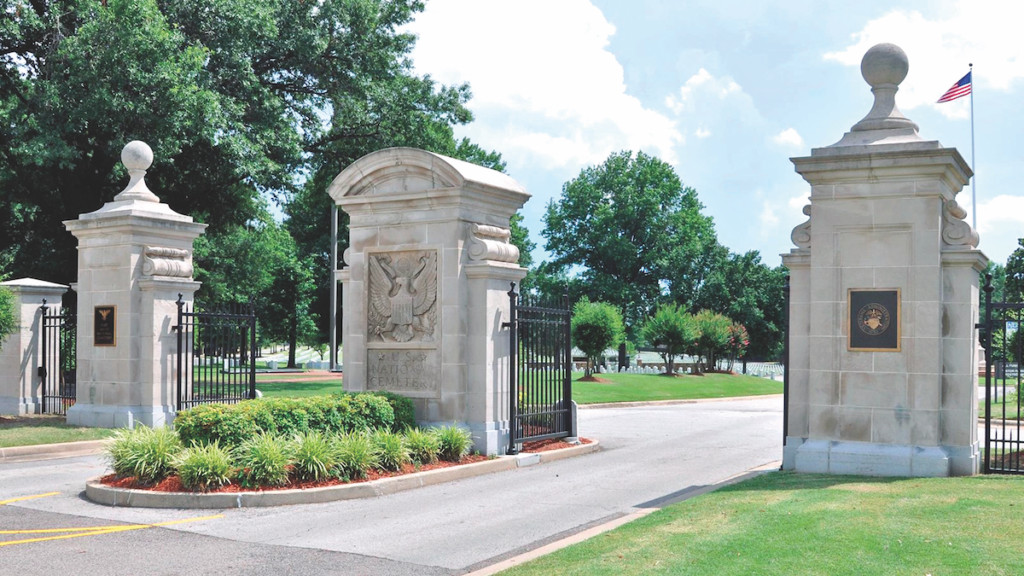 Mount Holly Cemetery
1200 Broadway St.
Little Rock • MountHollyCemetery.org
One of the most celebrated and important cemeteries in the state of Arkansas, Mount Holly's motto is "History in the Heart of Little Rock." Founded in 1843, the well-tended graveyard with its great canopy of trees is host to many of the state's most famous residents and generations of families who called the capital city their home. Self-guided walking tours are encouraged, but paid, guided tours themed by subject matter can be arranged in advance with the cemetery office.
Pioneer (Old Batesville) Cemetery
East College Avenue & South Third Street
Batesville • CityOfBatesville.com
The Pioneer, just across the border from the state of Mississippi, is the oldest cemetery in Arkansas with gravestones dating from as early as 1820. Captain William Johnson, an officer of the War of 1812, is interred in the small, historic graveyard with 59 of the state's earliest settlers. If you are "gravin'," as they call it in Arkansas, also plan a visit to the city's well-maintained Oaklawn Cemetery, founded in 1872.
KANSAS
Abilene Cemetery
513 NW 14th St.
Abilene • AbileneKansas.org
Established in 1865, the city cemetery has over 10,000 people buried in its grounds. President Dwight D. Eisenhower's parents, David and Ida, are buried at the historic cemetery as is famed Western lawman James "Bear River" Smith and two Medal of Honor recipients. West of town on Old Highway 40, the local chapter of the Daughters of the American Revolution, working with the current land owners, have fenced off and helped restore the original Pioneer Burial Ground.
Boot Hill Museum
500 W. Wyatt Earp Blvd.
Dodge City • BootHill.org
The award-winning Boot Hill Museum in Dodge City is located on the site of the city's original Boot Hill cemetery. A tour of the museum's exhibits and recreated frontier Front Street provides a great introduction into the Wild West history of the "Queen of the Cowtowns." Although the city had the bodies reinterred from the original Boot Hill, which operated from 1871-79, the museum's Boot Hill recreates the site with grave markers of those known to have been interred there. Dancehall girl Dora Hand, who was famously killed in a gun battle October 4, 1878, lies permanently in the city's Maple Grove Cemetery.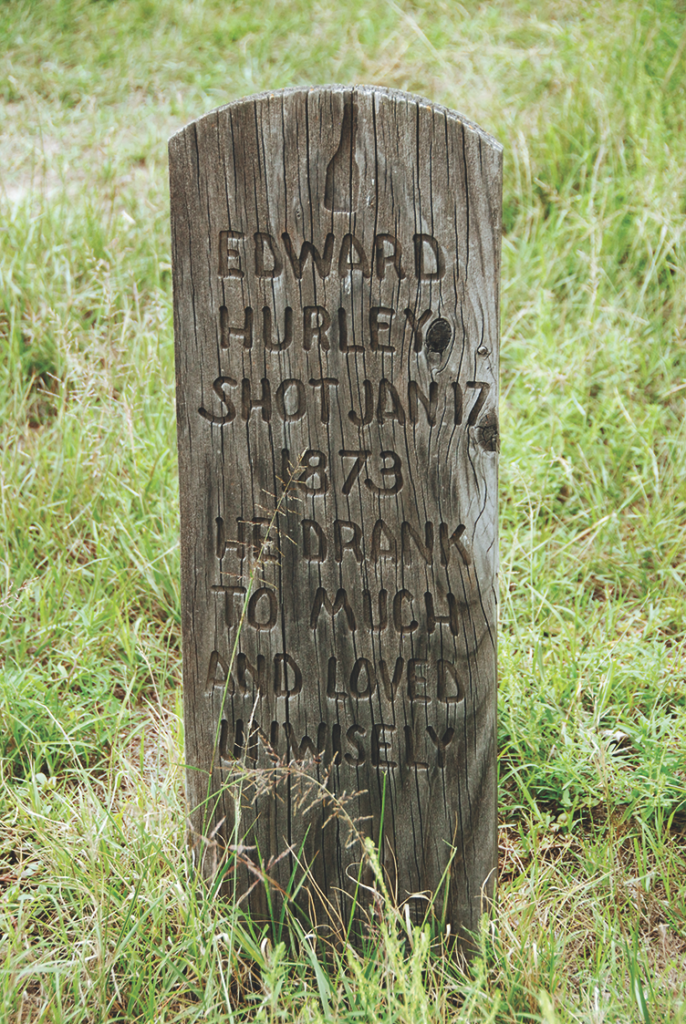 Fort Leavenworth National Cemetery
395 Biddle Blvd.
Fort Leavenworth • Cem.VA.gov
The historic military graveyard is one of the original 14 federal cemeteries created in 1862. The earliest military burials at the post date to 1827, with the oldest marker dated 1844. When many of the Western frontier forts were closed in the late 19th century, over 2,000 soldiers' remains were moved and reinterred at the Army burial grounds. Nine Medal of Honor recipients and the cemetery and fort's namesake, Gen. Henry Leavenworth, are interred in the cemetery.
LOUISIANA
Magnolia Cemetery
422 N. 19th St.
Baton Rouge • BREC.org
The 10-acre cemetery is a National Historic Site. Its oldest burials date to the 1820s. Officially opened in 1852, the graveyard was the site of the Battle of Baton Rouge on August 5, 1862, and is the site of annual commemoration of the battle. Blacks and Whites have been interred in the cemetery from its earliest days and it is the final resting place for many of the area's noted politicians and Joanna Fox Waddill, "the Florence Nightingale of the Confederacy."
New Orleans Cemeteries
Various Locations
New Orleans • NewOrleans.com
For taphophiles, aka tombstone tourists or gravers, New Orleans is one of the most visited cities in America. Because the city sits below sea level, all the tombs are above ground, providing one of the country's most visual histories of the dearly departed's lives. There are 13 cemeteries open to tour, and St. Louis No. 1, founded in 1789, is the oldest and should be the first one visited while on a tour of The Big Easy.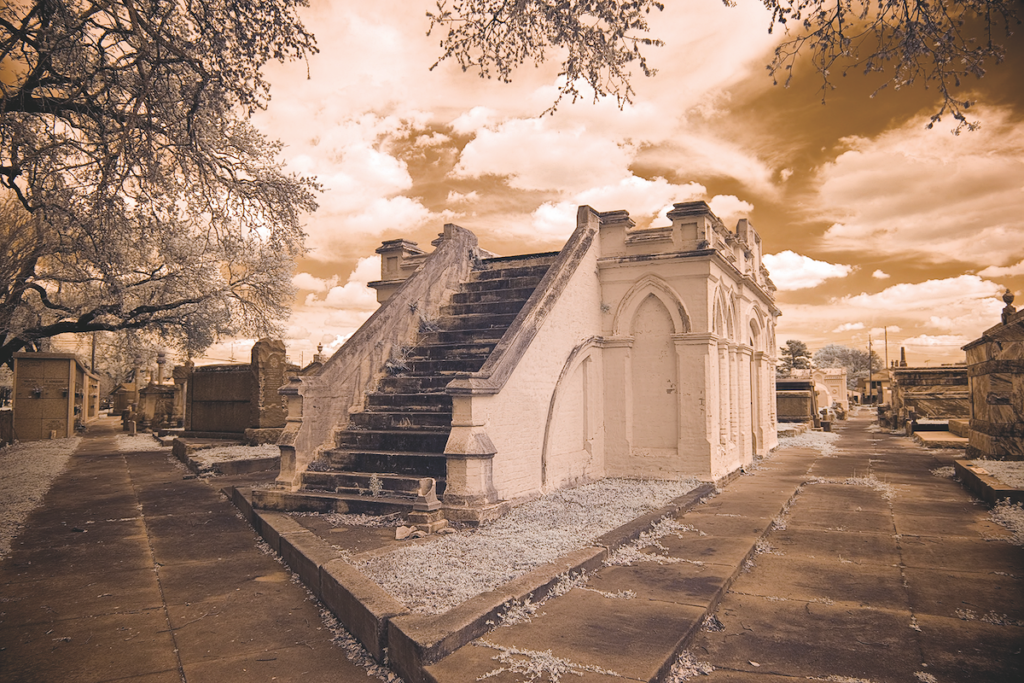 Oakland Cemetery
1000 Milam St.
Shreveport • Shreveport-Bossier.org
On the National Register of Historic Places, Oakland Cemetery dates to 1842. Confederate soldiers, former slaves, pioneer families, freedmen and women and a mass grave of 800 victims of the Yellow Fever Epidemic of 1873 all share eternity in the hallowed grounds.
MISSOURI
Calvary Cemetery
5239 W. Florissant Ave.
St. Louis • ArchStL.org
A Roman Catholic cemetery, Calvary is the second oldest in the diocese and was founded in 1854. The 470-acre graveyard has over 300,000 people interred in its grounds. Four of the most famous people interred in the graveyard are Gen. William T. Sherman, Dred Scott, author Kate Chopin and playwright Tennessee Williams.
Jefferson City National Cemetery
1024 E. McCarty St.
Jefferson City • Cem.VA.gov
Interments in what would become Jefferson City National Cemetery began in 1861. For Civil War historians and researchers, the military graveyard has significant burials of soldiers from both the Union and Confederate armies, including a monument to the 39th Regiment of the Missouri Volunteer Infantry.
Mount Olivet Cemetery
201 State Route 92
Kearney • VisitKearney.org
Jesse James, his brother Frank, half-brother Archie Samuel, mother Zerelda and stepfather Reuben Samuel all are buried near each other in the historic cemetery outside Kearney. Founded in 1868, the graveyard has nearly 2,000 men, women and children memorialized in the burial grounds. While in Kearney, schedule a tour of the Jesse James Birthplace Museum a short drive from downtown Kearney.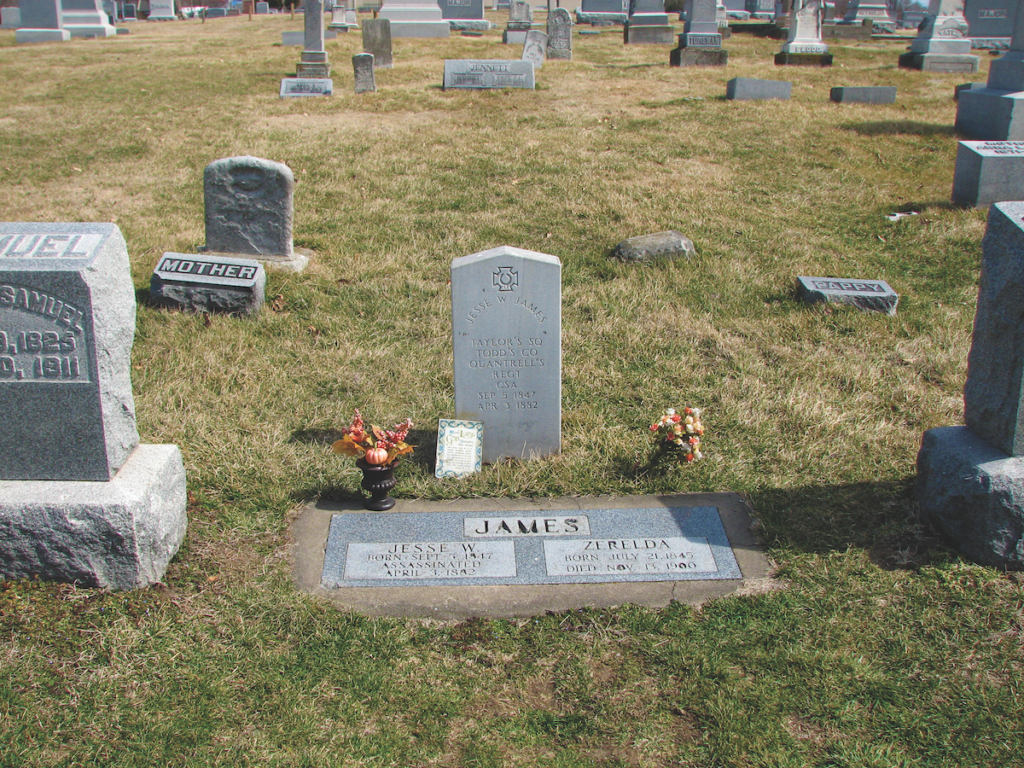 NEBRASKA
Boot Hill Cemetery
119 E. 2nd St.
Ogallala • ExploreKeithCounty.com
Admission is free to visit and walk the grounds of the Western Nebraska town's famed Boot Hill. Many Texas cowboys who came up the Western Trail to Ogallala's Union Pacific railhead and lost their lives in the once roughhewed cattle town are buried in the hillside graveyard. The cemetery's landmark is Robert Summers' bronze statue The Trail Boss, located at the top of the hill from the parking lot.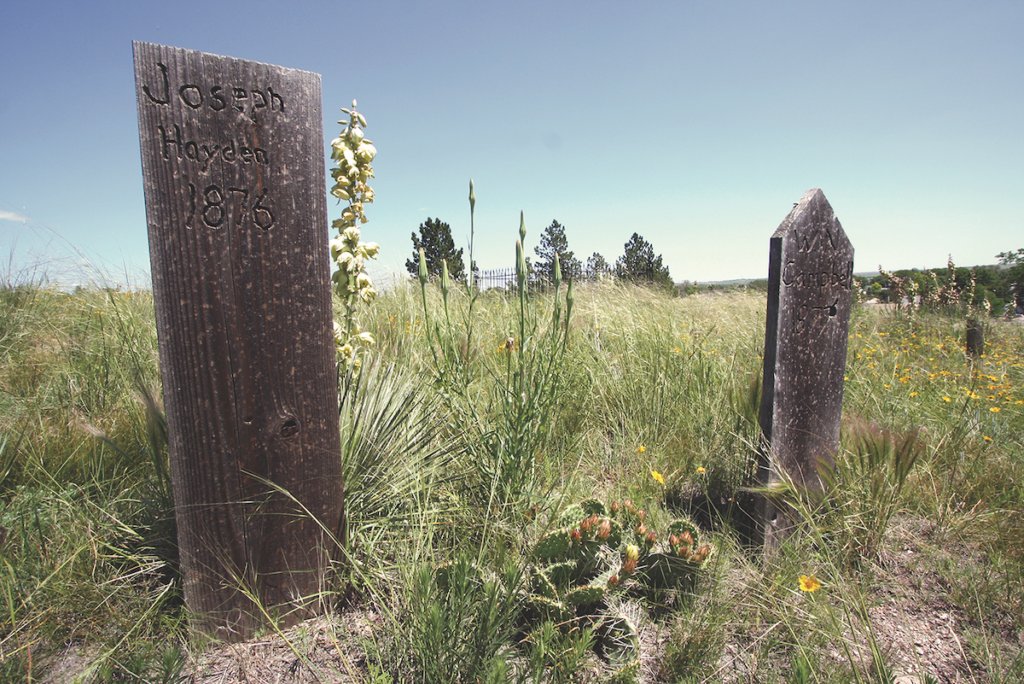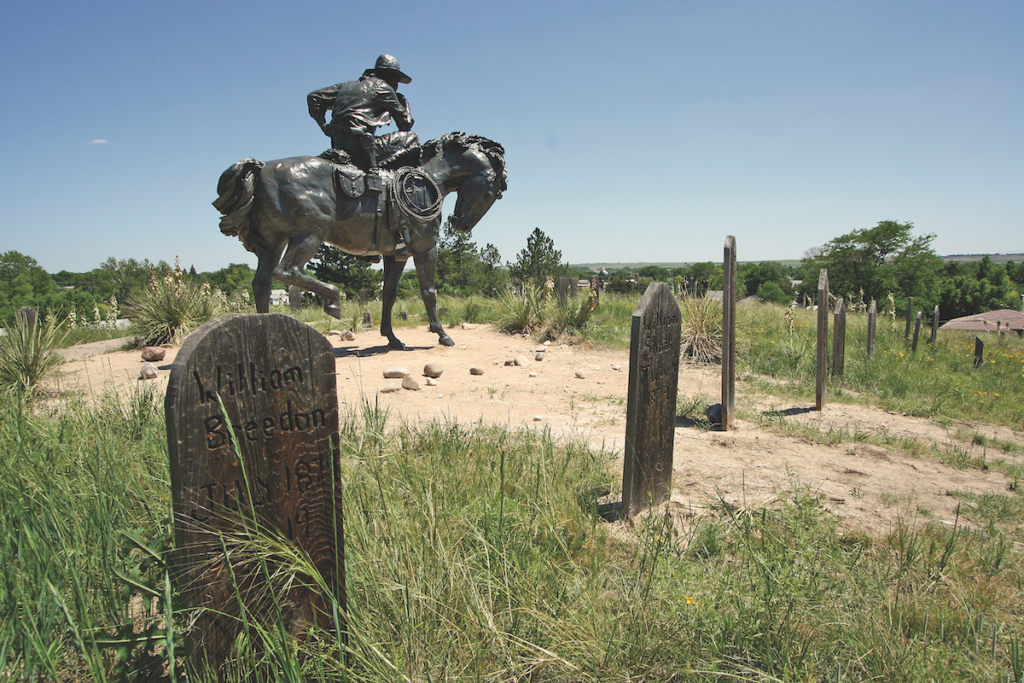 Fort McPherson National Cemetery
12004 S. Spur 56A
Maxwell • Cem.VA.gov and NPS.gov
In 1863, the cemetery was started adjacent to the frontier fort constructed to protect settlers and travelers along the national overland trails. The 20-acre National Cemetery was created in 1873 and is the only federal graveyard in the state. Remains of soldiers from across the Western frontier were reinterred there along with the remains of 50 from the old post burial ground. The veterans' cemetery is still active, so please be respectful if visiting historical monuments at the site, including one to the Pony Express.
Prospect Hill Cemetery
3202 Parker St.
Omaha • ProspectHill-Omaha.org
Founded in 1858, Prospect Hill is one of the oldest pioneer cemeteries in Nebraska. A Nebraska State Historical Site and a Nebraska Statewide Arbo-retum Site, the graveyard is popular for walking tours and has a very active volunteer base of docents. Prospect has about 15,000 interments, is home to over 100 Civil War soldiers, dozens of Omaha's earliest and most prominent citizens and is still an active cemetery.
A Reading List for Taphophiles
If you are a Western tombstone tourist, you may already know that Phil Varney's comprehensive book series on ghost towns in the West is a great source of information on small, out-of-the-way pioneer cemeteries. I have been reading Varney's work for decades, and I highly recommend his excellent books. But there is also a cottage industry in cemetery history books, and Arcadia's History Press is a publishing leader in the topic. In fact, I recently heard Cemeteries of Yavapai County author Parker Anderson speak about cemetery tourism, and his research and thoughtful commentary partly inspired this column.
—SR
Ten starter sources I recommend for eager taphophiles:
Cemeteries of the Western Sierra by Christopher Ward (Arcadia Press)
Cemeteries of Yavapai County by Parker Anderson (Arcadia Press)
Deadwood's Mount Moriah Cemetery by Mike Runge (Arcadia Press)
Final Destinations: A Travel Guide for Remarkable Cemeteries in Texas, New Mexico, Oklahoma, Arkansas, and Louisiana by Bryan Woolley, Larry Bleiberg, Leon Unruh, Jean Simmons, Kathryn Straach, Tom Simmons and Bob Bersano (University of North Texas Press)
Ghost Towns of the West by Philip Varney (Voyageur Press)
Mad as the Mist and Snow: Exploring Oregon Through Its Cemeteries by Johan Mathiesen (Ashland Creek Press)
Memorials Matter: Emotion, Environment and Public Memory at American Historical Sites by Jennifer K. Ladino (University of Nevada Press)
Pioneer Cemeteries: Sculpture Gardens of the Old West by Annette Stott (University of Nebraska Press)
Understanding Cemetery Symbols: A Field Guide for Historic Graveyards (Messages from the Dead) by Tui Snider (CreateSpace)
What Lies Beneath: Texas Pioneer Cemeteries and Graveyards by Cynthia Leal Massey (TwoDot)
FindAGrave.com and Internment.net: For tombstone tourists, researchers, genealogists and just the downright curious, both websites are very useful. FindAGrave.com helped me locate the lost Fallon family plot in Queens, New York, and I use it regularly as editor of True West. 
Editor's Note
This is not an inclusive list, far from it. I hope this inspires our readers to discover (or rediscover) the historic cemeteries, monuments and memorials in their communities, cities and regions. In my community of Yavapai County, Arizona, sites range from the Prescott National Cemetery that has been serving soldiers and veterans since the 1860s to small town cemeteries whose earliest gravesites have long been lost. Many historic cemeteries need dedicated docents and volunteers to maintain them. If you are interested, make an inquiry and become involved in keeping your local history preserved for the next generation. 
If you have a favorite historic cemetery or memorial in the West that you would like to suggest we share with our readers, please send the information to stuart@twmag.com. —SR
For more information on cemeteries, memorials and monuments on federal land, check these websites:
Bureau of Land Management
BLM.com
Bureau of Reclamation
USBR.gov
Department of Interior
DOI.gov
National Cemetery Administration
Cem.VA.gov
National Forest Service
FS.USDA.gov
National Park Service
NPS.com