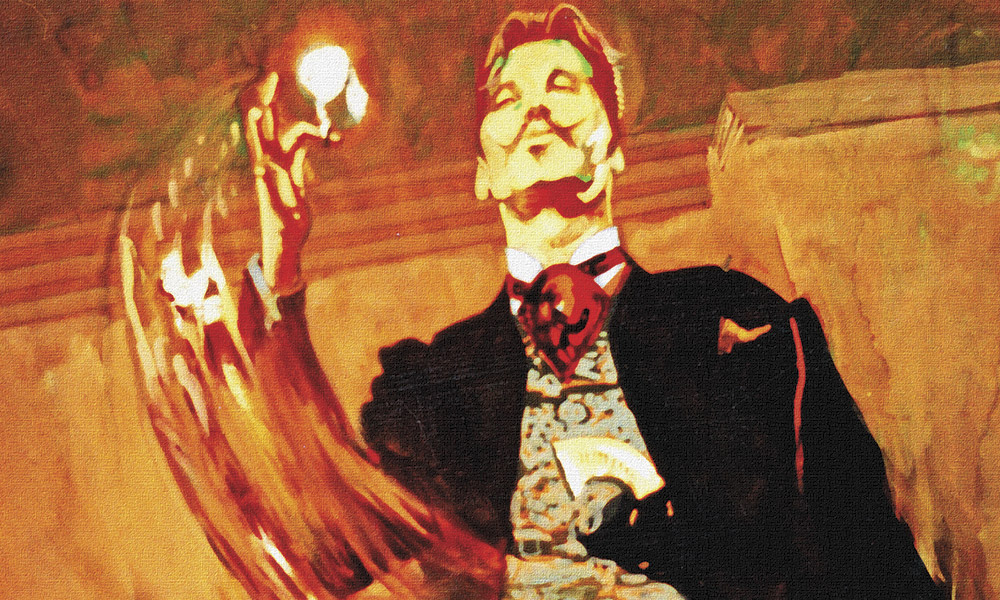 When then-Director Kevin Jarre first spoke to Val Kilmer about the gun-twirling, cup-spinning scene in 1993's Tombstone, the actor who played John H. "Doc" Holliday was a bit apprehensive.
"I was very concerned that the whole movie would be in trouble if I didn't beat [John Ringo] in that moment," Kilmer admits. "And so I said to Kevin, 'You know, what if this isn't funny—who knows what it will look like, a little tin cup kind of swirling around in these fancy gun moves. What if it's not funny?' And he looked at me and said, 'Yeah, I guess that's a problem.' So what I did was, for a couple of months, work the gun routine with both hands.
"I basically taught myself to do all that stuff with the .45 with the right hand, and also with the left hand—I was doing it with the .38…and it's really tough to do that stuff. Guns are heavy. And it's also weird when you mess up—it's like hitting yourself with a hammer."
Cast and crew frequently saw Kilmer strolling around the Tombstone set with two guns, twirling them every chance he got, determined to make the scene believable—and funny.
"I've got two guns, one for each of ya," drawls Holliday, in the film.
The first of those guns was a 4¾-inch, nickel-plated, ivory-gripped, .38-caliber Colt Lightning Model 1877. The second was a 4¾-inch, nickel-plated, ivory-gripped, .45-caliber Colt of EMF manufacture.
Kilmer became extremely proficient in handling these Colts; he could twirl one forward and one backward at the same time. As for his lightweight tin cup, a weight was installed at the bottom to offset the balance and thus help in the twirling motion.
Prior to filming the cup-spinning scene, Kilmer came up with an unusual technique to get into character.
"I'm sitting in my cast chair outside the bar," says Forrie J. Smith, who played Pony Deal (or Diehl) in the film, "and Val comes out and tackles me. We're wrestling around. We're in the dirt. And I finally get him in a compromising position. He goes, 'Okay, Okay, Okay.' I asked, 'What the hell was that all about?' 'Well,' Kilmer told him, 'I had to blow some steam off before I do the scene with the damn cup.' The wardrobe gal was all upset because he had dirt all over [him], and they had to brush him off."
Michael Biehn, who played opposite Kilmer in the scene, as Ringo, worked equally hard at his gun-twirling skills. "[Thell Reed and I] worked together to create a unique gun-twirling routine," he says. "I made up a trick here, and Thell made up a trick there, and we put that routine together in a matter of two or three months."
Biehn practiced about two months to get his Colt .45 twirling down. "I even put in things that gun wranglers had never seen before!" he says.
Biehn practiced so much, he frequently broke the gun's grips, recalls Buckaroo crew member Jake Johnson, who adds, "Thell wanted Ringo to look more like a show-off outlaw than a Johnny Mack Brown vaudevillian burlesque performance of gun-spinning, and I think that's the difference you see when he's doing that.
"[Biehn] looks like he's serious, knows how to handle a gun. You can see from some of the angles that there were multiple takes, but he was capable of doing the entire routine in one take."
Before filming began of scenes inside the saloon, the cast would hear the opening bars of Warren Zevon's "Werewolves of London" over and over again, to get the crowd in the mood, so to speak.
"When we did [the scene]," Biehn says, "my hands started sweating. Those .45s are heavy. Dana Delany and Bill Paxton were sitting right below me. I didn't want to hurt them with a gun, and that was kind of nerve-racking, but we did it."
"I'm pretty sure that's the only take we did," recalls Kilmer, describing his cup-spinning debut. "And you always know when you're doing something right, because the crew laughs. They're usually just waiting for lunch, while the camera's rolling. But you know it's funny when you get applause from the extras and the crew and the camera guys and the other actors."
After filming was completed, Kilmer sent one of the cups to George Cosmatos, who got the director credit after Jarre was fired. The actor inscribed the cup, "To George, from Doc."
Perhaps Kilmer should have sent the cup to Kurt Russell, who starred as the iconic Wyatt Earp. True West broke the news, in 2006, that Russell was the one who actually directed the 1993 movie.
The credit for the thrill of the gun-twirling, cup-spinning sequence, though, goes to Kilmer and Biehn, not only for their dedication to authentically twirl their Colts, but also for making sure the serious contest between these adversaries got the audience laughing.
Film history buff John Farkis lives in Brighton, Michigan. This article is an edited excerpt from his forthcoming Tombstone book, due out Winter 2018, I'm Coming…and Hell's Coming with Me! He is the author of Not Thinkin'…Just Rememberin': The Making of John Wayne's The Alamo and Alamo Village: How a Texas Cattleman Brought Hollywood to the Old West.