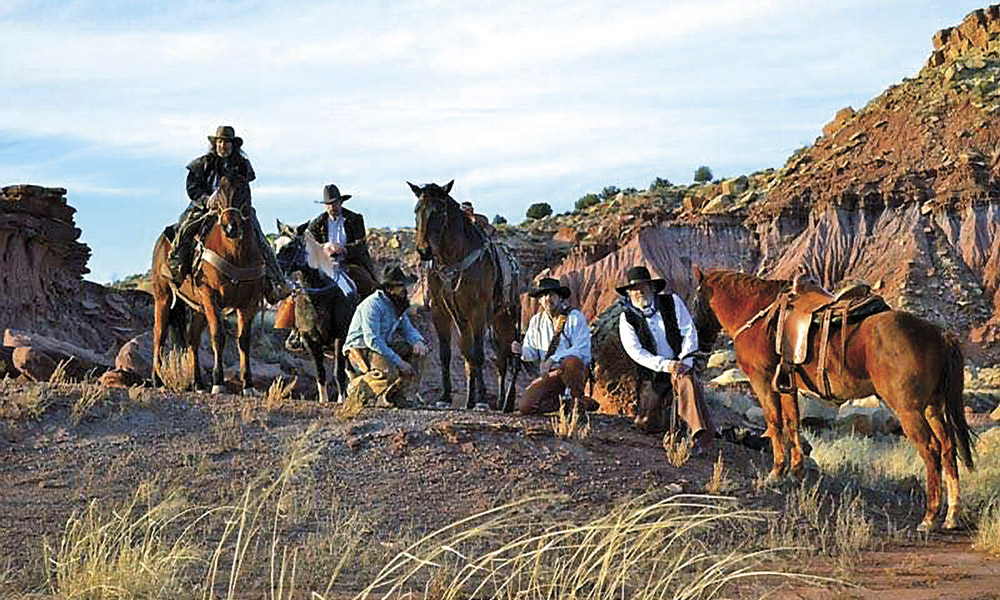 Western roundup of events where you can experience the Old West this May.
Adventure
Narrow Gauge Day
Durango, CO, May 4: A celebration of the continuous operation of the Durango & Silverton Narrow Gauge Railroad since 1882.
888-872-4607 • DurangoTrain.com
Ute Mountain Mesa Verde Birding Festival
Cortez, CO, May 9-13: Observe the local bird population with regional wildlife specialists volunteering as tour guides and lecturers.
970-565-1151 • CortezCulturalCenter.org
Art Shows
Jeffrey Gibson: Like a Hammer
Denver, CO, Opens May 13: Native American figurative works, wall hangings, beaded punching bags, painted works, and video.
720-913-0130 • DenverArtMuseum.org
Auction
Witherell's The American West at Auction
Grass Valley, CA, May 17: Bid on collectibles that range from saloon advertising to gambling devices to gold rush, cowboy and Indian artifacts.
916-764-5257 • Witherells.com
Fundraiser 
Friends of Happy Trails Banquet
Victorville, CA, May 19: This fundraiser benefits the children's foundation formed by classic Western actors Roy Rogers and Dale Evans.
760-240-3330 • HappyTrails.org
Gun Show
Colorado Gun Collectors Association Gun Show
Denver, CO, May 19-20: Firearm aficionados can browse the more than 1,500 tables of antique and modern firearms, as well as cowboy artifacts.
720-482-0167 • CGCA.com
Heritage Festivals
New Mexico Film Makers Showcase
Santa Fe, NM, May 1-19: New Mexico filmmakers' finest films are showcased in a annual juried competition.
505-476-5671 • NMFilm.com
Da Vinci The Genius Exhibit
Albuquerque, NM, May 2-July 29: Explore the diversity of da Vinci's genius and his legacy in modern Italy.
505-241-2800 • NMNaturalHistory.org
West Texas Heritage Days
Uvalde, TX, May 4-5: Military drills and demonstrations featuring Buffalo Soldiers and American Indians bring Fort McKavett to life.
800-588-2533 • VisitUvalde.com
Palo Alto Battlefield Living History
Brownsville, TX, May 5: Celebrate Texas history with demonstrations of Mexican-American
War-era weapons, tactics and soldier life.
956-541-2785 • NPS.gov
Helldorado Days
Las Vegas, NV, May 10-12: Held since 1934, this festival celebrates Old West history with a pro rodeo, parade and western art show and auction.
702-870-1221 • ElksHelldorado.com
Feast Whitefish Celebration
Whitefish, MT, May 11-19: Celebrate food and drink with a burger battle, distiller's fest, and showcase of local restaurants.
406-862-3501 • FeastWhitefish.com
Pendleton Cattle Barons Weekend
Pendleton, OR, May 11-12: Honors the region's cattlemen and ranchers with bronc riding, a cowboy collectibles auction and barbecue.
541-377-6834 • CattleBarons.net
Fort Kearny Outdoor Expo
Kearney, NE, May 12: Outdoorsmen can enjoy shooting, archery and fishing demonstrations as well as contests.
888-444-1867 • VisitKearney.org
General Sam Houston Folk Festival
Huntsville, TX, May 18-20: The Sam Houston Memorial Museum's grounds are transformed into a bustling frontier settlement.
936-294-1832 • GSHFF.com
Bishop Mule Days
Bishop, CA, May 22-27: A celebration of the mule showcasing mule trainers, riders and packers competing on about 700 mules.
760-872-4263 • MuleDays.org
John Wayne Birthday Celebration
Winterset, IA, May 25-26: Join Western hit singer and songwriter, movie actor and producer Red Steagall for a benefit dinner.
877-462-1044 • JohnWayneBirthplace.museum
Tucumcari Rawhide Days
Tucumcari, NM, May 4-6: Celebrate the Old West with a parade, live music, wagon rides, gunfights, chuckwagons and a blacksmith competition.
Wyatt Earp Days
Tombstone, AZ, May 26-28: Gunfights and hangings are re-enacted in the streets of Tombstone, plus a Wyatt Earp look-alike contest.
520-457-3511 • TombstoneChamber.com
Horse Sale
Miles City Bucking Horse Sale
Miles City, MT, May 13-20: This rodeo stock sale is accompanied by musical performances, horse races and a parade.
Music & Poetry
Celtic Woman Homecoming Tour
Oklahoma City, OK, May 8: A world-class performing collective, Celtic Woman celebrates Ireland's musical heritage.
Kerrville Folk Festival
Kerrville, TX, May 24-June 10: Celebrate with over 100 performers and activities focusing on developing the art of songwriting.
830-257-3600 • Kerrville-Music.com
Rodeo
Western Heritage Classic
Abilene, TX, May 10-13: This working ranch rodeo also offers cowboy music and poetry, a fiddler's contest, a parade and a trade show.
325-677-4376 •  WesternHeritageClassic.com
Bandera Pro Rodeo
Bandera, TX, May 25-27: This rodeo features PRCA-sanctioned bareback riding, steer wrestling, calf roping and bull riding.
830-522-0054 • BanderaProRodeo.org